Commentary for the Week of 01/09/2023 – 01/15/2023
Here's our latest Buffalo NY fishing report:  FINALLY!  After close to a month, I was able to get on the water…for more than half the week too!  At first, it was muddy but the fish were active/feeding.  Then, things got hostile for a few days with rain, snow, and wind.  Finally, things settled down, and although it was COLD, the fishing was excellent.
Episode 39 of Two Angles on Angling is live.  I was able to spend more than half the week on the water so I got a healthy dose of our fishery – there's a lot to discuss.  Afterall, nobody has fished the big water in close to a month, so any news is good news…but the news is good.  The upcoming week is looking good as well, so Jordan and I discuss our plans.  We "get deep" about the podcasts we listen to – how we found them, how long we've been listening to them, why we chose them, etc.  
Daily Conditions Analysis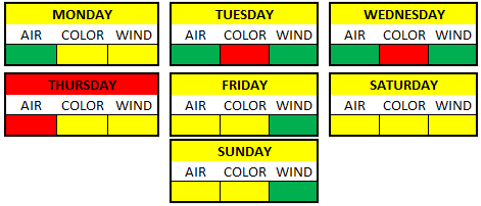 Monday – Fished the Lower Niagara.  I wanted to fish Erie but there was a big SW blow.  The river had less than 1 foot of visibility but there was a greenish hue to it (was trying to be optimistic) so we went for it.  Boated 1 steehead, a couple walleyes, and more than a handful of browns in about 4 hours or so.  Not bad!  Fish were eating minnows aggressively and are still throwing up shad and smelt.
Tuesday – Fished Lake Erie.  The wind from the day prior stirred things up out there making visibility far less than 1 foot.  We fished the same zones where we caught fish less than a month ago.  Lots of marks but no eats.  I'm guessing clarity was the problem.  Great weather through.
Wednesday – Fished Lake Erie.  Water was still muddy but I had to get out.  Boated one walleye on a drop-shot rig.  Called it after a few hours of grinding.  Visibility was still horrible but the weather was nice once again.
Thursday – Water got a bit clearer but it began puring around 10:00AM and didn't stop until the sun went down.  Stayed off the water.
Friday – Temperatures dropped and we got a couple inches of snow.  Strangely, the water color improved even after all the rain the day prior.
Saturday – Temperatures dropped further – into the teens and twenties – big winds from the N as well.  Water color was good, but the N breeze with temps that low would've made fishing brutal.  Rescheduled trip.
Sunday – Fished the Lower Niagara.
Seasonal Assessment/General Observations
I usually cringe when I hear it said, but honestly, it felt great just to get on the water this past week.  Avoiding the shack nasties has been tough lately.  I've read numerous books, listened to countless podcasts, watched I-don't-know-how-many shows, spent hours in the gym and in the sauna – practicing what I preach.  A few days on the water improved my well being better than all of that combined.  Although conditions were suboptimal for most of the week, getting in reps and spending time with friends was long overdue.
Water temperatures are still in the upper 30s, so Lake Erie remains ice free.  I had to take advantage of that.  So, I spent a couple days out there, fishing through the mud, hoping something would happen. Unfortunately, other than one walleye in two sessions, nothing did.  I had good screens everywhere I went but couldn't get bit.  The water wasn't/isn't too cold for bass and walleyes to feed so I'm guessing, as I mentioned in the daily breakdown above, poor visibility was the problem.  As of today (Sunday) things are clearing up nicely – the Lake Erie window isn't closed just yet.
The Lower Niagara is fishing well.  Steelhead are still around in good numbers, as are brown trout.  Meat is on the menu – most of the fish we boated threw up gizzard shad and smelt during the fight. The birds are still going crazy done there too.  Other than a few degree drop in water temperature, nothing much has changed down there since I last fished it mid-December.  There's a ton of bait in the system and in turn, there are a lot of predator fish around taking advantage of it.
Looking Forward to the Week of 01/16/2023 – 01/22/2023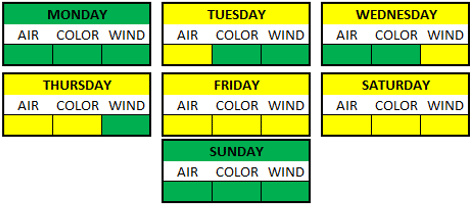 Fishing Forecast for Next Week
This upcoming week is looking promising.  Monday looks perfect.  There's a fair to middling chance of precipitation for the middle of the week accompanied by some wind and an increase in temperatures.  The end of the week looks sketchy though…if that wind happens, chocolate milk may flow once again.  Fingers crossed that doesn't happen.
I plan to spend most of my time on the Lower Niagara – it's protected from the wind and there's a tight concentration of fish around.  If the opportunity presents itself, I would like to get back out on Lake Erie to see if the clearer water increases the catch rate.  Tuesday or Thursday could be the day's to try – bundled up for the possibility of precip of course.
It's going to be a good winter – the fish have been struggling to feed through muddy water for so long, they have to be ravenous.  Furthermore, no angler has been able to molest them in weeks.  I have high hopes for the rest of the season barring some other natural catastrophe.  Flexibilty is key this time of year as Mother Nature is often stingy about presenting optimal conditions – but if you're on the calendar when she does – get ready for a great time.  I hope to see you out there.    
Stay healthy my friends – mentally and physically,
Ryan
Tap any image below to swipe through the gallery.