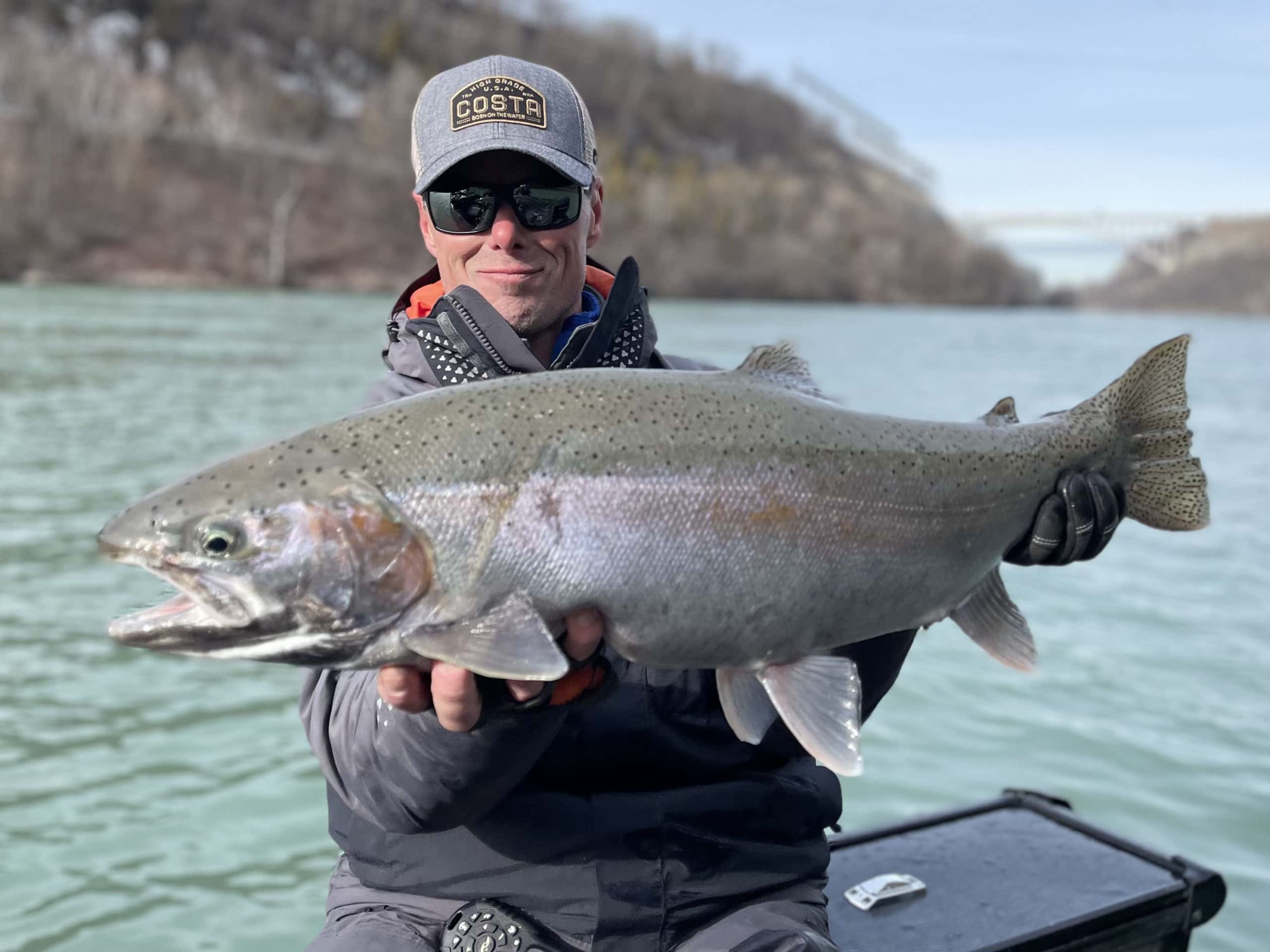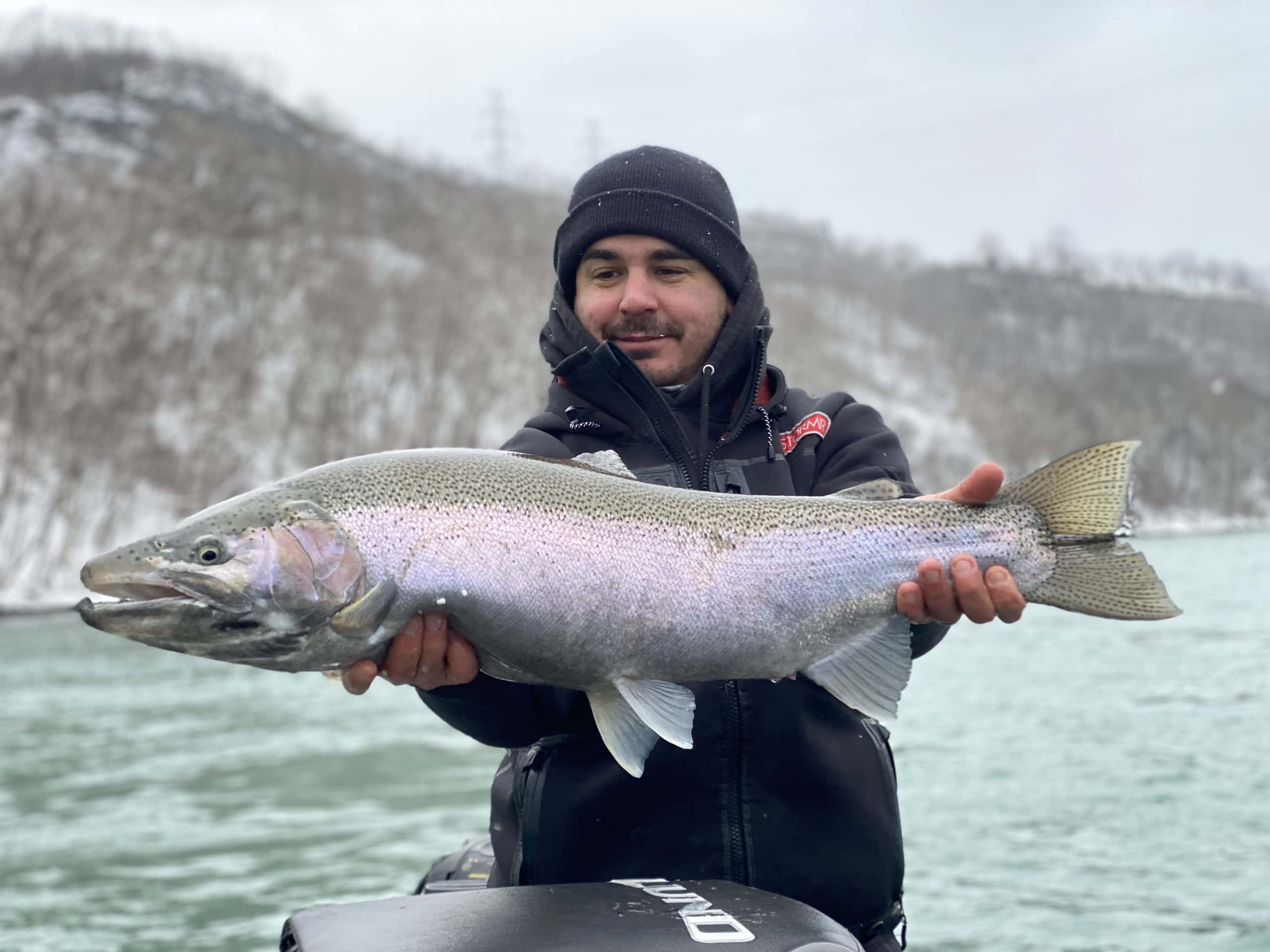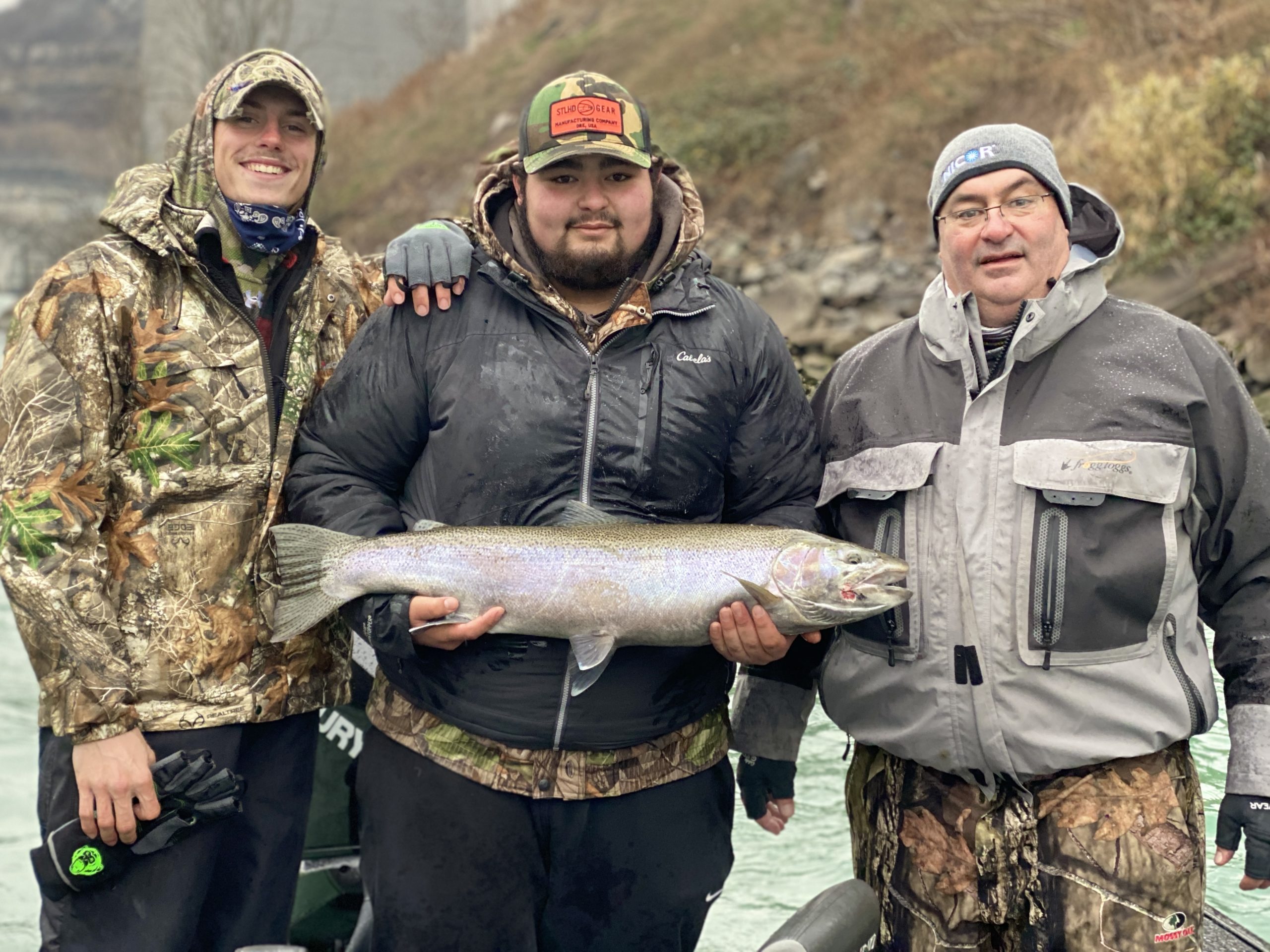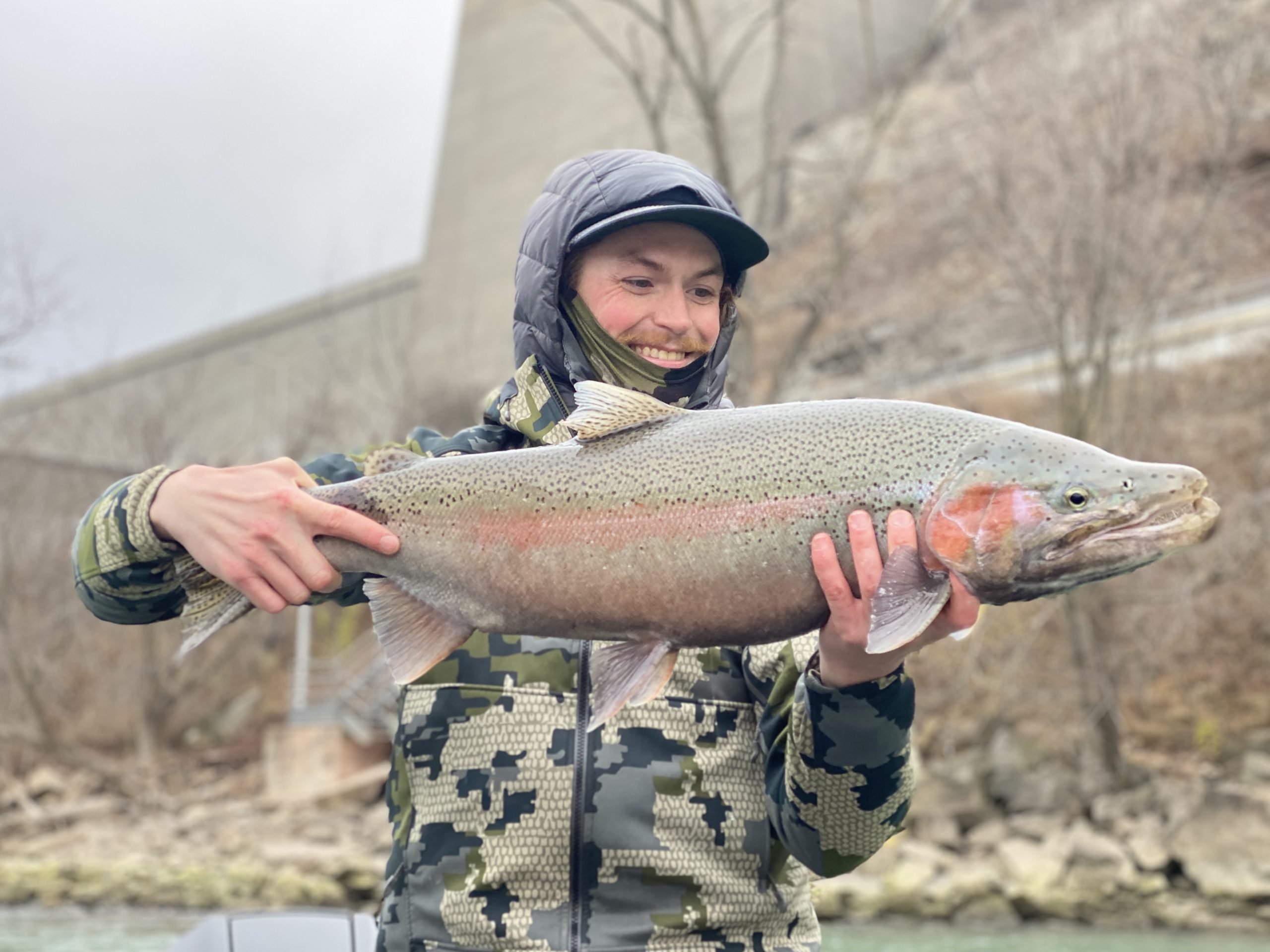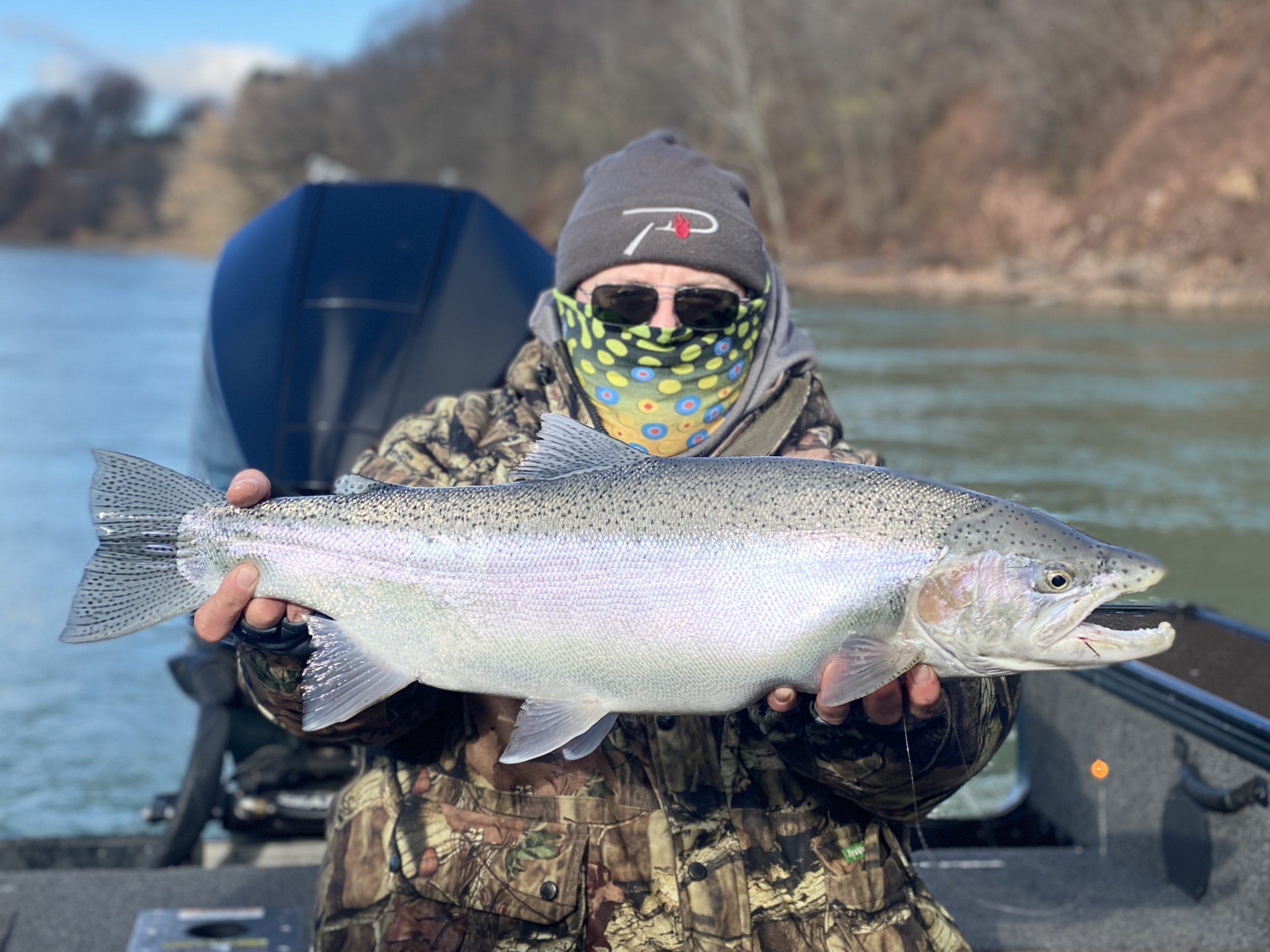 AD276295-8396-408F-8DB9-90057B13FA21
9D1120A0-5673-480E-BDC2-E21B3BBE29C6
E2A06EE6-9F17-4AE7-9665-0023449714FB
Niagara River Steelhead Fishing
Fishing Season
Fall, Winter, Spring
Fishing Tactics
Walking the regional Great Lakes tributaries. Fishing the Upper and Lower Niagara from our boats
Typical Fish Size
Averaging over 6 lbs (fish over 10 lbs are common)
Fish Habitat
Tributaries of the Great Lakes, Lake Erie, Lake Ontario
The Brookdog Perspective on Steelhead Fishing in the Buffalo/Niagara Region
Niagara River Steelhead – these big, hard fighting, acrobatic fish probably draw more anglers to the Buffalo Niagara Region than any other fish.
Introduced from Washington State to the Great Lakes at various points in history dating back to the late 1800s, steelhead are by one of the largest attractions to the region for anglers. Although some natural reproduction takes place, the state raises most of its steelhead in hatcheries and introduces them to designated lake tributaries as fingerlings where they "imprint".
These fish live most of their lives in the deep, cold water of Lake Erie and Lake Ontario where they gorge on baitfish and grow huge. Once water temperatures begin to drop in the fall, they ascend those same rivers where they imprinted to spawn, just as their west coast relatives have done for thousands of years.
It is during this migration, both ascending and descending the rivers, that they become an exciting target for anglers. Although not too difficult to catch (steelhead can be finicky), the real challenge is keeping them on once hooked.
Averaging over 6 lbs (fish over 10 pounds are common), no other fish in the region runs as fast and is more acrobatic. These fish often take off on long runs, rip drag, and leave you confused as to where they are from second to second – it's a rush!
This is Buffalo Niagara Region fishing at its best and we have it dialed in.  We target these fish on the famous creeks of this region to include the Lower Niagara River, Cattaraugus Creek, Canadaway Creek, 18 Mile Creek, and the Oak Orchard. 
Come fish with Brookdog for Niagara River steelhead – we're confident the trip will imprint you too.
WE FISH FOR NEARLY EVERY SPECIES THE NIAGARA RIVER, LAKE ERIE, LAKE ONTARIO, AND THEIR TRIBUTARIES HAVE TO OFFER!
Ready to Fish?
BOOK A TRIP
(716) 704-5144
Brookdog Fishing Company
53 Elmwood Park W, Tonawanda, NY 14150