Buffalo NY Fishing Report for the Week of 01/16/2023 – 01/22/2023
Here's our latest Buffalo NY fishing report:  Well…the weather and the number of fishable days ended up being far less than what I forecasted last week.  We had a couple days of clarity early on, followed by wind, rain, and muddy water.  Here are the wavetops.  Keep scolling for more details.
Days on the Water: 2
Who we fished with: friends/clients
Where we fished:  Lower Niagara
What we caught: steelhead, brown trout, walleye, lake trout
Tactics: 3-way rigs with minnows
Episode 40 of Two Angles on Angling is live:  The angling action from this past week was minimal.  Still, in that short period of time, I saw some encouraging things worth discussing.  Plus, Jordan and I managed to spend a few hours on the Lower so we talk about that as well.  We "get deep" about the evolution of freshwater fish – common ancestors, how they came to inhabit North America in particular, and more…Tap the link below to listen or look for us on any platform that you listen to podcasts and subscribe.  
Daily Conditions Analysis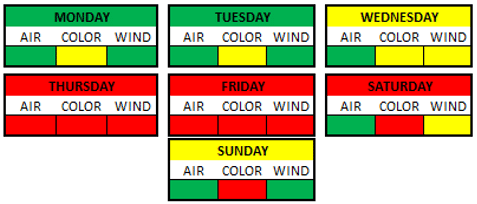 Monday – Fished the Lower Niagara.  Close to perfect day – water was still heavily stained but good enough.  Caught a trout slam (brown, steelhead, laker) and a bonus walleye.  Steelhead and lake trout bite was consistent.  Brown trout bite was slow.  Minnows produced.
Tuesday – Fished the Lower Niagara.  Water color was the clearest it's been since the blizzard on Christmas.  Scattered showers made things a little painful.  VERY SLOW – not sure what was going on.  All the areas that produced the day prior…didn't.  The biggest difference between Tuesday and Monday was cloud cover.  It was sunny on Monday and cloudy and rainy on Tuesday.  Lots of marks but only a handful of eats.
Wednesday – Wasn't booked so I stayed off the water and did some boat maintenance.  The morning would've been fishable, but some big winds kicked up early afternoon making it hostile out there.
Thursday – Poured rain all day – close to an inch of accumulation.  The wind from the day prior generated waves close to 10′ on Lake Erie.  Bottom line, the river turned to mud so I stayed off the water.
Friday – More rain and wind – the water stayed muddy.
Saturday – Nice day – the sun poked out, temps came up a little, and the wind calmed down a bit.  Still, the river was chocolate milk, so I rescheduled trip.
Sunday – Another mild winter day…but the water clarity was still unfishable in the river so I rescheduled my trip.  Decided to poke around Lake Erie with my buddy, Mike.  Boated 1 walleye in some muddy water.  
Seasonal Assessment/General Observations
All We Need is a Little Clarity
I don't have a lot to add to my observations from the week prior.  It's been frustrating having to reschedule so many trips.  I'm EXTREMELY thankful that my clients have remained flexible – some of them have been moved more than 3 times due to crappy conditions.  Still, I'm optimistic about the rest of the winter and early spring based on what I've seen on the water the past couple of weeks.
I'm bullish about the rest of the season because there are a lot of fish in the system and there is A TON of bait.  Every fish we caught this past week coughed up smelt.  I boated a brown trout that coughed up 4 mature smelt that it just ate – they were undigested and one of them was still swimming a little bit!  That brown trout was barely 20" long.  Bottom line, all the ingredients are there for an AWESOME winter EXCEPT for water clarity.  Good times are coming – I know it.
It's been so long that we've had optimal water clarity that I forgot what it looks like.  I'm kidding (slightly) but I've gotta say that I'm happy/pleasantly surprised by what we've been able to pull off despite marginal water clarity.  By marginal, I mean about a foot and a half or so of visibility.  Fishing through what in previous years I would consider unfishable water clarity has caused me to rethink what's "good enough."  Still, I can't help imagining how good it could be/will be once visibility exceeds 3'.
On Ice Cover
Why Regional Anglers Care
Every winter, Lake Erie ice cover becomes a focus of regional anglers.  Here in the eastern basin of Lake Erie, we're completely exposed to the prevailing winds (WSW), which is why we get big waves and the muddy water that follows.  When our basin is covered by ice, the winds can't generate waves, so the water stays clear.
If you're not from the Buffalo Niagara Region (well, a lot of locals don't know this happens so this applies to you too), you might be wondering how we fish when Lake Erie freezes.  Keep in mind that no matter how much ice covers Lake Erie, the Niagara River will continue to flow, pulling water downstream from under the ice.  The Niagara doesn't freeze because it's an inconceivable volume of water that's constantly moving – making it accessible to boats/anglers through the season.
Still, you might be thinking that we would want Lake Erie to stay ice free so we can continue to fish out there.  Sure, that's a potentially good situation for the winter…if the wind stays down…but that just isn't going to happen in the Buffalo Niagara Region.  I mean – look at what's been going on this season.  My take – It's better to have one option than none so I want to the Lake to freeze.  Unfortunately, I don't think that's going to happen this year.
Ice Forecast for the Rest of the Season and Beyond
As of this morning, the water temperature in the eastern basin of Lake Erie is around 37 degrees.  Since 1927, when we started recording Lake Erie water temperatures, it's been this warm on this date many times.  Most recently, it was this warm in 2020, 2012, and 2006.  During those years, Lake Erie barely hit 20% ice coverage – and all that was in the shallower, western basin.  In other words, it's very unlikely we'll get ice cover this year and in turn, the risk of having to reschedule trips due to poor water clarity will remain high.  Fingers crossed we get long stretches of stability.  That's usually the case in February.
If you're thinking long term, you might be wondering how a lack of ice on Lake Erie will affect the spring.  In theory, without ice covering the lake, the water will warm up faster in the spring making the seasonal pattern kick in earlier than "normal."  In fact, that's what happened during 2020, 2012, and 2006.  However, you don't have to dig too deep to find years/examples where there was close to 100% ice coverage followed by a very warm spring such that by the middle of April, water temperatures were just as warm as they were during those iceless years.
Here's an example to highlight how ice cover isn't necessarily a predictor of the spring pattern.  In 2021, there was over 80% ice cover on Lake Erie.  However, by mid-April that year it was all gone and the water temperature was 43 degrees.  Well, it was the same temperature by mid-April in 2020, 2012, and even colder (40degrees) in 2006.  Although it's entertaining to "nerd out" on the data (you can find it here: Ice Cover: NOAA Great Lakes Environmental Research Laboratory – Ann Arbor, MI, USA), it's tough to make predictions.  All we can do is get out there often and fish the conditions.  I'll say this though – the smallmouth bass and king salmon bite kicked in very early (mid-April) in 2020 and stretched deep into May.  We had an incredible steelhead bite early-April that year too.
Angling Forecast for the Week of 01/23/2023 – 01/29/2023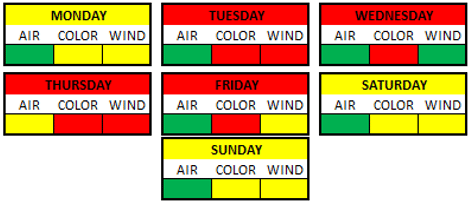 The forecast for this upcoming week is looking about the same as this past week.  We could have "clear enough" water color by Monday but there's supposed to be an overnight, WSW blow with gusts into the 30s that could screw things up for Tuesday.  Wednesday looks like there will be very little wind but a lot of snow so that's a wash.  Beyond that, fairly high winds from a few different directions, plus a drop in temperature, plus snow.  Bottom line, there will be a lot of last-minute calls.
I'd like to poke around Lake Erie again just to see what's possible.  I've never fished it this time of year so I'm curious about what's going on.  Monday or Wednesday could work for that as long as there's decent water clarity.  The conditions for all other days of the week will limit angling to the River…let's hope we get enough clarity to make it worthwhile.
Stay healthy my friends – mentally and physically,
Ryan
Tap any image below to swipe through the gallery.