Buffalo NY Fishing Report for the Week of 01/30/2023 – 02/05/2023
Here's our latest Buffalo NY fishing report:  I apologize if I'm getting a little "broken record-ish," but this past week didn't lend itself to very many angling opportunities. As predicted, the Buffalo Niagara Region experienced some wild weather with temperatures as low as 5 degrees and gusts of wind reaching 40mph. I'm happy to report that I'm not suffering from shack nasties though. Keep reading to find out how…
Days on the Water: 0
Who we fished with: n/a
Where we fished:  n/a
What we caught: n/a
Tactics: n/a
Episode 42 of Two Angles on Angling is live:   Jordan actually beat me in numbers of days on the water for this past week. We discuss that outing, the current condition of the fishery (messy), and the forecast for next week. We get deep about Lake Ontario fish stocking. What's the science and rationale behind the stocking numbers…by species?  By location?  Is the science sound/is the current methodology of "adaptive stocking" the best way to understand an extraordinarily complex system? Why does the Niagara receive a disproportionately small percentage of the total number of salmon stocked in Lake Ontario? And more…
Daily Conditions Analysis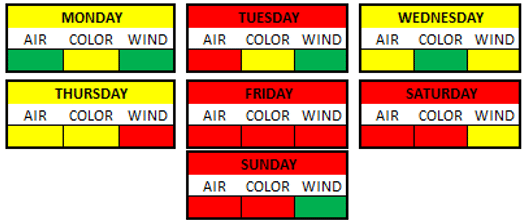 Monday – Angling was a possibility, but I wasn't booked so I stayed off the water.  Clarity was marginal but fish could've been caught.
Tuesday – Temperatures dropped into the teens/low 20s, but the water clarity was the best I've seen it in weeks.  However, when temperatures are that low, I don't fish…from my boat that is.  Over the years, I've found that operating in temperatures that cold ends up damaging something…the trolling motor, wiring, etc.  Let me be clear – I can tolerate those temps because I have the gear to do it.  However, it's a risky endeavor for boats.  I've already done close to $1K damage to it this winter.
Wednesday – This would've been the day to fish…and I'm kicking myself in the ass for not trying.  I wasn't booked so I opted to stay off the water but the clarity was good, the wind was low, and the temps were in the upper 20s (the sun was out too).
Thursday – An early morning session could've happened, but things deteriorated quickly.  Winds started to rage by late morning.  Stayed off the water.
Friday – Wind from the afternoon/night prior kicked up waves over 15′ on Lake Erie…that trashed water clarity.  Plus, when I woke up, it was 7 degrees outside.
Saturday – Morning temperature was 2 degrees.  River was trashed.  Cancelled the trip.
Sunday – Temperatures got back into the upper 30s but the river was still muddy.  Cancelled trip
Seasonal Assessment/General Observations
I preach A LOT about the importance of avoiding shack nasties throughout the winter.  However, after a more than a month of angling conditions that are only amenable to the masochistic, ideas to maintain sanity are on the wane.  I must confess, it's been a bit rough, but I haven't lost my mind…well…not completely that is.    
If you've been reading my blogs for a few years now, you've likely seen numerous essays that define and provide circumvention strategies for the shack nasties.  One such essay prescribes fishing as a remedy (see this link – it's one of my favorites and still holds up Winter Fishing – It's Not Crazy – Brookdog Fishing).  Since fishing the big water hasn't been possible lately (yeah, I know, I could walk creeks…and I'm on the verge of doing so but, damn…it's tough for me to cover water that slow), off the water schemes are more practical (see this link – Getting Nasty – Lessons Learned from a bout with the Shack Nasties (brookdogfishing.com)).  Since I have little else to add this week, I hope you find both these essays entertaining.  The subjects are serious but the presentations in both are meant to be funny.   
Angling Forecast for the Week of 02/06/2023 – 02/12/2023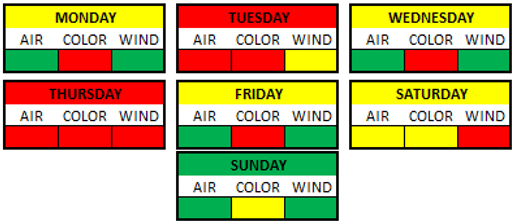 The forecast for this upcoming week is calling for more grim days.  Temperatures won't be an issue as it'll be unseasonably warm with temps in the upper 30s and 40s.  Wind, as per usual lately, will be a problem.  The river will try to clear today (Sunday) – the front half of Tuesday – but it won't get clear enough before some big winds later that evening and ruin things again.  More chaos looks like it'll be on the docket for Thursday with big wind and rain.  That's a long way out though – I'm hoping conditions will unfold a little more favorabily than forecasted.  Could Sunday happen?  Fingers crossed.
Although we're only one month into winter, my spring calendar is booking up FAST.  If you want to get out during spring insanity, don't delay – give me a call at your earliest convenience.  It's an incredible time of year – I'm looking forward to seeing many of you out there.  Until then…
Stay healthy my friends – mentally and physically,
Ryan
Tap any image below to swipe through the gallery.