Buffalo NY Fishing Report – Observations from 03/13/2023 – 03/19/2023
Here's our latest Buffalo NY fishing report:  It was a disappointing week – Mother Nature laughed at the forecasts and added unanticipated friction near daily.  I'm a little disappointed in myself too, but I'll save that commentary for later in this report.  In short – I didn't fish as much as I hoped I would and when I did get out, action was slow.  Keep scrolling for more details.
Days on the Water: 3
Who we fished with: friends/clients
Where we fished:  Lower Niagara
What we caught: lake trout, steelhead, brown trout, smallmouth bass, walleye
Tactics: 3-way rig with live bait
Episode 45 of Two Angles on Angling is live: After spending a couple days on the water this past week, I talk about what I saw and provide an assessment of how spring is starting to shape up. Jordan and I provide the angling forecast for this upcoming week as well. We get deep about spring – signs that it's here (starting tomorrow) and what to keep an eye out for on land and in the air to know when it's best to go fishing.
Daily Conditions Analysis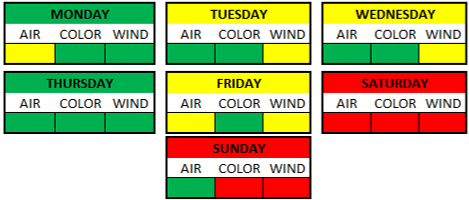 Monday – Fished the Lower Niagara and the Lake Ontario bar.  Caught a trout slam plus a bonus smallmouth bass and walleye.  Temperatures were colder than forecasted and far more snow fell than what was predicted.  We called it early.
Tuesday – temps in the 20s and NW winds gusting into the 30s.  Decided to stay off the water.
Wednesday – Big NW winds continued but I didn't want to stay off the water.  It was sunny and the temps were in the low 30s.  Decided to hunker down in Devils Hole for a few hours with a buddy.  Action was lackluster.
Thursday – Gorgeous day – sunny, temps in the upper 40s, and the wind was minimal.  Lots of boats were out taking advantage.  The bar was crowded but we managed to connect to a few through the crowds.  Fished Devils Hole later – same amout of action there.
Friday – BIG west winds, temps in the 30s, and rain.  Could've made a day out of it in Devils Hole and maybe a pocket or 2 downstream but it would've been brutal.  Opted to reschedule.
Saturday – huge wind, snow, and muddy water – didn't fish
Sunday – less huge wind but still prohibitive and the water was still muddy – didn't fish.
Seasonal Assessment/General Observations
On the Conditions
It's hard to know what's been going on lately – or maybe I don't want to accept the reality of what I've been seeing.  As I've mentioned in nearly all my reports over the past few months, it's been a brutal winter for fishing.  Fishable days have been few and far between since Christmas Eve due to poor water clarity and relentless wind.  My hope and source of optimism throughout all these reports went something like this – yeah, it sucks not being able to fish BUT the lack of angling pressure is protecting the fish.  Preserving them for when conditions turn in our favor.
Well, conditions turned in our favor a little more than a week ago.  With many days of stability buttressed by north winds, Lake Erie cleared up and in turn, so did the Niagara River.  With a lot of pent-up demand due to all the rescheduling throughout the winter, us anglers hit the river en masse.  Catch rates started off low compared to years past…and have remained that way as of this writing.  Why?  I have some theories but I'm going to keep them to myself for a bit while I continue to do more research.
There is reason for optimism.  For one, the Lake Ontario bar is starting to heat up.  Although it's been crowded, there have been enough lake trout and brown trout around to keep everyone entertained.  Every fish I've boated has thrown up smelt and I frequently mark schools of bait so there's plenty of forage available to keep the fish around.  My only concern is that there's a lot of pressure on those fish – I hope that stress doesn't put them down and that anglers don't take too many home for the smoker.
The other reason for optimism is that it's early.  A small portion of the steelhead I've boated lately have been chrome – the majority are so dark they've likely been there since early winter.  In other words, we're still a couple weeks away from the spring spawning run when big numbers of fish will enter the system.  Before long, kings will show up along with a fresh push of lakers following the smelt spawning run up the river.  The best is yet to come.
A Little Personal Reflection
Anyone that's fished with me or reads my fishing reports knows that I'm transparent to a fault.  Well, in that vein, I've been wondering lately if I take it too easy on my clients.  Allow me to explain…
When I see a forecast that's going to make fishing challenging (i.e. big wind, temps below 30, rain, marginal water clarity, etc.), I let my clients know…and I give them an option to reschedule.  Rarely, when presented with a challenging situation, do clients opt to fish anyway.  I understand this – fishing trips aren't cheap and most folks don't want to spend their hard earned money to endure hardship.  Here's my problem though – in these conversations with clients, I think I might be presenting the situation in such a way as to deter them from wanting to go for it.  Maybe there's another problem/issue – that I give folks the option at all.
Look, I'm not a fair-weather angler, but I'm concerned that I might be condoning the practice.  As a guide who often books guides throughout my travels, I've fished with folks that'll go for it/not cancel/not even bring up the option to reschedule so long as conditions are safe.  Some of my local colleagues have the same mentality.  Most of the time, that practice leads to low catch rates and a lackluster experience – but the guide earns his/her income.   That's not a problem for me – my objective for a day on the water is different from most.  I'm happy just NOT being in charge and if I boat a couple of fish, I'm stoked.  Few people book a fishing trip with those expectations.
Here's the thing about the Buffalo Niagara Region – if the water clarity is good and it's safe to be on the water (i.e. no crazy winds, pelting rain with lightning, thick snow fall, temps in the single digits, etc.), fish almost always get caught.  I've rescheduled a few trips lately that would've been safe – cold, wet, and generally taxing on the psyche – but safe.  Fish would've been caught on those days – should I have given the option to NOT go?
After 7 years doing this, I still struggle to answer that question.  Every day I reschedule is one less day to earn income for the year – and we don't make a ton of money in this business as it is.  Think of it this way – let's say that I reschedule you with the hope that the conditions will be favorable on that new date.  When that new date comes, assuming conditions are fishable (and that's a BOLD assumption), the hope is that you'll book again having had an enjoyable experience.  That's the gamble – passing on income now, betting that 2x(++) that income will come in the future.  Oh yeah, to throw a little more chaos into the gamble – sometimes when you fish through brutal conditions, Mother Nature favors the bold and rewards you.
Buffalo NY Fishing Report – Forecast for 03/20/2023 – 03/26/2023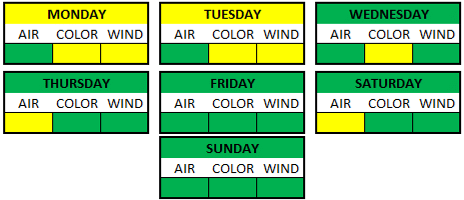 After a week of poor predictions, I'm going to stay away from getting too bold for this upcoming week.  I'll say this much – if the forecast holds, there will be plenty of fishable days.  However, there will be some obstacles. 
Water clarity is going to be a problem in the near term.  All that wind from Friday through today did a number on the system.  There were waves over 10' on Lake Erie for nearly 2 days straight, which destroyed that pristine color we've had the past couple of weeks.  As of this writing, there was maybe a foot of visibility in the Niagara River.    
There's a silver lining – although the river will likely remain "unfishably" muddy for a couple days, Lake Ontario will be blue or green somewhere – likely toward the east.  Browns have to be cruising the shoreline by now and the lake trout are likely staged on the flats.  As long as the winds stay down or from the south, pursuing those predators will be an option. 
I intended to work a Lake Ontario trolling program this past week, but conditions were only right for it a couple of days and I opted to fish the bar instead.  It looks like current conditions will force me to get after it this upcoming week.  Stay tuned!
Stay healthy my friends – mentally and physically,
Ryan
Tap any image below to swipe through the gallery.