Buffalo NY Fishing Report – Observations from 03/20/2023 – 03/26/2023
Here's our latest Buffalo NY fishing report:  I wish I could tell everyone reading this that I spent a lot of time on the water this past week, but Mother Nature had other plans.  I managed to poke around Lake Ontario briefly and the river was clear enough to fish a couple of days but big wind, rain, and poor water clarity resulted in a lot of rescheduling.  Keep scrolling for more details.
Days on the Water: 2
Who we fished with: friends/clients
Where we fished:  Lower Niagara, Lake Ontario
What we caught: lake trout, steelhead
Tactics: 3-way rig with live bait, trolling spoons
Episode 46 of Two Angles on Angling is live: Jordan spent some time fishing around PA so we discuss where he went and what he caught.  I discuss what I saw during the couple of days I spent on our local water.  We get deep about ways for local anglers to get engaged in their fishery – how to influence regulations, stocking (if that's a thing where you live), management, preservation…and more.  
Daily Conditions Analysis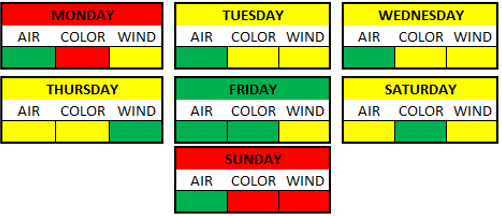 Monday – Didn't fish.  Big winds started a few days prior and remained big despite the forecast.  Water clarity was poor.
Tuesday – Wind direction shifted to NW.  Water clarity remained poor and Lake Ontario was too big to fish.
Wednesday – Fished Lake Ontario out of Olcott for a few hours.  ENE winds in the double digits kicked in way earlier than forecasted.  There were consistent rollers over 3′.  Plus, that ENE wind pushed the muddy water flowing out of the Niagara back toward the west, forming a mud line that extended WAY off shore.  Finally found a clear stretch in over 100′.  Managed to double up on lakers when we found the clear stuff – but the clarity didn't last long as the winds increased ahead of the forecast.  Fished in the muddy stuff for a little bit – LOT OF MARKS – but water clarity was trash.  Called it early.
Thursday – Heavy rain.  River water clarity was marginal at best.  Winds out of NNE made Lake Ontario less than inviting.  Rescheduled trip.
Friday – Water clarity was good enough to make for a fishable day.  Fished out of Lewiston, NY.  Started on Lake Ontario – N winds made Lake Ontario a ride, but it wasn't problematic.  The problem was that the mud line from the dirty river water remained miles off shore – too far out (too deep of water) to find fish.  Lots of marks in shallow, but the water was too dirty.  Ended up fishing the river instead.  Water clarity was good – fishing was slow.
Saturday – huge E wind, close to an inch of rain, and thunderstorms – didn't fish.  However, a day in Devils Hole would've been possible.  Water clarity held until late night, when the winds shifted to the SW.
Sunday – HUGE SW winds over night – gusts got close to 70mph.  So much for clear water – system is trashed.  Mud line extends miles out into Lake Ontario.
Seasonal Assessment/General Observations
On the Conditions
So…once again, the forecast was wildly inaccurate – especially for the weekend.  I'm not going to wallow in a pool of tears over it.  Stability is coming…stability is coming…
I'm cautiously optimistic about the spring steelhead run this year.  Catch rates are low right now, but considering that we've only been able to fish though borderline conditions, it's hard to know if it's shaping up.  It's still a bit early to make an assessment – the peak of the run is likely a couple weeks away.
I'm very optimistic about Lake Ontario.  There are plenty of brown trout around and when I ventured onto the flats just to look around through the muddy stuff, the screen was rarely without a mark.  We just need stability/water clarity.
A Little Personal Reflection
The sentiment when talking to fellow captains and anglers of late is that this has been a brutal winter (and now, early spring).  I've used the term "brutal" more than a handful of times, so I'm as guilty as the next person.  Every time I hear the same thing repeatedly, I start to question it.  So, in the spirit of thinking critically, I pulled some historical weather data and here's what I found.
I make this point often, but just in case you're a new reader of these reports, wind is the biggest source of friction around here.  Wind pushes water around, which influences current/drift speed.  It also generates huge waves that wreak havoc on water clarity.  Lately, when my angling friends, fellow charter captains and I commiserate about NOT being able to fish, we all seem to think that this winter was particularly windy.  Well, I pulled the data…this year has been in line with historical averages.  See the graph below (those red boxes are years when there wasn't meaningful ice coverage on Lake Erie.  Meaningful = a high enough coverage to prevent waves).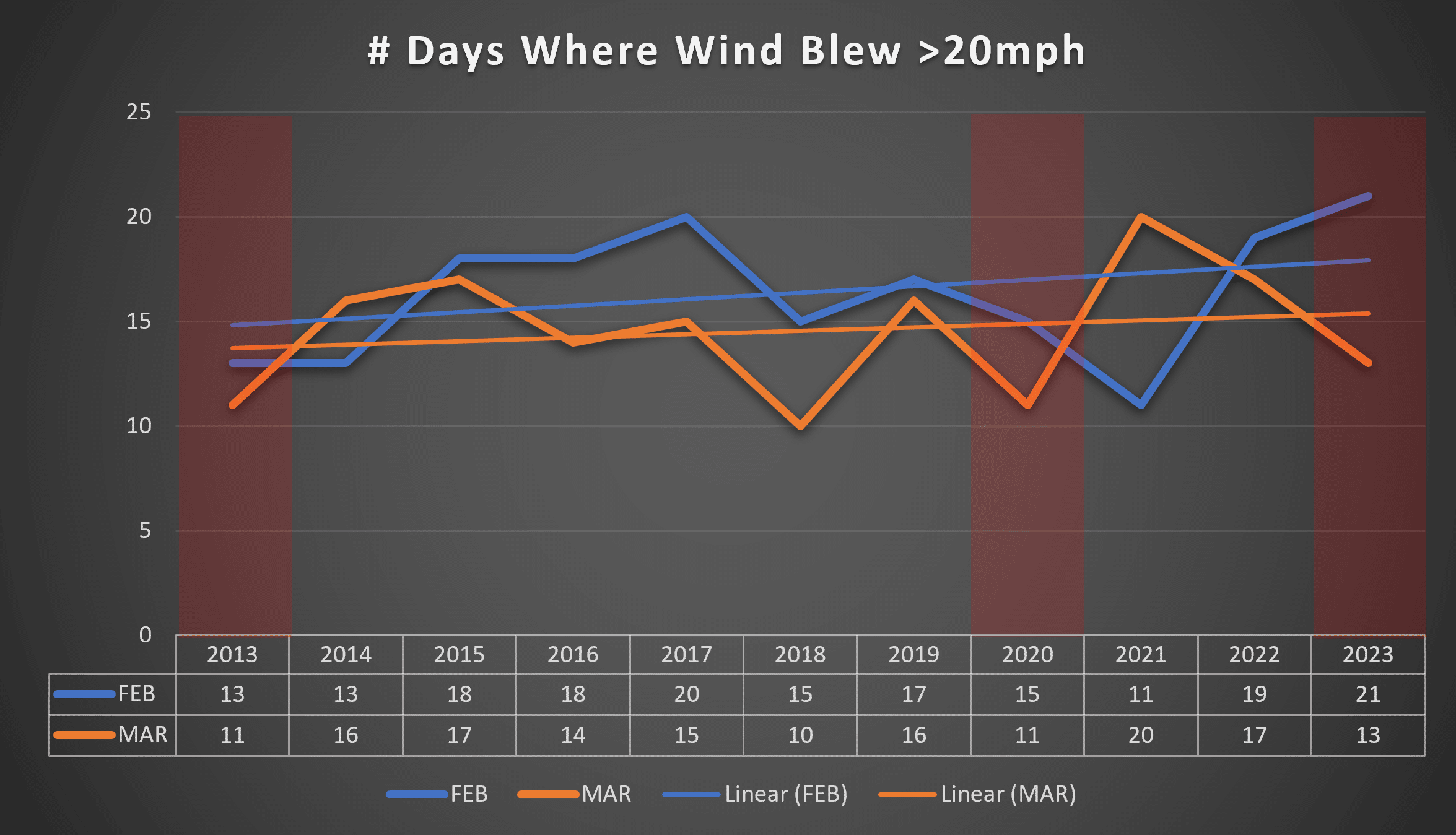 Bottom line, this past winter wasn't outside of historical averages for the number of windy days.   The start of this spring hasn't been an anomaly either.  Here's my assessment of the data – we have short memories – myself included.  When you're going through something that feels tragic, it's hard NOT feeling like it's particularly painful.  A little reflection can give you a healthier perspective.
I'm not trying to sugar coat this past winter.  Because of the 2022 Christmas Blizzard, our fishery remained trashed most of January.  That was bad for business.  However, February and March were nothing out of the ordinary.  It'll take time to make up for those early season losses, but I'm confident this spring will more than make up for it.
Buffalo NY Fishing Report – Forecast for 03/27/2023 – 04/02/2023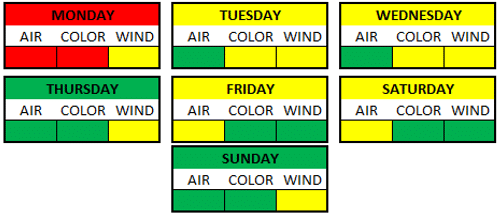 When I pulled the weather data for the chart displayed in the wind commentary above, I also pulled my March fishing reports for the past 4 years.  It's funny – I vent about the same things every year.  I have to start making an effort to consider conditions over larger blocks of time – it's healthier for the angling mind.  Sure, it's been a little tragic lately, but conditions will revert to the mean before long – they always do.
Every March, we get a small dose of nice weather (temps over 50).  However, shortly after that occurs, Mother Nature always reminds us that spring starts when she wants it to by reverting to winter for a bit.  Well, that's what's about to happen.
As per usual lately, water clarity will be the biggest obstacle going into this upcoming week.  The wind is still howling as I write this, and the water clarity is mere inches of visibility.  With the help of some N and E winds throughout the early part of the week, there's a chance the river will be clear enough to fish by Thursday.  If you're willing to endure some waves on Lake Ontario, you could get out earlier than that.  By the end of the week, when clarity becomes good enough, rain is supposed to show up.  Good times.
Don't let these conditions get you down my friends.  I'm staying motivated despite all the time off the water.  Good days are on the way…good days are on the way.
Stay healthy my friends – mentally and physically,
Ryan
Tap any image below to swipe through the gallery.