Buffalo NY Fishing Report – Observations from 04/10/2023 – 04/16/2023
Here's our latest Buffalo NY fishing report:  Huge week.  I managed to fish every day.  It wasn't without challenges, but we managed to cover a ton of water and caught fish along the way.  The spring pattern is starting to unfold – albeit slowly – but every day is getting better and better.  Keep scrolling for more details.
Days on the Water: 7
Who we fished with: friends/clients
Where we fished:  Lower Niagara, Lake Ontario, Upper Niagara
What we caught: lake trout, steelhead, smallmouth bass
Tactics: 3-way rig with live bait, trolling spoons
Episode 48 of Two Angles on Angling is live:  Jordan and I managed to spend A LOT of time on the water this past week so we spend the bulk of the podcast discussing what we saw.  We get deep about taking notice of things that are occurring in the sky and on the ground and how those obvservations correlate to the pattern of live underwater.  
Daily Conditions Analysis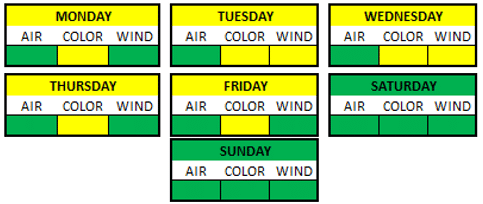 Monday – Grindy on Lake Ontario – muddy water extended 2 miles out from the bank.  Lots of marks but no fish in the first hour.  Move to the Lower Niagara.  Managed to pick up steelhead, lake trout, and smallmouth bass – all on minnows.  
Tuesday – a BIG SW wind had Lake Ontario rolling – water clarity improved somewhat but it was difficult to get set up in those waves.  Opted to move back to the river and fish smallmouth bass – excellent bite.  
Wednesday – Wind from the day prior damamged water clarity – down to a little over 1′ of visibility.  SW sinds remained prohibitively high to fish Lake Ontario.  Fished the Upper Niagara for bass.  Got into them.  
Thursday – It was a little breezy so I opted for a Lower Niagara/Upper Niagara combo.  The Lower Niagara was a dud.  The Upper fished well in a fe spots.  
Friday – Fished Lake Ontario, the bar, and the Lower Niagara.  Lake O was still muddy all the way west to 4-mile.  We marked a ton but had no takers.  Moved to the bar and got into some browns.  Moved up river and went bass fishing – got into some nice fish. Water color started marginal but improved thoughout the day. 
Saturday – Excellent bass bite on Lake Erie and the Upper Niagara.  Drop shots with a white grub was the ticket.  
Sunday –  Tough day on Lake Ontario.  Moved to the bar and into the Lower Niagara.  Eeked out a trout slam with a few smalljaws too.  
Seasonal Assessment/General Observations
On the Conditions
Things are finally starting to feel like spring.  After all the 70-degree days we've been having, the water is heating up fast.  The Niagara River is pumping out 43-degree water as of this writing – things are about to get wild…and it's mid-April.
The last time this happened was 2020 – COVID.  Although we couldn't guide until late May that year, my friends and I fished often, and the bite was incredible.  It's looking like the same pattern is about to unfold this year.  Here's a quick species breakdown…
Smallmouth Bass
Yes – there's a strong smallmouth bass bite and it's only April.  Fish are on the move, migrating into the tributaries as well as their pre-spawn staging areas.  Pre-spawn staging areas are typically inside current breaks, on the edge of drop offs, and almost always border sand and gravel.  Look for those areas and you'll find fish.
The standard drop shot with a 3" white grub was the ticket for us all week but honestly, anything could've worked.  While my clients fished drop shots, I fished neds, swimbaits, and stick baits and caught fish on all.  I'm giddy, my friends – and it's just getting started.
Salmon/Lakers/Browns
Lake Ontario has been weird for weeks now.  Until very recently, the Niagara has been pumping mud into Lake O.  Now, the Niagara is clear, but since we haven't had much wind lately, all that mud is just swirling around the lake, slowly settling down.  Every day it gets a little clearer, and as it does, the catch rates have been increasing.
We've been finding fish all over the place – from 10' of water out to nearly 100'.  The key is finding the clear stuff.  Mature kings have been rare but there have been plenty of cohos and browns in the mix to keep things entertaining.
As the water clears and heats up, the action out there is going to get crazy.  As I mentioned above with the bass – this is just the beginning.  The best is yet to come.  Making a decision about what to do every day is going to get tough.
A Little Personal Reflection
I must admit – I was in a dark place for a couple weeks leading up to this past week.  The lower Niagara had been fishing so poorly lately it was crushing my morale.  I have some theories about why it was fishing so slow, but I'm going to save that for a more extensive blog post.  Bottom line, it was starting to hurt – mentally and physically.
With the bass bite kicking in and Lake Ontario starting to improve, I'm back on plane.  Nothing heals wounds, both mental and physical, like nice weather and catching fish.  Seeing the trees bud and flowers bloom as well as watching the arrival of the migratory birds and hearing their morning chorus is another form of inspiration.  Everything is waking up and getting active – it feels great being out there every day.
THANK YOU – to all my clients for sticking with me through some tough outings in weeks past.  It means a lot that you've been able to maintain morale and continue to fish through adversity.  I'm lucky to have you as friends/clients.
Buffalo NY Fishing Report – Forecast for 04/17/2023 – 04/23/2023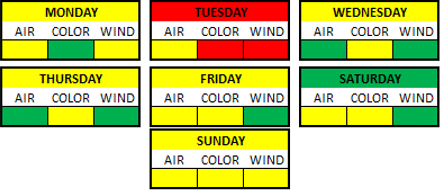 Wind, and in turn, color, are going to be a big factor this upcoming week.  Monday should be OK but beyond that, there's going to be a lot of last-minute calls.  The forecast is calling for winds out of the west, blowing in the teens and low 20s for most of the week – that'll surely stain things up a bit. 
In addition to the wind and stain, it looks like temperatures will drop down into the 40s and 50s for much of the week – I invite that drop – I've been sweating though my bibs lately.  It's too early for that.  Oh yeah, rain will make an appearance here and there too.
Although that forecast sounds kind of gloomy, it's not all bad.  Now that the bass are getting set up, they'll feed readily though the mud.  I wish I could say the same for the trout though.  If you're booked with me for this upcoming week, please remain flexible – we'll have some options. 
Stay healthy my friends – mentally and physically,
Ryan
Tap any image below to swipe through the gallery