Commentary for the Week of 04/11/2022 – 04/17/2022
Things are heating up quickly – water temperatures broke into the 40s on both Lake Erie and Lake Ontario (and the water in between).  We caught our first king salmon and our first smallmouth bass of the season.  It's only going to get better from here.  Bass are getting caught on Lake Erie and the Upper Niagara.  The lower Niagara continues to be slow for steelhead compared to previous years but if you put in a little work, you'll catch fish.  Lake Ontario is fishing well for cohos and lakers with an occasional king in the mix (watch out for all the floating wood – it's like a minefield out there).
Tap the icon below to listen to our latest podcast or subscribe wherever you listen to your podcasts.
Daily Conditions Analysis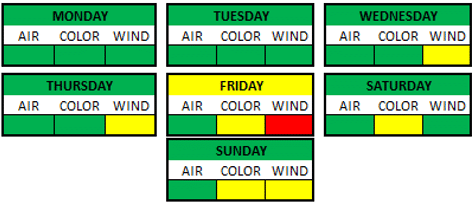 Monday – Fished Lake Ontario – gorgeous day.  Wind didn't kick in until late.  Did well on lake trout and boated the first king of the season.

Tuesday

– Had some engine trouble the evening prior so I had to reschedule my trip for the day.  Collins Marine got her up and operational in a few hours, so I was ready to fish the following day.

Wednesday

– Started off on Ontario – lots of floating timber and dingy water color made it tough.  Converted to fished the Lower Niagara.  Big SW winds had the current raging.  Converted to the Upper Niagara.  Caught a few bass.

Thursday

– Big winds out of the west made things tough.  Devils Hole was raging faster and bigger than I've seen it in a long time.  Tough day but we caught fish.
Friday – rescheduled the trip.  Wind advisory and small craft advisories were in place starting mid morning from Lake Erie to Lake Ontario – winds were huge out of the SW.  Could've gambled with a very early morning session on Lake Ontario but had a dad and young daughters on the calendar – not a great idea.

Saturday

– Perfect day to fish Lake Ontario.  We did well on lake trout and boated a couple cohos too!
Sunday – fished the lower Niagara – slow day 
Seasonal Assessment/General Observations
I don't know what to say about the steelhead run this year – it should be in full swing right now and it isn't.  In fact, the steel we boated this week were on the small side – which is typically a sign that the run is getting close to the end.  I'm concerned about future years as are many of my colleagues.  It's important for us to figure out what happened – mainly to learn if this is going to become a trend going forward.  However, I'm not hopeful that we'll ever reach a consensus about the issue.  I have some theories but I'll save that for a blog or a conversation on our podcast.
On the bright side, our water temperatures are heating up nicely.  Smallmouth bass are starting their pre-spawn feeding frenzy – and that's only going to get better in the upcoming weeks.  In the Upper Niagara, they are setting up along current breaks and ambushing emerald shiners (the river is LOADED with them) – packing on weight so they can get through the spawn.  I love fishing for them this time of year because you can cast nearly everything in your tackle box and the bass will attack it.
As I mentioned in the daily breakdown, salmon are starting to show up too.  It seems like they are covering the entire water column on most days.  I've been sticking around that 50-100 FOW water range and using the brightest spoons and stick baits in the collection.  Just like the bass action – things are just getting started.  The next couple of weeks are going to be awesome.
Looking Forward to the Week of 04/18/2022 – 04/24/2022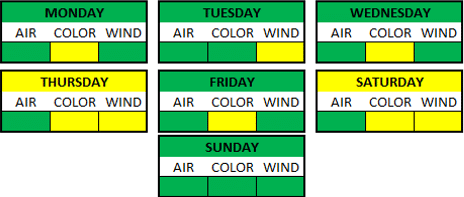 Fishing Conditions Looking Forward
This upcoming week is looking pretty good.  Temperatures will make a brief reversion back to the cold stuff in the beginning of the week followed by a general warming trend as we get closer to next weekend.  As with last week, wind will continue to be the biggest obstacle.  Unfortunately – without ice cover – huge winds out of the southwest/west will generate big waves on Lake Erie.  Those waves will stir up the water, fill it with sediment/mud, and send it downstream into the Niagara making the fishing tough.
With that forecast in mind, there'll be a lot of last-minute calls about when and where we'll fish.  I'll certainly spend some time on the upper Niagara and Lake Erie early in the week followed by some Lake Ontario sessions later on.  I'll also give steelheading a brief commitment on a couple of days (I'm not ready to give up on them).  
We're booked daily and you know me – covering water throughout the fishery is the goal this time of year.  Looking forward to it!
Stay healthy my friends – mentally and physically,
Ryan
Tap any image below to swipe through the gallery