Buffalo NY Fishing Report – Observations from 04/17/2023 – 04/23/2023
Here's our latest Buffalo NY fishing report:  Back to back strong weeks!  The other than a couple of days early in the week, Mother Nature allowed for plenty of fishable days.  I managed to fish everything from Lake Erie to Lake Ontario.  Keep reading for more details.
Days on the Water: 5
Who we fished with: friends/clients
Where we fished:  Lower Niagara, Lake Ontario, Upper Niagara, Lake Erie
What we caught:  smallmouth bass
Tactics: 3-way rig with live bait, trolling spoons, drop shots
Episode 49 of Two Angles on Angling is live:  Jordan and I both spent a lot of time on the water this past week, so our fishing report dominates the conversation.  We get deep about how to avoid burnout – when the fishing is good, the tendency is to go as hard as you can.  That kind of behavior isn't without repercussions.
Daily Conditions Analysis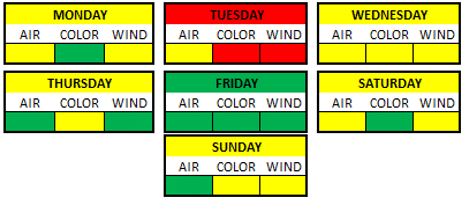 Monday – Fished the Upper Niagara – did well on smallmouth bass – drop shots with a white grub performed best.  Fish were on the move and more spread out.  
Tuesday – BIG SW wind kicked up overnight and stained the water, temps fell to the upper 30s and low 40s, a little bit of snow.  Rescheduled trip.    
Wednesday – Fished the Upper Niagara – did OK on smallmouth bass.  Water was highly stained, temps were in the low 40s, wind blew from the west in the teens all day.  
Thursday – big east winds.  Clients blew me off – didn't call or text – that's never happened before.  Won't happen again.  
Friday – Fished Lake Erie and the Upper Niagara – did well on smallmouth bass.  Lots of angling pressure in the river.  Fish are already getting pushed around and the well known drifts are getting hammered…let's hope this doesn't continue.
Saturday – Fished Lake Ontario and the Lower Niagara.  Brutal day with rain and a steady east wind the ultimately pushed us off the lake.  Tough session all around – called it early.  
Sunday – Rescheduled my trip.  Did some recon work on the upper Niagara with my buddy Ryan.  Found fish in some new spots.     
Seasonal Assessment/General Observations
On the Conditions
Mother Nature exposed us to a little bit of everything this past week, with rain, snow, wind, frigid temperatures, bluebird skies, and heat all making an appearance. As a result, fishing was hit or miss, with some days yielding big fish in good numbers  and others leaving me scratching my head. Although the spring pattern arrived early this year, the past week's unpredictable weather put a damper on the initial surge, which I'm happy about since the best is yet to come.
As warm weather swept over the area a little more than a week ago, fair-weather anglers rushed to take their boats out of storage, resulting in a ridiculous amount of angling pressure. For those who fish the river, my message to you is simple: COVER WATER!
I understand that I don't own the river or have the power to set policies, but having fished the Niagara more than 99% of anglers, I can confidently say that repeatedly fishing the same areas only harms your chances in the coming weeks. While it's understandable to be excited about being out on the water after a long winter, it's crucial to avoid wearing out the same spots and to explore new areas.
I apologize for my rant about the Niagara River, but it's a message that needs to be heard. It's not even May yet, and the number of anglers on the water is already crazy. If everyone continues to overfish the same areas, the good times will be short-lived. On a more positive note, Lake Ontario has yet to hit its prime and is just getting warmed up.
A Little Personal Reflection
Reflecting on my own experience, I have to admit that I pushed myself too hard over the past couple weeks. Fishing for nine days straight in challenging weather conditions, followed by several more days of fishing, left me feeling completely drained. While I worked hard all winter to get in shape for the spring season, a lack of sleep took its toll on me, as I was only getting 5-6 hours of rest most nights over the past two weeks. Despite being physically fit, it's clear that not getting enough sleep can take a significant toll on one's well-being. Moving forward, I plan to prioritize rest and moderate exercise to ensure I'm ready for the weeks ahead.
Buffalo NY Fishing Report – Forecast for 04/24/2023 – 04/30/2023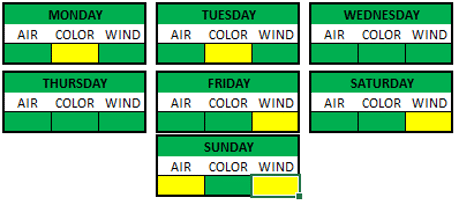 This upcoming week appears promising, assuming that the forecast remains unchanged. However, the immediate challenge will be water clarity. Due to the high winds on both Saturday and Sunday, the water in the Niagara River is heavily stained. It is not too stained for bass fishing, but it is slightly too murky for trout fishing.
Despite the stained water, this upcoming week will present numerous angling opportunities. Mother Nature will continue to keep us on the threshold of warmth, with temperatures in the 40s for the next five days. Although it may not be the most pleasant temperature to fish in, the wind is not expected to be a major factor, and the sun is anticipated to appear often enough to keep spirits high.
As is typical this time of year, the plan is to cover water and fish the conditions.  Lake Ontario is my top priority, so I will likely spend most of my time there. However, significant east winds later in the week might make that challenging. Regardless, the bass are actively feeding in all areas, so that is always a solid backup plan.
Stay healthy my friends – mentally and physically,
Ryan
Tap any image below to swipe through the gallery