Buffalo NY Fishing Report – Observations from 05/01/2023 – 05/07/2023
Here's our latest Buffalo NY fishing report:  Yep – did another 7 days on the water this past week.  I had some hardcore anglers so we battled adversity for the first couple days followed by a long stretch of gorgeous weather.  The fishing was excellent.  Keep reading for more details.
Days on the Water: 7
Who we fished with: friends/clients
Where we fished:  Lower Niagara, Lake Ontario, Upper Niagara, Lake Erie
What we caught:  smallmouth bass, king salmon
Tactics: 3-way rig with live bait, trolling spoons, drop shots
Episode 51 of Two Angles on Angling is live:  Once again, Jordan and I spent a lot of time on the water this past week so we spend the bulk of the conversation discussing what we saw and the techniques we employed.  The forecast for this upcoming week is looking excellent we discuss that as well.  We get deep about a lot of randomness – from a migratory bird update, to a discussion about why bugs hatch when they do, to the definition of "effective" followed by the most effective bait, and more… 
Daily Conditions Analysis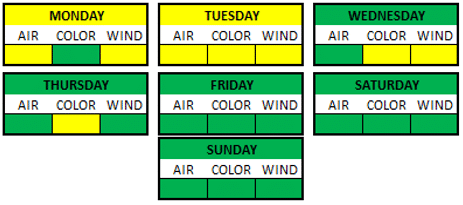 Monday – Despite huge wind and rain, we fished the Upper Niagara anyway and had the best numbers day for smallmouth bass of the year.  Much love to hardcore anglers.
Tuesday – Had the same anglers as Monday…and faced the same conditions – more wind and rain.  Plus, we had stained water due to the wind/rain from the day prior.  Fished a Lower Niagara and Upper Niagara for smallmouth bass – did well but not as good as the day prior.  Again, thanks to hardcore anglers.    
Wednesday – Fished Lake Ontario for kings out of Olcott, NY.  Water was stained from all the wind and rain the 2 days prior.  Action was slow.  Lots of marks though.  
Thursday – Fished the Upper Niagara for smallmouth bass.  Absolutely crushed it on drop shots, swim baits, and crank baits.  Excellent session.      
Friday – Fished Lake Erie and the harbor for smallmouth bass.  Did very well – but there was a ton of boat traffic due to the gorgeous weather and because many anglers were pre-fishing for a bass tournament the following day.
Saturday – Fished the Upper Niagara for smallmouth bass – yet another incredible session using crank baits, drop shots, and swim baits.  
Sunday – Fished Lake Ontario for king salmon out of Lewiston, NY.  Picky bite, LOTS of boats, and millions of chironomids (tiny black bugs that cover you when there's no wind).  Finished the day with some biggie smalls on the lower Niagara.   
Seasonal Assessment/General Observations
On the Conditions
I'm going to let the pictures do most of the story telling this week.  I'm well-fished to say the least.  Out of the past 21 days, I've fished 18 so I'm a little crusty.  It's been a wonderful spring so far and there is plenty more to come.
Smallmouth Bass
The smallmouth bass bite is strong everywhere – from the Lower Niagara to Lake Erie.  Most of the fish are still getting set up near/migrating to their spawning grounds.  As of this writing, the water temperature is 47 degrees coming out of Lake Erie into the Niagara so it's still plenty cold to keep them on the pre-spawn feed for at least another couple of weeks.
With the bass bite being as good as it is, you can fish for them just about any way you want, and it'll yield a high catch rate.  I'm a huge fan of drop shots with white grubs or flat worms because the "thump" on that bait when they hit is a blast.  Crankbaits are a close second, especially when they hit so hard it feels like you slammed into a rock.
Although the bite is a blast right now, pretty please, with a cherry on top, cover water and don't beat up on the same fish hour after hour, day after day.  They are vulnerable right now as they stack up prior to the spawn.  Don't take too much advantage of it.  I promise you, follow the pattern, look up new spots, and you'll find untouched fish.
Salmon
I don't have a ton to say about the salmon bite other than I've tried a few times and have had lackluster outings on every outing.  Water clarity has been a big problem on most outings, but when we went out this past Wednesday, clarity was more than good enough…not sure what happened there.  It was OK out there today but there were a ton of boats to contend with.  I launched out of Lewiston and fished back and forth between the Niagara and about 6miles to the west.  There was a lot of fish and a lot of bait…not a lot of bent rods. 
I'm confident in stating that there are a ton of fish out there.  Rarely did I have a blank screen.  Maybe the pressure from the past 48 hours had them a little apprehensive, maybe I wasn't running the baits they wanted.  It was a full moon and a clear night…maybe they fed throughout the night and the late afternoon bite could've been crazy.  Bottom line, there are a ton of fish out there waiting to be caught. 
A Little Personal Reflection
As everything in nature starts to wake up, take notice.  Every day, new bird songs will emerge, bugs will make an appearance, everything is getting green and pollen is everywhere.  Get outside and check all this out – it'll be good for you after being cooped up through what was a brutal winter here in WNY. 
I'm in the zone now.  After fishing 18 of the last 21 days, I'm at flow state.  I love watching things start to unfold this time of year.  There's a ton of energy out there and the patterns change often enough to keep you on your toes.  There's more to come – the forecast for this upcoming week looks excellent. 
Buffalo NY Fishing Report – Forecast for 05/08/2023 – 05/14/2023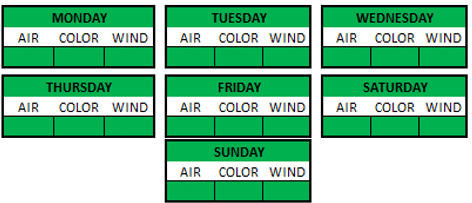 The forecast for this upcoming week is flawless.  I'll be out daily.  As per last week, I'll spend time fishing everything from the Lake Erie to Lake Ontario and the Niagara in between.  Stay tuned! 
Stay healthy my friends – mentally and physically,
Ryan
Tap any image below to swipe through the gallery