Buffalo NY Fishing Report – Observations from 05/08/2023 – 05/14/2023
Here's our latest Buffalo NY fishing report:  Happy Mother's Day to all the fishy moms out there.  Another 7 days in a row…and what a wonderful week it was.  I managed to fish all four fisheries again, but much of my focus was on Lake Erie and the Upper Niagara River.  In other words, it was a bass heavy week.  Keep reading for more details.
Days on the Water: 7
Who we fished with: friends/clients
Where we fished:  Lower Niagara, Lake Ontario, Upper Niagara, Lake Erie
What we caught:  smallmouth bass, king salmon, white bass, bowfin
Tactics: 3-way rig with live bait, trolling spoons, drop shots
Episode 52 of Two Angles on Angling is live:  It was another week of perfect weather and in turn, Jordan and I spent a lot of time on the water.  The pattern has changed a little bit, so we spend most of the fishing report portion of the podcast discussing those nuances.  We get deep about Jordan's decision to become a charter captain – why he decided to go that route, what the lifestyle is like, pros and cons, and more…
Daily Conditions Analysis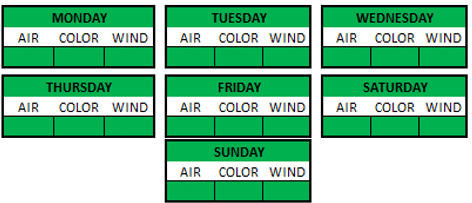 Monday – Fished Lake Erie for smallmouth bass.  Picky bite for hours but we finally found them/they turned on and we had a blast.  Bait prevailed.
Tuesday – Fished the Upper Niagara for smallmouth bass.  Incredible session – covered the circumference of the island and caught fish in every zone.  
Wednesday – Fished Lake Ontario for kings out Fort Niagara.  Picky bite but we got into a few.  Moved into the river to fish bass after a couple hours.  Slow at the start but we finally got into them and did well.  Managed a triple with a white bass, a smallmouth bass, and a bowfin.  Wild!
Thursday – Fished Lake Erie for smallmouth bass.  Once again, slow to start but by mid-morning things turned on.  Awesome session – boated 3 fish over 6lbs!  
Friday – Fished Lake Erie for smallmouth bass.  Yeah – broken record – slow start but when we found them/they turned on, it was consistent.  Lots of fish in the 5lb class and 1 over 6.  Another awesome session.
Saturday – Fished the Upper Niagara for smallmouth bass – yet another incredible day.  Fish weren't where they were earlier in the week.  After some poking around in new zones, we finally found them.  Numerous doubles.  Handful of pigs.  
Sunday – Fished the Upper Niagara for smallmouth bass.  A little tougher session.  Fished different zones than the day prior and it was still picky.  Air temps came down by 10 degrees.  Stiff NE wind didn't help.  Had a blast anyway. 
Seasonal Assessment/General Observations
On the Conditions
Just like last week, I'm going to let the pictures do most of the story telling.  6 out of the past 7 days were spent with clients that have been fishing with me for many years now.  I can't thank them enough for their loyalty and friendship.
Out of the past 28 days, I've fished 25 – I'm past crusty – my skin is like leather now.  My hands are destroyed.  I couldn't be happier.  It's been a wonderful spring so far and there is more to come.
Smallmouth Bass
The bass bite remains good despite the ridiculous amount of pressure out there.  I lost count of how many times I was fishing in places where there weren't any boats around only to have some random bass boat pull up within talking distance and start fishing.  I'm not sure where the etiquette has gone.  Maybe I'm just old school in wanting to have enough space to work a small chunk of water without getting waked out.
There is a silver lining to the pressure – it's influencing fish behavior.  The fish are moving into places where I've never found them, making it a picky bite if you keep fishing the same zone over and over (isn't that the definition of insanity?).  That makes for a tough go if you only know a couple of places to fish.  Another way of saying it is there have been so many boats fishing in all the "traditional" zones fished by the charter community that I've been forced to check out new places to avoid the crowds.  It's immensely rewarding when it works out.
Here's the general trend I've noticed lately – they are moving deeper and away from where all the beat downs were occurring a week or so ago.  The water is still cold – as of this writing it was 48 degrees.  The spawn doesn't usually kick in until the temps get into the mid-50s.  In other words, there's plenty of pre-spawn bite left…if everyone would just spread out a little bit/stop being greedy and impatient and put in work.
Salmon
As I mentioned in the intro, I didn't spend much time salmon fishing this past week.  My clients wanted to fish for bass so that's what we did (no complaints from me).  I'll say this – there's still a ton of bait around and plenty of fish gorging on it.  There's also a ton of pressure.  Well fed fish and lots of hooks passing by doesn't often result in a great bite.  From talking to a couple of my buddies that did well/committed full days to pursuing kings this past week, going deep and getting away from crowds seemed to be the ticket.
A Little Personal Reflection
Yeah, I'm a little grumpy about not being able to take it easy and fish all areas I usually fish this time of year without being bothered.  I'm not sure why there's so much pressure this year, but it ain't a good thing.  I get worried that it'll lead to increased mortality and hurt the upcoming generations of fish – that goes for kings and bass.
For bass in particular – if this pressure keeps up during the spawn, it'll surely impact the next generations.  Like I do every year, I'll rant about this when I see the first bed but here's the gist of the message – LEAVE THEM ALONE DURING THE SPAWN.  Let them breed so we can continue to enjoy the spring and fall bite for years to come.
Ok, enough petulance.  Ask any of my clients from these past couple weeks and they'll tell you that nothing makes me giddier than finding fish in a new spot.  More specifically, I jump with childlike glee when I see that rod tip get bent when drifting through a new zone.  It makes me feel like there's so much more to learn in this world.  It's both humbling and rewarding.
Yeah, sometimes exploration doesn't result in much – and that's fine.  I'm slowly learning that rods don't have to stay bent all day long to call a day successful.  Stated a little differently, when there's a ton of pressure, rods can't stay bent all day long.  So, is a day best spent grinding out a few fish in a highly pressured area or expanding your knowledge/gambling on exploration more rewarding?  It's an easy choice for me.
Buffalo NY Fishing Report – Forecast for 05/15/2023 – 05/21/2023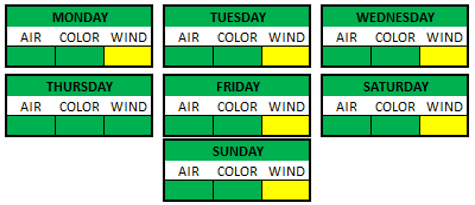 The forecast is looking…OK.  The temperatures are supposed to drop by nearly 10 degrees – I'm happy about that as it'll keep the water cold and the pre-spawn smallmouth bass bite going.  Some N and E winds should push more kings toward the Niagara as well.  However, wind could be problematic on some of the days.  Well, not fishery wide, but it could be tough to fish Lake Ontario on those big N and E wind days.  Same goes for the big S wind days on Lake Erie.  However, every day will be fishable if you're willing/able to move around.
Monday is my 17th wedding anniversary so I'm going to end my long streak of days with a little family time.  I'll be back at it daily come Tuesday.  It looks like I'll spend an even number of days between Lake Ontario and Erie.  I'm looking forward to it.
Stay healthy my friends – mentally and physically,
Ryan
Tap any image below to swipe through the gallery