Buffalo NY Fishing Report – Observations from 05/15/2023 – 05/21/2023
Here's our latest Buffalo NY fishing report:  Yet another excellent week…but it wasn't without challenges.  It started with a tough day on Lake Ontario.  That was followed by a reversion to late winter with a big north wind and a drop in temps down to the upper 30s.  Then, some big winds from the S and SW…plus rain.  Still, we made it work.  Keep reading for more details.
Days on the Water: 5
Who we fished with: friends/clients
Where we fished:  Lower Niagara, Lake Ontario, Upper Niagara, Lake Erie
What we caught:  smallmouth bass, freshwater drum
Tactics: 3-way rig with live bait, trolling spoons, drop shots, crank baits
Episode 53 of Two Angles on Angling is live:  Chaotic weather was the theme of this past week.  Despite the challenges, Jordan and I spent a fair amount of time on the water so as per usual, we discuss the conditions and how the pattern changed from the week prior.  The forecast for this upcoming week looks very promising so we discuss our plans for that as well.  We get deep by asking ourselves the question, "What would you be willing to sacrifice to protect your favorite water or secret spots?"
Daily Conditions Analysis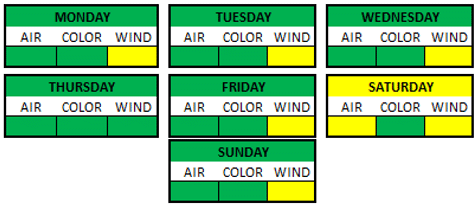 Monday – Took the day off for our 17th wedding anniversary.
Tuesday – Fished Lake Ontario for king salmon.  Struggled all day.  Had consistent marks…not sure what was going on.  Heart wrenching.  
Wednesday – Fished the Upper Niagara for smallmouth bass.  Had 3 fellow veterans from 2 generations of combat.  Loved spending time with them.  Incredible day…and an emotional one for me.  
Thursday – Fished Lake Erie for smallmouth bass.  Slow to start but by mid-day things turned on.  Wonderful session with a couple of my favorite people.  
Friday – Fished the Upper Niagara for smallmouth bass.  The fish are getting picky in all zones.  We managed to boat MANY, but action was lackluster in most zones.  Drop shots performed best with crankbaits being a close second.  Discovered a new location as well.
Saturday –  Cancelled the trip…but shouldn't have.  The forecast was off by 6+hours.  Big wind and rain were supposed to start early but didn't actually show up until mid afternoon.   
Sunday – Fished the Upper Niagara for smallmouth bass.  Good times with great folks but the spawn has begun.  Lots of pollen, small fish, algae, cottonwood seeds, and caddis…plus anglers, recreational boaters, and jet skis. 
Seasonal Assessment/General Observations
On the Conditions
We're already two months into spring, and so far, it has been a pleasantly mild season. Both air and water temperatures have remained cool. Interestingly, the water temperatures this late into May haven't been this cool since 2020, and we observed a similar pattern in 2019 and 2018. During those years, the bass fishing remained excellent even during Memorial Day weekend. Additionally, the bait schools in Lake Ontario stayed close together until around the same time, making it easier to find the kings. This is the current trend we are experiencing.
Smallmouth Bass
The bass fishing in the Upper and Lower Niagara River continues to be good, although it is gradually tapering off as the fish gear up for the spawn. Let me clarify, we are still catching a significant number of large bass, but not as many as we did in previous weeks. Instead, we're noticing an increase in smaller males and immature fish. The females we catch are noticeably swollen with eggs and look ready to pop. Although I haven't seen any signs of bed-making activity, the slightly stained water makes it difficult to confirm. One noteworthy observation is the emergence of caddis (referred to as sand flies by locals), which signals that the spawning season is approaching.
Spawning activity on Lake Erie, especially in the deep water, seems to kick in later than the river.  I've noticed a migration of the bigger fish to the sand and gravel bottom/away from the rocks.  Don't get me wrong, you can still catch fish in and around structure/rocks, but the biggies are getting thick on the softer bottom.  This is good news as there will still be another week or so of excellent bass fishing on the Lake.
Salmon
The king salmon bite has remained active thanks to the cool temperatures. Lake Ontario has been a mix of success and disappointment for me throughout the season. Admittedly, I haven't spent as much time out there this year, but the fish and bait are present. My friend Matt Yablonsky reminds me almost daily that patience is crucial when targeting kings. Unfortunately, patience isn't one of my strongest virtues. Well, I can be patient with novice anglers and when exploring new areas. However, when I'm trolling six rods and nothing is happening except conversing with clients and staring at my graph, my patience wears thin. I might venture out on Lake Ontario once more before the end of the month, but my time out there is limited.
One final note on Lake Ontario – where the hell are the cohos?  They were an easy bite last year and preferable table fare to the kings.  I miss them…enough said.
A Little Personal Reflection
So far, this season has been excellent. As I've mentioned in several of my reports, the fishing pressure has been frustrating, but it has also led me to discover new locations and forced me to learn new techniques. Overall, I consider it a positive outcome. I think we still have a few more days of productive pre-spawn fishing in the river, and then it will come to a halt for a couple of weeks until the spawn is complete…then the fun that is post-spawn fishing.  I'm looking forward to seeing them get airborne.
Now, I'm preparing myself for walleye fishing. I have my harnesses tied, rods rigged, and bouncers at the ready. I'm fully prepared to shift my focus more towards Lake Erie, and as a result, you'll notice an increasing number of walleye photos mixed in with the bass pictures. The warmer temperatures and relaxed fishing atmosphere will provide a pleasant break from the spring frenzy.
Buffalo NY Fishing Report – Forecast for 05/22/2023 – 05/28/2023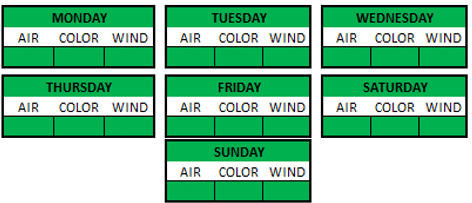 The forecast for this upcoming week looks excellent.  Lots of sunny days, light winds, and mild temperatures.  I'm sad to see the spawn kick in on the Upper Niagara – it was a great run while it lasted.  Just another reminder – leave spawning fish alone.
Now that the Upper Niagara is in spawn mode, I'll be spending nearly all next week on Lake Erie.  I might poke around on the Lower Niagara as well just to see what's going on.  I'm booked with all new clients next week so there's a lot to show them.  I'm looking to showing off our region.     
Stay healthy my friends – mentally and physically,
Ryan
Tap any image below to swipe through the gallery