Buffalo NY Fishing Report – Observations from 05/29/2023 – 06/04/2023
Here's our latest Buffalo NY fishing report:  It was a light week…as per the norm this time of year.  I fished three days, slept plenty, hit the gym, did some equipment maintenance, got my haircut…you know, all the stuff folks do when they aren't fishing every day.  It was a nice break but I'm back at it daily starting tomorrow – looking forward to it.  Keep reading for more details.
Days on the Water: 3
Who we fished with: friends/clients
Where we fished:  Lower Niagara, Upper Niagara, Lake Erie
What we caught:  smallmouth bass, freshwater drum
Tactics: 3-way rig with live bait, drop shots
Episode 55 of Two Angles on Angling is live:  It was a light week as far as the angling goes.  A little rest, repair, and recovery was in order after the spring insanity so the fishing report is a bit sparse.  The forecast for this upcoming week looks excellent and I'm booked daily so I discuss the plan.  Jordan and I get deep about how plants are attacking us and how defenseless it makes us feel.  
Daily Conditions Analysis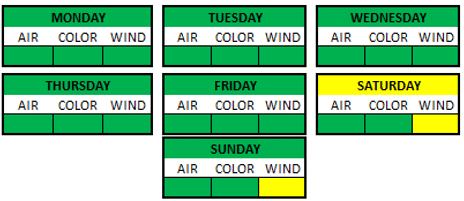 Monday – Memorial Day – day off.    
Tuesday – Great times with new clients!  Fished the Lower Niagara and Upper Niagara for smallmouth bass.  Some zones were hot, others were a dud.  Algae is getting heavier.   The caddis (sand fly) hatch was crazy.  Lots of bedding activity – we left those areas alone. 
Wednesday – Awesome day with new clients!  Fished the Lower Niagara and Lake Erie for smallmouth bass.  There were a few lulls but the bite was fairly consistent all day.           
Thursday – day off.  Had the boat cleaned.  Look up Liam Kennedy here (Kennedy Auto Care) – he did an excellent job. 
Friday – day off.  GTL kinda day.
Saturday – Tried to fish Lake Erie for walleyes and smallmouth bass.  The wind kicked up BIG out of the NE, forcing us back into the harbor.  We picked away at smallmouth bass for a couple hours though the crowds and called it early. 
Sunday – day off.  GTL kinda day.    
Seasonal Assessment/General Observations
On the Conditions
Not much has changed since my last report – the smallmouth bass spawn is in full swing as are all the other natural phenomena that occur around the same time.  The Niagara is hemorrhaging caddis (sand flies) all day long and the algae is getting thicker by the day.  Those annoying, mini-housefly looking bugs, plus gnats, are coming out of Lake Erie.  All the migratory songbirds have arrived.  Oh yeah, there is a debilitating amount of pollen in the air – plus smoke from Canadian wildfires (see this link Smoke Forecast – FireSmoke.ca).
You've heard me preach/read my pleas to cover water over the past couple months.  Well, now is the perfect time of year to do so if you haven't already.  Covering water this time of year is important for a couple reasons:
It helps you monitor the spawn while mitigating pressure on fish – are they still on beds? If so, stay away.  Have they moved into deeper water and are sitting in feeding lies?  If so, bring dinner to the table, my friends.
The water clarity is incredible right now so you will locate other fish as well.  For example, I've seen dozens of muskies throughout the system so far.  If I was so inclined to fish for them on the opener, I'd know exactly where to find a few.
Covering water on Lake Erie is important too – if you know where to go, you'll cross smallmouth bass, perch, and walleyes throughout the day.
In short, if you plan on fishing in the next couple of weeks, cover ground my friends – you'll be rewarded.
A Little Personal Reflection
I've preached about the value of a good night's sleep numerous times over the years.  I'm convinced, a lack of sleep combined with working my ass off put me in the hospital last summer.  More recently, fishing near daily had me danger close to revisiting exhaustion.  Over the past couple months, I woke up at 4:00AM daily, without an alarm.  There was something about being responsible for executing a trip that prompted me to rise.  This past week, I slept close to 10hours/night – unprompted.  I guess I was tired.
Here's another health-related observation – every year, I experience some sort of seasonal allergies right around now.  In most years, it's not debilitating.  I don't even take an antihistamine as I just get a little "nasaly" and my eyes feel like I've kept them open underwater in a chlorinated pool.  That has NOT been the case this year.
Never have I felt like I was being attacked by plants…until the past few days.  Keep in mind, when I was on active duty, I underwent CS gas training (see this video for an example Why Marines Train Inside A Tear Gas Chamber In Boot Camp – YouTube).  Well, the plant(s) that's been dumping sperm into the air lately is having a similar effect on me (don't message me to divulge the culprit – I don't want to harbor beef toward a plant).  It's been incredibly humbling.  I caved and took a child's dose of Claritin -it's helped but I feel weak for doing so as I don't know why this year has been so bad.
Now, when I walk around and see the haze of pollen and smoke that's been blanketing the region lately, I can't help but wonder what it's doing to our minds (here's a possibility – The Last of Us | Official Website for the HBO Series | HBO.com).  It's a crazy concept – plants and fungi can dump an incomprehensible amount of pollen/spores into the air for us to inhale, unwittingly by the way.  Ponder that for a bit…
Buffalo NY Fishing Report – Forecast for 06/05/2023 – 06/11/2023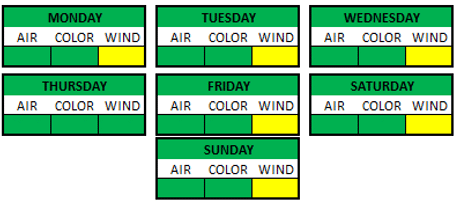 The forecast for this upcoming week looks very nice.  North winds will push in colder air, dropping highs back down into the 60s and 70s.  Don't get me wrong my friends, I'm a fan of heat and sun.  However, days in the upper 80s/low 90s like those we had this past week will be numerous in the upcoming months.  I'd prefer a slow transition into that pattern.
Another benefit of this reversion to the cooler daytime highs is that it'll help keep the water temperatures down.  All that heat this past week increased the water temperature by 4 degrees coming out of Lake Erie.  It's still well within the historical mean so there's no need for alarm.  Still, if things can remain cool for a few more weeks, the summer walleye bite out of Buffalo, NY COULD be prolific.
I'm booked near daily this upcoming week.  The plan is to practice what I preach – cover water, catch fish, monitor conditions, and enjoy the weather.  I've got a mix of new clients and old friends on the docket – looking forward to it!
Stay healthy my friends – mentally and physically,
Ryan
Tap any image below to swipe through the gallery