Commentary for the Week of 05/31/2022 – 06/05/2022
It was a relaxing week.  Spent some time recharging and taking it easy.  I only fished 3 days and focused on smallmouth bass all 3.  There's still a lot of spawning activity going on so the bite has been slowish.  Every time I write that, "slowish," I have to center myself because to most folks who don't fish very often, days are still full of action.  From my perspective, I know what it just was a couple weeks ago and what it's going to be in a few short weeks – awesome.  Kids will be out of school soon (if you're not from NY, they're likely already out), Memorial Day is behind us, it's getting hot outside – summer is basically here and summer fishing will heat up soon.  
New podcast is live.  Jordan and I discuss the fishing over the past couple of weeks, provide an outlook for the next couple weeks, and the differences in tactics when fishing for smallmouth vs. largemouth bass.  
Daily Conditions Analysis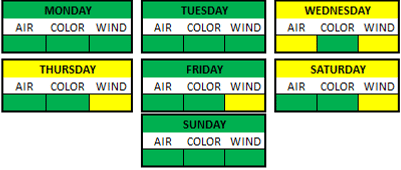 Monday – Memorial Day – I took it off.
Tuesday – Fished Lake Erie and the Upper Niagara for smallmouth bass.  It was slow for most of the day but we found some active fish near the end and chalked up some good numbers.
Wednesday – Wind and rain.  Had the day off/didn't fish.
Thursday – Winds/waves ended up being far bigger than forecasted.  Fished the harbor with a father and his daughters – more freshwater drum than bass were caught.
Friday – day off.  Truck and boat maintenance.
Saturday – windy day but nice and cool.  Had the day off.
Sunday – fished Lake Erie and a little bit of the Upper Niagara with clients.  It was slowish but we made it work.  
Seasonal Assessment/General Observations
As I mentioned in the intro, the next couple of weeks will be a recharging period for me.  I'll still be on the water 3-4 days per week to keep tabs on things but the bookings won't be heavy again until the last couple weeks of June when I'll be splitting time between post spawn bass and walleyes.
I have a couple of fishing short trips/vacations planned for the next couple of weeks (trip reports will follow, of course) so those will keep me busy.  One of those trips will be to Ohio to fish for northern pike with my buddy Josh McQueen, head guide of Mad River Outfitters.  The other trip will be to the Boston, MA area with some friends to fish for striped bass.  Stay tuned.
Looking Forward to the Week of 06/06/2022 – 06/12/2022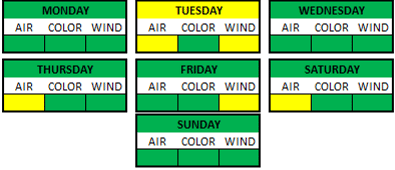 Fishing Conditions Looking Forward
This upcoming week looks great all around.  Some dicey weather on Tuesday with rain and wind but that's the only day that looks problematic.  I'll be in Ohio early on then Boston over the weekend.  I have a couple trips in the middle where I'll be looking for some inland muskies as well as some walleye and bass trips on Lake Erie.  
My summer calendar is getting packed so if you want to take advantage of stable weather, relaxing fishing, and good times on the water, be sure to call soon.  We hope to see you out there.
Stay healthy my friends – mentally and physically,
Ryan
Tap any image below to swipe through the gallery