Buffalo NY Fishing Report – Observations from 06/05/2023 – 06/11/2023
Here's our latest Buffalo NY fishing report:  Yet another big week with plenty of fishable weather and a fairly consistent bite.  I managed to fish all 7 days and covered a ton of water in the process.  Great times with old friends as well as some new clients that got an awesome introduction to what this region has to offer.  Keep reading for more details.
Days on the Water: 7
Who we fished with: friends/clients
Where we fished:  Lower Niagara, Upper Niagara, Lake Erie
What we caught:  smallmouth bass, freshwater drum
Tactics: 3-way rig with live bait, drop shots
Episode 56 of Two Angles on Angling is live:  After another 7 day banger through the haze of northern wildfires, I'm well fished.  From fishing through a hellscape (a wild exaggeration but that was a phrase muttered by more than a handful of people) to covering a ton of water to the latest pattern – there is a lot to discuss.  We get deep about resiliency when facing adversity.
Daily Conditions Analysis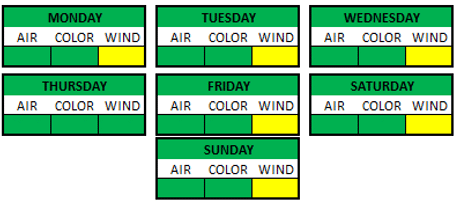 Monday – Fished the Lower Niagara and Upper Niagara for smallmouth bass – kept moving – had decent action in most zones.  Went deep.    
Tuesday – Fished Lake Erie for smallmouth bass.  Did very well.    
Wednesday – Fished the Upper Niagara for smallmouth bass – full 360/1 drift per zone program.  Action came in fits and flurries.  Some zones were a dud, others fished very well.             
Thursday – Fished Lake Erie for smallmouth bass.  Glassy lake – had to get on the trolling motor.  When we found fish, we hammered.  Got 2 over 6, a few 5s, and more than a handful of 4s.  Not action packed but entertaining no doubt. 
Friday – Fished the Lower Niagara for smallmouth bass.  Picky in some zones, excellent in others.  Short trip but we boated a noteworthy number of fish – 1 over 5lbs.
Saturday – Fished Lake Erie for smallmouth bass.  It was kinda big out there with rollers over 3′.  We managed a few, but it was slow and we were cruising in that SW wind.  Ended up closing the morning in the harbor and did well on drum with a few bass in the mix.  
Sunday – Fished the Lower Niagara and Upper Niagara for smallmouth bass.  Picky bite in all zones.       
Seasonal Assessment/General Observations
On the Conditions
Spawning activity, north winds, heavy smoke from wildfires, pollen, caddis, algae, and chilly temperatures were all in the picture for most of the week. Together, all those factors made for some interesting fishing. Although we encountered some sort of friction and lulls in activity on every outing, we managed to boat numerous quality fish in entertaining numbers. Thankfully, nearly all the clients were new, so they were just as intrigued by the fishery as they were by the fish we were catching.
Throughout the week, I targeted smallmouth bass across the entire system (minus Lake Ontario). The spawn is still in effect, but I'm seeing signs that it's on the wane. Many beds were empty, and we found an increasing number of fish in deeper water and on hard bottom away from bedding zones. In other words, there are some post-spawn fish around if you make it a point to avoid the areas with high concentrations of beds.
Drop shots were the ticket in moving water all week. Many of the fish we caught threw up smelt during the fight, so I've been using 3.5' white flatworms, lollipops, and grubs. Every once in a while, I would throw on a goby pattern bait, and it would work just as well. Although artificials were deadly in the river, they were poor performers on Lake Erie – live bait prevailed out there. Crawfish and golden shiners were the menu items, and both worked.
Surprisingly, I didn't boat a single walleye this past week. I marked more than a handful while bass fishing but got no solid commitments. We're getting close to that time when walleyes start concentrating in the deeper water close to the "line." The water temperature is still a little chilly, and I think that'll help toward a long and fruitful July
A Little Personal Reflection
If you listen to my podcast, you'll hear me rant about this topic for a while…it's difficult subject that doesn't lend itself to a short essay or blurb.  I'm talking about wildfires and the larger "climate change" narrative.  Us eastern folk don't encounter wildfires big enough to blanket a region all that often.  Our countrymen of the west must be laughing their assess off while the whole north eastern part of the country is getting apocalyptic.    
I'm not going to go on a rant here – check out the pod if you want to hear what I really think.  In short, we never discuss resiliency and sustainability.  We just react and encourage people to buy electric cars, put solar panels everywhere, and cut off mountain tops/dredge into lakes/clear wide swaths of land to install windmills.  I'm NOT saying that exploring new ways to generate energy is a waste of time – I think it's critical to have a diverse portfolio of options.  I AM saying that Mother Nature is far more powerful than us – it's wise to figure out ways to adapt to her changes and become resilient to her wrath.       
Buffalo NY Fishing Report – Forecast for 06/05/2023 – 06/11/2023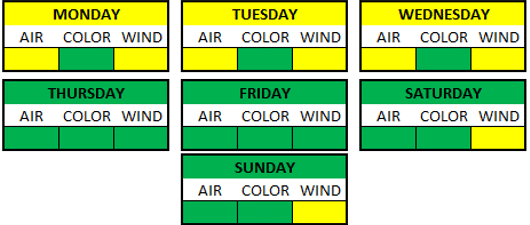 The forecast for this upcoming week looks a little chaotic.  For the front half, after MANY rainless days, we're finally going to get some much-needed precipitation.  Plus, with a few days of gusts into the 20mph range, the wind will make things difficult across the entire fishery.  Thankfully, I have the next few days off.  A little boat maintenance and some personal time is in order. 
The back half of the week looks very manageable with cool temperatures and mild winds.  I'm booked daily so my plan is to spend my time the same way I did this past week – covering water from Erie to the Lower Niagara.  Stay tuned!
Stay healthy my friends – mentally and physically,
Ryan
Tap any image below to swipe through the gallery