Buffalo NY Fishing Report – Observations from 06/19/2023 – 06/25/2023
Here's our latest Buffalo NY fishing report:  Welcome to summer!  My apologies if you were looking forward to a fishing report that didn't arrive last Sunday.  I only fished a couple days that week, plus it was Father's Day.  This past week, I fished near daily and have plenty to discuss.
Days on the Water: 5
Who we fished with: friends/clients
Where we fished:  Lake Erie
What we caught:  smallmouth bass, freshwater drum, perch, walleye
Tactics: 3-way rig with live bait, drop shots, worm harnesses
Episode 57 of Two Angles on Angling is live:  After taking a week off from the podcast, Jordan and I catch up.  Although I didn't fish much the week prior to Father's Day, this past week was a big one so we provide our observations from the water – a lot has changed.  We get deep about hiking – how being on a boat is WAY different than hiking Zoar Valley – the benefits of getting in touch with the wild places in your region – and more…
Daily Conditions Analysis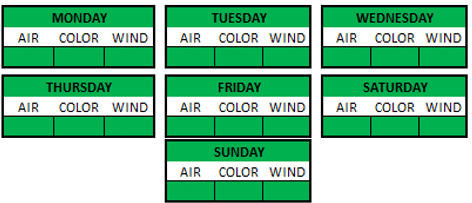 Monday – Fished Lake Erie for smallmouth bass.  Gorgeous day – sunny with light and variable winds.  Took a little while to find them but when we did it was fire.  Did a short evening trip too – grandparents and 2 young anglers – BIG east winds picked up so we stayed close to the city and had a drum fest – caught some nice bass in the mix too.          
Tuesday – Even though I said it'd never happen again – it did.  Client blew me off – now blacklisted.    
Wednesday – Fished Lake Erie for smallmouth bass.  Again, another slow start that turned into a frenzy.  Crawfish were the preference for the day.  Found a lot of fish near rocks.         
Thursday – Fished Lake Erie for smallmouth bass.  Same general commentary as the day prior except the preference seemed to be minnows.  
Friday – Fished Lake Erie for walleyes and smallmouth bass.  Very slow walleye bite – got some perch in the mix too.  Bass bite was a grind.
Saturday – Fished Lake Erie for smallmouth bass.  Slowish session but a blast spending time with my brother Nate and the boys.     
Sunday – Fished Lake Erie for walleye and smallmouth bass.  The walleye didn't want to play but a brace of perch did.  Converted to bass fishing – action was spotty but we landed some biggies.          
Seasonal Assessment/General Observations
On the Conditions
It was a week of stability here in the Buffalo Niagara region. Throughout most of the week, the wind consistently blew from the east or didn't blow at all. When faced with such conditions, many anglers often quote the saying, "when the wind blows from the east, fish bite the least." However, that hasn't been my personal experience. While I did encounter a couple of relatively slow days this past week, I've had similar experiences regardless of the wind direction.
Personally, I look forward to fishing Lake Erie or the Niagara River when there are east winds, particularly when they reach moderate speeds. Here in the eastern basin of Lake Erie, east winds seldom generate significant waves but are often strong enough to facilitate drifting. This lack of wave activity is particularly beneficial for individuals prone to motion sickness, as they can enjoy fishing Lake Erie without being heavily sedated by motion sickness medication.
My only beef with an east wind in this area is when it only blows in the single digits. When that happens, Lake Erie becomes incredibly calm, as you can observe in most of my pictures from the past week. Consequently, one must resort to "trolling" or using the trolling motor to cover a larger area. I used to have reservations about this approach, but I've discovered ways to make it engaging and remarkably productive. Furthermore, it provides an excellent opportunity to fish with new anglers and children.
Smallmouth Bass
The smallmouth bass bite is getting better with each outing.  I've been finding increasing numbers of fish on or near rocks.  Accordingly, the forage preference is starting to shift toward crawfish.  Because it was so flat this past week, I had to fish under power often, so I put a spread out there with a mix of minnows and crawfish.  There were a couple of outings this past week where crabs outperformed minnows.
While I did encounter a few relatively slower outings this past week, both the numbers and sizes of the fish I caught showed an upward trend compared to the previous weeks. Although some spawning activity still persists, most of the beds are now empty. Additionally, upon examining the photos, you may notice that a significant number of fish displayed battle scars and worn fins, which is typical of post-spawn fish. In summary, the spawn is coming to a close, and we are entering the period of intense post-spawn feeding frenzy.
Walleye
Regarding the walleye bite, I don't have much information to share at the moment. However, I want to emphasize my commitment to fish for them more frequently in the upcoming weeks. It's important to note that all my walleye reporting will be based out of Buffalo, NY. I mention this because some of my colleagues travel to other locations such as the Catt, Dunkirk, Barcelona, and even Erie, PA. Fishing in those areas presents different dynamics compared to Buffalo, and what transpires in those parts of Lake Erie often varies significantly from what occurs in Buffalo.
During the past week, I dedicated a few hours here and there specifically targeting walleyes. In short, we managed to boat several "short" fish along "the line," but nothing that kept us engaged for extended periods. While there were decent numbers of marks, they haven't congregated in large numbers just yet. It's still early in the season. By covering a wide area, it's possible to find enough fish for a family meal, but quickly filling the limits is not yet a feasible prospect.
A Little Personal Reflection
If you haven't picked up on the trend thus far, my fishing reports rarely cover Lake Ontario this time of year.  Clients often ask me what I fish for/where I fish throughout the year, so here's a quick summary:
January – early March:

Lake Erie – smallmouth bass and walleyes until it freezes
Lower Niagara – trout

Late March – late May:

Lake Ontario – trout and salmon.
Lower Niagara – trout and smallmouth bass
Upper Niagara – smallmouth bass
Lake Erie – smallmouth bass

June – September:

Lower Niagara – smallmouth bass and walleye
Upper Niagara – smallmouth bass
Lake Erie – smallmouth bass and walleye

October – December

Lower Niagara – salmon, trout, smallmouth bass
Upper Niagara – smallmouth bass
Lake Erie – smallmouth bass, walleyes
I hope this summary is helpful in providing insight into what to expect when you read my reports. If you're wondering about why I adhere to this annual pattern, it ultimately boils down to personal preference.  Given the enormity of this fishery, there are limitations to how much one can effectively stay connected. Therefore, concentrating on just a few specific targets throughout the year ensures that I am well-informed about the optimal time and location to be on any given day.
Buffalo NY Fishing Report – Forecast for 06/26/2023 – 07/02/2023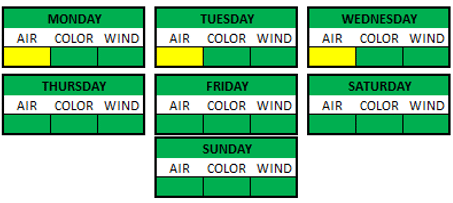 The forecast for this upcoming week looks great.  I'm not going to sugar coat it too much – the front half looks a little wet.  However, the wind will be minimal, and the temperatures will be warm all week so if you have rain gear and are willing to fish when water is falling out of the sky, every day will be fishable.
My plan is to fish everything except for Lake Ontario this upcoming week.  You likely noticed from my reporting above that I spent all week on Lake Erie – I miss the river and need to check in so I'll spend at least a couple days in current. 
 It's officially summer, my friends.  I've been nudging you for weeks to get on top of summer plans because it'll be here before long.  Well…  I still have a couple of spots remaining if you're interested in booking a trip.  However, it's getting close to time to focus on filling the fall calendar…it's filling up quickly btw. 
Stay healthy my friends – mentally and physically,
Ryan
Tap any image below to swipe through the gallery