Commentary for the Week of 06/20/2022 – 06/26/2022
Here's our latest Buffalo NY fishing report: Summer is officially here and so is the heat!  Huge week – fished every day with a couple of doubles in the mix too.  Although we battled big waves/wind throughout the week, we made it work and had a blast.  Action was great throughout for walleyes and smallmouth bass.  Scroll down for more details.
Our latest podcast is live.  This week, Jordan and I do a quick recap of this past week and a forecast for this upcoming week.  We've both fished A LOT lately so we compare notes and approaches – lots of insight for those looking to hit the water in the upcoming weeks.  
Daily Conditions Analysis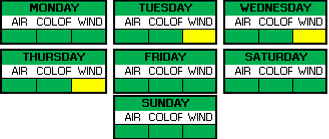 Monday – Worked a double.  Did a bass and walleye combo in the AM – did very well in 40-45 FOW (feet of water) over sand and gravel bottom.  Did another bass and walleye combo in the evening – the lake got big, but we did well anyway.  
Tuesday – Fished bass on Lake Erie – did very well in the same zone mentioned above.  
Wednesday – Fished bass on Lake Erie – it was huge, but we had fun.  Slower than the previous days – likely due to big winds/waves/high drift speed
Thursday – Fished the Upper Niagara and Lake Erie.  The Upper was still mossy/full of the algae I mentioned in last week's report, but we managed to pick up some fish though it.  Moved to Lake Erie and did OK.  
Friday – Worked a double.  Fished bass in the morning on Lake Erie – did well fishing the rock piles close to the city.  Fished walleyes in the evening – it was slow at first but when the sun started setting, action lit up and we went on a great run during the last hour of daylight.  
Saturday – took some friends out on a walleye/bass combo.  It was scorching outside, and the lake was flat.  We caught fish but it was slower than the previous days.  
Sunday – Fished Lake Erie – did another walleye/bass combo.  Picked up dinner for 2 on walleyes really quick then transitioned to bass – did very well in the same zones we caught fish earlier in the week.  
Seasonal Assessment/General Observations
The walleye action is getting better and better with each passing day.  I haven't been boxing out/the action hasn't been on fire, but it's been good enough to stay engaged/bring home enough meat for a large family fish fry.  It seems like the fish are steadily making their way into deeper water, in pursuit of bait/colder temps.  Bottom bouncing has been the ticket for most of the day, but in those last couple hours of daylight, they've been coming up off the bottom making boards and divers a worthwhile option during those periods.  Bottom line, the walleye fishing is getting good.  The best is yet to come. 
The post spawn bass bite is on fire.  I'm impressed by the size of the fish we've been getting lately – they recovered from the spawn VERY WELL.  Gravel piles and sandy areas seem to be the most productive terrain lately.  We've managed to pull some fish off of reefs lately, but not at the same pace as the gravelly terrain.  I'm not sure why that's the case – probably because there's still a lot of bait around those types of zones (I frequently see large schools of bait on the graph when fishing these areas).  As the water heats up, that bait will move on to the deeper/colder stuff, forcing the bass to look elsewhere for food.  That's when the reefs/rock piles become important.  I'm going to make it a point to continue to poke around this kind of structure over the next couple weeks to see if they're changing up their feeding pattern.        
Looking Forward to the Week of 06/27/2022 – 07/03/2022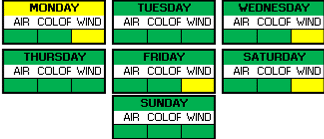 Fishing Conditions Looking Forward
This upcoming week is looking excellent.  Other than tomorrow (Monday – the wind will be borderline prohibitive to fish anything other than the river…and it's been mossy so…), the rest of the week looks perfect.  Wind might be a slight problem a couple of the days if you have an issue with sea sickness, but every day will be fishable.  
I'm going to keep doing what I did this past week – walleyes and bass.  I'll also poke around the Upper Niagara for a bit to check in on the algae situation.  I really want to fish it with clients soon.  When I checked it out on Thursday, there were plenty of fish around.  Some were still on beds.  Once that algae clears, I'm confident it'll fire up.  
My summer calendar is getting packed so if you want to take advantage of stable weather, relaxing fishing, and good times on the water, be sure to call soon.  We hope to see you out there.
Stay healthy my friends – mentally and physically,
Ryan
Tap any image below to swipe through the gallery