Commentary for the Week of 06/27/2022 – 07/03/2022
Here's our latest Buffalo NY fishing report:  It was an easy going week.  We had near perfect weather every day and the fish were on the feed.  We boated some monsters – especially considering it's the post spawn period so the fish are still trying to regain the weight they lost over the past month.  Bottom line, summer action is heating up – keep reading for more info. 
No podcast this week as it's a holiday weekend and Jordan is in the St Lawrence region on a fishing trip.  Tune in next weekend where we'll catch up and talk shop as per usual.  
Daily Conditions Analysis
Monday – huge wind/waves.  Small craft advisory – reschedule the trip.  
Tuesday – Did a fly fishing trip on the Upper and Lower Niagara.  The algae – I'm calling it "Grinch hair" from now on – was still around but minimal.  Fish were caught in the deeper water near their spawning grounds – shoals and rock piles.
Wednesday – Fished bass and walleyes on Lake Erie.  Slower than the previous days – likely due to big winds/waves/high drift speed.  Fished the line and other shallower areas for the 'eyes.  Explored some shoals and piles for bass.  
Thursday – Fished Lake Erie for walleyes and bass.  Picked up family dinner worth of 'eyes right off the bat.  Converted to bass fishing – got some monsters but the numbers were a little lower than it had been lately – likely due to there being little to no wind.  When we had a breeze, we caught fish.
Friday – took the day off
Saturday – took the day off.
Sunday – Fished Lake Erie with my brother and nephews.
Seasonal Assessment/General Observations
I don't have much to add from last week's observations as the general pattern described in that report held true through this past week.  Smallmouth bass are on the post spawn feed and walleyes are steadily moving deeper.  Go deep and cover water – you'll catch fish. 
Considering some of the places I've caught them lately, I'm endlessly curious about the pattern of life of the eastern basin Lake Erie smallmouth bass.  Here are a couple observations:
If you want big ones – use big baits, fish deep water, and cover a ton of it.  You won't catch a lot – but what you catch will be giant.  I'm a little disappointed that the new NY state record is from Cayuga Lake, but I also think that it's only a matter of time, possibly later this year, that Lake Erie will re-take that title.  It's so big with so much forage that I'm confident there are a more than a few 8'+ fish roaming around the depths of the eastern basin…not to mention other parts of the lake.  I think the majority of us have been fishing zones where we know we'll catch fish instead of exploring new ones that are far less certain.  I'm going to change that up a little bit in the upcoming weeks to see what happens. 
If you want numbers – use smaller baits and fish on or near rock piles.  I explored a half dozen or so shoals this past week, and all held fish.  Numbers were higher than in the deep water, but size was definitely down and there were a lot of drum around.  Don't get me wrong some biggies hang around those piles but on average, the deep stuff holds bigger fish. 
Why would these two points be the case?  Think about it – smallmouth bass are known to be communal and rock oriented so why would the biggest of them be hanging out by themselves/widely spaced out, in deep water, on sand and gravel bottom?  Why would they peel away from a huge food source such as a shoal or rock pile and take up long term residence in deep, sandy/gravelly stuff?  I think it's because the older/bigger they get, smallmouth bass become increasingly territorial.  Taking ownership of/dominating a shoal is a lot of work – lots of angles, shadows, ambush points, places for things to hide, etc. – so they start looking for more open areas with a wide field of view.  Deep water sand flats and gravel piles offer this kind of terrain. 
It's just a theory that I'm sure is full of holes.  Confirming it's validity isn't super important – just knowing this pattern is all that matters if you want to catch them.  Still, animals behaving in a way that's different from the conventional paradigm always fascinate me – life figures out how to adapt in amazing ways in every environment.  When I see this weird behavior, it makes me realize how little we actually "know" about what's going on down there.  In other words, there's a lot more to learn – that fact keeps me endlessly motivated to keep going out there.            
Looking Forward to the Week of 07/04/2022 – 07/10/2022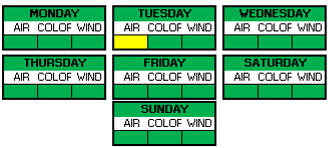 Fishing Conditions Looking Forward
The forecast for upcoming week looks excellent. Only a little bit of precip early on and wind won't be much of a factor throughout.  I'll be out daily fishing for walleyes and smallmouth bass.
Now that the "grinch hair" is clearing up, I'd like to spend some time on the Upper Niagara and maybe even the lower at some point soon.  When I fished it on Tuesday, there were plenty of bass still around so it'd be worthwhile.  However, with all those mild wind days in the forecast, it'll be tough to stay away from the monster program on Lake Erie…we'll see what the clients want to do.   
My summer calendar is getting packed so if you want to take advantage of stable weather, relaxing fishing, and good times on the water, be sure to call soon.  We hope to see you out there.
Stay healthy my friends – mentally and physically,
Ryan
Tap any image below to swipe through the gallery