Buffalo NY Fishing Report – Observations from 07/03/2023 – 07/09/2023
Here's our latest Buffalo NY fishing report:  I hope everyone enjoyed the 4th of July Holiday.  I returned from the Adirondacks Wednesday afternoon and fished locally with clients from Thursday through today.  There is a lot to discuss.  Keep reading for more details.  
Days on the Water: 6
Who we fished with: friends/clients
Where we fished:  Lake Erie.  Plus – Lake Placid, Upper Saranac Lake (separate report coming soon)
What we caught:  smallmouth bass, freshwater drum, perch, walleye
Tactics: 3-way rig with live bait, drop shots, worm harnesses
Episode 58 of Two Angles on Angling is live:  After taking a week off from the podcast, Jordan and I catch up.  I spend a little time talking about local conditions as well as the angling forecast for the upcoming week.  We get deep about our recent fishing vacations.  I spent 4 days in the Adirondacks and Jordan spent that many days on the St. Lawrence so we have a lot to share.  
Daily Conditions Analysis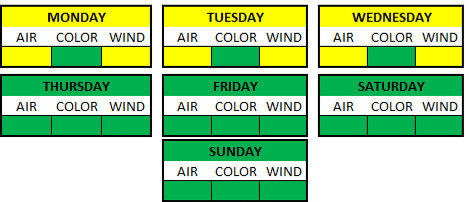 Monday – On vacation in the Adirondacks – fished Lake Placid – caught rainbow trout and smallmouth bass – separate report coming soon
Tuesday – On vacation in the Adirondacks – fished Upper Saranac Lake – caught smallmouth bass – separate report coming soon    
Wednesday – Drove home from the Adirondacks
Thursday – Fished Lake Erie for smallmouth bass.  Day 1 with a father with a 9 y/o son.  Drumfest with a side of bass.  As young Henry said, "This place is amazing.  I want to come back."
Friday – Fished Lake Erie for smallmouth bass.  Day 2 with a father with a 9 y/o son.  Lots of drum but the bass numbers were good as well.  We poked around the river but,  as young Henry said, "Lake Erie is way more productive – that's where we slay.  We should stay there."
Saturday – Worked a double.  Fished Lake Erie out of Buffalo, NY for walleye on both trips.  OK bite – came in fits.      
Sunday – Fished Lake Erie for walleye and smallmouth bass.  Spent 5 hours fishing for walleyes and boated 9 fish.  Went bassing in current for a couple hours and had a blast.  
Seasonal Assessment/General Observations
On the Conditions
There's no question it's summer here in the Buffalo Niagara Region.  Here are a few of the "on the water" signs that were in the summer pattern:
The huge caddis hatch is over
The "grinch hair" algae flows are minimal in the river
Drum are everywhere
The water is insanely clear – 20'+ of visibility
The walleye bite is starting to pick up on Lake Erie
Smallmouth bass are off beds and moving toward the rocks and fast current
Oh yeah – it's been hot.  I've found myself drinking close to a gallon of water daily without trying.  Mild cramping has been a factor here and there…gotta pound those electrolytes.
Smallmouth Bass
Other than a few stragglers, all the smallmouth bass are post-spawn.  Although I caught a few fish this past week in open terrain/on sand and gravel, the majority came off structure and/or in current.  If you poke around the various rock piles here in the eastern basin of Lake Erie, you'll cross smallmouth bass.
The only downside of the summer smallmouth pattern, if there is one, is that you're going to boat a lot of drum along the way.  As I've said countless times by now, if you're a "drum hater," that's unfortunate.  Upon interviewing any of my clients who are from out of town, you would find that they think drum are incredible fighters.  Some folks even think they are gorgeous fish.  I'm happy if my clients are happy.  Especially if I see bent rods all day long.
When the water gets this warm, anglers need to remain wary of killing bass when fishing deep.  Think about it – the water at the bottom in 30' – 40' is far colder than what's on the surface.  Those cooler temperatures are part of the reason the bass are holding at those depths.  When you catch a fish that's hanging out in the cold and then fight it through the heat, that's like running for your life in a sauna…followed by someone putting a bag over your head.
If you have the means, try this:  go out onto Lake Erie and get into an area that's deeper than 30.  Feel the surface – it's like bath water.  Then, jump in and push yourself down as far as you can safely go.  You won't have to go far and you'll feel a distinct change.  Exposing fish to that kind of shock, amidst being caught ain't good.  Keep 'em wet as long as possible – quick photo and let them go.
Walleye
Quick caveat about my walleye reporting (now that I think about it, this applies to bass reporting too), I fish Lake Erie out of the Buffalo Safe Harbor Marina.  The furthest I go for walleyes out of that location is close to Sturgeon Point.  That's important because everything that I write about will only apply to that "zone" of Lake Erie.  I've heard that guys fishing out of Erie, PA and Barcelona, NY are doing very well right now.  That's a different area with a different population of fish.  Out of Buffalo, the walleye bite improved markedly as the week progressed.  Each outing produced more fish at faster rates.  They are by no means stacked up out there right now, but the bite starting to get to entertaining levels. 
There is a ton of bait hanging out in every zone deeper than 40'.  In turn, there are good numbers of walleyes feasting on them.  Traditionally, I fish bottom bouncers with worm harnesses – it's ruthlessly efficient and very effective.  However, with this massive amount of bait in the system, I'm starting to think trolling stickbaits would produce more fish. 
I've got nothing specific about the location.  This past week, I caught fish in depths as shallow as 40' or as deep as 55'.  Look at your graph, go to those depths, there will be bait and there will be walleyes. 
A Little Personal Reflection
I don't have much to add to this section.  A lot of this past week's personal reflection occurred during my family vacation to the Adirondacks.  The trip report is forthcoming.  My apologies for the tardiness.
Buffalo NY Fishing Report – Forecast for 07/10/2023 – 07/16/2023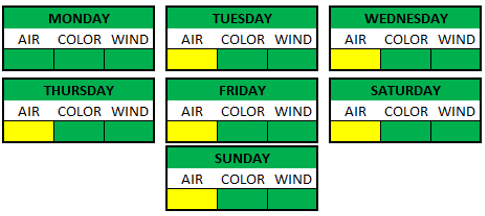 The forecast for this upcoming week is far from optimal but every day will be fishable.  It looks like rain may enter the picture here and there, but the biggest issue will be wind.  The forecast isn't calling for anything too big.  However, it won't be glassy out there like it was this past week.  Every day will be a little rough if the forecast unfolds as predicted. 
I'm scheduled to fish walleyes all week.  If that bite ends up being slow, I'll transition to bass fishing later in the day.  However, I think the walleye bite is about to get really good.  Stay tuned.    
Stay healthy my friends – mentally and physically,
Ryan
Tap any image below to swipe through the gallery