Buffalo NY Fishing Report – Observations from 07/17/2023 – 07/23/2023
Here's our latest Buffalo NY fishing report:  After some wild weather during the front part of the week, Mother Nature calmed down, slightly albeit, and gave us some less adventurous conditions through the weekend.  I managed to fish every day but one (some boat maintenance was in order).  As planned, I fished mostly walleye with a side of bass and drum. Keep reading for more details.
Days on the Water: 6
Who we fished with: friends/clients
Where we fished:  Lake Erie, Upper Niagara
What we caught:  smallmouth bass, freshwater drum, perch, walleye
Tactics: 3-way rig with live bait, worm harnesses
Episode 60 of Two Angles on Angling:  No podcast this week as Jordan is out of town on vacation.  Check back in next week and/or catch up on old episodes.  Although the old fishing reports portion won't be timely, the "getting deep" portions are relevant no matter the time of year.   
Daily Conditions Analysis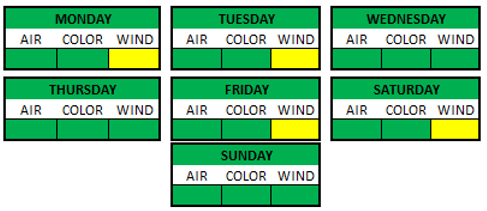 Monday – Fished Lake Erie and the Upper Niagara for smallmouth bass and drum.  The Lake was huge – started at 1-3s and increased to 2-4s.  We didn't stray too far out into the Lake/stayed close to the harbor.  Picked up lots of drum and the occasional bass.  Action in the river was lackluster.  
Tuesday – Fished Lake Erie for walleye.  Once again, the lake started big and got bigger – this time wave height increased to 3′-5′.  It was an adventure.  Fishing started off slow but the bite picked up as the waves grew.  Awesome time with great folks!
Wednesday – Fished Lake Erie for walleye.  Spotty bite at first.  Crowds were insane so we kept out distance.  Every time the crowd moved closer to where we were fishing, we moved further away and started catching fish again.    
Thursday – Day off – boat maintenance – got some of the seats replaced.  
Friday – Fished Lake Erie.  The intended target was walleyes.  Waves were much bigger than forecasted – some left over from the huge rain/wind/thunder event the evening prior.  Poked around some of the zones where we have been catching walleyes lately.  Nearly blank screens in all.  Changed to bass fishing – did very well.  Consistent action on rock piles.
Saturday – Fished Lake Erie for walleyes.  Explored far and wide – I travelled further off shore than I have ever before looking for them.  The screen was by no means loaded anywhere.  Where we had a good sonar picture, mostly drum came to the net.  Very picky bite all day.    
Sunday – Fished a double on Lake Erie.  Morning shift – caught smallmouth bass, drum, and a walleye fishing the reefs and rock piles strewn throughout the eastern basin and had steady action the whole time – good wind and waves.  Afternoon/evening shift – worked the same profram as the morning but in different areas.  When the wind died, so did the bite.   
Seasonal Assessment/General Observations
On the Conditions
The angling action out of Buffalo, NY has been good.  The vast majority of days have been fishable.  Although there have been periods of low activity here and there, on most days, the bite has been consistent enough to entertain even the most impatient (I include myself in that category).
Smallmouth Bass
As I've mentioned in my last few reports, I don't have much to comment on with respect to smallmouth bass lately.  Although I haven't spent much time targeting them, every time I do, we find more than a handful amidst the schools of freshwater drum.  The fish have been healthy and are recovering from the spawn very well with many fat bellies coming to hand.
In order to avoid fish mortality, I've been staying in current and/or fishing depths less than ~30'.  Live crawfish, swimbaits, and drop shots have been the ticket – especially when the waves are rolling.    I haven't tried them lately, but I bet crankbaits and stickbaits would be excellent producers in current as well.
Walleye
The walleye bite out of Buffalo, NY is…in flux.  The bite was excellent during the front part of the week.  However, after Thursday night's storm, things have been picky.  I travelled further off shore out of Buffalo, NY than I've even been on Friday in search of walleyes and it was still picky.  Although my sonar hasn't been as loaded as it was less than a week ago, there are still plenty of fish aroud.  The questions is…are all those marks drum vs walleyes?
The bait remains THICK out there.  I thought what I saw last week was nuts, but this week was even wilder.  Often, clouds of bait took up most of my sonar screen.  Fingers crossed that all that food sticks around.  Maybe the excellent action of the previous 2 weeks will return/the big schools of fish will return.
Going into the next week or so, I'm going to be very transparent with my clients that have walleye aspirations.  Bottom line, the numbers arent here anymore.  All of us Buffalo, NY based folks have our fingers crossed that they'll come back after another storm.  In the meantime, it's back to the multispecies/reef running program where bass, drum, and walleyes are all on the menu.
A Little Personal Reflection
On the loathing of freshwater drum.  I'm not going to take this too far, but I want to offer a few observations about freshwater drum.  Local anglers loathe them…mainly because they are a dominant predator that outcompetes all the prized game species that are the preferred targets.  Local non-anglers/beginning anglers, kids, and tourists LOVE freshwater drum.  Here's why:
They're aggressive – if you pull live crawfish through a zone, freshwater drum WILL find it and eat it. In other words, action is all but guaranteed.
They fight HARD – drag screaming runs and deeply bent rods are the norm.
They get big – 7+lb fish are common and fish over 10lbs aren't rare.
They are everywhere from the beginning of July through the beginning of October. By everywhere I mean they are on the bottom eating crawfish and gobies in shallow water, doing the same in fast current, and crashing bait in the middle of the water column out in deep water.
If I start a day fishing a zone that has a ton of drum, local new anglers and tourists won't want to leave.  Sometimes I leave anyway and go looking for smallmouth bass in the river.  Within 30 mins or so, someone almost always asks me if we can go back to the lake to fish for drum.
If you're reading this and you loathe drum, I'm not so deluded to think that my pitch is going to change your mind.  I get it – if you're targeting walleyes or smallmouth bass, it's frustrating if you keep catching this other creature.  I have a solution to your woes.  If you want to put an end to your frustration, fish for both of those fish in the spring and the fall when the drum aren't around.  You can also fish in the summer with folks that find fishing novel.  Watch their eyes light up when the drag screams on a big gaspergou and try to remember what that felt like.
The moral of this little "drum-love" aside is that one person's trash is another person's treasure.  Like so many things in life, it all depends on perspective.
Buffalo NY Fishing Report – Forecast for 07/24/2023 – 07/30/2023
This upcoming week looks promising…for the front half at least.  As per usual this time of year, it looks like Mother Nature will throw a tantrum with wind and rain for a couple days this week.  Thursday and Friday look kind of dicey but I'm never confident about a forecast that more than 2 days out.
I'm booked daily this upcoming week.  Once again, I'll spend some time in the river (upper and lower) as well as Lake Erie fishing for whatever bites.  It's summertime – something wild almost always happens on every trip.  Stay tuned.    
Stay healthy my friends – mentally and physically,
Ryan
Tap any image below to swipe through the gallery.  Quick note on walleye photos – they're tough to take.  Since I harvest nearly every walleye I catch, my default action is to kill the fish as soon as I get it in the boat to reduce suffering.  That consists of a quick head stomp to subdue it then cutting its gills to bleed it out before putting it in the cooler.  I bring this up because these actions don't offer an opportunity for photos.  I take a pic if the client asks me to or if the fish is over 6lbs"ish".  However, walleyes are notoriously resilient.  Even after a head stomp or hammer fist to the head, it will still buck out of your hand when trying to hold it for a photo.  Plus, they have teeth and spikes all over the place that'll stick you if you're not careful.  Messes ensue, sometimes resulting in a client accidentally tossing a fish from the boat.  The other photo option is a table spread prior to cleaning the fish.  I'm not a fan of doing that – mainly because it selfishly takes up cleaning table space that others could be using while you are boasting about how many fish you caught.  Alright – enjoy.