Buffalo NY Fishing Report – Observations from 07/24/2023 – 07/30/2023
Here's our latest Buffalo NY fishing report:  Although the forecast for the week was far from accurate, I still managed to fish 5 days while dodging wild wind and torrential downpours.  I returned to targeting smallmouth bass this past week and I'm pleased to report that they're doing well and continuing to pack on weight.  I have a feeling that this fall is going to be crazy.  Keep reading for more details.
Days on the Water: 5
Who we fished with: friends/clients
Where we fished:  Lake Erie, Lower Niagara
What we caught:  smallmouth bass, freshwater drum
Tactics: 3-way rig with live bait, worm harnesses, drop shots
Episode 60 of Two Angles on Angling is live:  N/A – our hiatus will continue until my return from ND…at which point we will have much to discuss.   
Daily Conditions Analysis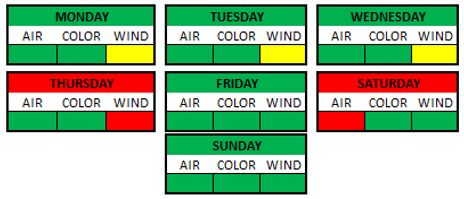 Monday – Did a Lower Niagara/Lake Erie combo.  The Lower fished incredibly slow so we made the transition to Erie – action was excellent for both smallmouth bass and freshwater drum.  
Tuesday – Fished a double on Lake Erie.  The bite was good when we had wind but died when the wind went away.  Caught a mix of smallmouth bass and drum on both trips.  
Wednesday – Fished a double on Lake Erie – same commentary as the day prior.
Thursday – rescheduled trip – BIG wind/BIG waves/small craft advisory.
Friday – Fished Lake Erie.  Excellent bite throughout the day – even better when the wind picked up (of course).  Lots of biggies.
Saturday – Big rain and thunderstorms dominated most of the day. Rescheduled trip.       
Sunday – Fished Lake Erie for smallmouth bass.  Very light wind our of the WNW so we had to use the trolling motor to cover water.  Worked the rock pile/shoal hopping program.  Bite was fairly consistent at all locations with a few biggies in the mix.  
Seasonal Assessment/General Observations
On the Conditions
As the rest of the country complains about extreme heat and insane ocean temperatures, it's been fairly nice here in the Buffalo Niagara region.  Our weather pattern has been in line with historical norms.  By that I mean, days in the 80s, nights in the 60s, a little wind here and there as well as some rain.  Water temperatures are also well within the historical average.  Bottom line, it's been a banner month for fishable days.  Thank you to all my customers for making this a record breaking month for me.
Smallmouth Bass
I spent every outing this past week in pursuit of smallmouth bass.  The pattern was what it always is this time of year – find rock piles/shoals/reefs and you'll find bass.  Bass, drum, and walleyes go to these places to graze on crawfish, gobies, and whatever else they can get their mouths around.  In deeper water, lake trout and brown trout do the same thing.  Think of all that structure the same way you think about coral reefs in the ocean or an oasis in the desert – hubs of life/activity.
Here in the eastern basin, there is still a lot of bait hanging around.  Where you find bait, you'll also find predators on the feed, especially in deeper water/on sand and gravel flats where the fish can see it from a long way out.  However, as I've mentioned in a few reports of late, that kind of terrain is usually in water over 40' around here.  Fish mortality becomes a problem at that depth when the water is this warm, which is why I remain structure oriented this time of year.
Goby pattern or white flatworm drop shots, 4' swim baits, and live crawfish have all been productive.  As per usual, when the waves get rolling, smaller baits tend to work better as the fish set up in feeding lanes and pick up whatever the waves bring toward them.  However, it never ceases to amaze me what a smallmouth bass will try to fit in its mouth so don't hesitate to go big – just to see what happens.  It often produces a giant.
Walleye
I went from hero to zero on walleyes and I'm not happy about it.  I've seen a few guys here and there at the cleaning station, but the days of waiting in line to clean fish aren't the norm anymore.  Folks are still getting into "family fish fry" kinds of numbers out of Buffalo, NY but fishing through drum is a requirement to do so.
If I wasn't about to depart for North Dakota, I would spend some time following them toward Dunkirk or Barcelona.  That'll be the plan for late August.  I have to admit that I had more fun than in years past pursuing Lake Erie gold this year.  I'm not ready to put up my walleye gear just yet.
A Little Personal Reflection
I'm in full summer "Zen" mode these days.  The schedule is full of bookings (thank you!) and I have a couple of vacations coming up so I have much to look forward to and little to be anxious about.  For lack of a better way of saying it – I'm in a flow state that's typical of just about every organism here in the Great Lakes Region this time of year. 
Think about it – the weather is warm and fairly reliable this time of year.  Sure, we get wild wind and a thunderstorm maybe once per week but other than that, there's little to worry about.  The mammals are just coasting, the birds are doing the same, insects (especially the terrestrials like beetles, crickets, and grasshoppers) are everywhere, and the fish are comfortably grazing when they feel like it.  Life is good and stress is at it's lowest point of the year.  Embrace it while it lasts…you've got about a month left.     
Buffalo NY Fishing Report – Forecast for 07/31/2023 – 08/06/2023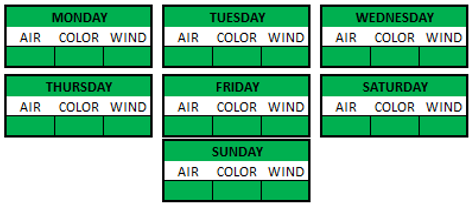 Some would say we're entering the dog days of summer.  Here's what I would say – if there's a breeze it's going to be a good day on the water.  Although it doesn't get terribly hot around here, a little wind keeps things comfortable and pushes you along in pursuit of fish.  I used to loathe this time of year, now I embrace it for its consistency.  Look back at all my August trip reports from years past and here's what you'll notice – plenty of action and reliable weather.    
A little bit of heat and humidity, a shower here and there, and the occasional windy day is the August pattern here in the Buffalo Niagara Region.  In other words, just about every day is fishable.  Plus, it's the last full month of summer and the final days before the kids go back to school.  Anytime something gets close to an end, a sense of urgency enters the air – this time of year is no exception. 
This upcoming week looks like it'll be the quintessential "August-in-WNY" kind of weather pattern.  Everything I mentioned above will show up if the forecast holds.  I'm fishing Monday and Tuesday and then departing to North Dakota later in the week for about 10 days.  Stay tuned for that trip report.      
Stay healthy my friends – mentally and physically,
Ryan
Tap any image below to swipe through the gallery.