Commentary for the Week of 10/03/2022 – 10/09/2022
Here's our latest Buffalo NY fishing report:   Tough week.  Half the week was windless, the other half ended up being near prohibitively windy, and a couple of clients had to cancel/reschedule at the last minute.  In other words, I didn't spend as much time on the water as I would've liked this past week.  When we did get out, we managed to put together a nice program – keep reading for more details.    
Episode 28 is live: Jordan and I provide a fishing report from this past week – it's brief as Mother Nature didn't adhere to the forecast. We also discuss angling opportunities for the upcoming week. The deep discussion portion of the podcast gets into prep for winter and how to avoid shack nasties or seasonal depression.
Daily Conditions Analysis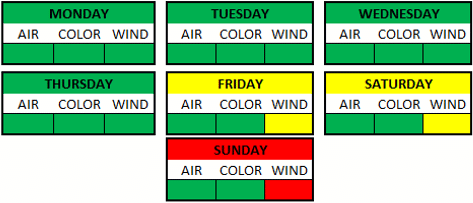 Monday – near windless day.  Fished Lake Erie for bass.  Slow compared to last week but we made plenty of connections to keep us entertained.  Most of the fish were sitting in deep water on sand/gravel close to structure.  
Tuesday – another near windless day.  Fished Lake Erie for bass.  Same pattern as Monday.
Wednesday – day off – should've fished but opted to save gas
Thursday – day off – should've fished but opted to save gas
Friday – fished Lake Erie for smallmouth bass.  West winds from the night before/early morning kicked up some big rollers.  Then the wind shifted to the NW and got bigger.  I'm usually confident the bite will be awesome when facing these conditions, but it ended up being lackluster.  Lots of schoolies but very few biggies.  Drifts/covering water was a little challenging due to wind blowing one direction and waves rolling in another, but we made it work.
Saturday – NW winds in the teens.  Small craft advisories on Lake Erie, the Upper, and Lake Ontario.  Plus, the Canadian Tire bass tournament had 100 boats slated to be on Lake Erie and the Upper Niagara.  Opted to reschedule clients.
Sunday – Even bigger winds than the day before, plus they shifted to the west.  Small craft advisories across the region.  Had to cancel the trip.
Seasonal Assessment/General Observations
Well, I wish I could've carried last week's momentum forward, but it didn't work out that way.  Mother Nature and a little bit of shoddy scheduling humbled me.  Mother Nature humbled me with some windless days followed by some days where the wind was a little too extreme for folks to enjoy time on the water.  Shoddy scheduling humbled me as I had a full slate of clients on the books but lost a couple of them at the last minute.  Had I reached out to these folks the week prior, I would've had enough time to fill in the gaps.  Lesson learned.  Bottom line, the week wasn't nearly as productive as I had hoped, and I bear some of the responsibility.
After a week like this, I'm reminded of how important a positive mental attitude is in fishing…and in owning/running a business…and in life for that matter.  I struggled through this idea in a blog I wrote almost 2 years ago (tap here if you want to read it), and that struggle continues today.  Getting humbled isn't enjoyable, but it is an opportunity for learning/growth.  I'm licking a couple wounds now but I'm making some corrections and moving into this upcoming week full of motivation.
One final, less introspective note – beyond 3-4 days, the forecast is HIGHLY untrustworthy this time of year.  That might be a glaring statement of the obvious about meteorology in general, but in the winter and summer, long term forecasts tend to unfold pretty darn close to their projections around here.  Put a little differently – during the winter and summer, chaos rarely looms at the end of a long term forecast so, way more times than not, I end up executing the plan I put together at the beginning of the week.  In stark contrast, during the first month or so of spring and fall, plans fall apart regularly.  This past week was an example of this.  If you ever want to feel vulnerable/out of control – make plans this time of year lol.
Looking Forward to the Week of 10/10/2022 – 10/16/2022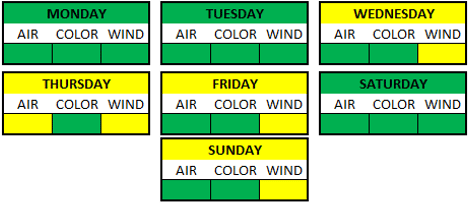 Fishing Forecast for Next Week
In keeping with my commentary about the forecast in the spring and fall, this upcoming week's forecast is looking dicey.  Monday and Tuesday look good.  Beyond that, there will be a lot of last minute calls.  Flexibility is key this time of year.  If your schedule is such that flexibilty isn't an option – no worries – just know that there almost always is an option to catch fish around here depending on what you're willing to do.  Ask yourself – would you rather give it a shot vs. going to work or sitting at home?  Few days end up presenting optimal conditions, but nearly all days present an option to boat some fish and have a good time.        
This past week, a few of my colleagues took advantage of a decent run of king salmon on the Lower Niagara.  As I've said before, the king salmon run is very unreliable on the Lower Niagara nowadays but if you want to catch one, rod in hand, in that beautiful setting – you've gotta be willing to grind.  Sometimes, it'll pay off.  Most of the time, it won't.  You never know until you try – it's a gamble – a bet I'll likely place at least once this upcoming week.
I'll also likely spend some time on the river this upcoming week – both the Upper and the Lower.  I dabbled on the Upper briefly this past week and was a little disappointed, but I don't think I gave her a fair look.  Same goes for the Lower.  Things have to be getting really good on both fisheries. 
Of course, Lake Erie will be on the docket as well.  She's hard to avoid this time of year.  However, I'll make it a point to explore some new water out there.  All the N winds we've had lately have denied me the ability to fish large chunks of the Lake (and river for that matter).  If the forecast holds, there will be lots of S and W winds, which will open up some zones I haven't fished in a while.    
If you want to experience this first-hand instead of reading about it, give me a call. Availability is limited but I'm sure I can find you a spot if you call soon.
Stay healthy my friends – mentally and physically,
Ryan
Tap any image below to swipe through the gallery.