Buffalo NY Fishing Report – Observations from 10/23/2023 – 10/29/2023
Here's our latest Buffalo NY fishing report:  Although the weather this past week was forbidding (to put it mildly), I had some hardcore anglers in town that wanted to put in work.  So, that's what we did, and it worked out very well.  It's a testament to our fishery that even when conditions are hostile, you can still find little pockets to limit the effects of the elements and still make a day of it.  Keep reading for more details.
Days on the Water: 6
Who we fished with: friends/clients
Where we fished:  Lake Erie, Upper Niagara, Lower Niagara, Lake Ontario
What we caught:  smallmouth bass, walleye, lake trout
Tactics: 3-way rig with live bait, crankbaits, beads
Episode 67 of Two Angles on Angling:   I had to cancel this week's podcast because I lost my voice due to a chest cold.  However, if you're not up to date, please check out our previous recordings at this link – https://podcasters.spotify.com/pod/show/two-angles-on-angling
Detailed Reporting/Daily Observations
Monday – With a light wind out of the SW, Lake Erie had 1-2' waves rolling – perfect conditions.  The bite was OK.  It was excellent when we could find them, but you know me, I can't stay on just one pod of fish.  Every time we moved; it took a lot of looking/combing an area to get bites.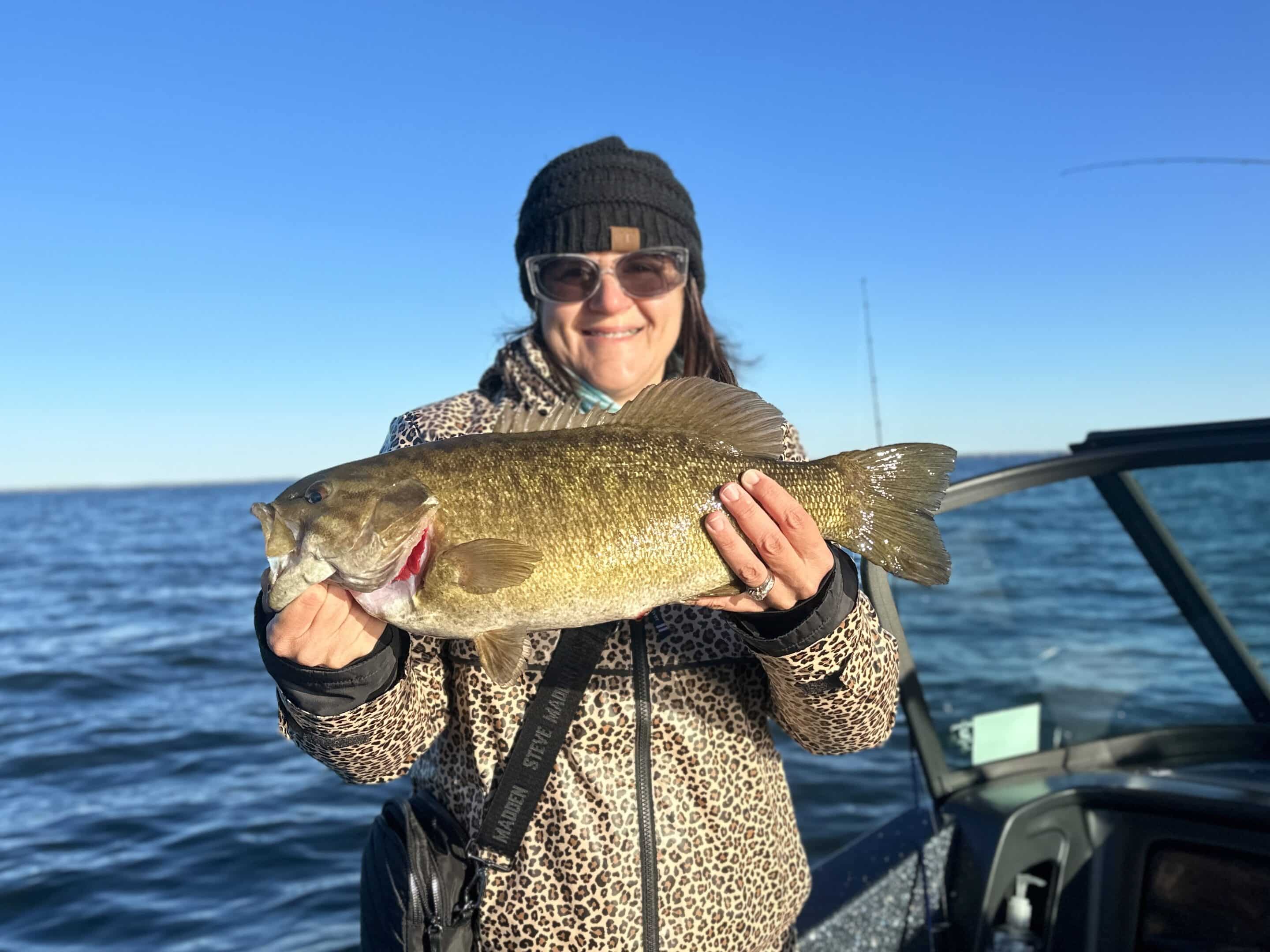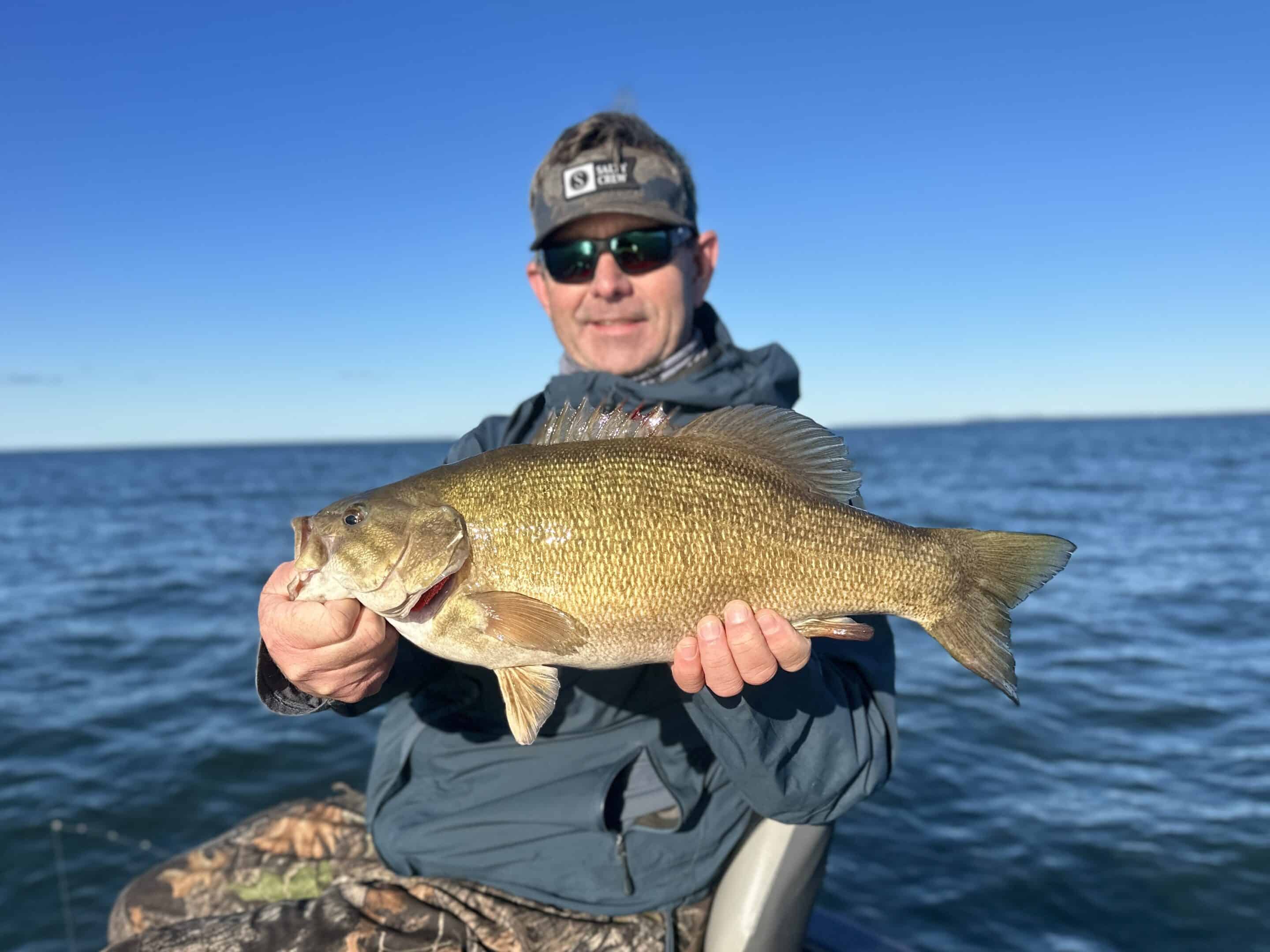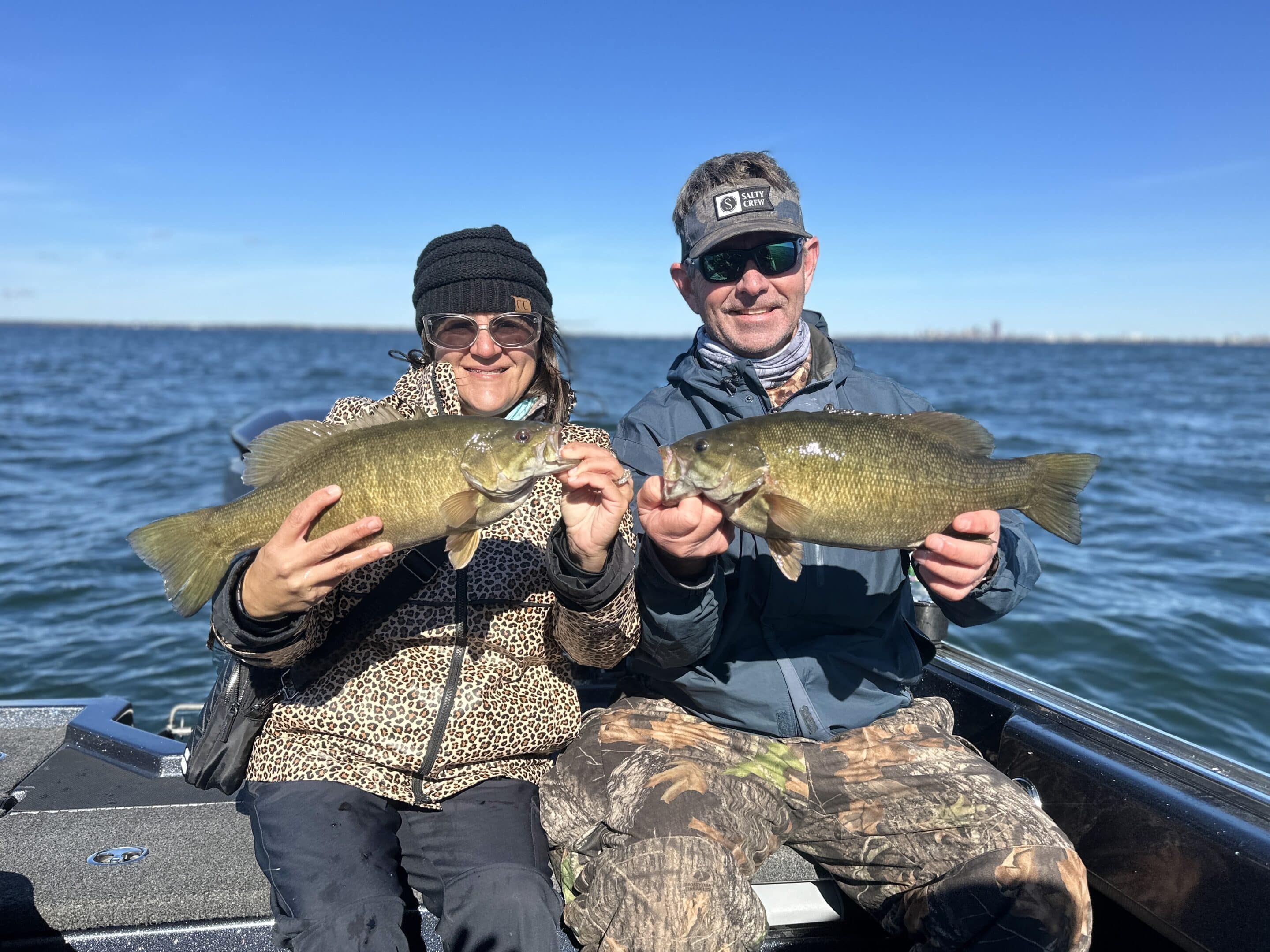 Tuesday – With a fairly big south wind blowing, we opted to fish the Lower Niagara for trout and smallmouth bass.  Excellent bite for the smallmouth.  Sporadic bite for the trout…but it's early.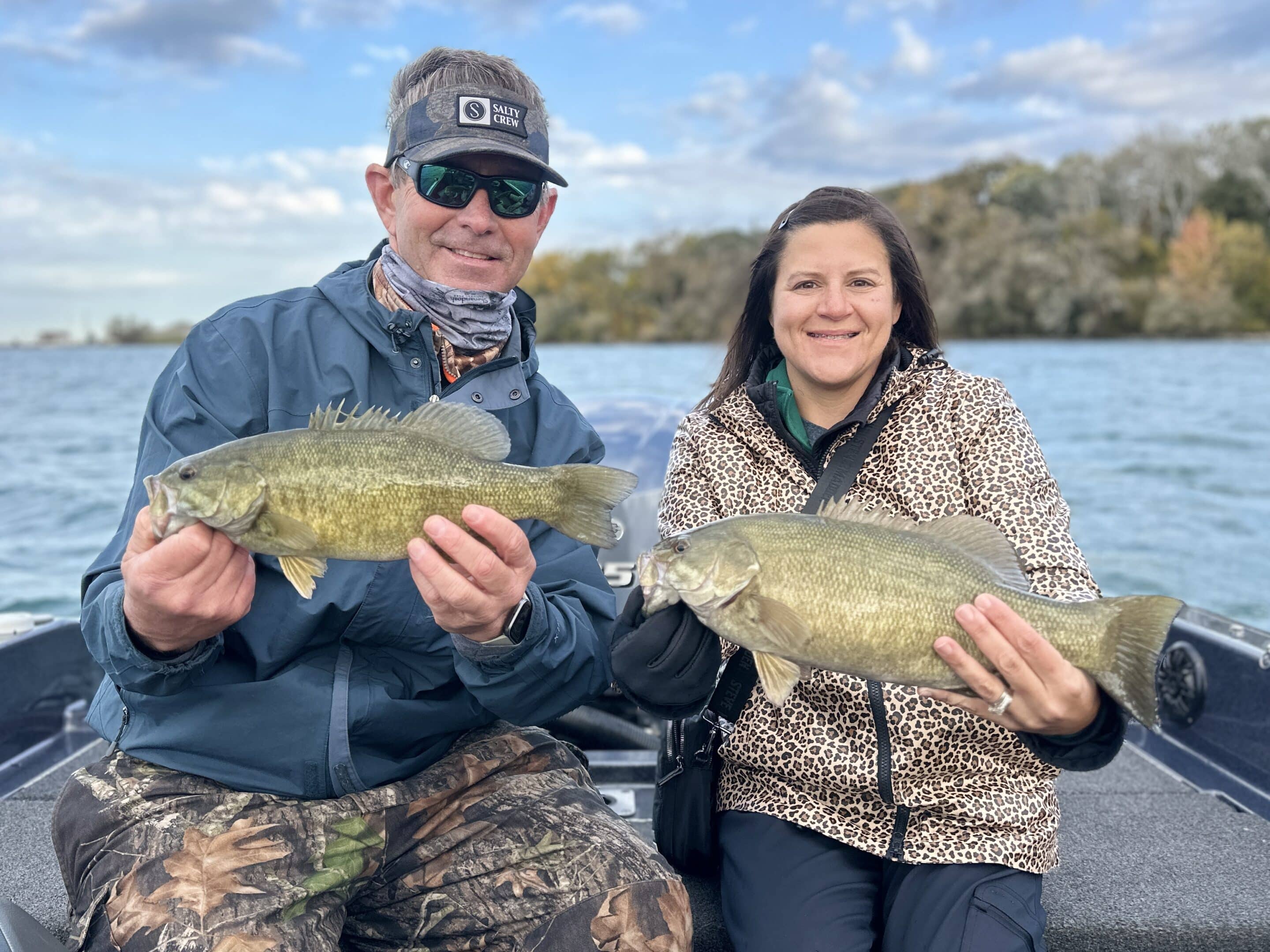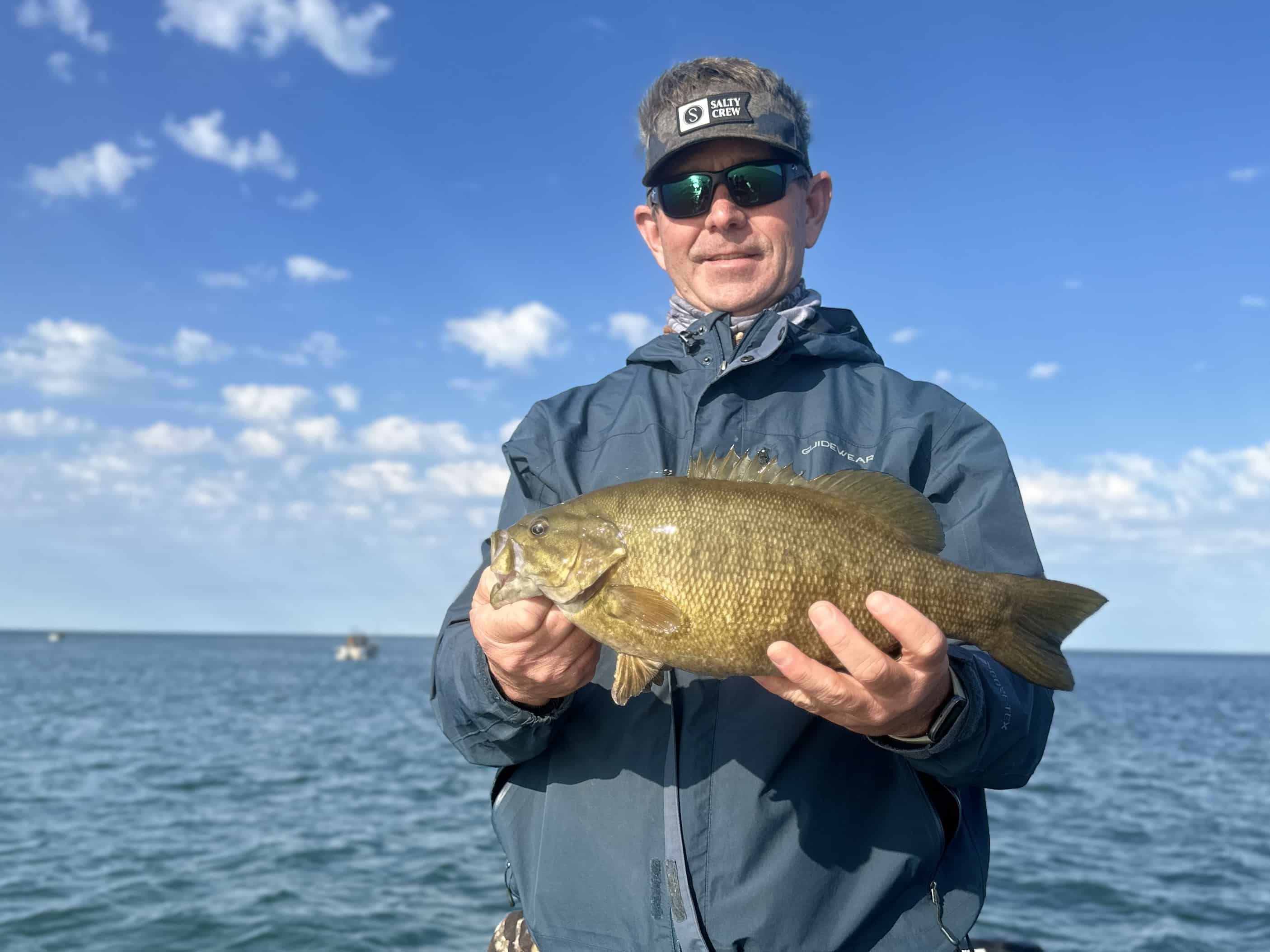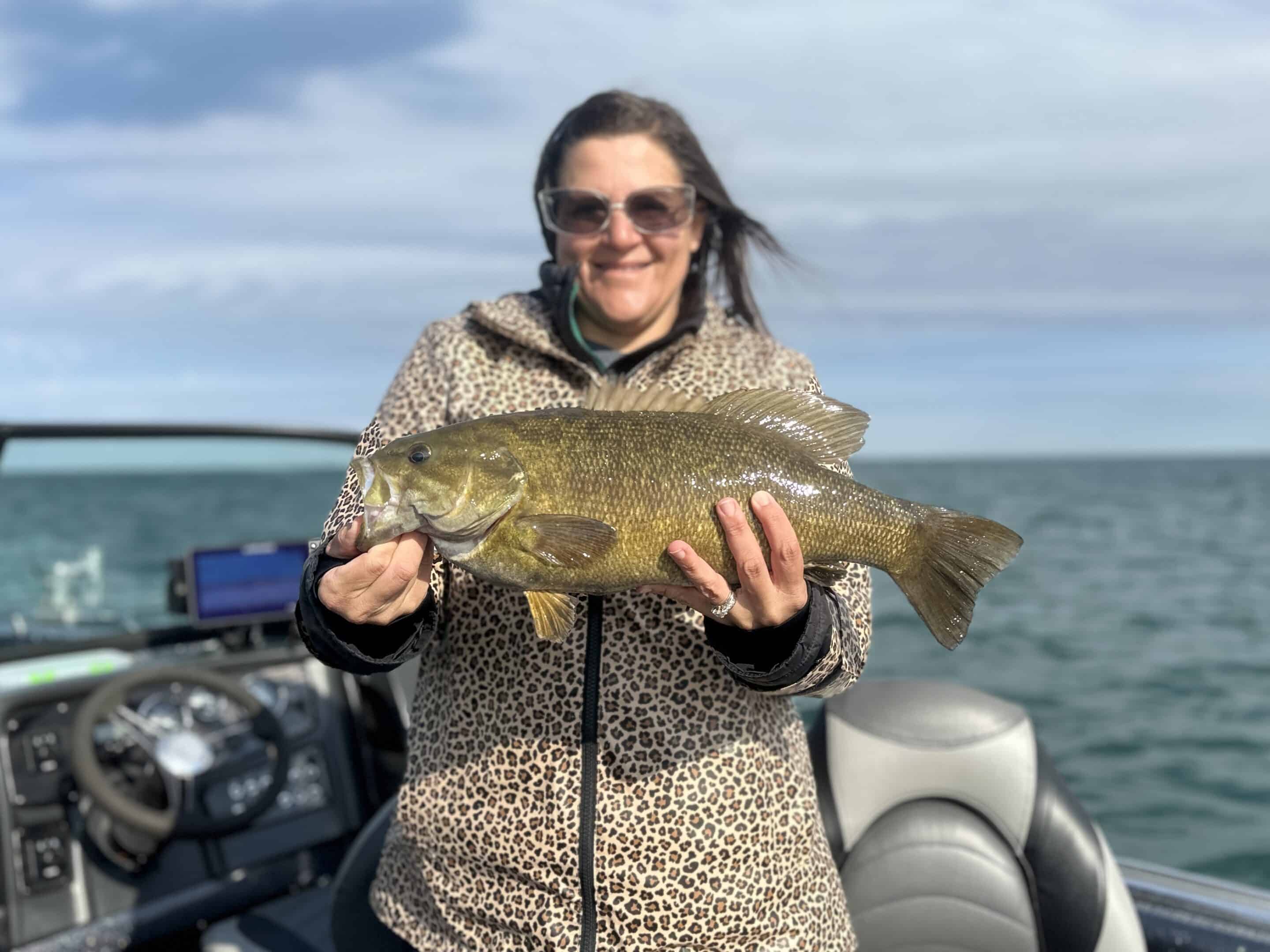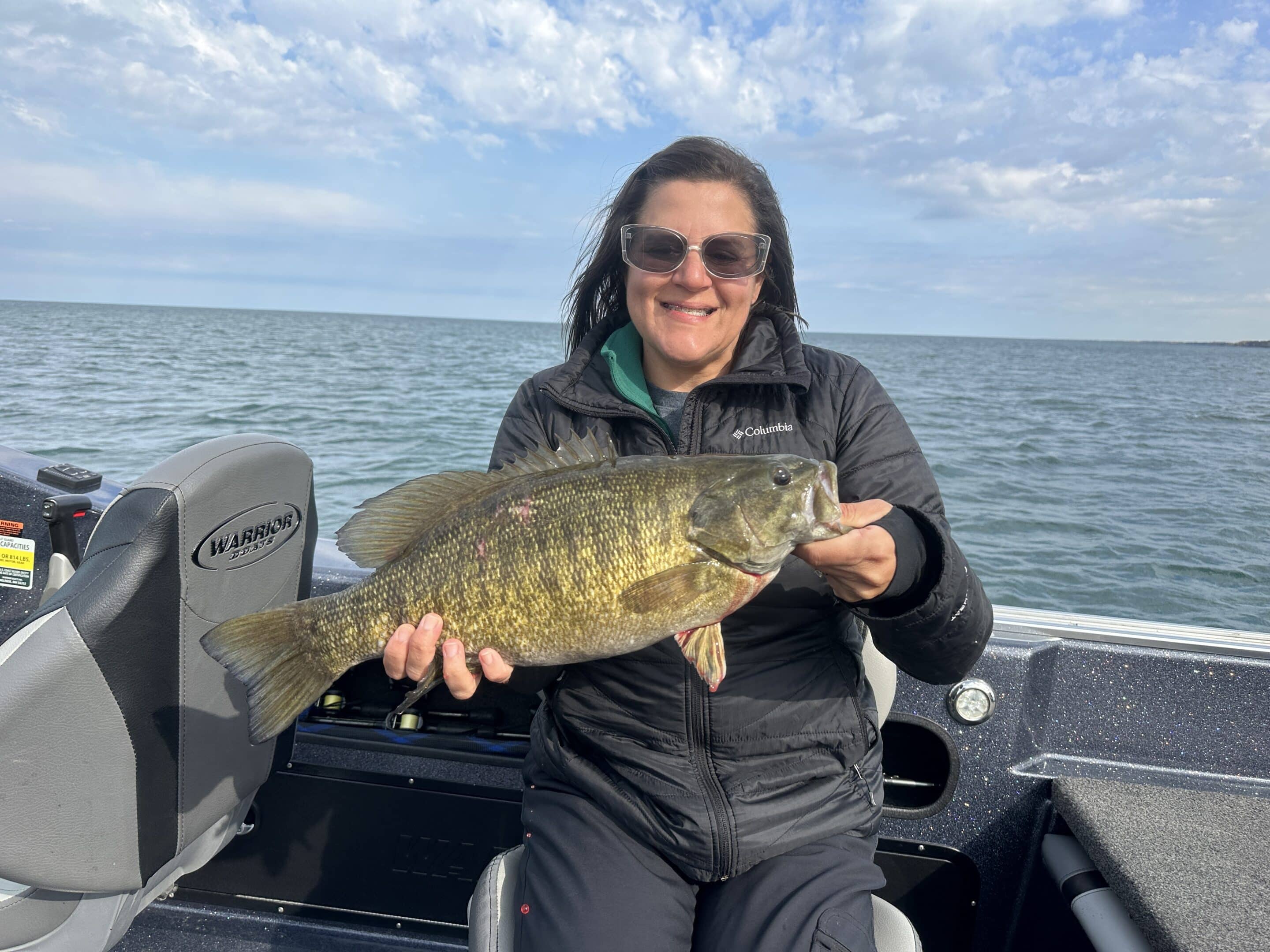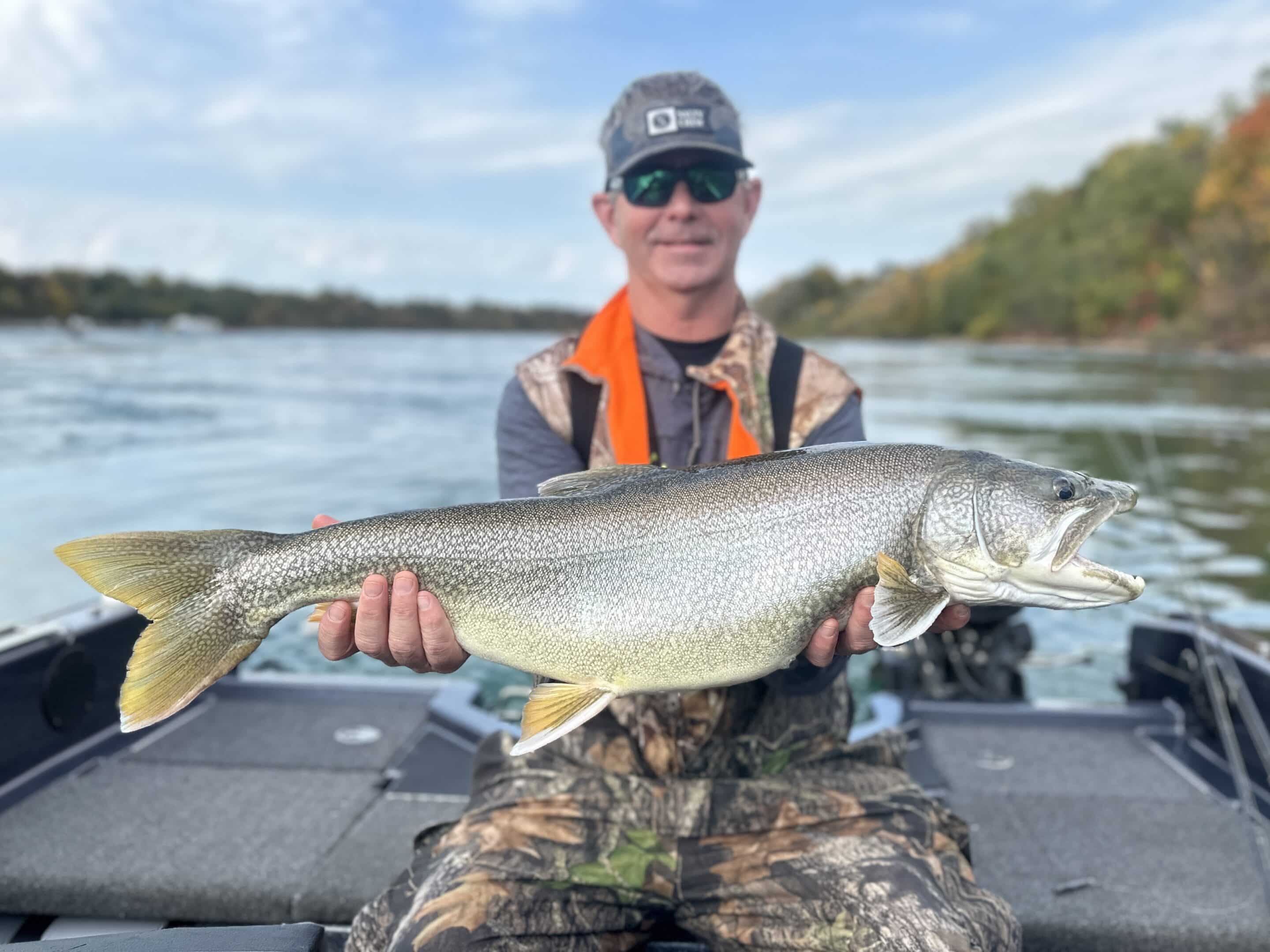 Wednesday – A big SW wind limited options for the day so we fished the Lower Niagara for a while then moved to the Upper Niagara.  The bite was lackluster at best but we managed a few walleyes, some lake trout, and a handful of smallies.  After a couple of days putting in work – relaxing and taking in the sights was more of the priority.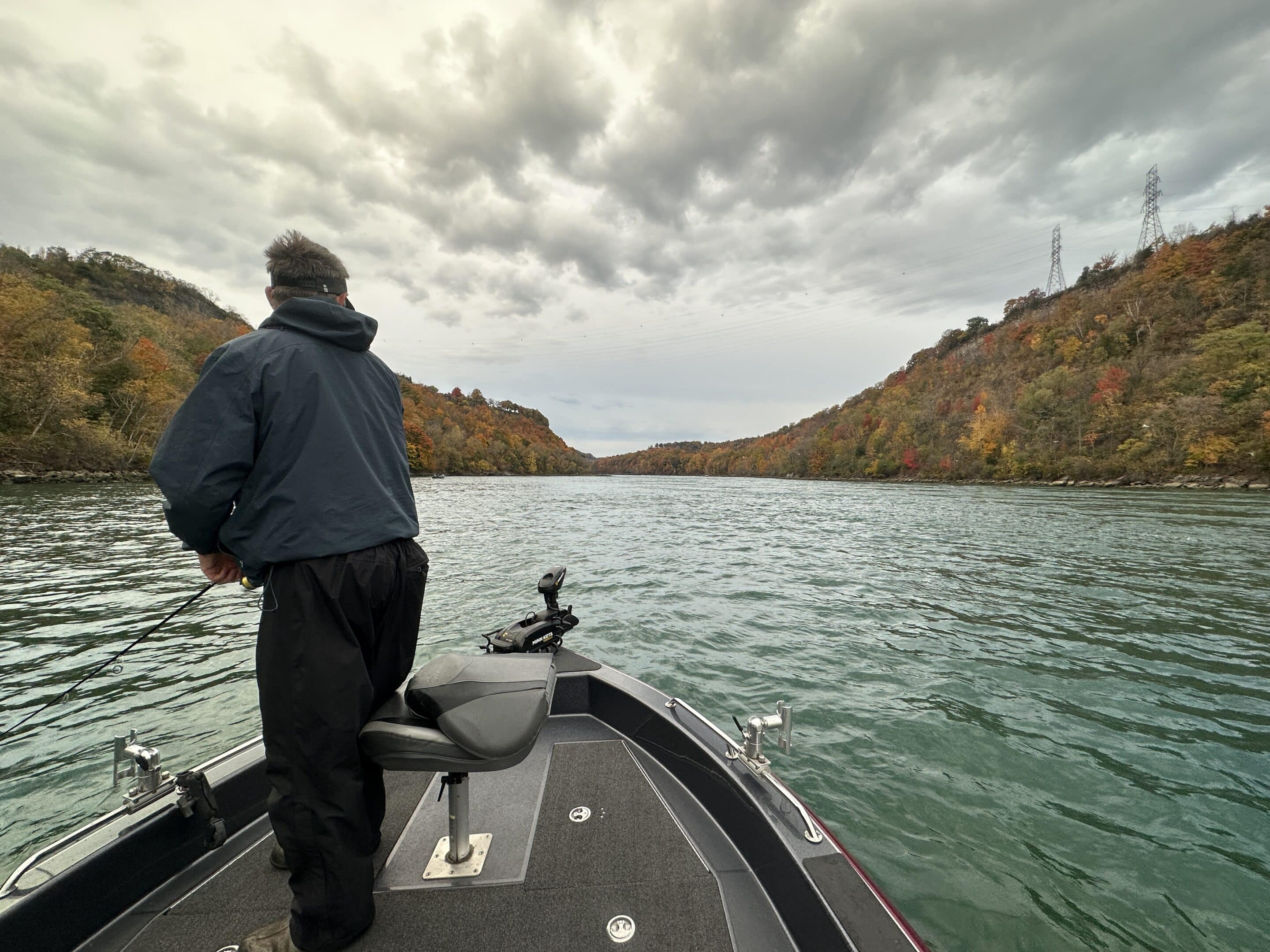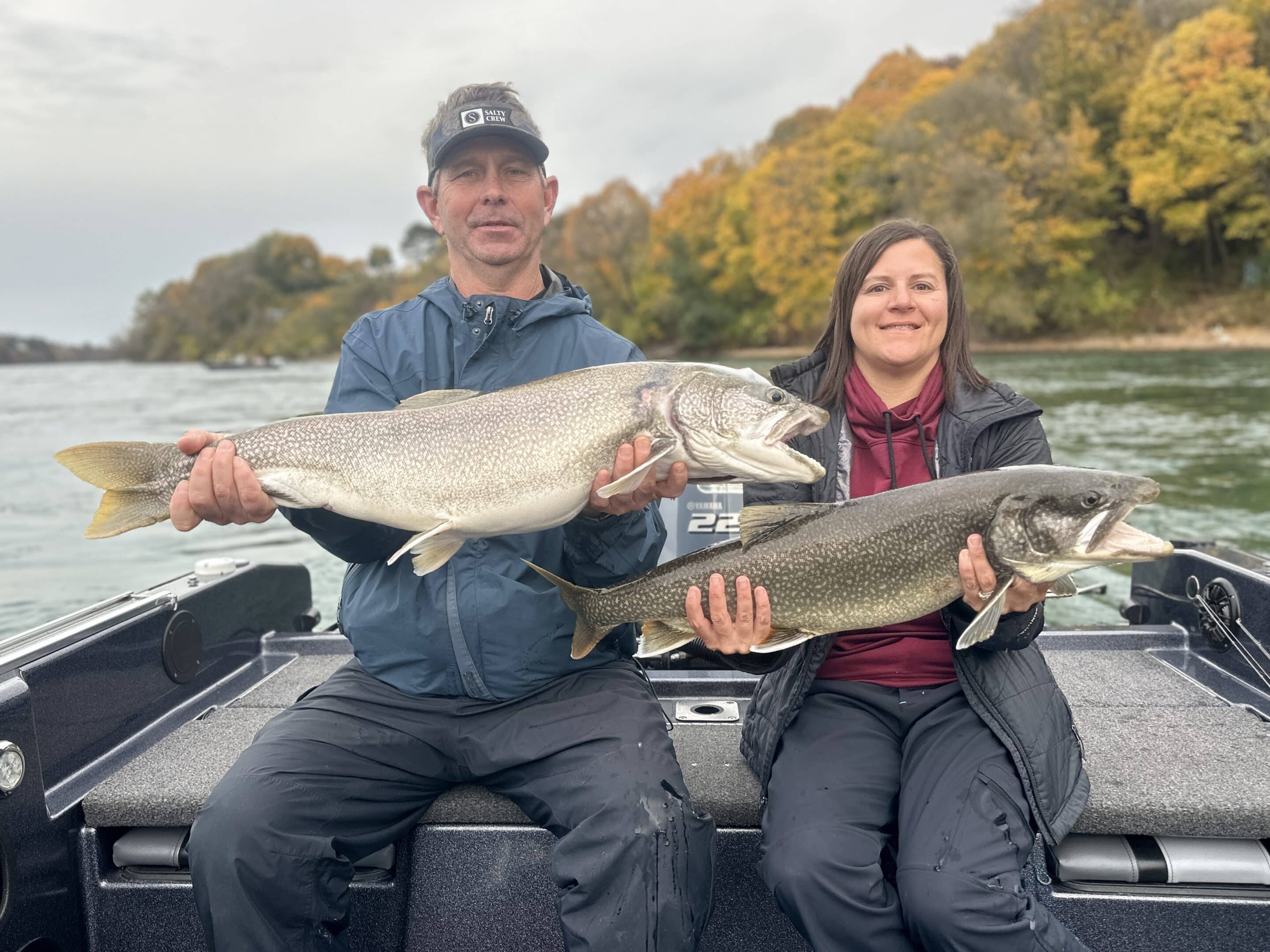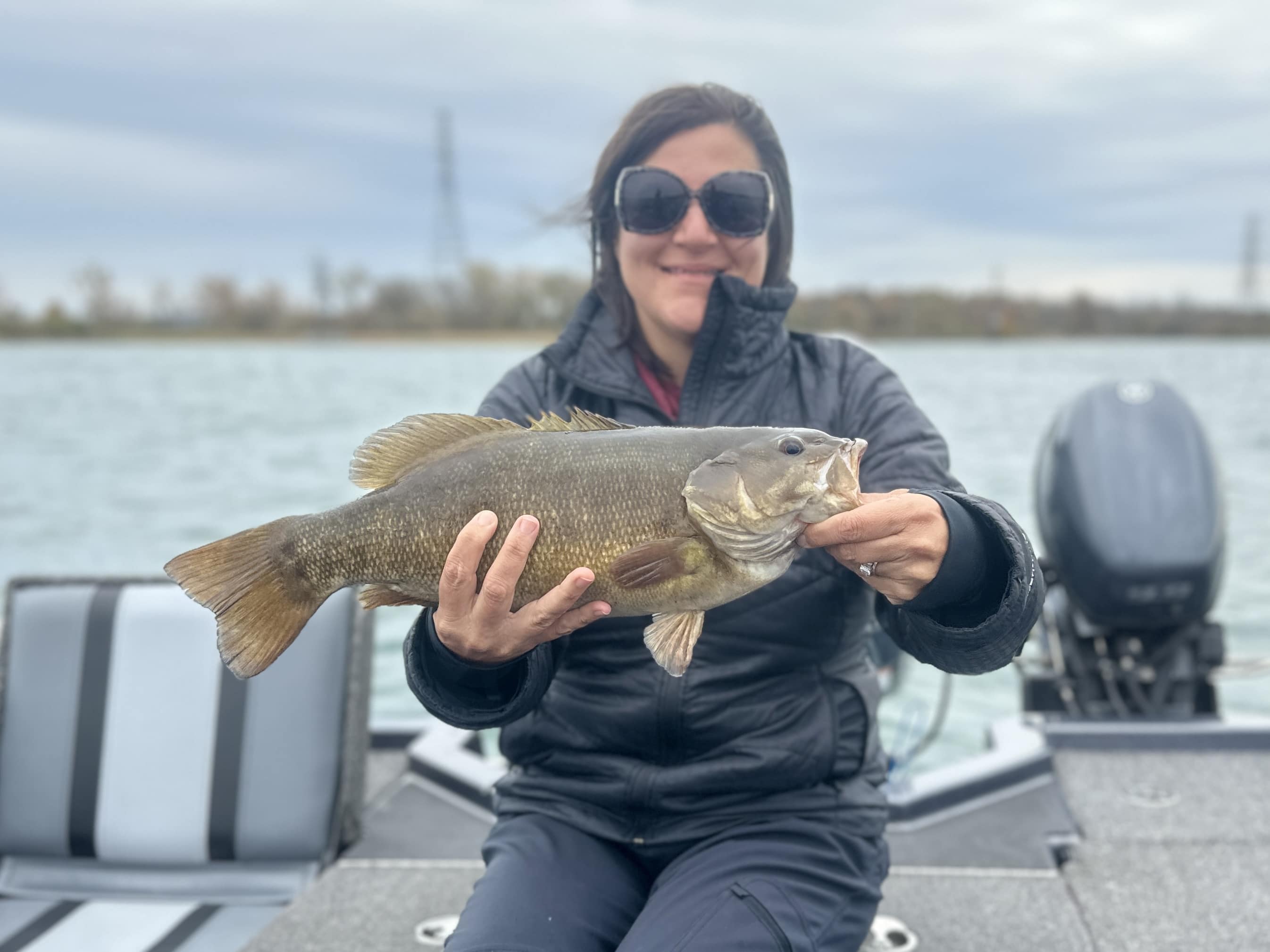 Thursday  – Fished Lake Erie for smallmouth bass.  Much to my dismay, the lake ended up being calmer than forecasted – it was almost glass most of the day.  We pulled baits around all the usual fall locations with poor results.  I decided to make the move closer to the city to get into current so we could drift.  That worked out well.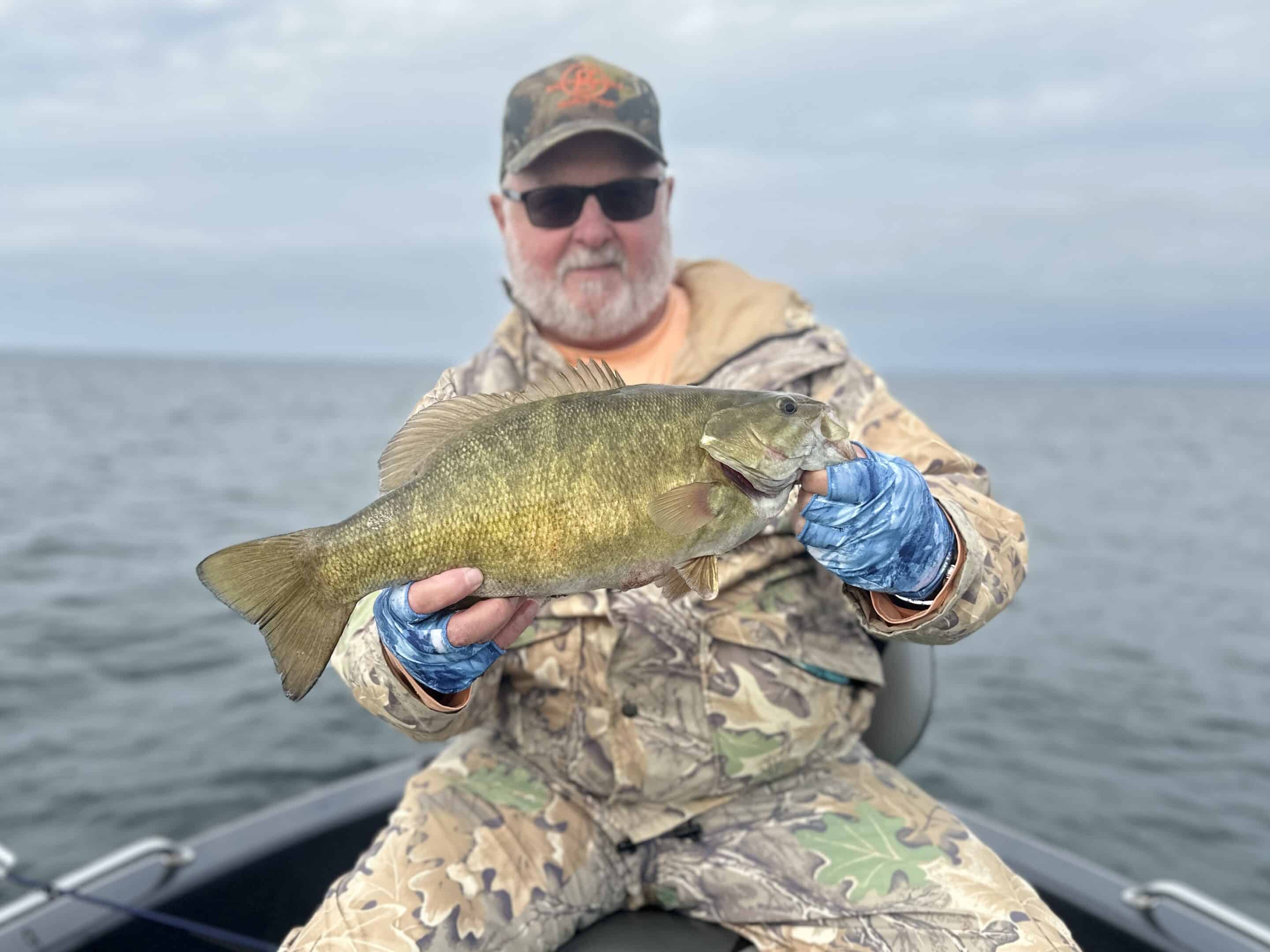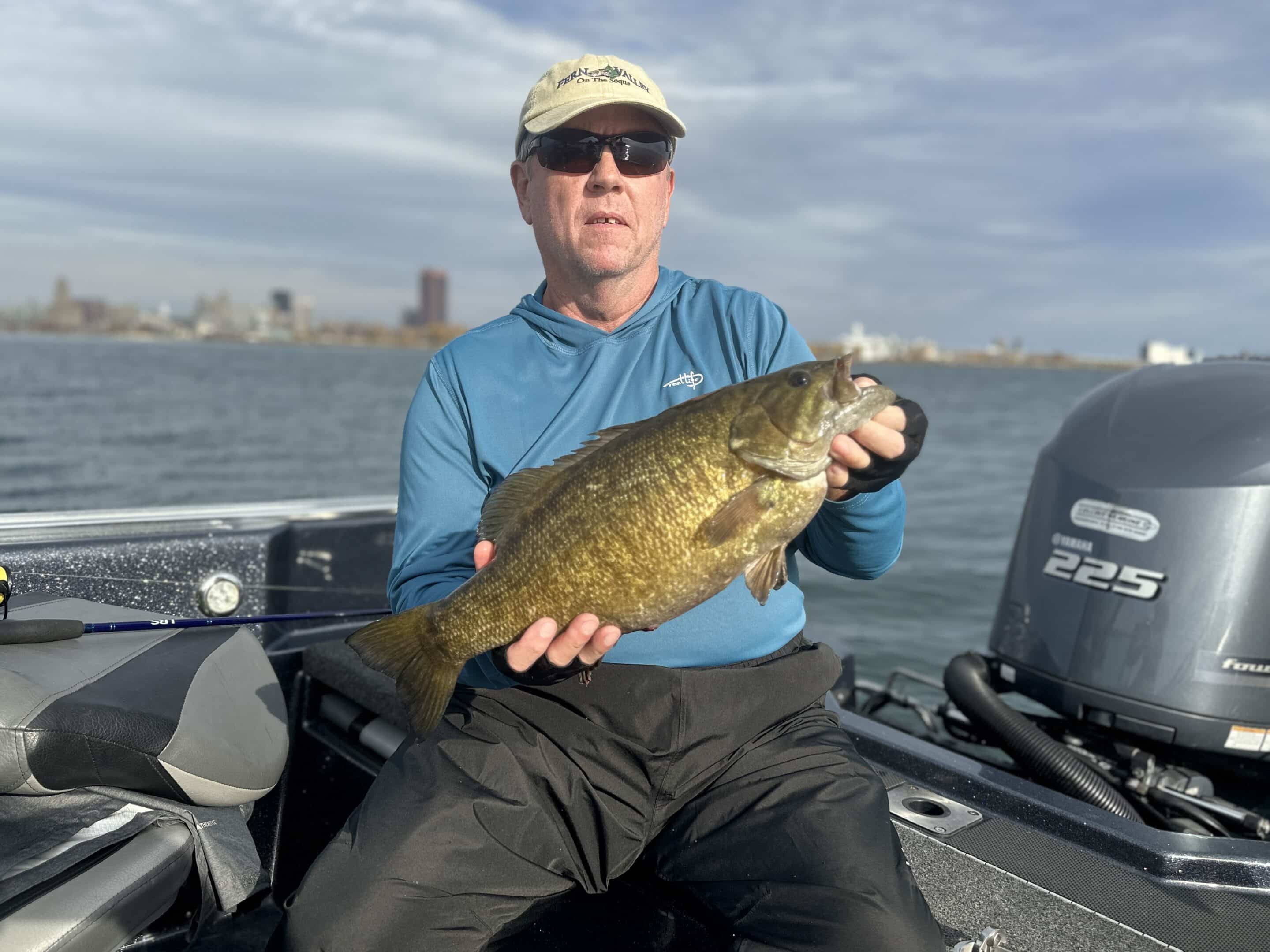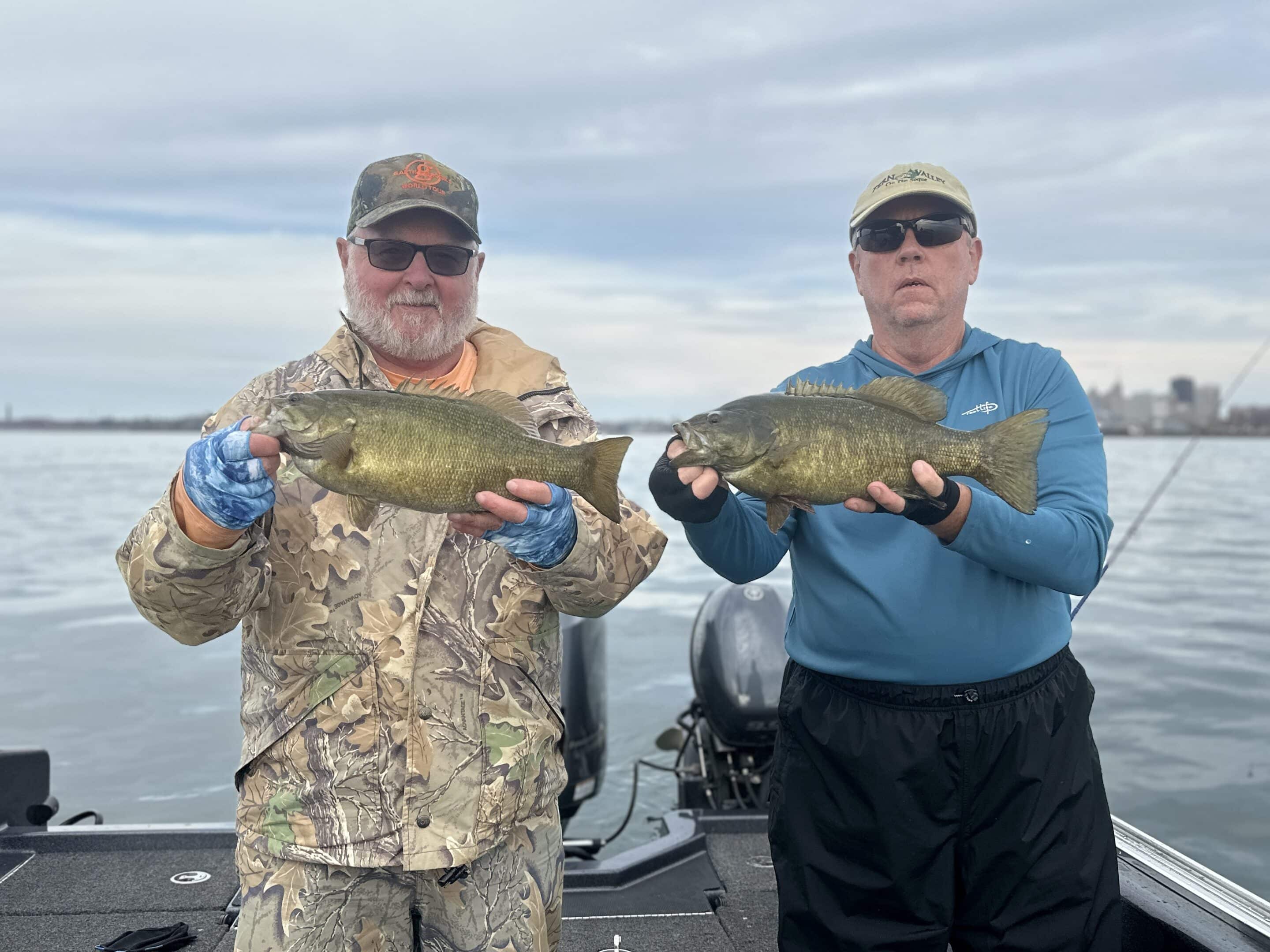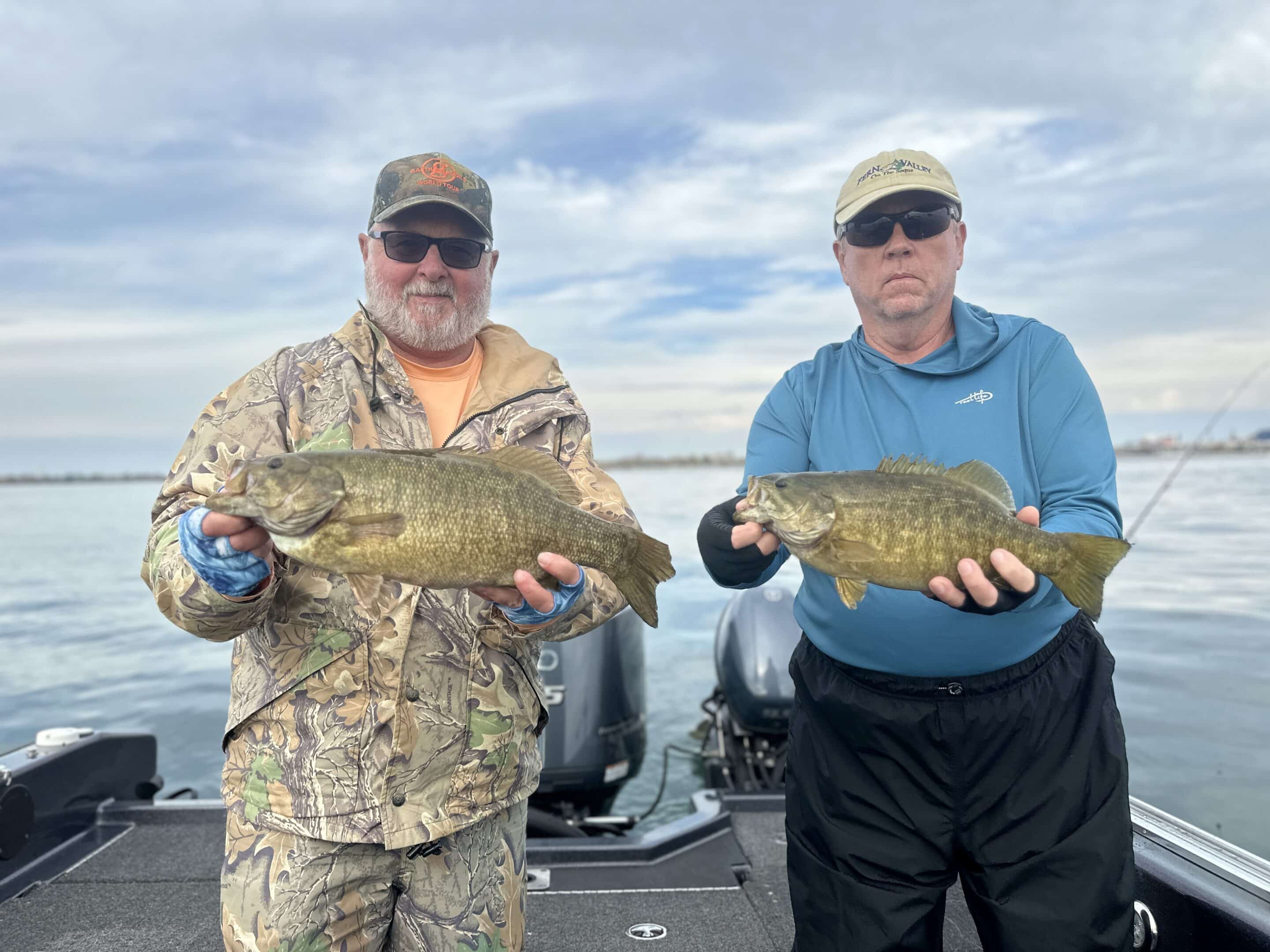 Friday – Fished the Lower Niagara and Lake Ontario for trout and bass.  I wish I had a way to measure wind speeds on my boat because I swear it ended up blowing WAY faster than what the buoys and weather beacons were saying.  Anyway – in the morning, some fairly big SW winds were blowing.  Considering the forecast called for wind speeds to increase throughout the day, we started on Lake Ontario before she got too big.
The bite was insane at first.  We were 30 seconds into our first drift when we got our first bite.  That kind of action continued – for a few hours we absolutely hammered smallmouth bass with lots of biggies in the mix.  Then, the wind speed increased.  So much so it became hard for me to speak loud enough for my clients to hear.  Our drift speed nearly doubled, and the bite dropped off.
After getting blown off the lake, we moved upriver to fish for trout for a bit – that bite was lackluster.  So, I decided to poke around a bass hole downstream and I'm glad we did.  That last hour was almost as incredible as the morning bite.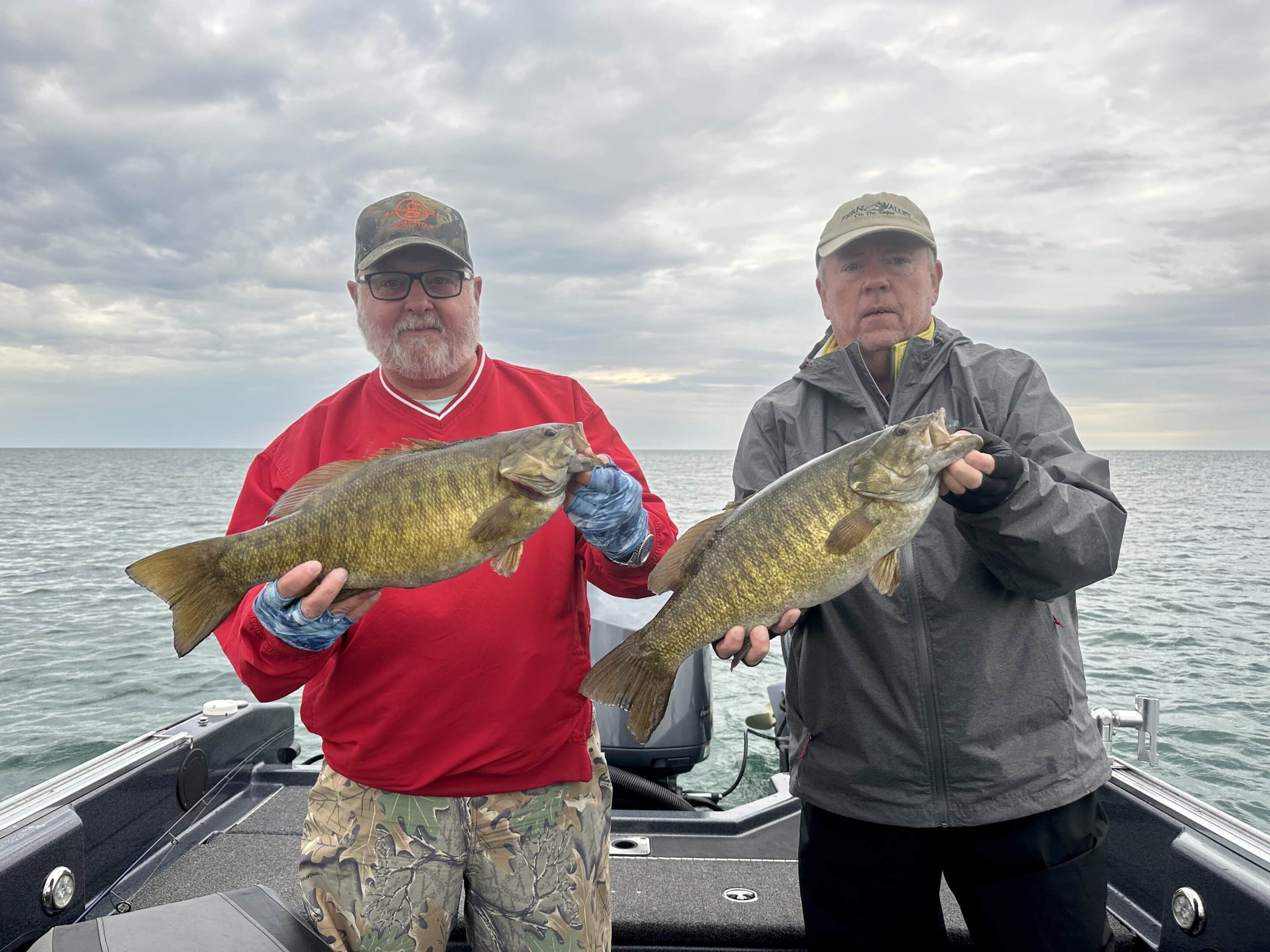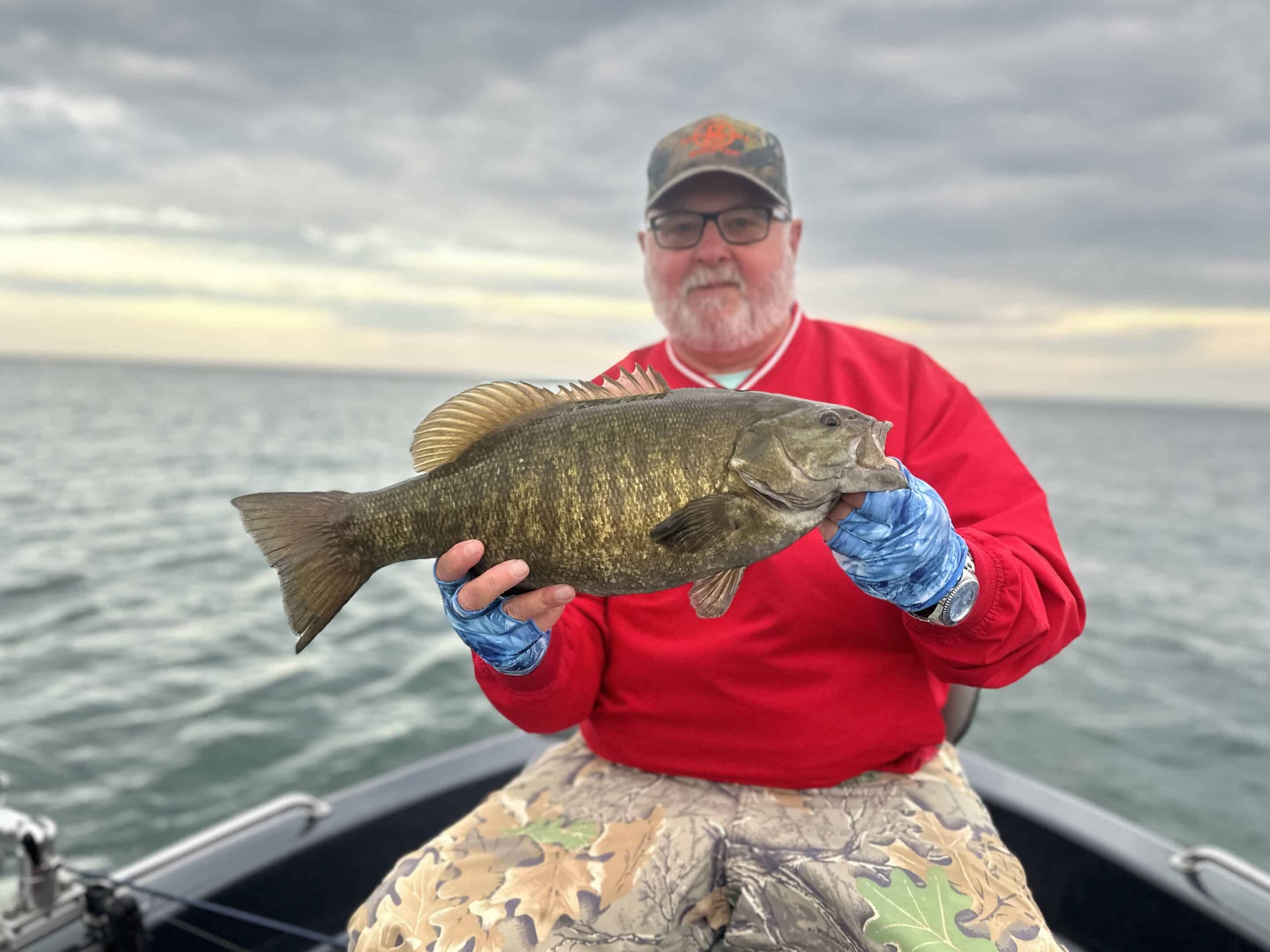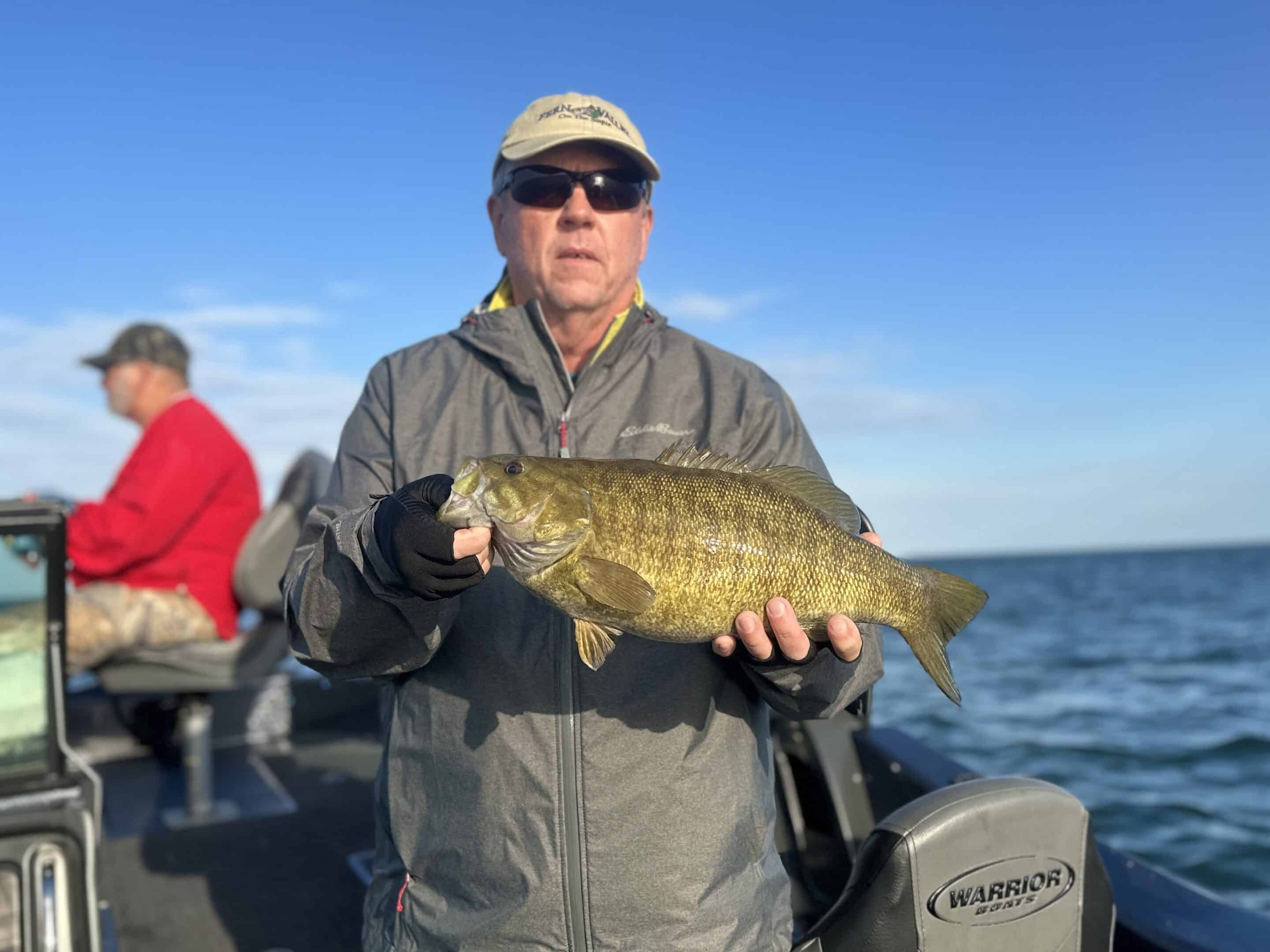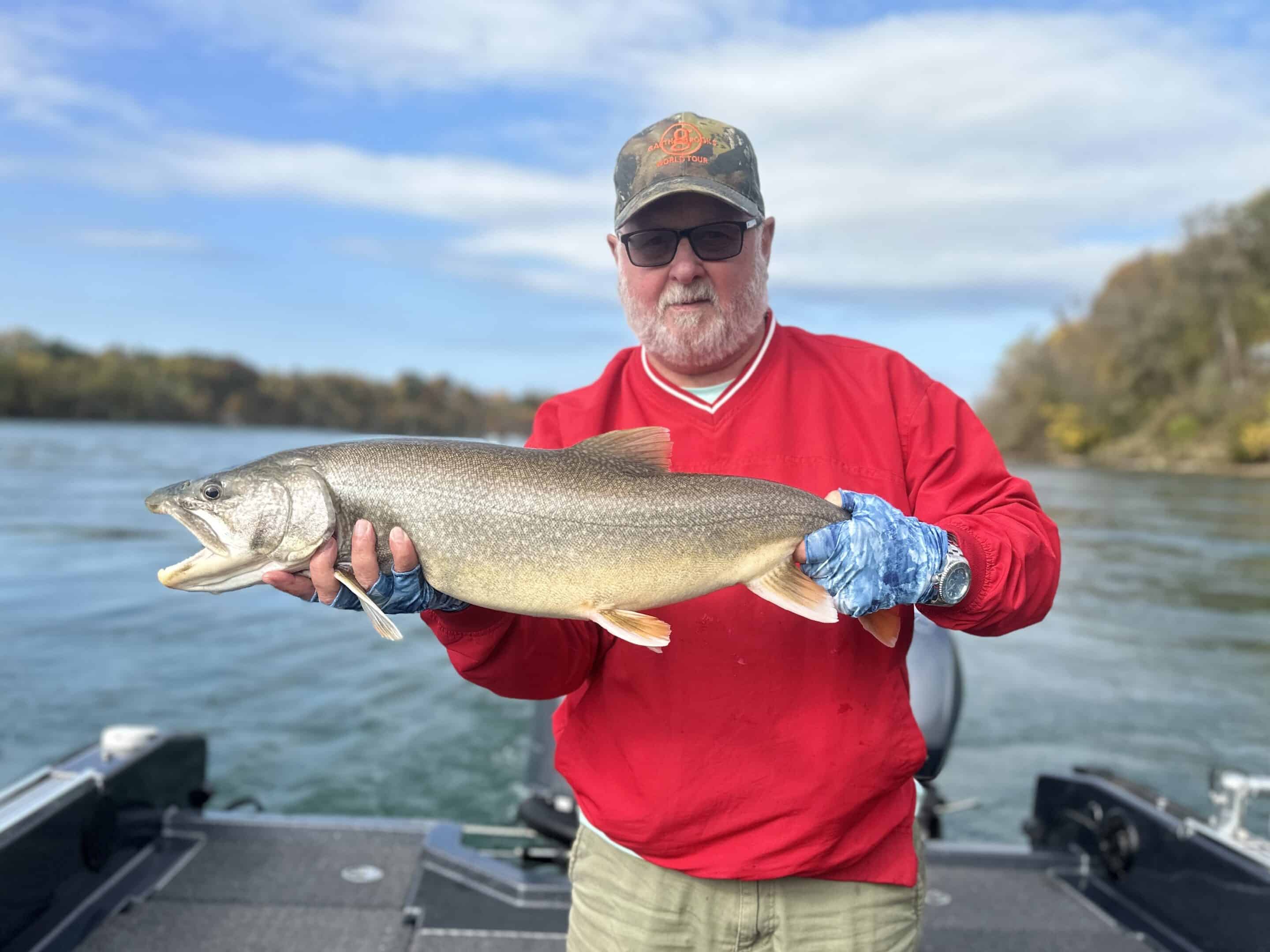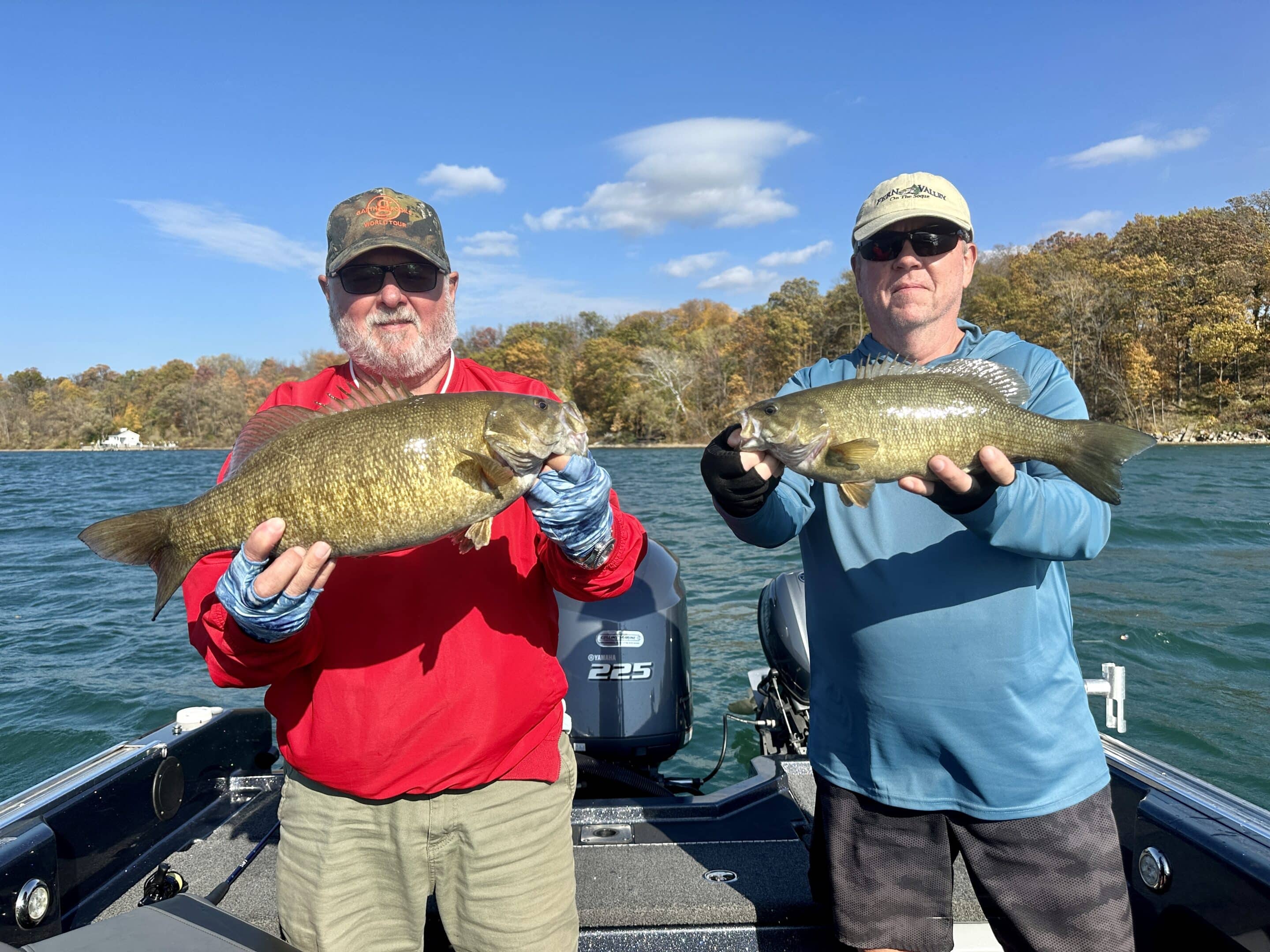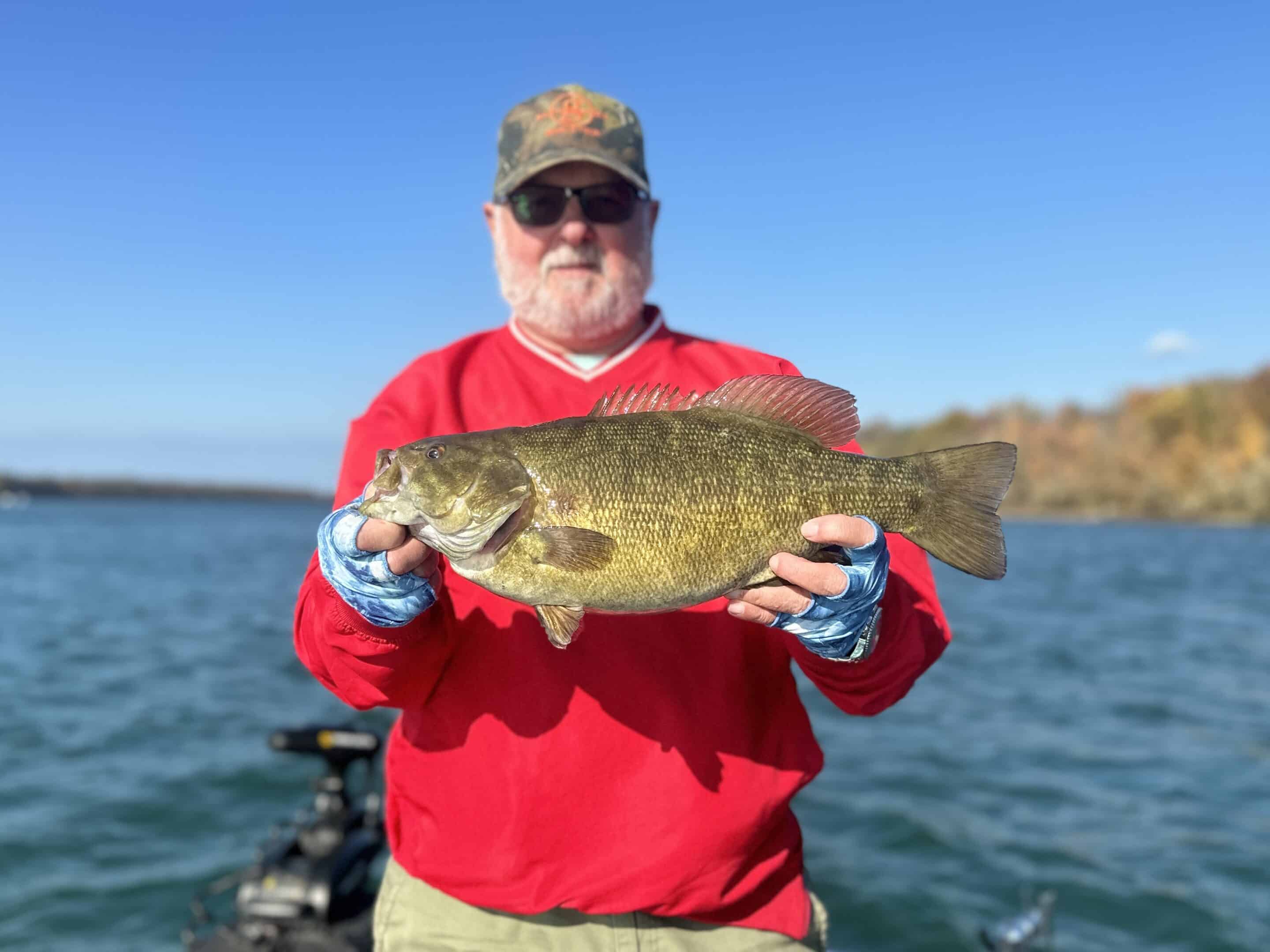 Saturday – Had new clients from PA on the schedule. Facing a huge NW, small craft advisories on both Lake Erie and Lake Ontario, and rain, I rescheduled my trip.  We could've stayed in Artpark all day long fishing for lake trout as that's almost always an option.  However, it gets really boring after the first 4 hours and I think doing so does a disservice to our fishery – especially when I'm guiding new clients as I want them to get a solid dose of what we have to offer.  They were willing to reschedule, so that's what we did.    
Sunday – the forecast called for light rain and light wind out of the east.  Well, that wasn't what we got.  I've been out in east winds more than a handful of times – today was the second biggest I've seen an east get.  Thankfully, I had some hardcore clients that wanted to give it a try.  It was a grind – plus cold – plus wet – we called it early.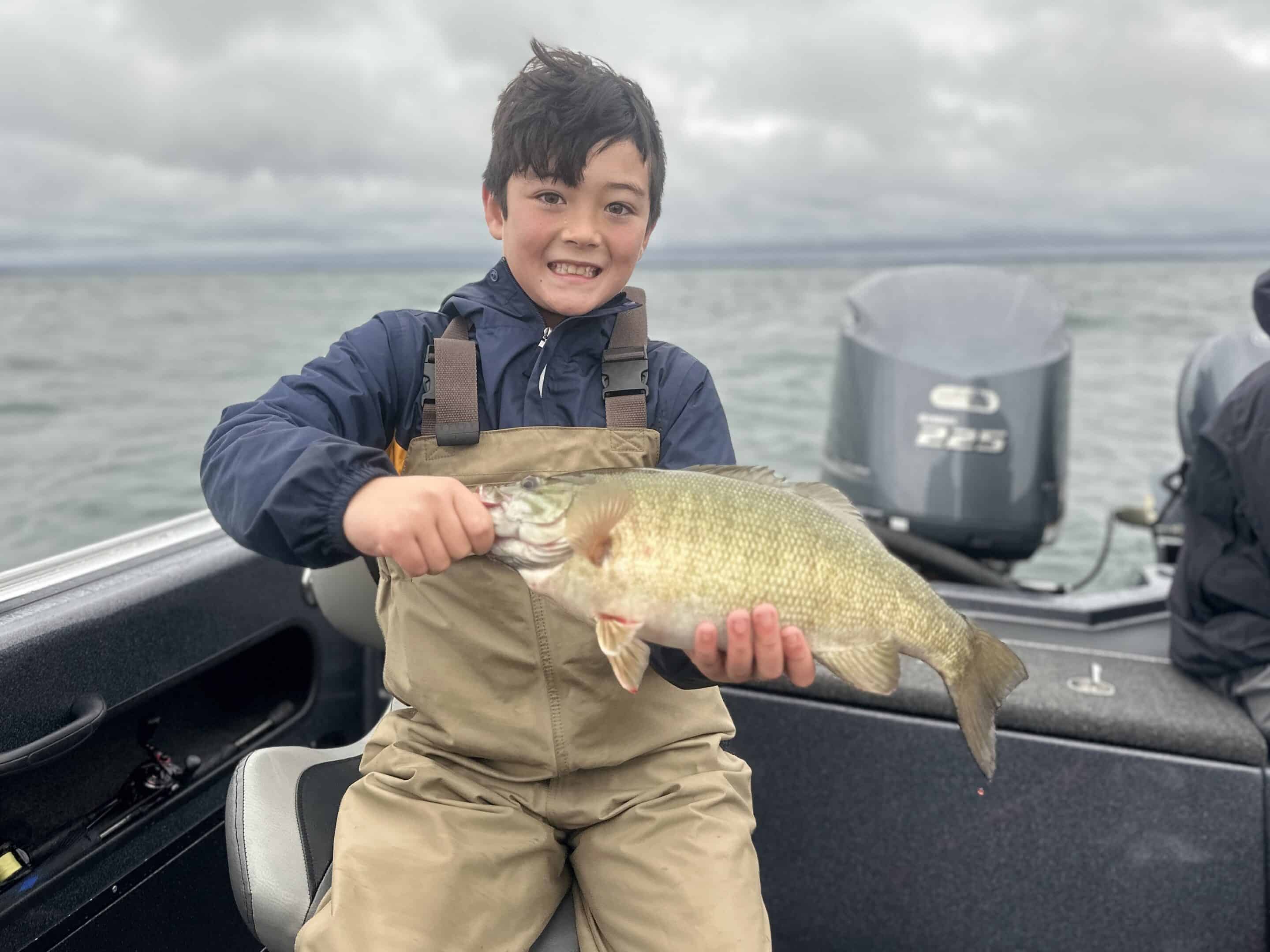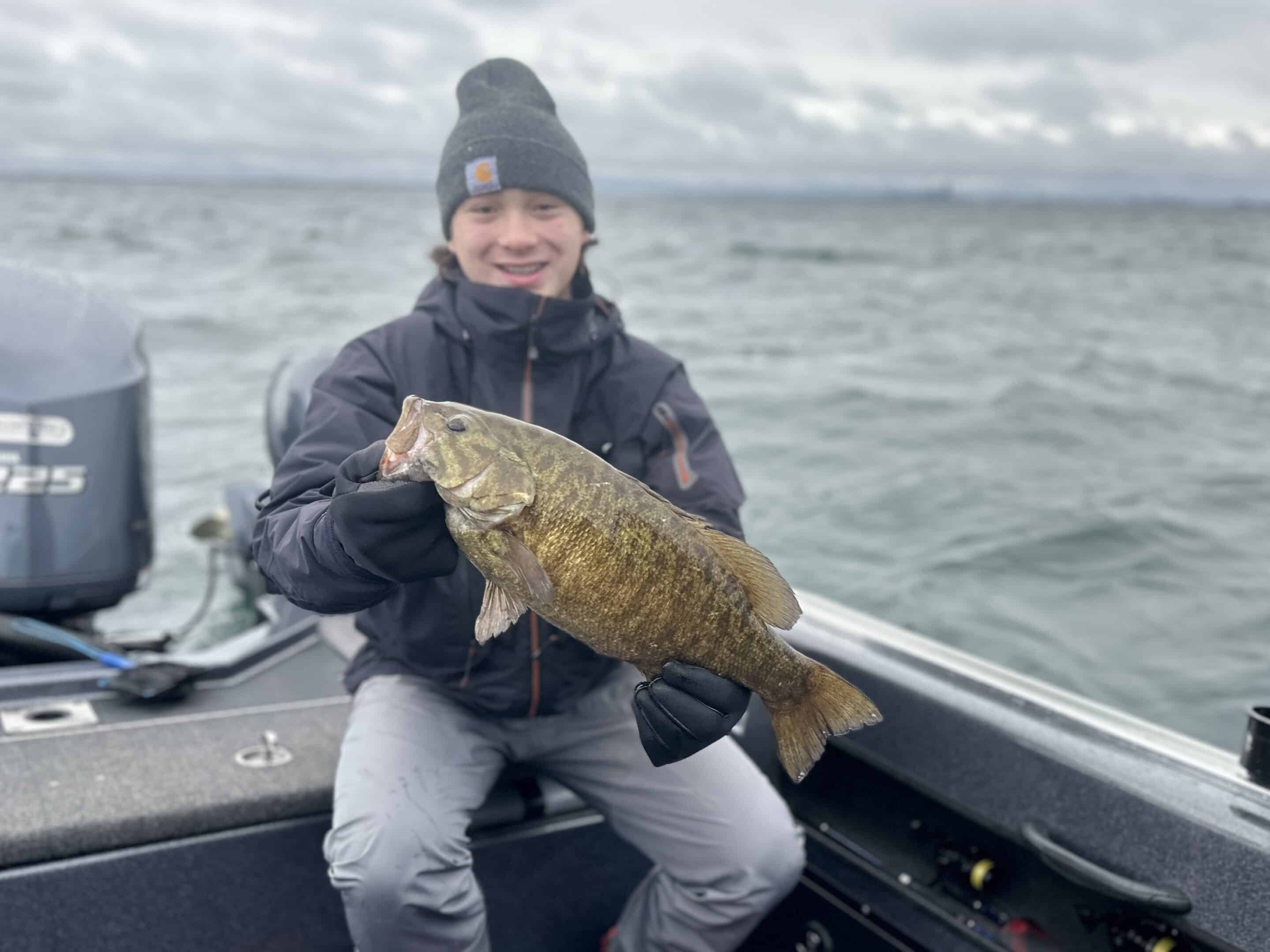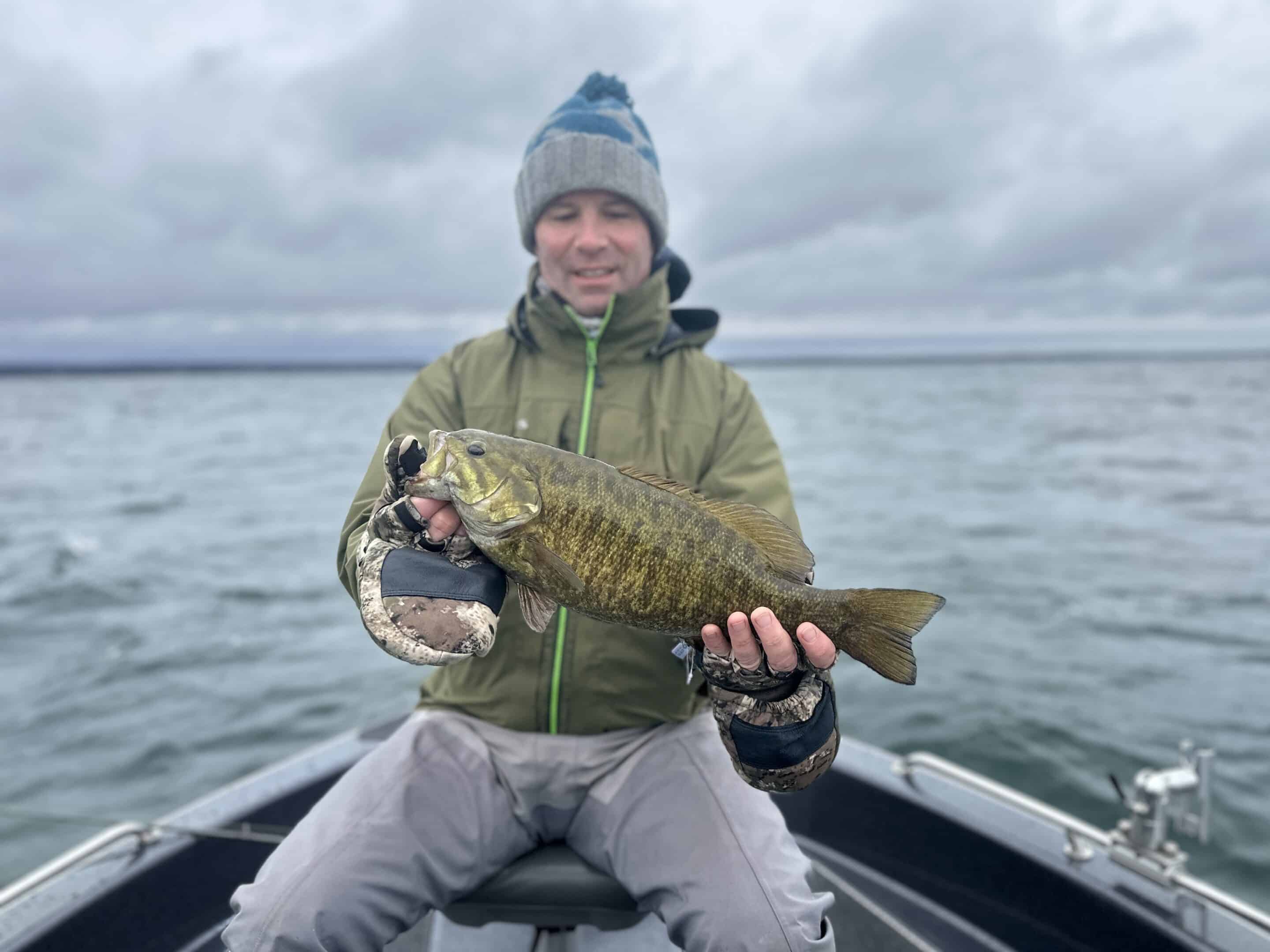 Seasonal Assessment/General Observations
On the Conditions
As per usual during the fall, dodging adverse conditions has been the name of the game lately.  Although we had excellent outings near daily this past week, I feel like my picture of the system is incomplete.  Here's my best assessment of things.
Smallmouth Bass
I mean…look at the pictures.  They are busting out of their scales from gorging themselves on bait.  I mentioned this last week and the trend continues – there is a ton of bait around.  Both in Lake Erie as well as in the Lower Niagara.  Seeing huge flocks of gulls and cormorants blasting through massive bait balls is a daily occurrence.
The bass are taking advantage of all that food around too.  Almost every fish we land threw up a lot of bait – it looks like juvenile alewives.  Whatever they are, they are small (less than 3"), and white.  So, I've been matching the hatch as best as possible with white drop shots and smaller live baits like emeralds and goldens.
Although I've spent a couple days per week on Lake Erie lately, I can't quite tell what's going on other than to say that the fish are on the move.  It's been a couple weeks since I've had a banner session out there.  Don't get me wrong, fish are getting caught in entertaining numbers, but not like a couple weeks ago.  Part of the problem is that tough conditions have made it hard to really get a sense of things.  It's either been too huge to fish, or painfully calm.  They've been all over the place out there – from on sand in over 40' of water, to on structure in the 20' range.
The Upper Niagara has been tough lately too – I'm not sure why either.  Raging drift speeds due to high wind are part of the problem, but not all of it.  I need a calm day to explore a bit before providing a better assessment, but my experience of late has made me hesitant to commit to a day on the Upper.  On the other hand, the Lower has been excellent.
Trout/Salmon
I'm sure the dams on the smaller tribs still have a handful of spawning kings around, but most are dead or cruising around with their flesh peeling off.  If you haven't caught a king this season, get out there ASAP, opportunities are fleeting.
Lake trout continue to enter the Lower Niagara in good numbers.  It's still early for them – numbers will increase markedly in the upcoming weeks.  That's why I haven't spent much time fishing for them – the best is yet to come.
Steelhead continue to show up in surprisingly good numbers for this time of year.  Again, I haven't spent much time targeting trout lately (that's the bulk of November for me), but my colleagues have been, and steelhead are making an appearance daily.  Fingers crossed we get a good run this season.
I didn't boat any brown trout this past week, but I'm sure someone did.  Still, it's early.  The water is warm (58 degrees as of this writing) and I don't tend to see browns in good numbers until mid-November.  The leaves will be off all the trees and there's a good chance a light snow will occur before I spend much time targeting brown trout.
On Feeling my Age
There was a time, not that long ago, where I could stay up late drinking and wake up the following morning ready to conquer the day.  I had a couple groups of anglers in town over the past 10 days and, thinking I still possessed this power, had a handful of beers and pub fare with them nightly.  Well, apparently, I can't do that anymore without consequences.  Oh yeah, I should also add that my daughter brought home some sort of chest cold from school.
As everyone who reads my weekly reports knows, I pride myself on eating well, exercising regularly, spending a lot of time outside, and getting plenty of sleep.  In turn, I rarely get sick.  Well, I deviated from that path when I had those groups in town, and it got me.  I picked up my daughter's chest cold and lost my voice.
Bottom line, I feel great, but my voice sounds like a combination of a lifelong smoker and a choking frog.  I blame my divergence from the healthy path.  However, I know that my age is likely the biggest contributor.  Lesson learned, my friends…lesson learned.  I apologize up front to the clients that'll be dealing with my voice for the next few days.
Buffalo NY Fishing Report – Forecast for 10/30/2023 – 11/05/2023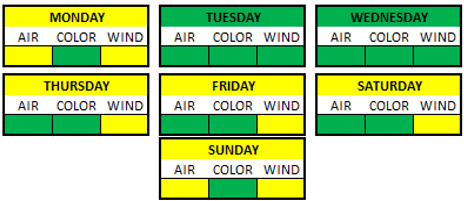 The forecast for this upcoming week looks…hostile. Tuesday and Wednesday look like they'll be OK, but the rest of the days are troublesome. Big wind/waves/current will make things problematic.
Bookings are light for this upcoming week – by design. I need corrective and preventative maintenance done on the boat…and myself. As I mentioned earlier, some sort of chest cold got me, and energy levels have been low of late. I can use the rest before going hard for the rest of November.
I'll likely get at least 3 days on the water this upcoming week. The Lower Niagara and Lake Ontario will be the focus, but if I can get a day on Erie or the upper Niagara I'll do that as well. Although I'll likely not fish on the most hostile days, if I have clients that want to go for it, we'll stay out of the elements in Artpark as best we can.
Stay healthy my friends – mentally and physically,
Ryan