Commentary for the Week of 10/31/2022 – 11/06/2022
Here's our latest Buffalo NY fishing report:  As of this writing, I've been fishing for 20 straight days…that's how good the weather and the conditions have been.  I want to thank all my clients – both new and long-time – for fishing with me.  October was a banner month, and I couldn't have done it without your loyalty, flexibility, and commitment to getting outside.  THANK YOU!  There have been high highs and low lows over the past couple of weeks, but overall, this fall has been a blast.
Episode 32 is live:  Jordan and I provide a report about this past week as well as a forecast for this upcoming week.  I've been on the water every day for the past 20 days so there is a lot to breakdown/recap for the season thus far.  Our deeper dive gets into the difference between material focused goals vs goals based on experience.         
Daily Conditions Analysis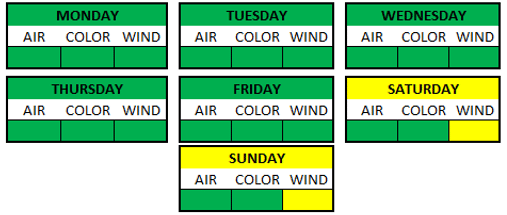 Monday – Fished Lake Erie.  Near windless day – tough bite.  Picked up a couple walleyes and decent numbers of bass.  Moved to current and caught a few more.
Tuesday – Fished Lake Erie for bass.  Lots of fog but had a good push of wind.  Caught solid numbers in deeper water – close to or over 40′ – sand and gravel bottom were the best producers but the biggest fish were on structure.
Wednesday – Fished the Lower Niagara.  Caught lake trout, smallmouth bass, and walleye.  The bass bite was slow but there were a lot of fish around.
Thursday – Fished the Upper Niagara and Lake Erie for smallmouth bass.  Picked up a bonus walleye in the mix.  Windless day = super slow all around.  Dense fog in the AM constrained mobility for a couple hours.
Friday – Fished the Lower Niagara.  Half day – caught trout
Saturday –  Fished the Lower Niagara.  Absolute zoo – dozens of boats plus shore anglers.  Caught lakers.  SW wind was too big to fish downstream sections effectively.
Sunday –  Fished the Lower Niagara.  Caught bass and lake trout in the crowds.  
Seasonal Assessment/General Observations
As I mentioned in the intro, this was day 20 for me.  That's 20 straight days of fishing.  It's been awesome watching the season unfold and I have my clients to thank for making it extra entertaining.
Conditions, although highly fishable, have been sub-optimal on most outings.  We've had lots of windless days, which makes for tough bass fishing sessions on Lake Erie.  We've also had a few very windy days where Lake Erie was too big to fish.  So, I've spent a lot of time on the Lower Niagara because it's fishing well, and it has been protected from the elements.  Unfortunately, I haven't been alone.
The lower Niagara has been very crowded lately.  I'm happy so many folks have been eager to get outside, enjoy this wonderful weather, and connect to the environment.  Still, to be completely honest, there's almost too many folks out and about to make it enjoyable.  Put a little differently – I've been telling my clients that the weekends are a "cultural experience" that's entertaining to observe while catching fish.
The fact that daytime highs have hovered around the upper 60s and low 70s lately hasn't helped much.  Yesterday, I saw dozens of anglers in shorts (in NOVEMBER!!!).  I even saw a family, out for a walk along the banks of the lower Niagara, taking their shoes off and hanging their feet in the water…WTF!  This is fall?  It's been strange to say the least.
All this warmth has kept the water temperatures in the upper 50s.  That's great for the smallmouth bass and lakers but I don't know how many browns and steelhead are going to push into the lower Niagara when it's that warm.  It's getting to be that time of year when chrome and butter should be entering the system in big numbers.  We'll see if the warm water has an effect.
Looking Forward to the Week of 11/07/2022 – 11/13/2022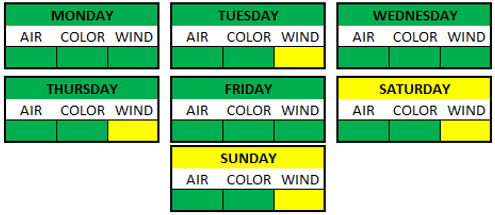 Fishing Forecast for Next Week
If the forecast holds, nearly every day this upcoming week should be fishable.  It looks like we'll see a big drop in temperatures (YES!!!), maybe even some snow by the end of the week.  Wind may be a problem on some of the days – the weekend looks dicey.  If we get some of the wind/waves that's in the forecast, the water might get a little too muddy for a productive session.  Fingers crossed that won't happen. 
I have one day off this upcoming week – Tuesday.  I have some doctor's appointments (follow ups from the random sickness back in August) as well as some boat maintenance to do.  Other than that, I'll be on the water daily, continuing to split my time between Lake Erie and the Lower Niagara. I hope to see you out there. 
Stay healthy my friends – mentally and physically.    
Ryan
Tap any image below to swipe through the gallery.