Commentary for the Week of 11/07/2022 – 11/13/2022
Here's our latest Buffalo NY fishing report:  It was a lighter week than anticipated.  On a positive note, boat maintenance and follow up doctors visits all went well.  However, Mother Nature got a little upset on Friday and Saturday and drenched the region with 2 inches (+/-) of rain followed by a lot of wind/waves.  Although we needed the water, that tantrum muddied up the system and forced a couple of cancellations.  Keep reading for more details.
Episode 33 is live:  Jordan and I provide a report about this past week as well as a forecast for this upcoming week.  Our deeper discussion gets into the definition of native, wild, and stocked as it relates to fish.  We discuss why these terms are relevant to angling and to an ecosystem.  We also discuss how communities of advocates (tribalism) often align themselves in the pursuit of one over the other.             
Daily Conditions Analysis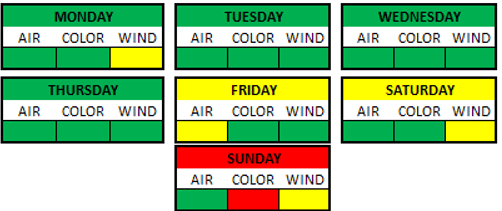 Monday – Fished the Lower Niagara.  Did well on lake trout.  Bass fishing was good as well but the downstream section of the river was exposed to some brutal west winds so we didn't stay very long.
Tuesday – day off.  Boat maintenance and doctors appointments went well.
Wednesday – Fished Lake Erie for smallmouth bass with the whisperer and the silent assassin.  Incredible day – even though there was no wind, we boated countless fish.  Doubles were a regular occurence.  The term "elevator fishing" emerged – rig gets to the bottom and comes right back up with a fish.
Thursday – Fished the Lower Niagara.  Bass bite was OK – lower section of the river was badly windswept but we made it work.  Picked up a couple biggies.  Trout bite upstream was picky
Friday – Big rain hit the region mid-morning.  Opted to reschedule vs endure the pain of fishing in a consistent downpour.
Saturday –  Rescheduled trip.  Assumed the flooding from the day prior would ruin the system Friday night – it didn't.  It caught up late in the day.
Sunday – The effects of the flood impacted the system.  East river, and in turn, the dams, were hemmoraging mud.  Upper and Lower Niagara were a mess.  Small craft advisories in place for both Lake Erie and Lake Ontario.  Rescheduled trip.
Seasonal Assessment/General Observations
Not much has changed since last week's report.  The stability of the previous 2 weeks endured until Friday.  Then, over 2 inches of rain, a lot of wind, and a huge drop in temperatures hit the region.  We're still in recovery/assessment mode as of this writing.  Although I'm not happy about having to reschedule trips, I'm hopeful that Mother Nature's outburst stirred things up a bit.  Here's a by-species breakdown of what I saw on the water:
Smallmouth Bass
Concentration is the general pattern.  We found fish on structure and on gravel/sand in depths between 35' and 45'.  They weren't always easy to find but when we found them, they were in huge schools.  Catch rates were ridiculously high.  Size was good but not great – meaning 5lb fish were common but 6s were rare.  I also noticed that the large concentrations of fish consisted of a wide variety of year classes – from dinks to 5lbers.  One final observation – if you stray from the large concentrations and comb the terrain close by, you won't catch much but what you catch will be BIG.
I'm not sure if I covered this in previous blogs/reports (I definitely have in our podcast) but I'm not a huge electronics fan.  I have a Lowrance HDS 9 Carbon with a Navionics chip and that's it – I don't even have side scan/down scan imaging.  I use that Lowrance the same way I used similar tools in the military:
I go from macro to micro – I look at the eastern basin as a whole in Navionics and try to understand it's different parts. I often go from big to small, zooming in and out (on the Navionics app as well as the Lowrance on the boat), forming assumptions about how fish use this terrain throughout the year.
I also form assumptions about what the bottom looks like/consists of based on that terrain assessment.
Then I go to those places and confirm or deny all those assumptions. I do this by looking at my sonar but more importantly, I drag live bait through it.  Dragging bait does a couple of things:

The weight dragging the bottom lets me know what's down there – a smooth drag is sand or mud, slight ticks are bedrock or gravel, a pronounced morse code is rock, etc. Feeling that bottom resonates with me better than what I get by staring at a rectangle.
More times than not, bringing dinner to the table (fishing live bait) will outperform artificials. So, if I mark fish on the sonar and then feed them, I can confirm their presence right away.  Also, you'd be surprised how often I catch fish that I never saw on the sonar – it's almost like the live bait calls them in.

All of the above informs an annual pattern. Determining what pattern to pursue is the daily challenge as is staving off confirmation bias by forcing myself to fish in new areas and to refine my theories of how the fish behave.
OK, long side bar, but I went there because I did something this past week I thought I'd never do.  The whisperer brought an Aqua-Vu on our Wednesday trip, and we dropped it in a couple times to confirm/deny what we were seeing on the sonar.  If you don't know what an Aqua-Vu is, it's an underwater camera system – tap here for more info:  The Aqua-Vu Story (aquavu.com)
I shouldn't have looked (addressing my inability to avoid looking at a screen should be a blog by itself) – what I saw will haunt me for a while.  Large schools of smallmouth bass, with walleyes mixed in, swam around the camera as if it might offer food.  It was fascinating seeing them like this – super interesting behavior that warrants some theorizing in a future blog.
So, as I mentioned at the beginning of this rant, concentration is the pattern – confirmed by a camera system/mind blowing imagery.  I have some theories about why they group up and where they do it but I'll save that for a future blog.
Trout
Lake trout are in full spawn mode.  Over the past few outings, I've noticed that the males are getting increasingly colorful – oranges are really starting to pop.  Many of the females we've been catching have been loose (eggs drop when we pull them out of the net to release them).  This stage of the spawn typically leads to a little slower action but there are so many around that fish will get caught.
Thus far, I haven't caught a steelhead this season.  I've seen a few small ones get boated here and there but nothing consistent.  I'm not sure why they're behind schedule – water temps maybe?
Brown trout are around.  Most of them are young of the year fish (stocked this past spring) or 2-3 year olds – in other words, small fish.  However, if you put in work/spend the time fishing for them, a couple biggies will emerge every session.
Looking Forward to the Week of 11/14/2022 – 11/20/2022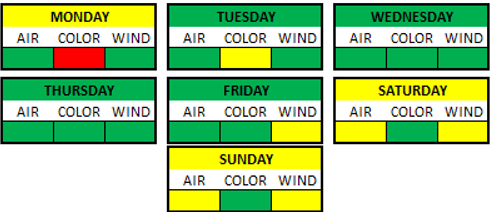 Fishing Forecast for Next Week
The forecast for this upcoming week looks dicey.  The river might be clear enough to fish by Tuesday afternoon – Wednesday is more likely.   If you want to get out in the beginning part of the week, Lake Erie will be the only option (that's my plan).  Thankfully, it looks like Lake Erie will lay down enough to fish by early Monday morning and will continue to remain tame through much of the day Thursday.
Things start to get sketchy on Friday.  Big wind and snow are in the forecast – I've seen projections for up to 5″ of snow starting mid-day on Friday and continuing through Saturday night/early Sunday morning.  If the forecast holds, some big west winds are supposed to kick up Thursday night and continue through Sunday night/Monday morning.  Bottom line, there will be a lot of last-minute calls.
I'm booked Tuesday – Sunday.  I'm going to spend at least 2 days on Lake Erie pursuing smallmouth bass with a side of walleyes.  When Lake Erie becomes too hostile, I'll make the move to the lower Niagara – likely on Friday.  If you're booked with me this upcoming week – flexibility will be important.
Stay healthy my friends – mentally and physically.
Ryan
Tap any image below to swipe through the gallery.