Commentary for the Week of 12/05/2022 – 12/11/2022
Here's our latest Buffalo NY fishing report:  Finally!  A long stretch of fishable days!  I was able to put in 7 days this past week with some great folks.  The week started off with muddy water and ended with something close to perfection for this time of year.  The action was slowish, but everyone managed to boat multiple fish.  It was great to be on the water so often after a long stretch of being cooped up.
Episode 36 of Two Angles on Angling is live.  The fact that I managed 7 days on the water this past week provided a lot of things for Jordan and I to discuss.  This upcoming week is looking excellent as well so we discussed plans to take advantage of it.  Jordan and I "get deep" about why we fish and where our drive for adventure comes from.
Daily Conditions Analysis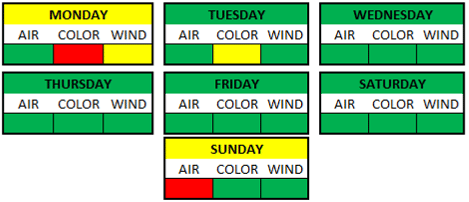 Monday – Water visibility was about 1' – far lower than what I would normally fish.  Gave clients the option to stay in bed or give it a shot.  We went for it and pulled off a trout slam and then some.  I'm not going to say I'll fish in low vis water like that again…but I'll certainly think harder about rescheduling next time.
Tuesday – Had perfect conditions to fish Lake Erie so we went for it.  Took a little while to find them/clear enough water to get them to behave.  Ended up catching as many walleyes as we did bass.  Then we lost the wind and action dropped off a cliff.
Wednesday – Fished the Lower Niagara.  Caught steelhead and browns.
Thursday – Fished the Lower Niagara.  Managed a trout slam.  More steelhead were in the system than the day prior.
Friday – Fished Lake Erie.  Forecast was way off – winds got a lot bigger than predicted.  Waves got big, it was frigid (NE winds), and we were getting pushed a little over 1mph.  Tough session, but we had a blast nonetheless.
Saturday – Fished the Lower Niagara.  Tough bite in all zones – plus lots of Canadians.
Sunday – Fished the Lower Niagara.  The forecast was a bit off.  Snow/rain was supposed to die off after 9:00AMish – that didn't happen.  Ended up being a brutal session.  Caught a few steelhead and called it early.  
Seasonal Assessment/General Observations
I learned something new this past week – you can get kinda steady action fishing highly stained water (less than 1' of visibility) as long as the fish are there.  As I mentioned in the intro, the water at the beginning of the week started off muddy due to the wind and rain from the weekend prior.  I could've rescheduled/cancelled the trip, but I talked it over with my friend/client the night prior and both of us agreed fishing would be better than staying inside…we were right.
Here's a by species breakdown based on what I saw this past week:
Lake trout – there are still some in the river but every one we caught was post spawn.  All were in great shape.  I think the Lake Ontario bar is going to be set up nicely with them before too long.  Lake O was messy most of the week so I can't confirm this, but it's on the to-do list in the upcoming days.  Minnows and shad imitations will be on hand.
Brown trout – same general commentary as the lake trout.  I boated a couple females that were loose this past week but that's it.  Numbers were lower than in previous weeks as well.  Still, I saw bucks surface and crash bait daily so it's worth fishing for them part of the day to see what happens.  We caught fish on live bait, drop shots, egg sacs, and beads.
Steelhead – the numbers are going up and some bigger fish are starting to arrive.  All but one fish I boated this past week was chrome.  Fingers crossed – this trend continues.  Every steelhead we caught this past week ate a chartreuse bead or egg sac.
Smallmouth bass and walleyes – I lumped these two fish together because it seems like they are hanging out in tight groups in Lake Erie.  The bite for both was surprisingly tough – likely because the water was heavily stained on the days I fished for them and waves/wind were either too big or too calm to get a pattern dialed.  Don't get me wrong – we caught fish but it was a grind compared to what I'm used to this time of year.
Overall, it was a productive week.  Although action across the fishery was a little slower than I'd prefer, it was great just to be outside and on the water.  It's been a mild fall/transition into winter.  Rare have been the days that temperatures have dropped below freezing.  Get out there and enjoy it while you can.
Looking Forward to the Week of 12/12/2022 – 12/18/2022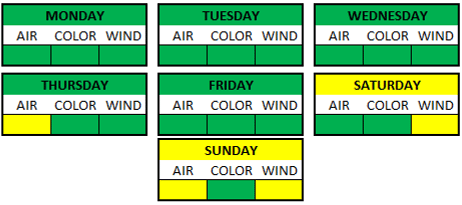 Fishing Forecast for Next Week
This upcoming week is looking pretty good.  Well, if you're focused on air temperatures, you're likely not stoked.  However, there's a fair number of sunny days in the forecast for the front half of the week as well as minimal wind until the weekend.  The back half of the week could get a little dicey with snow and freezing rain, but the forecasted amounts aren't too concerning and the winds shouldn't pose too much of a problem.
I'm booked daily this upcoming week and will likely spend most of it on the Lower and hopefully at least one day on Lake Erie.  There are a lot of east winds in the forecast, which will make fishing the Lake Ontario bar difficult if not treacherous.  Still, I'll get out there if/when the opportunity arises.
Christmas is exactly 2 weeks away, folks!  If you have friends or loved ones who are avid anglers or even non-anglers who can benefit from a day of smiles, laughter, beautiful scenery, and learning a little something new – I have a holiday gift idea for you.  Give the give of memories that'll last a lifetime this holiday season – book a fishing trip for 2023! Purchasing a gift certificate is simple – just tap the link below and follow the instructions. We'll take care of the rest.
Purchase a Holiday Gift Certificate – Brookdog Fishing Co
Stay healthy my friends – mentally and physically,
Ryan
Tap any image below to swipe through the gallery.