Commentary for the Week of 12/12/2022 – 12/18/2022
Here's our latest Buffalo NY fishing report:  It was another week of excellent conditions on the water.  Well, one caveat – things got a little hostile out there at times but thankfully, my clients for the week were hardcore and had the gear to get them through the day.  All fish seem to be aggressively feeding right now – meat being the primary menu item.  Keep reading for more details.      
Episode 37 of Two Angles on Angling is live.  After another week of many fishable days plus the ability to divide time between Lake Erie and the Lower Niagara, I have a lot to discuss.  As per usual, Jordan and I provide an angling forecast for next week too.  We "Get Deep" about the value of setting goals – the pros and cons of doing so – what the focus should be when making goals – mindfulness – and more. 
Daily Conditions Analysis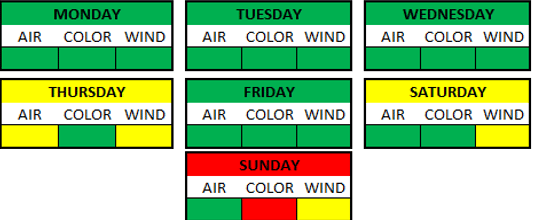 Monday – Fished Lake Erie.  The wind out of the NE was a little bigger than forecasted.  Plus, some precip happened when there was a single digit chance.  It was cold and somewhat brutal but I had some brave and tough clients that stuck it out and caught some nice smallmouth bass.
Tuesday – Fished the Lower Niagara.  It was the best day of the season down there for me – both clients landed brown trout, smallmouth bass, walleye, steelhead, and lake trout.  Excellent weather, skilled clients, consistent action – good times!
Wednesday – Fished Lake Erie.  Once again, the wind out of the N was bigger than forecasted, plus it was below freezing for most of the day so ice and frozen fingers became a problem.  Still, with a little help from my trusty space heater to thaw out the digits, we got on a pattern and consistently boated smallmouth bass and a couple walleyes.
Thursday – Rescheduled the trip – over an inch of rain fell throughout the day.  Plus, it was a bit breezy.
Friday – Fished the Lower Niagara.  I'm super thankful the rain and wind from the day prior didn't do any damage to the big water.  In fact, it added a nice stain – what some call steelhead green.  Well, the browns, bass, and lake trout came to play – not sure where the steelhead were.
Saturday – Fished the Lower Niagara.  Did well in all drifts.  Trout slam plus walleye and smallmouth bass.  Excellent day.
Sunday – Fished the Lower Niagara…briefly.  The lake effect storm from the day prior trashed the system – the water turned to mud overnight.  We tried fishing briefly and only picked up one brown trout.  Rescheduled the trip.  
Seasonal Assessment/General Observations
I have one, overarching observation from this past week – every predator fish (which is everything that we target) ate meat with reckless abandon.  I'm sure eggs will continue to catch fish, but I didn't use them at all this past week and had consistent action daily.  The bass preferred the drop shot – I wish I knew why.  The trout wanted the real thing more than the imitations – but the artificial stuff still caught fish.
The transition to bait fish makes sense – there aren't a ton of eggs left in the system as the lake trout and brown trout spawn is over.  Don't get me wrong, the trout in the Lower Niagara will eat beads and egg sacs all winter even though there aren't many eggs in the system but "matching the hatch" routinely prevails over other presentations.
There is a TON of bait in the system – lots of shad and emerald shiners.  Every day on the lower Niagara, I watched smallmouth bass, brown trout, lake trout, and steelhead smash bait on the surface.  The gulls are super thick too.  On Erie, my screen was rarely without clouds of bait fish.  Fish threw up smelt, emerald shiners, and gizzard shad in the boat throughout the week.  In short, you can't go wrong with a bait fish presentation – something that imitates an emerald shiner, juvenile smelt, or small gizzard shad.
Looking Forward to the Week of 12/19/2022 – 12/25/2022
Fishing Forecast for Next Week
Well, the water is heavily stained now but recovering.  Unfortunately, some big SW winds are going to kick up tonight and blow hard through tomorrow evening.  That'll generate waves over 10' on Lake Erie and in turn, likely send some mud downstream.  The system will be heavily stained through Tuesday. There's a chance it'll be OK by Wednesday.  I hope so…because the forecast for Wednesday and Thursday looks excellent.  On Friday, another lake effect snow system is forecasted to push through.  Saturday – the temperatures are supposed to drop into the teens and the wind is supposed to be huge.  Bottom line, the forecast is looking grim. 
I'm thankful Mother Nature gave us such a long stretch of fishable days in December.  I was able to fish 13 of the last 14 days – that's almost unheard of in December.  However, it'll be back to "fighting the shack nasties" mode here really soon if this forecast unfolds as predicted.  Fingers crossed, conditions will stabilize within the next 10 days and we'll get another long stretch of fishable days. 
I am booked a few days this upcoming week so I am going to get out there if a window opens.  Erie will likely be an option at some point.  Of course, the lower will too.  I'll likely fish both. 
This is the last newsletter before Christmas.  If you're looking for a last minute gift idea – look no further.    If you have friends or loved ones who are avid anglers or even non-anglers who can benefit from a day of smiles, laughter, beautiful scenery, and learning a little something new – I have a holiday gift idea for you.  Give the give of memories that'll last a lifetime this holiday season – book a fishing trip for 2023! Purchasing a gift certificate is simple – just tap the link below and follow the instructions. We'll take care of the rest.
Purchase a Holiday Gift Certificate – Brookdog Fishing Co
Stay healthy my friends – mentally and physically,
Ryan
Tap any image below to swipe through the gallery.