Commentary for the Week of 03/14/2022 – 03/20/2022
Great week for spending time on the water!  There were quite a few sunny/warm days, very little wind, and the water color remained good.  It certainly wasn't on fire out there but we boated some biggies on every outing.
For the audio version of this report and much more, tap the link below:
Daily Conditions Analysis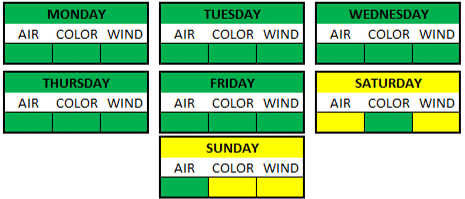 Monday

– gorgeous day.  Mild temperatures in the upper 40s, little to no wind, excellent water clarity.  Had some boat maintenance to do so I was off the water.

Tuesday

– another perfect day.  We fished – action remained consistent throughout the day.  We boated some biggies.

Wednesday

– yet another wonderful day.  We fished – and had to work our asses off for every bite.  What we landed were big.

Thursday

– warmest day of the year.  I spent a lot of time doing some recon work on Lake Ontario – scanning around to see if lake trout are setting up on the flats.  You won't mark many lakers when you do this, because they often hug the bottom and don't show up well on the sonar.   However, every once in awhile, one pops up on the screen.  Where there's one, there's usually many more.  Fishing Lake Ontario will be on the agenda for next week.

Friday

– Another perfect day.  Did some more recon work with my buddy Mike on the Upper Niagara.  Nothing to report.
Saturday – lots of rain and wind with temps in the upper 50s/low 60s plus a big wind at the end of the day.  Fished with my buddy Ryan just to get on the water.  Super slow and wet.
Sunday – a little breezy but the temps were in the 50s and the water color was optimal.  We went for it.
Seasonal Assessment/General Observations
It felt great not having to wear gloves for most of the week.  However, if you're planning on going fishing in the next couple weeks, don't get WNY spring syndrome.  What's WNY spring syndrome?  If you're from here (maybe this applies to the Great Lakes region in general), you already have a sense of where I'm going to go with this.  However, if you're not from the area – WNY spring syndrome is the urge to wear tank tops, shorts, and flops because the temperatures finally broke 60 degrees.  It happens every year – as reliable as the arrival of the robin.
Every year, when the region gets its first dose of warm temperatures (by warm we mean in the 60s), many folks start rocking spring/summer clothing and don't take it off until the fall.  It's kind of a way to get one's mind in a better place after having shack nasties all winter.  A quick stroll through a park around here will reveal how many folks have been cooped up for the past 5 months.
The characteristics of a shack nasty sufferer are easy spot – pasty skin, flabbiness/lack of any semblance of musculature, disheveled clothing (it's been folded up and stored for 6 months), poor posture from sitting in front of screens/staring at rectangles, etc.  It's time to fix all that folks – spring starts tomorrow.  Still, the water is around 33 degrees (that's why you're seeing fog every morning when it's warm around here – warm air is hitting a near-freezing layer of air just above the surface of the lakes).  In other words, when you're on the water, it's still cold, no matter the air temperature – dress accordingly.
Looking Forward to the Week of 03/21/2022 – 03/27/2022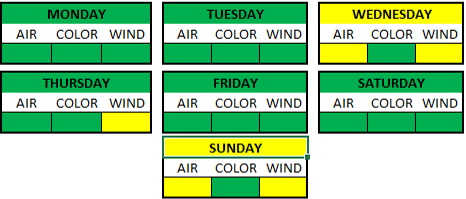 Another good week is in store.  The chart above is my prediction.  Just like this past week, a majority of the days will be fishable.  Wednesday looks a little problematic with a lot rain and considerable east winds.  Come Sunday, it looks like we're going to get another push of winter air and north winds just to remind us that we're not out of the cold stuff yet.  Hopefully, that changes as the week unfolds.
I'll likely split my time between fishing Lake Ontario and the Lower Niagara.  Before long, the NYS Power Authority will pull the ice boom off Lake Erie and that'll become an option as well.  We're at the doorstep of some of the best multispecies action of the year.  I'm super stoked – been training for this all winter.
Tomorrow is the first day of spring!  Throughout the region, folks are coming out of hibernation and craving sunlight.  We've got the perfect way for you to get some exposure.  Give us a call, our calendar is packed but I'm sure we can find a spot.
Stay healthy my friends – mentally and physically,
Ryan
Tap any image below to swipe through the gallery