Days on the Water: 3

Who we fished with: friends

Where we fished:  Lake Erie, Lower Niagara, Lake Ontario

What we caught: Smallmouth bass

Tactics: blade baits, swim baits
Commentary
Observations from the Water – this Past Week (3-9-Jan)
Another tough week. Mother Nature keeps dealing tough hand after tough hand this winter. Still, I'm optimistic that there will be plenty of fishable windows throughout the season. After all, we're only a couple weeks into it.
Bookings were light for me anyway. The only days I had on the books were Friday and Sunday (today) and I had to reschedule both days due to wind, precip, and dirty water. Still, I did some fun fishing with friends a few of the days. Here's the daily breakdown:
Monday – highs were in the low teens, but it was sunny and near windless, so my buddy Mike and I gave Lake Erie a shot. If you're from around here and an angler, you're likely wondering why we opted to fish Lake Erie vs. the lower Niagara. You might also be wondering why we decided to fish at all when it was that cold. Both questions are easy to answer:

I've fished the lower Niagara thousands of times in the winter – it's awesome – but it's not novel. I've never fished Lake Erie this time of year – both of us were curious about what would happen. Put a little differently – when I fish for fun with friends, we try to explore and do things we wouldn't normally do with clients. Sometimes it pays off and it becomes part of the program. Sometimes the only thing that comes from it is bonding among bros and a lesson learned about what won't work.
When the temperatures are in the teens outside, it can be painful being in the outdoors. Any exposed flesh freezes – quickly. The only time I fish when it's in the teens is when there's barely any wind and it's sunny. The sun keeps you motivated, and the lack of wind makes boat control super easy. Sure, exposed flesh still freezes but it's otherwise comfortable if you're dressed for it (plus – that little "My Buddy" propane heater I keep on the boat works wonders for regaining dexterity in cold hands and feet).  Our theory, which proved true, was that being fully exposed to the sun on Erie would keep us warmer than if we stayed in the shadow of canyon on the lower Niagara.
I'm not a fan of shack nasties and will often push myself to extremes to avoid contracting that nasty disease.
4-April is the earliest in the year I've boated smallmouth bass, consistently that is. Sure, there have been random bycatches while fishing for steelhead and lakers in winters past, but certainly no reliable pattern. I wanted to break that personal record and considering what we were able to do just before New Year's, we were confident something awesome was going to happen. It did.

Tuesday – Temperatures were warmer, but the wind kicked up making Erie a little too dicey. I fished with Mike again so exploring was the plan of the day – this time on the lower Niagara. Our efforts paid off, but I'll leave it at that. I'm not trying to be coy, just wondering how reliable what we accomplished will be throughout the winter. More to come.
Wednesday – the wind that kicked up the day prior got worse overnight. I thought for sure conditions would be nasty, so I opted not to fish (I wasn't booked but considered fun fishing again). Early in the day, the water clarity was excellent, so I regret not giving it a shot. However, by sundown, things went to crap.

Thursday – schools were cancelled the night prior – snow day. It was weird though – the wind blew hard all Wednesday night but when we woke up, no snow was on the ground. However, things got crazy later that afternoon. I was driving south on the 190, checking out the water, when I ran into a lake effect snow belt by the Peace Bridge. Total whiteout – the highway was a mess. I got off the next exit and turned around. Over 14" fell at the airport. Flights were cancelled. Deliveries were delayed.

Friday – there was some lake effect snow in the morning and then the wind blew hard for the rest of the day. The wind and snow from the day prior destroyed the water and dashed any hopes of weekend fishing…in the river that is.

Saturday – The wind laid down late night Friday/early morning Saturday. Temperatures got down into the single digits overnight and weren't supposed to break into the 20s until the afternoon. Although the Niagara was still running muddy, Lake Erie was calm"ish" so I decided to give it a shot with another friend of mine. Refer to Monday if you're wondering why. This time, for as far as the eye could see, the lake was muddy – like – about a foot of visibility kind of muddy. Turns out bass don't behave well when it's like that and the water is 38degrees. Lesson learned? Sample size of one so…

Sunday – if you're from around here, look out your window. That's why I'm not on the water.
Looking back on the week – learning occurred on every outing, and I got to fish with a couple buddies with whom I haven't bent a rod in a while. It was a good week.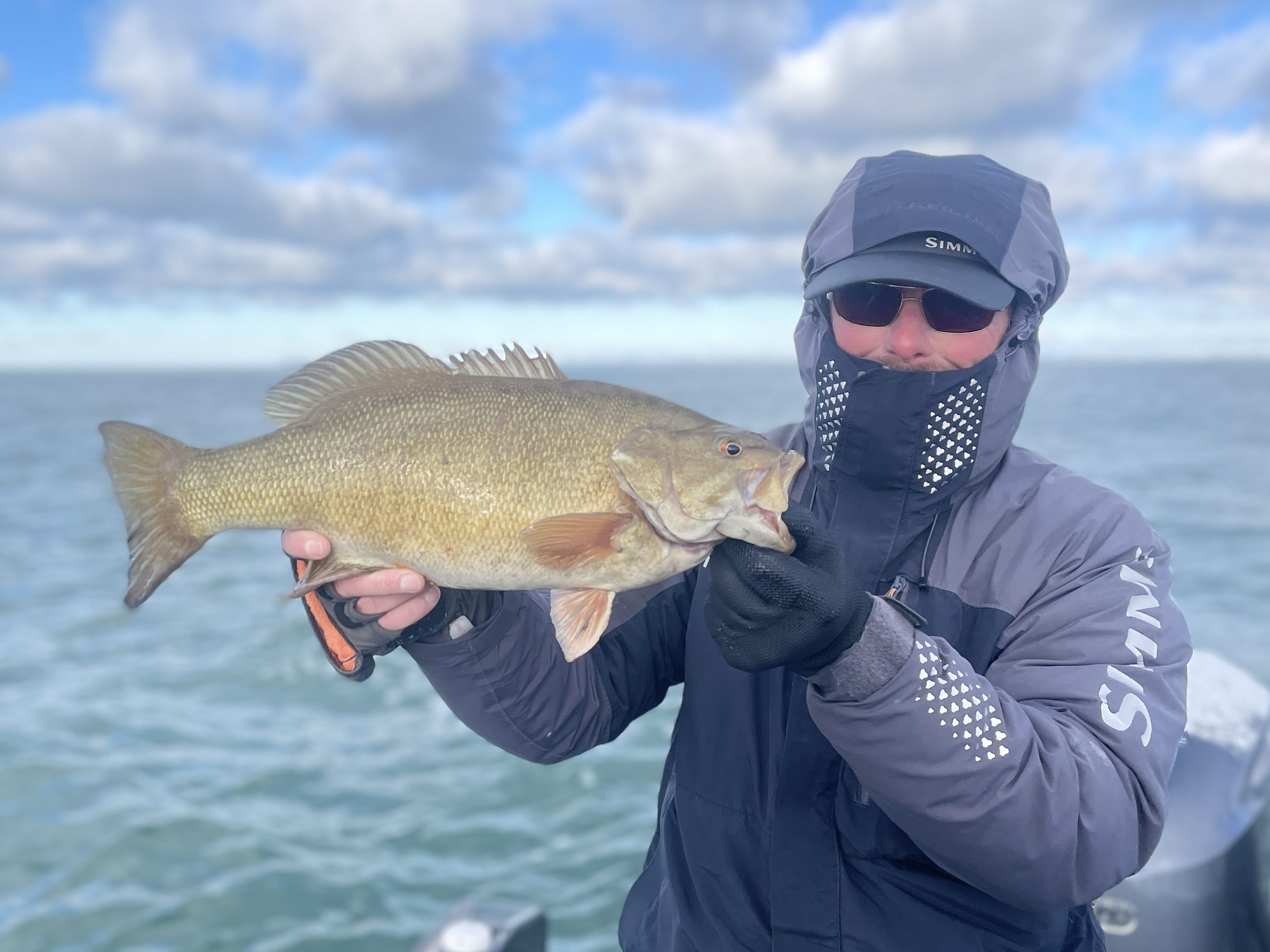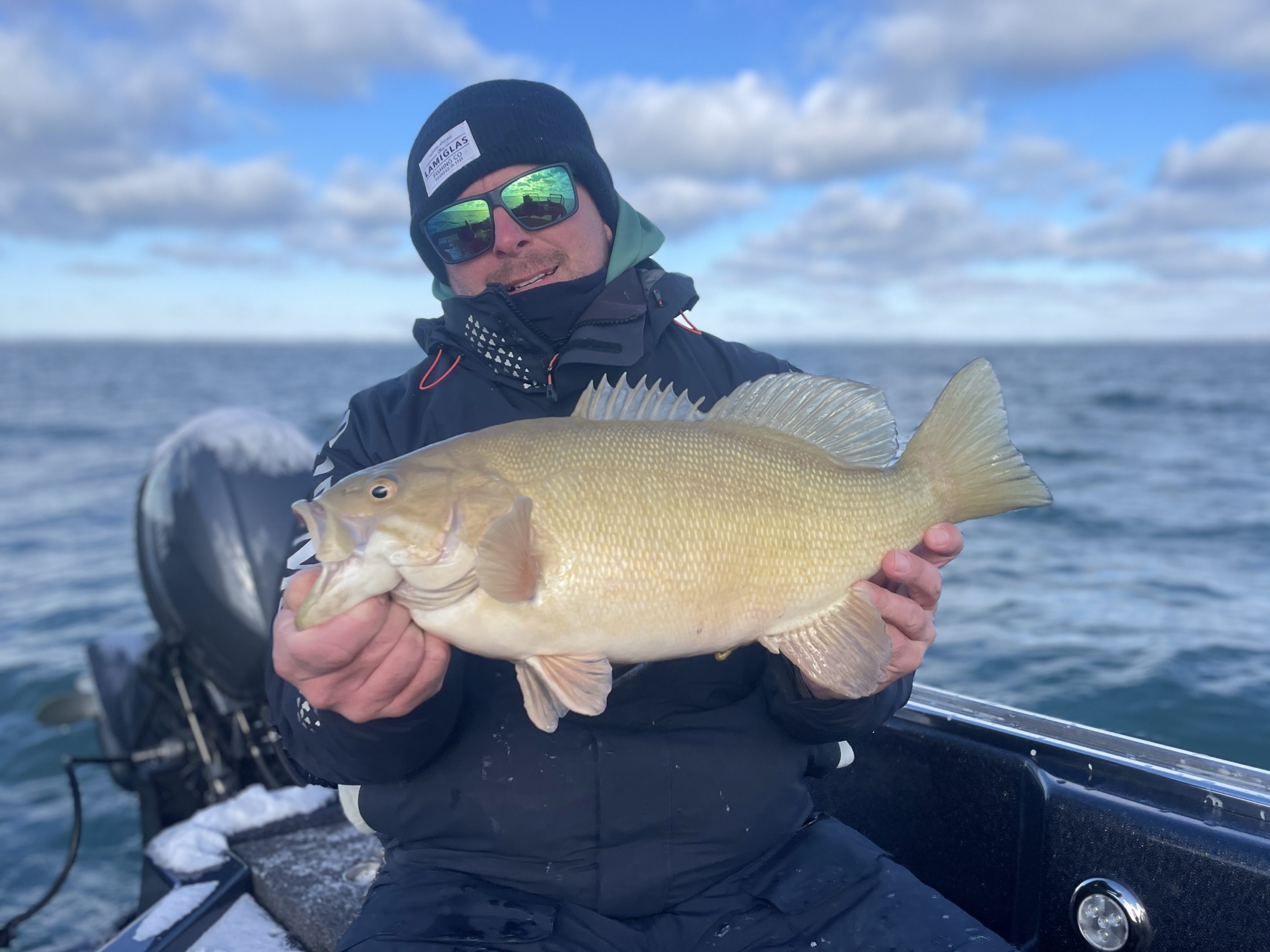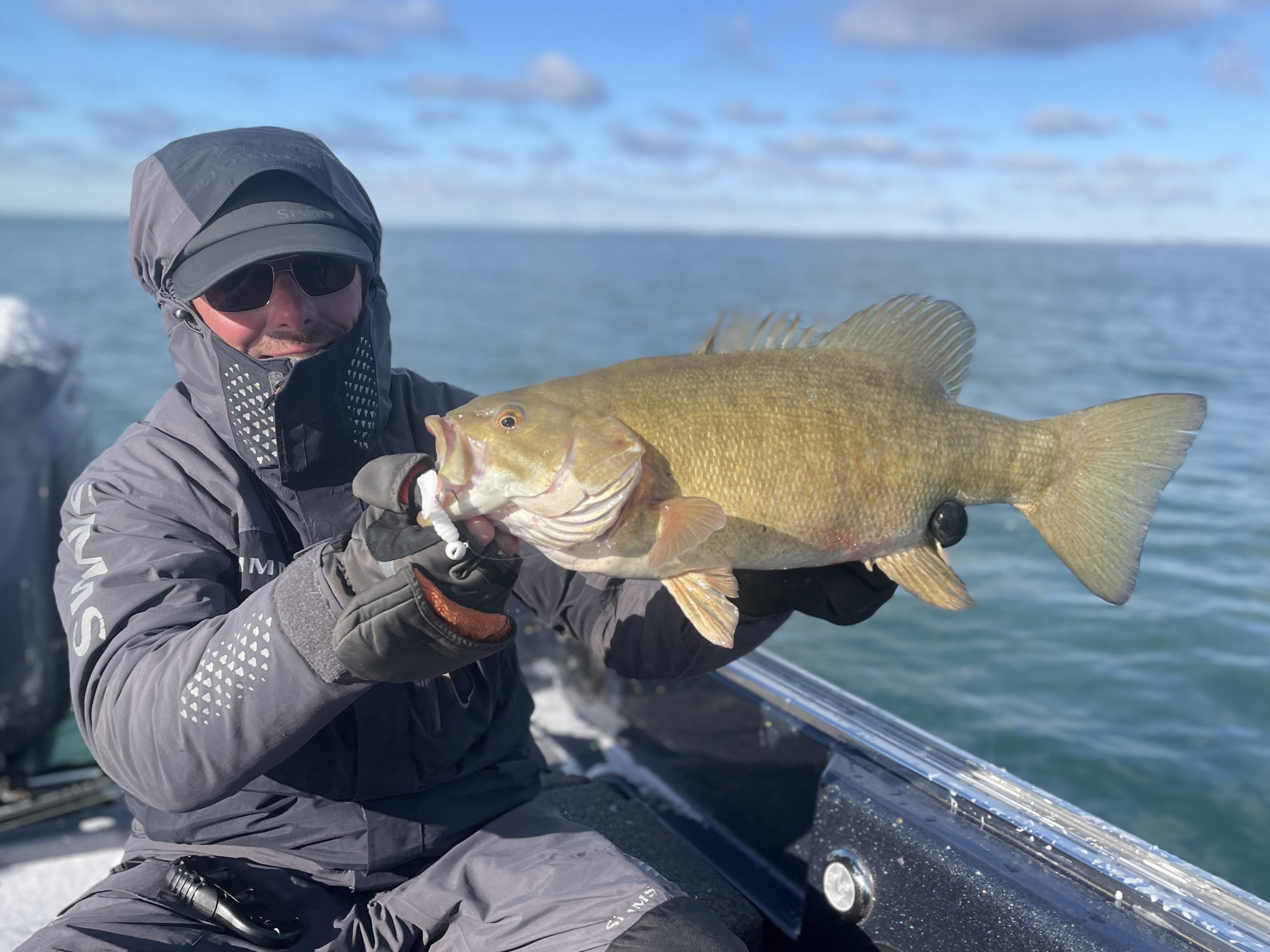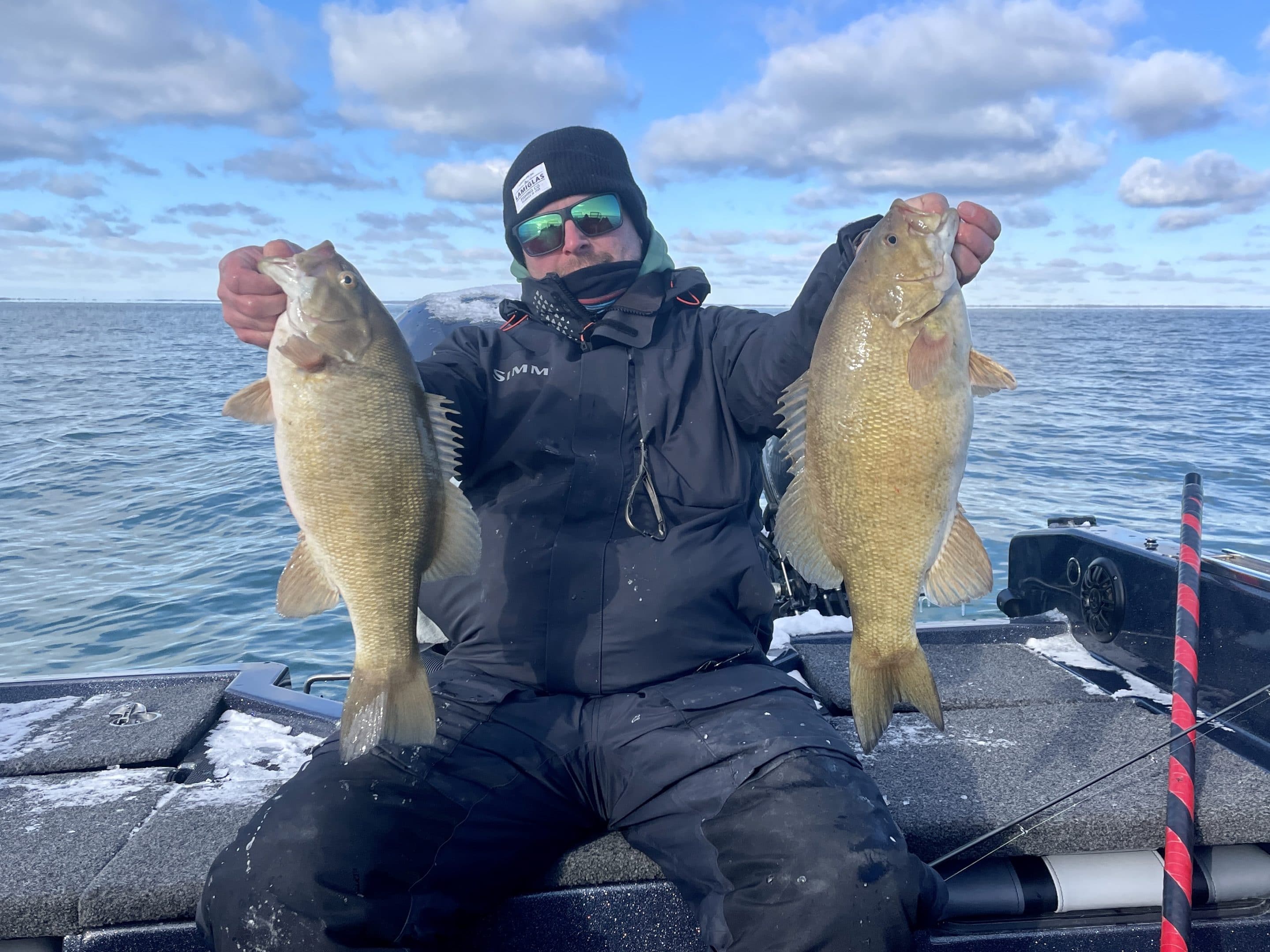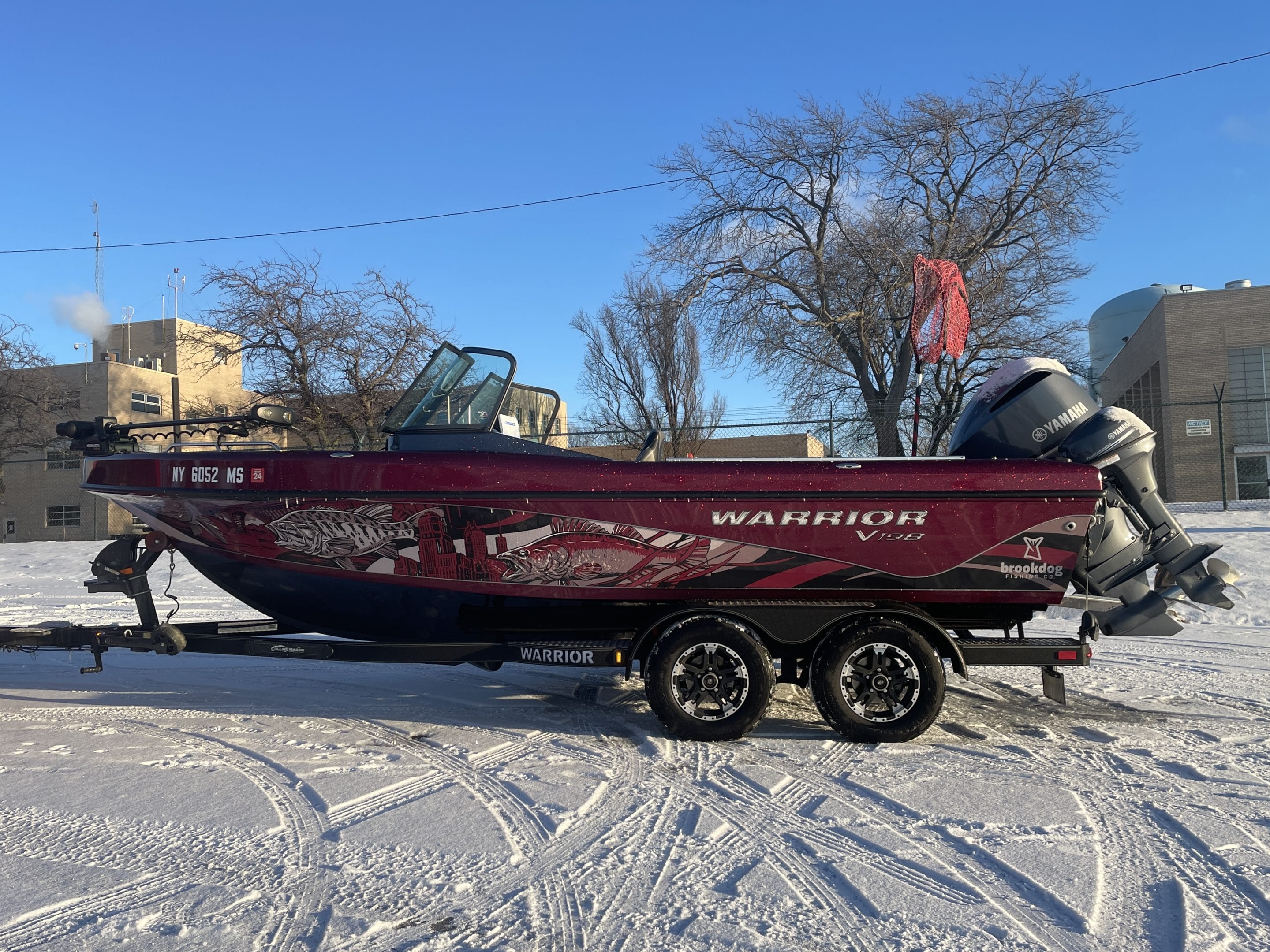 Looking Forward (10-16-Jan)
The wind and rain going on right now will keep the water muddy for a few more days.  Monday and Tuesday should help clear things up – but then there's more big wind in store for Wednesday so who knows what'll happen to the water.  Beyond that, it looks like we'll have some stability for a few days.  There's a good chance the back half of next week will be fruitful.  Lots of north wind and frigid temperatures will make things…interesting.  Water clarity should be excellent by the end of the week.  I'll be on the water daily so stay tuned.
I want to send a huge thank you to all my clients that have remained flexible over the past couple of months.  At this point, I have no idea how many trips I've had to reschedule due to poor conditions – likely more than a couple dozen since the start of December.  Thankfully, all those folks have been very understanding (some I've had to reschedule 3 times).  Don't worry, my friends, our day will happen – thanks for being patient.
Get outside folks – get the blood pumping – absorb some sun – build up brown fat reserves (inside joke – but valid nonetheless).  I've been doing a lot of reading about what our ancestors did during the winter – those that lived around this line of latitude.  They got outside when the sun was up – hunted, gathered, improved their dwellings, and played.  When the sun went down, they partied, ate, played games, and enjoyed spending time with their extended families.  If the pattern you're living right now is far from that – shack nasties are coming.  Break things up – I've got just the activity for ya!
Stay healthy my friends – mentally and physically,
Ryan