Days on the Water: 2

Who we fished with: friends

Where we fished:  Lower Niagara, Lake Ontario

What we caught: steelhead

Tactics: beads (10mm in pink, orange, and charteuse), white Mr. Twisters
Commentary
Observations from the Water – this Past Week (10-16-Jan)
Well, last week's prediction was way off. In my defense, the weather we endured wasn't what was forecasted. More days than not, temperatures were below 20 degrees, winds were gusting in the teens (from a few directions), it snowed, and the water color was off. Brutal.
New Feature of the Weekly Report
Starting with this report, I am going to use a color code/chart as a quick, visual reference to describe the week. I can hear the groans now, "Really bro – why do you have to get so technical?" Chill, chill, chill, it's not going to be like that. In the interest of expediency, I want something folks can take a quick look at to assess last week's activity and to get a forecast for the upcoming week.
Methodology
There are 3 factors that I consider when deciding if it's worthwhile to go fishing – air temperature, water clarity, and wind. You might ask, "what about the likelihood of catching fish," to which I would respond that if those 3 factors are all at or near optimal, the likelihood is high. However, if you have a specific species in mind, I have another visual reference for that – tap this link.
So, if only one factor is in play, the color will be red. If 2 are in play, the color will be yellow, and if all 3 are in play, the color will be green. Fishable air temperature should be at least in the 20s and precipitation should be "tolerable." Fishable water clarity should be at least 3 feet of visibility. Fishable winds should be less than 15 mph. Here it goes:
Last Week's Daily Breakdown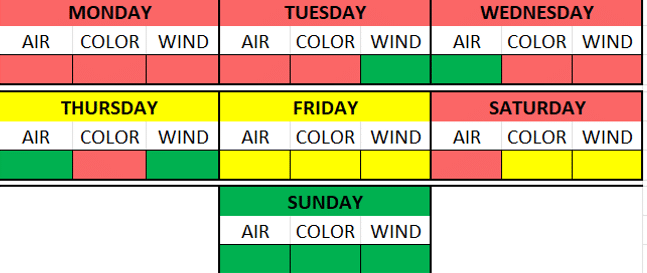 Monday

– muddy water, highs were in the teens, winds were blowing out of the west over 15mph. In other words, no fishing occurred.
Tuesday – muddy water, highs just barely broke the teens, but the winds were minimal. If you recall from last week, when it's super cold but windless and sunny, I think it's worth a shot – especially if you can get on Lake Erie or Lake Ontario. Although those 2 factors were in play on Tuesday, the water color was still brown…getting green – but still brown. In other words, I didn't go out.

Wednesday

– highs hit the upper 30s, winds gusted into the mid 20mph range for 6 hours or so, and water was "getting green." If we had the water clarity for it, Wednesday would've been a good day to go out. That wind speed would've been somewhat problematic (gusts over 20mph from the west, push water across Lake Erie into the Niagara creating a "wind tide" kind of effect – higher water levels and current speed) but with clear enough water, catch rates can be excellent. In other words, the ingredients for a successful day weren't there – no fishing occurred.
Thursday – highs almost broke 40, winds were light and variable, and it was sunny – but the water clarity wasn't there. Wednesday, at around sundown, I looked at the water and it was starting to clear up a bit, so I called my friend/client booked for the following day to discuss options. We shared the same assessment of the situation – the forecast looks good, and it'll be nice just to get outside for a bit. Worst case – if the water is still muddy – we'll try for a bit and call it a day. Well, that's what happened. In fact, the water picked up some additional stain overnight. We gave it a shot – nothing came of it. Well, we had some great conversations – as we always do.

Friday

– highs were in the 20s, winds were gusting into the teens out of the NE, water color was greenish – less than 2 feet of visibility. No fishing occurred.

Saturday

– highs barely broke the single digits, wind was gusting into the teens out of the NE, water color was decent. It was a tough call – but those SUPER FRIGID temps were the nail in the coffin for the day.
Sunday – everything came together. See pics below.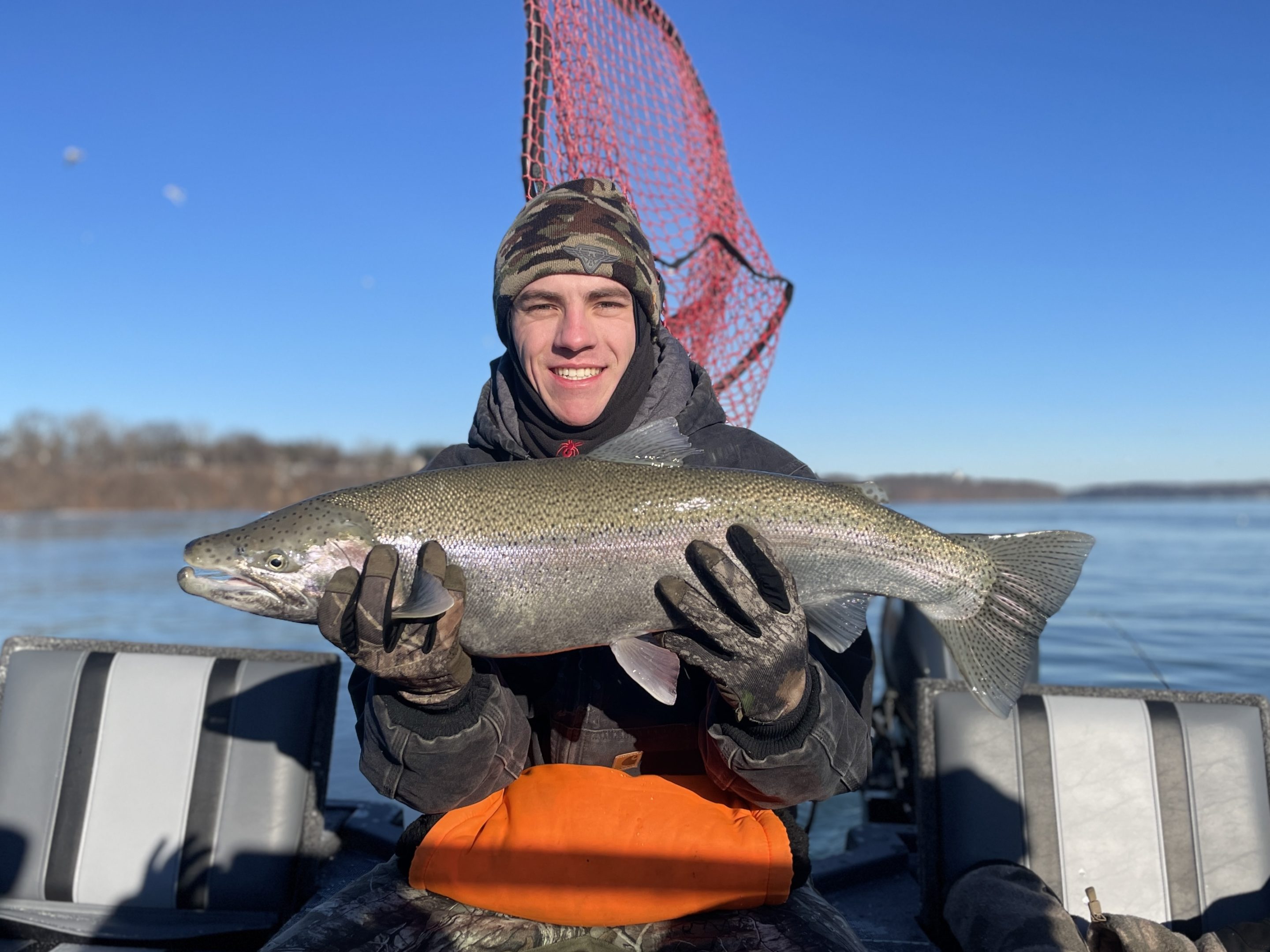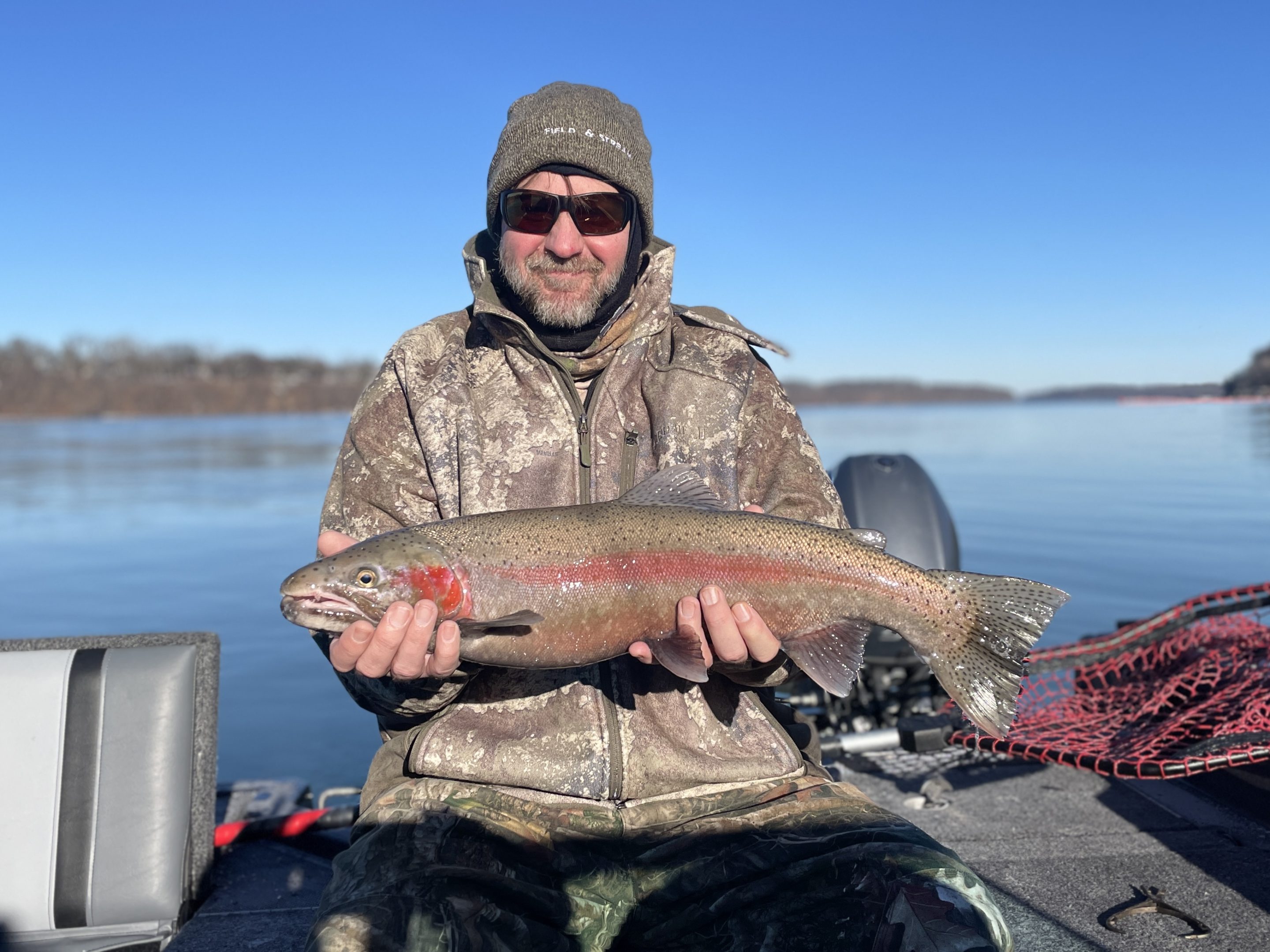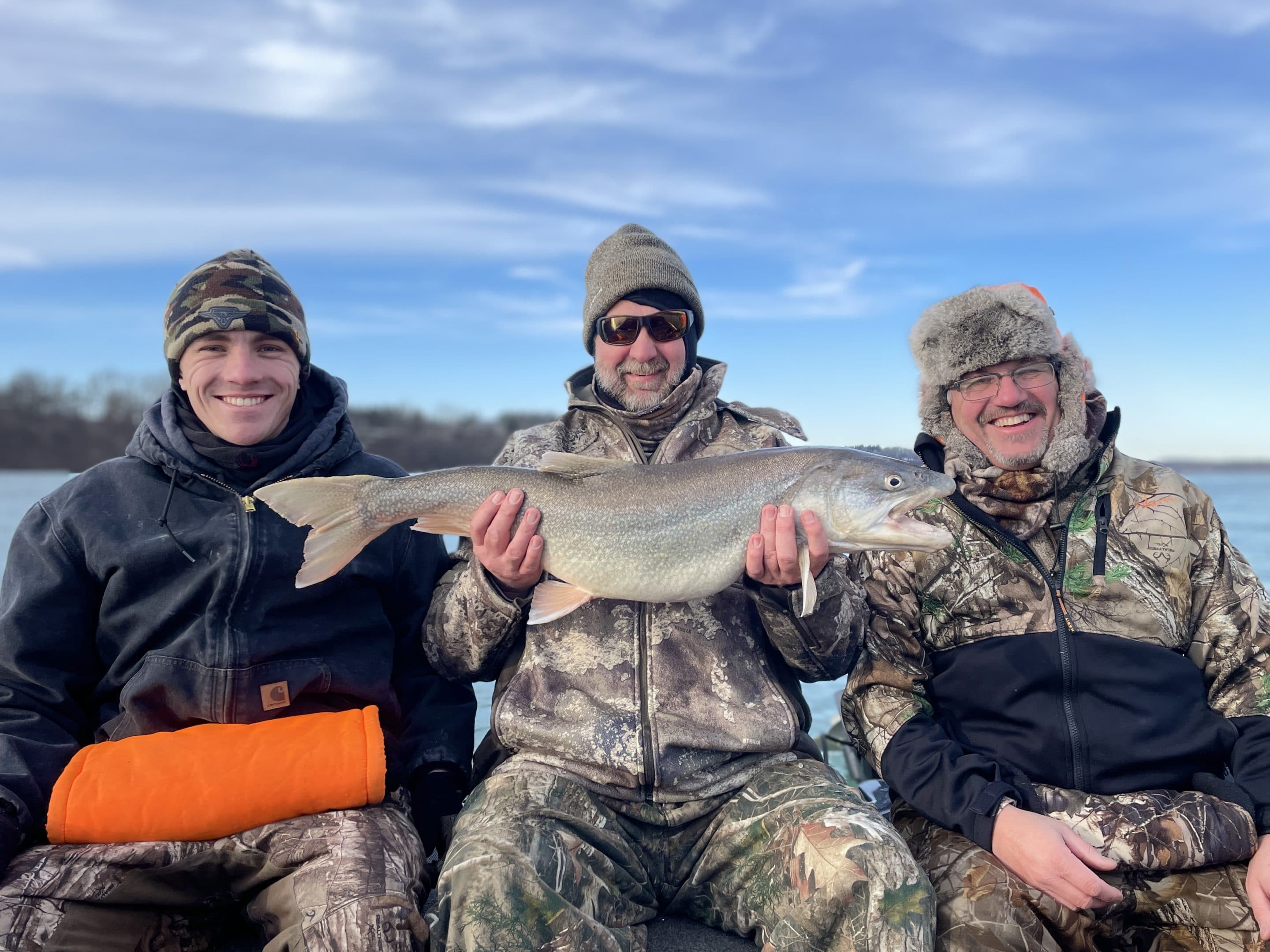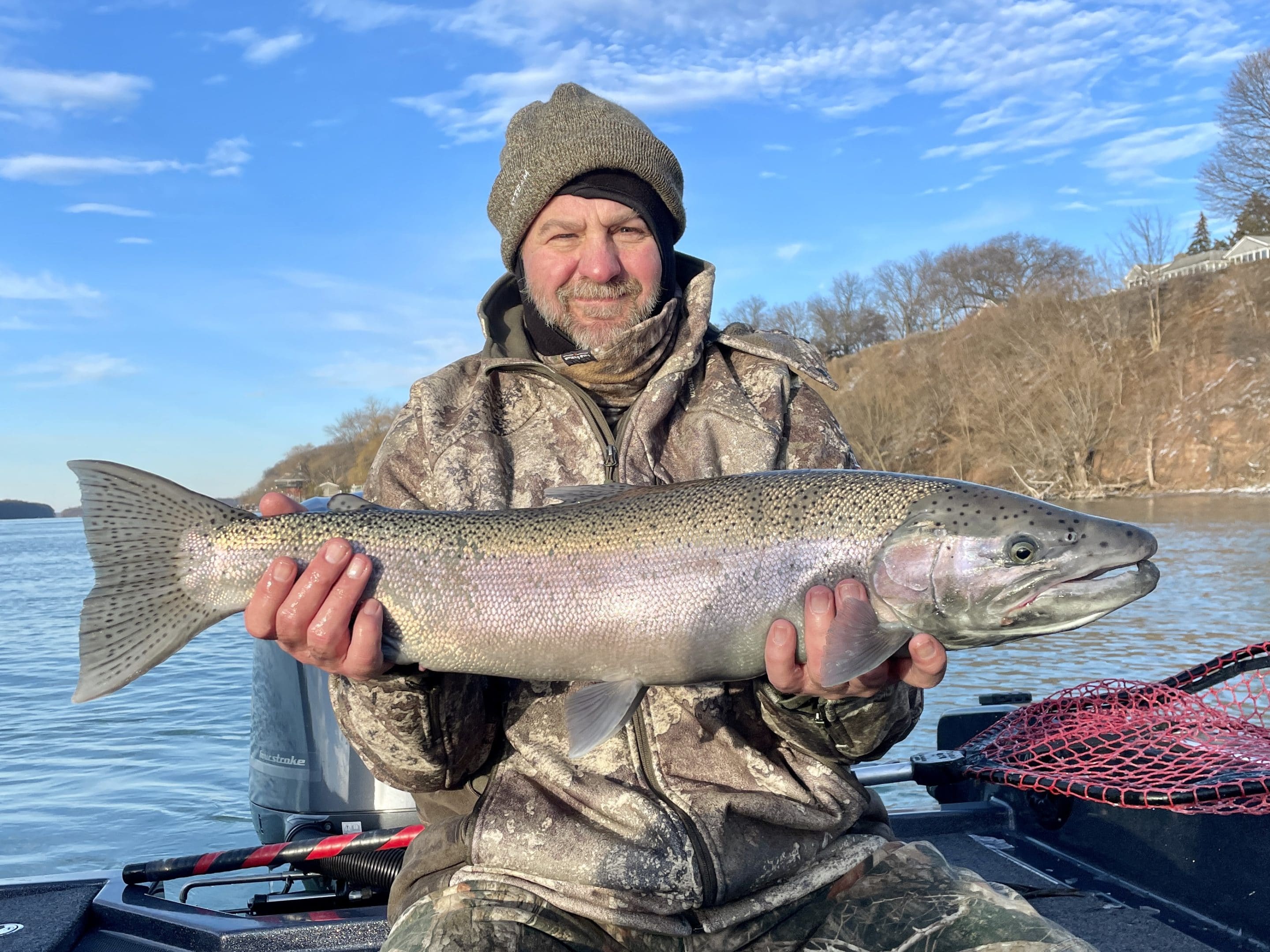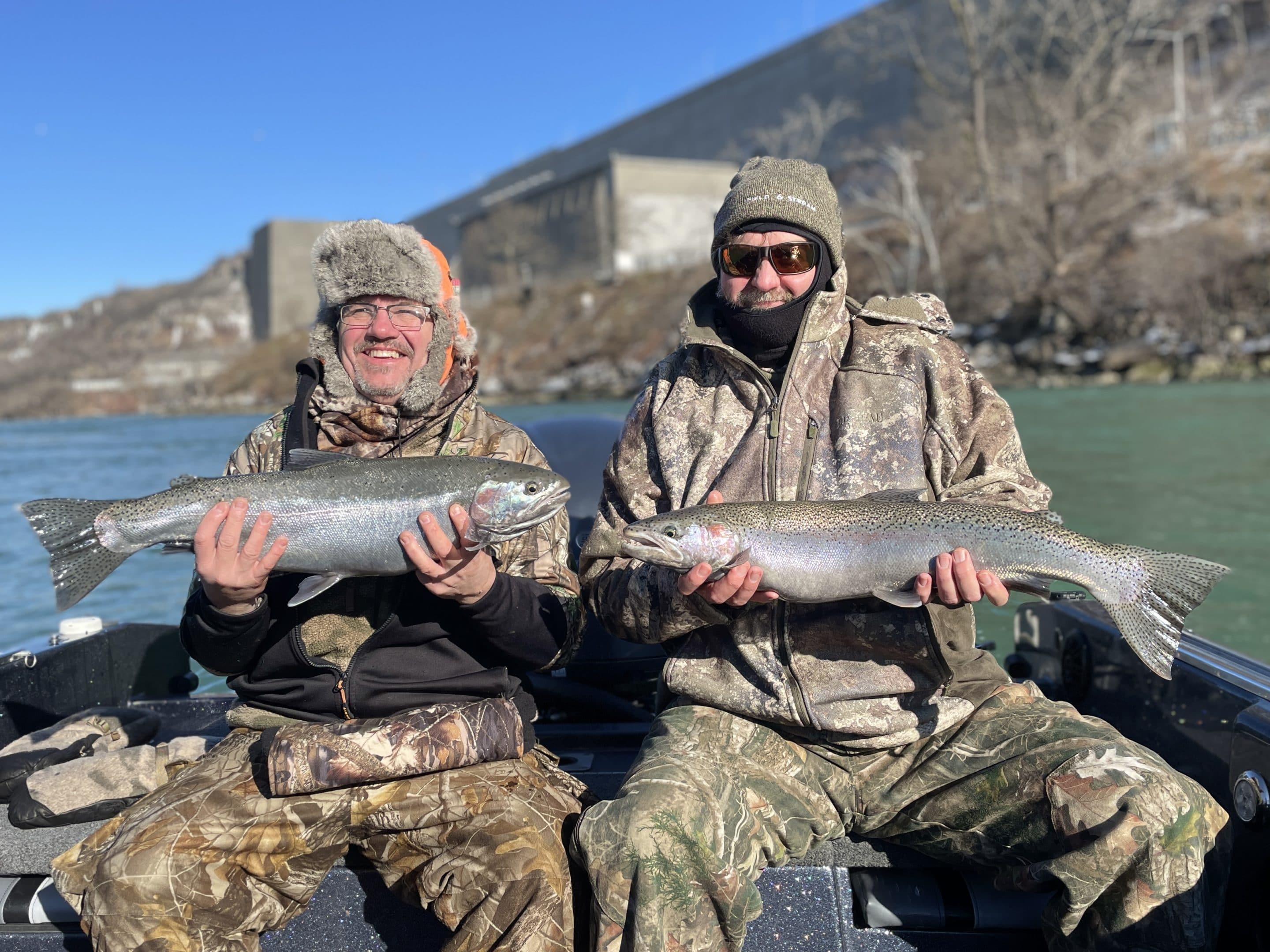 Looking Forward (17-23-Jan)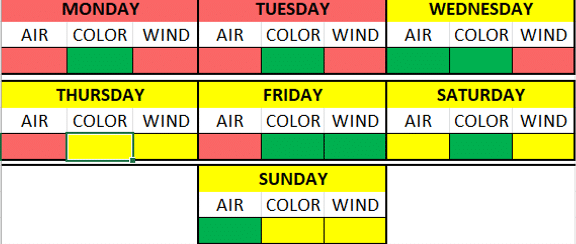 The graph above is my prediction for this upcoming week.  In short – it all looks dicey – it'll be a daily call.  We're supposed to get more than a foot of snow tonight though tomorrow afternoon so I won't be fishing in that.  I'm hopeful that snow won't do much damage to the system – it shouldn't, considering all the tributaries are locked up with ice.  Beyond Tuesday, it's too tough to call.  As long as the forecast holds, I'm sure I'll be on the water at least one day – likely Friday and/or Saturday.
Improvements in Keeping You Informed
I've decided to start a trial separation with social media – it'll likely end up in divorce.  There are a lot of reasons for this but ultimately, I've found that the less time I spend in front of a rectangle, the better my quality of life.  However, this won't be the end of my weekly Observations from the Water – quite the contrary.
Newsletter
For over a year now, I've sent out monthly newsletters via Constant Contact.  Going forward, I'll send them out weekly – every Sunday.  These newsletters will include the latest observations, new blogs, and something new (see below).  If I'm on the water that Sunday, I'll send it out in the afternoon. If I'm home, I'll send it out before noon.  Either way – you'll receive something from me every Sunday.  If you know anyone who would benefit from/enjoy reading these reports, please send them this link: Stay Informed – Brookdog Fishing.
This is probably a generational thing, but I've noticed that fewer and fewer folks read content these days.  Well, allow me to qualify that – less and less folks seem to read things that are longer than a couple hundred characters.  Baby boomers still read.  My generation, generation X, seems to read things too, but infrequently, showing an increasing preference for listening to longer form content.  Millennials, Gen Z, and beyond prefer to watch and listen over reading.
Podcast
In order to cater to the demand for multiple forms of information consumption, I will be starting a podcast with Jordan DiVirgilio.  Jordan is a local tackle designer/manufacturer and tournament angler, so some great conversations and debates are in store!  The podcast will be an audio version of our observations from the water followed by a conversation about a different topic every week.  We also hope to add guests.
He and I will distribute this podcast independently – I'll include the link in my weekly newsletter.  If you have an iPhone, these apps will work best (in order of quality): Anchor – Spotify – Apple Podcasts.  If you don't have these on your device already, please go to the app store and download.  If you have an android or something else, Spotify is best.  Once it's up and running, please subscribe that way it'll pop up in your feed and/or you'll receive notifications when we publish.  Just like the weekly newsletter, we'll publish at least one podcast per week.
The link to our trial run is below:
https://anchor.fm/jordan883/episodes/Episode-1-2-Angles-on-Angling-Observations-from-the-Water–Conversations-about-Fishing-and-life-e1cv2fd
Please keep in mind, it's our first iteration, so it may be a bit clunky to start.  However, with practice and your feedback, we'll improve and ultimately provide you timely and accurate information about the fishing in the Buffalo Niagara Region AND topics that are relevant to angling…and life.
Stay healthy my friends – mentally and physically,
Ryan