Commentary for the Week of 02/21 – 02/27/2022
As predicted, it was a roller coaster of a week due to wild weather.  We saw it all – from temps in the 50s to temps in the single digits, from calm to huge winds, from rain to snow to bluebird skies.  We got out a couple of times – catch rates were lackluster.  Keep reading for more details.  
Daily Conditions Analysis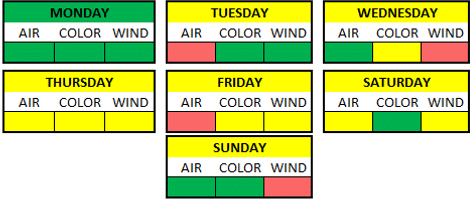 Monday

– Everything was perfect but for some reason, we struggled.
Tuesday – Water and wind were excellent, but it rained throughout the day.  I stayed off the water.
Wednesday – All that rain from Tuesday created a lot of snow melt, dumping a lot of mud into the system.  Just like last week, Devils Hole remained clear, so we opted to give it a shot.  Catch rates were low but it was a great time.
Thursday – temps in the low 20s, lots of wind, and dirty water kept us inside.
Friday – temps in the teens and 20s, high winds, and close to 4″ of snowfall – we didn't fish.  The high winds must've pushed some ice over the boom on Lake Erie because the river was full of floating 'bergs.  On a positive note, the water color improved immensely.
Saturday – very cold.  Great water color but the lower Niagara still had a steady flow of ice coming through, making it impossible to fish.  We ended up rescheduling our trip.  
Sunday – huge winds would've made the fishing problematic.  We opted to reschedule.
Seasonal Assessment/General Observations
Although we lost some ice cover on Lake Erie this past week (it got down to 60% but is climbing back up due to all the cold temps), there is still more than enough to keep the water clear.  The biggest challenge lately has been stability – or the lack thereof.  These cycles of warming and freezing, blowing and laying down, raining and snowing, etc. are making things incredibly difficult to predict.  Rain adds mud from runoff and although that doesn't tend to ravage the entire fishery, it limits things dramatically and makes it hard to determine how quickly water in the River will improve.  Another problem that pops up from time to time is free floating ice.  Although the ice boom on Lake Erie does a decent job of holding it back, a big wind from the south or west will break up the ice and send a lot of it downstream – clogging the river and making navigability tough/unsafe.   
I haven't been on the water enough lately to give an honest assessment of what's going on.  From what I've seen personally and from what I've gleaned from discussions with my colleagues, the bite has been hit or miss.  Some days are excellent, others are lackluster – with little in between.
The steelhead are getting ready to spawn – the females are bloated with eggs, and some are starting to loosen up.  The lake trout are feeding sporadically.  Bait fish seem to be the preferred menu item, but the fish are feeding on eggs too.  Every day requires a lot of experimentation.
If you think about all of the reports I've put out since early December, there haven't been many days where the conditions (wind, air temperatures, water clarity) were favorable for fishing.  With that in mind, my winter predictions went something like this – minimal angling pressure due to tough conditions have left the fish unmolested for much of the season.  Once conditions stabilize, it'll be on fire.  Well, that prediction hasn't come to pass.  I'm not sure what's going on, but I'll be spending as much time on the water as possible trying to figure it out.  On a more positive note, spring is less than a month away.
Looking Forward to the Week of 02/28/2022 – 03/06/2022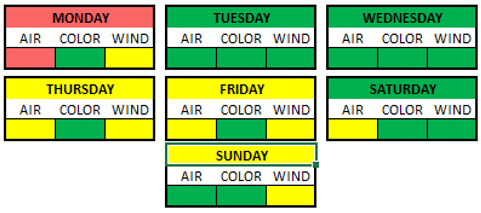 The chart above is my prediction for this upcoming week.  In short – it looks pretty damn good!  If the forecast holds steady, more days than not will be fishable.  Frigid temperatures will be the problem to mitigate throughout the week but only a handful of days are supposed to be prohibitively cold (in the teens for most of the day).  We'll be out as often as possible.
Every year, before the spring surge in business, I go on a family vacation.  This year, we're going to Oklahoma to target striped bass and trout.  If you're wondering why we picked OK – read all about it in this blog.  Bottom line, I've never even driven through OK, let alone fished that state – it's time to see what's going on down there.  We depart this upcoming weekend.  Stay tuned for that report.
Our spring calendar is already packed!  Thanks again to our loyal customers for reserving dates well in advance!  We still have a few openings left but things are getting tight so if you're considering booking a trip for one of the best angling windows of the year, do so ASAP.
Stay healthy my friends – mentally and physically,
Ryan