Commentary for the Week of 03/28/2022 – 04/03/2022
It was a crazy weather week – a little bit of winter, a little bit of spring, and pretty much every environmental condition you can imagine from both those seasons.  The ice boom came out, there was plenty of wind, rain and snow made an appearance early on – lots of obstacles to getting on the water.
For the audio version of this report and much more, tap the link or image below:
Daily Conditions Analysis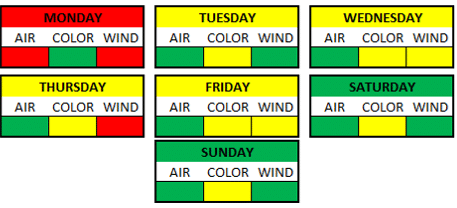 Monday

– frigid with huge N winds plus snow.  We stayed off the water.
Tuesday – Although it was cold, it wasn't too bad – temps ended up in the upper 30s/low 40s – warmer than expected.  However, the freezing temps from the couple days prior created a lot of slush and a substantial ice flow.  We didn't fish.
Wednesday – It remained cold – but tolerable.  The plan was to fish out of Olcott but all those freezing temps from the few days prior must've caused some shore ice to form.  When we arrived at Olcott, we were disappointed to see that the harbor was locked up with ice bergs.  We drove to Wilson to see if it was any better – it wasn't.  The whole shoreline from Olcott to Fort Niagara was loaded with massive icebergs.  We ended up fishing the Lower Niagara.  Something caused it to get a little stained but it didn't seem to matter.  We caught fish.
Thursday – Morning rain turned into sunny skies, temperatures got into the mid 60s, and the wind HOWLED.  Olcott and Wilson were still locked up with ice so we tried to fish the lower Niagara.  Winds were too crazy for a productive session.  We quit early.
Friday – Ice from Lake Erie finally made it's way downstream and filled up the river.  Winds were gnarly too.  There weren't any options to fish.
Saturday – Our only option was to fish out of Olcott for brown trout.  The river was still locked up with ice.  Lake Ontario was super stained from the Niagara to well east of Olcott.  Blue water was out over 200′ so we stayed close to the shore and fished browns.  Nothing big but consistent action.
Sunday – River still locked up with ice.  Clients didn't want to troll so we rescheduled, and I didn't fish.
Seasonal Assessment/General Observations
The trend of catching chrome/fresh steelhead continues.  Numbers are still lower than desired but I'm hopeful that'll change as we get deeper into the spring.  It should – the water is warming up slowly and the spawn is getting close if not starting already.
I'll continue to make every effort to spend time on Lake Ontario over the next couple of weeks – trolling for lake trout and browns (patiently waiting for that first king of the year).  Unfortunately, we've had MANY days in a row where either wind, ice, or both have made spending time out there extremely difficult.  Those fish are around and I'm confident that action will be excellent once we get the opportunity to commit to that fishery.
Now that the ice boom is out and Lake Erie is clearing up, I'll be spending more time there and on the Upper Niagara hunting for smallmouth bass.  Water temperatures are still a little cold but if one was so inclined, I bet some bass can be caught this upcoming week if you know where to look.  Remember the slow crescendo I mentioned last week in reference to how a slow warming period extends the bite window?  Looking at the long term forecast, that pattern is becoming increasingly likely.
This is the time of year when deciding where to fish is a daily "problem."  Throughout the spring, the entire fishery is in play and often times, all of it will be on fire on the same day.  It's a good problem to have.
Looking Forward to the Week of 04/04/2022 – 04/10/2022
Fishing Conditions Looking Forward
This upcoming week is looking very promising.  Minimal wind and mild temperatures should make for some nice days on Monday and Tuesday.  Beyond that, precipitation and variable wind directions will lead to some last-minute calls about where to fish but most, if not all days will be fishable.  Thankfully, the entire fisher will be in play so there'll be options.  The plan is to be on the water every day.  Fingers crossed that's what happens.
If you haven't booked your spring date yet – delay no further – the schedule is packed.  We've started filling summer dates too so if spring isn't your thing, we've got you covered for that warm weather action.
Stay healthy my friends – mentally and physically,
Ryan
Tap any image below to swipe through the gallery