Days on the Water: 6
Who we fished with: friends/clients
Where we fished: Lake Erie, Upper Niagara, Lower Niagara
What we caught: smallmouth bass, lake trout
Tactics: live bait, beads, Mr. Twisters
Commentary
Observations from the Water – this Past Week (25-31 Oct)
Happy Halloween my friends! So…I don't have anything exciting to report about the trout bite. I only fished for them one day (yesterday) – we boated 1 and dropped 2. Most of my colleagues got the same result. Bottom line, the water is still a little warm but finally dropped below 60 degrees so things should get exciting any day now.
As you'll notice from the photos, I spent the majority of the week on Lake Erie searching for a 7lb smalljaw. Yeah, a couple weeks ago, my quest was for a 6lber but w've boated more than a few of those over the past bunch of trips so I have greedier aspirations. Honestly, I think all those 5lb class fish we were catching a couple weeks ago continued to feed/grow and are now pushing 6. I can't help but wonder how much bigger they'll get in the upcoming weeks.
I've lost a handful of trips lately because people wanted to catch big trout instead of huge smallmouth bass. These folks booked with the understanding that the trout would be active by now (they usually are).  I get it – lakers and steelhead in spawning colors are gorgeous, they fight hard, and the lower Niagara is beautiful this time of year. After all, from the client's perspective, it's their time and $$$ and should be spent the way they want to spend it. My take – that's totally fine BUT – they just don't understand what they're missing by passing up on big 'jaws like the ones we've been catching.
I'm guessing that when people hear "smallmouth bass" they picture a small fish. Although I've tried everything in my descriptive tool kit to overcome that false imagery, I've failed more times than not. Look at the pictures – "small" ain't the accurate adjective. They are huge, insanely powerful in this cooling water, eat readily, and provide consistent action throughout the day. I use this word sparingly – only when it's truly descriptive – the fall smallmouth bass fishing on Lake Erie is something special. I'm so very happy I committed to this program over the past month and got to experience how incredible it can be.  I gotta be honest, I don't want to stop but the trout fans are pulling me to the Lower Niagara – the Dude abides.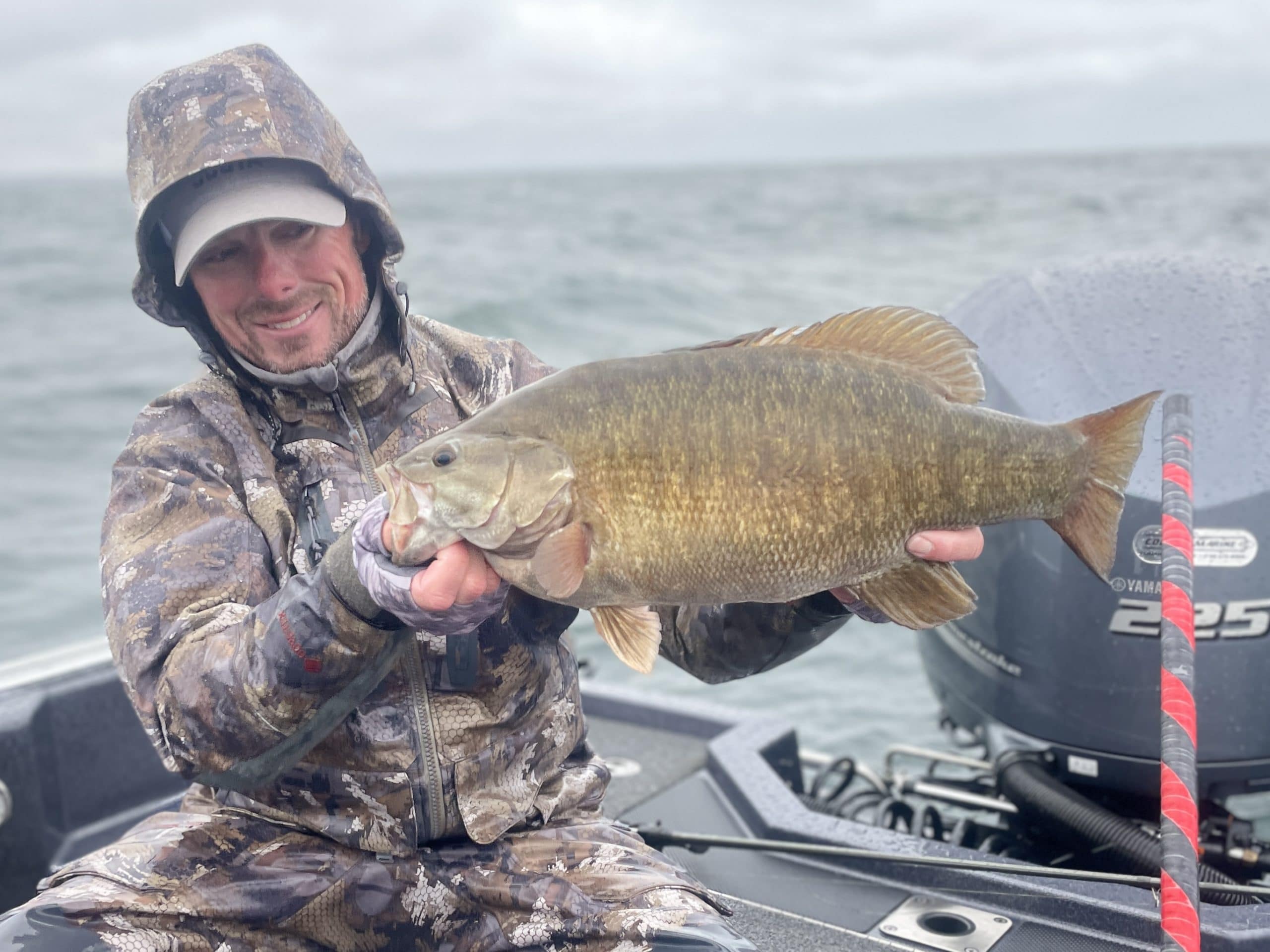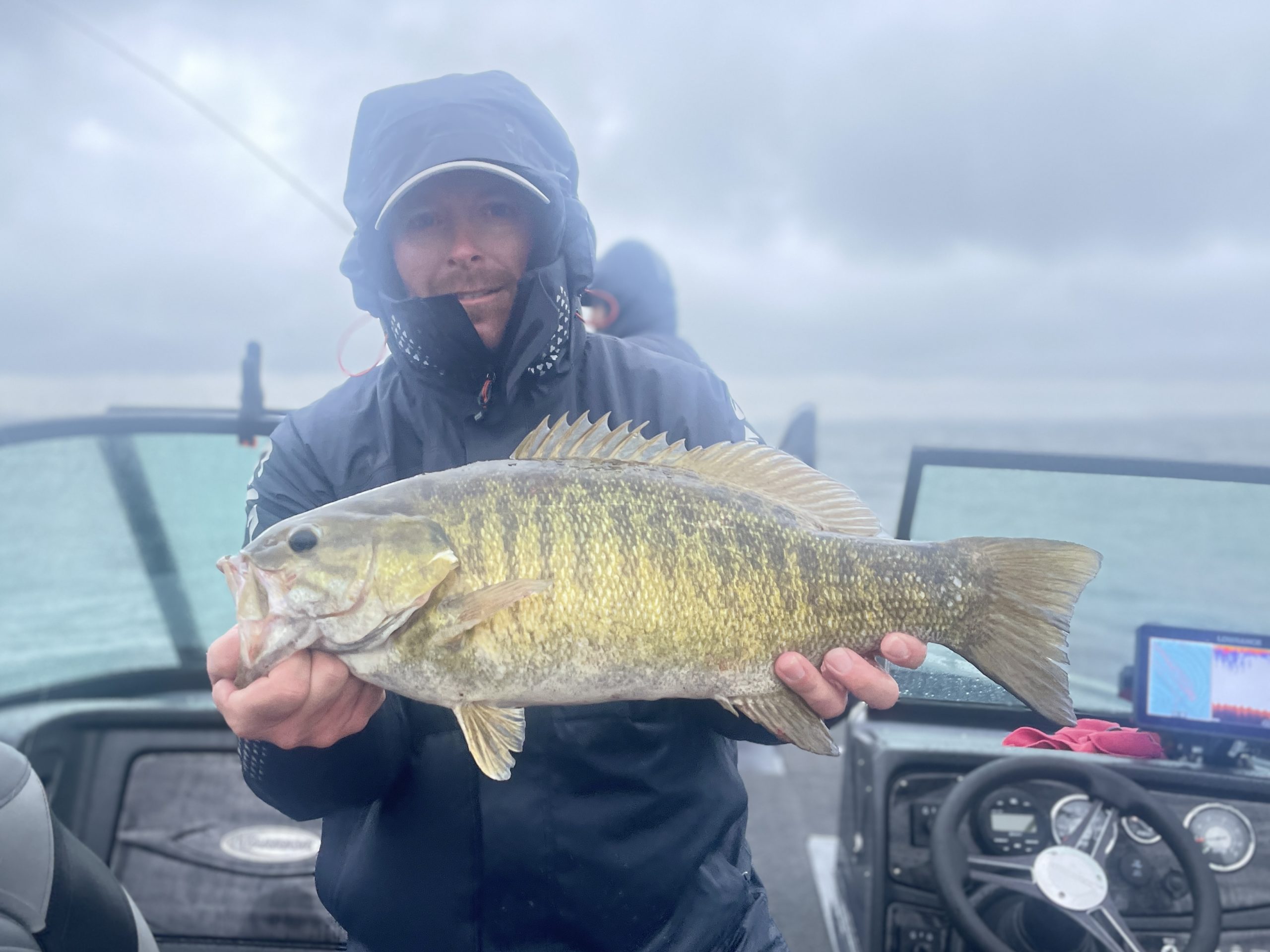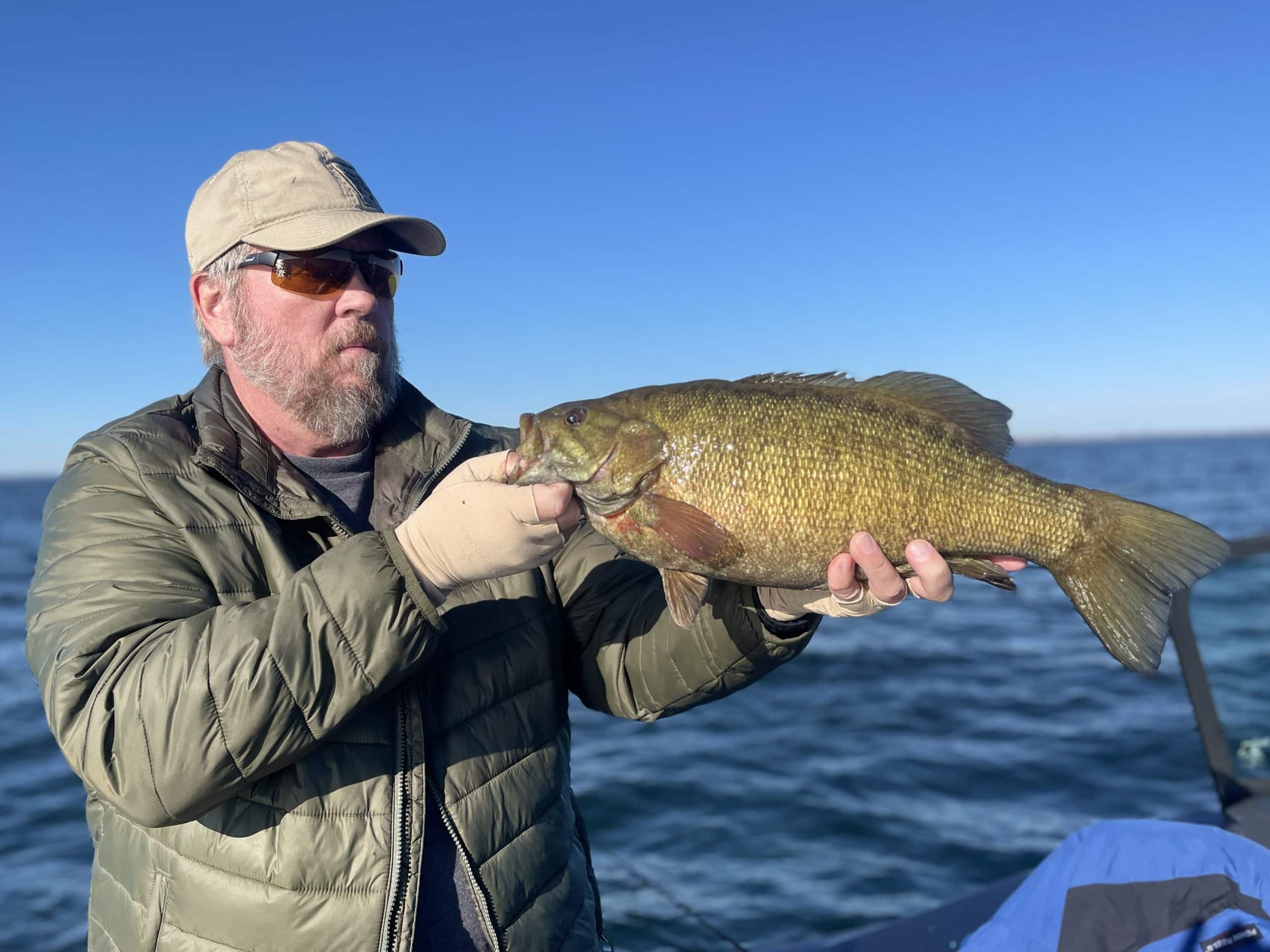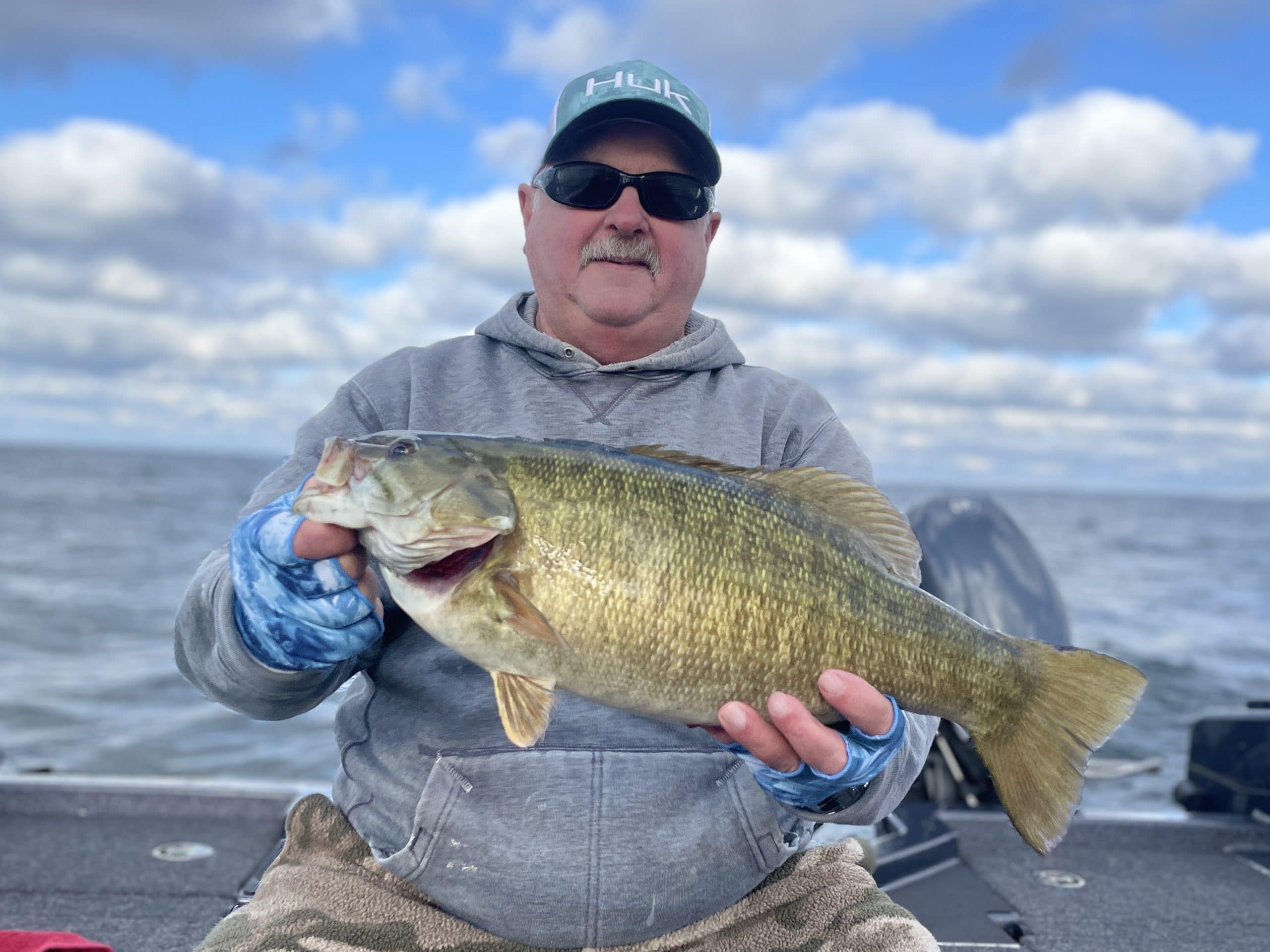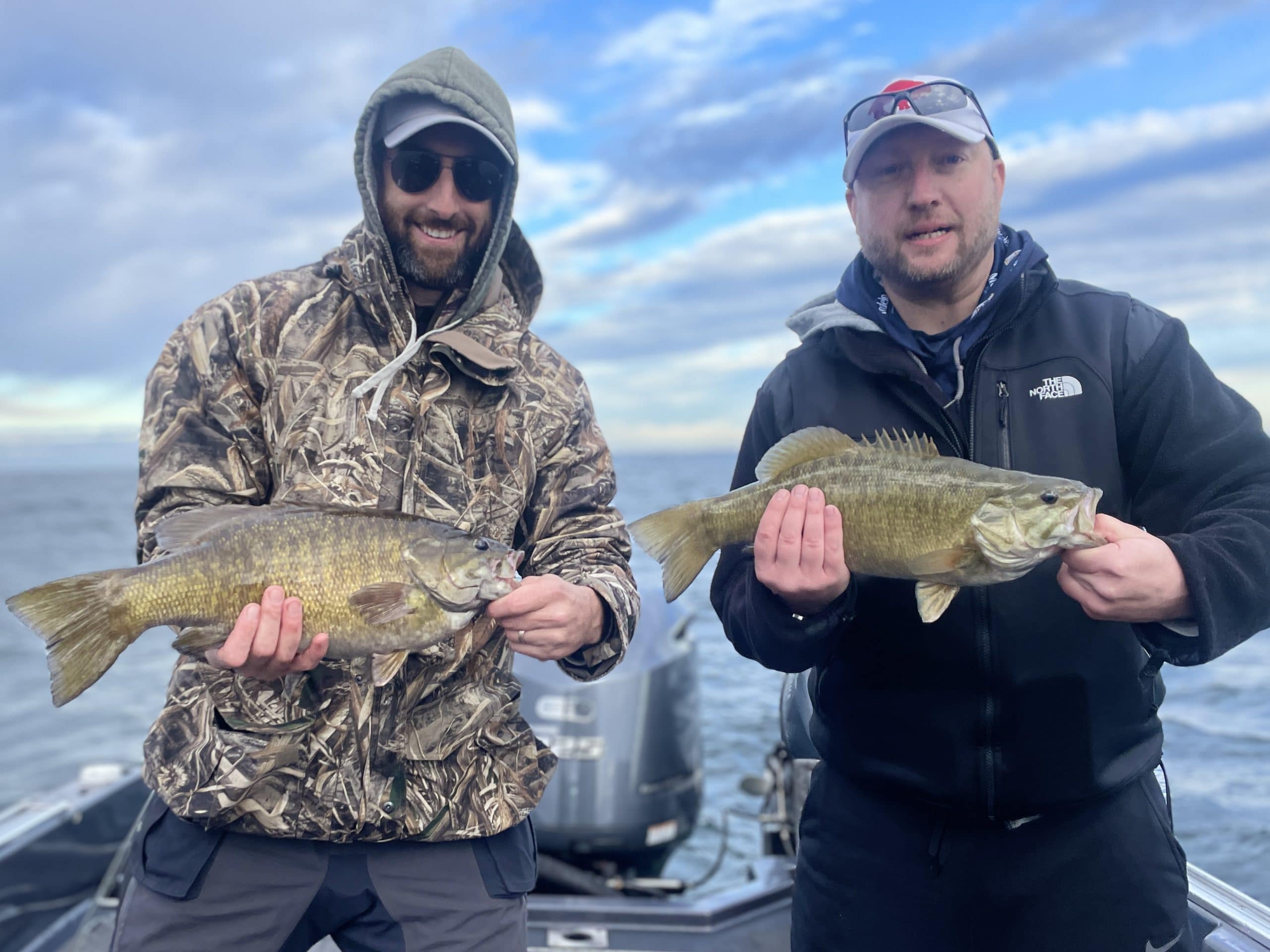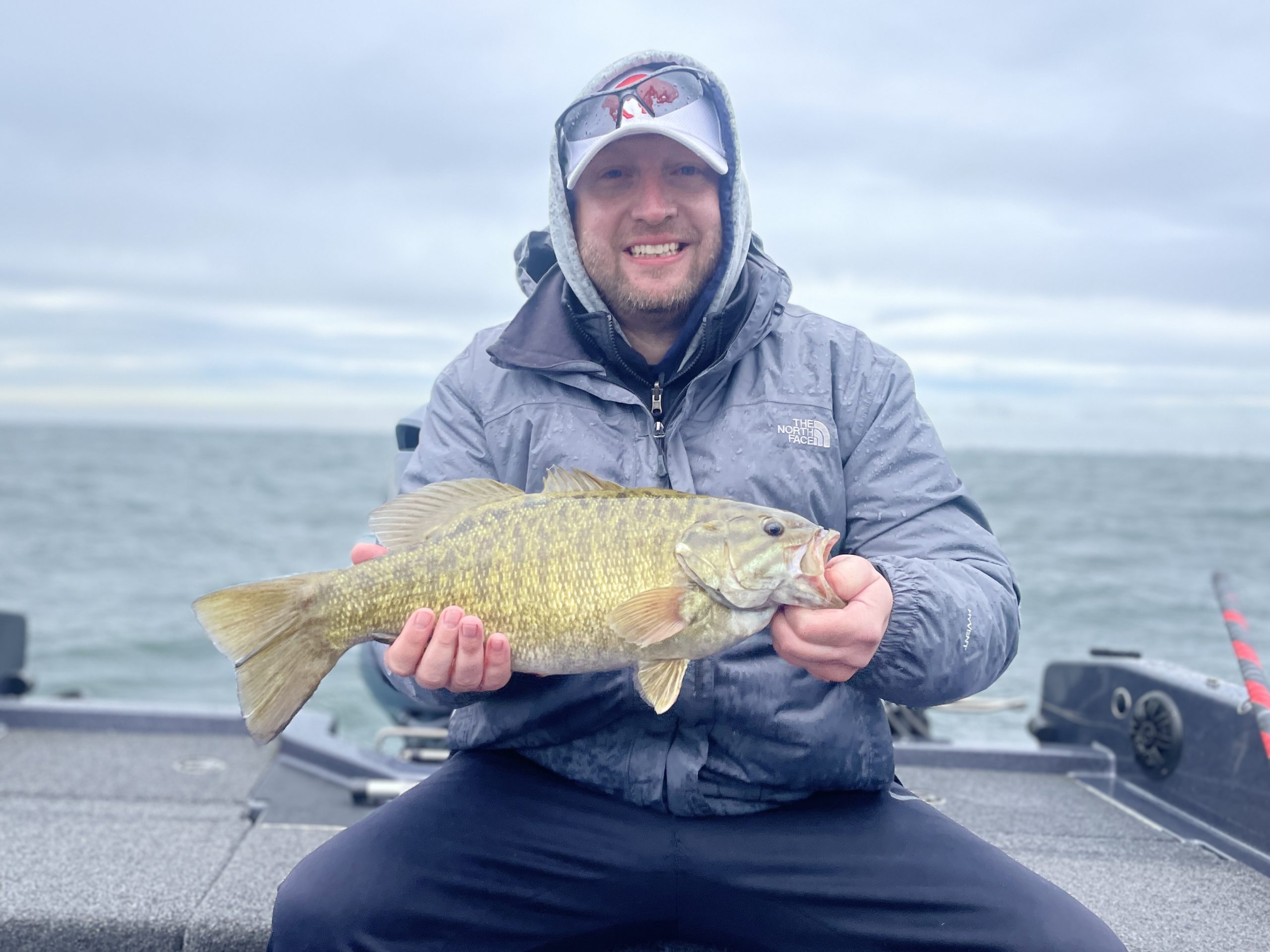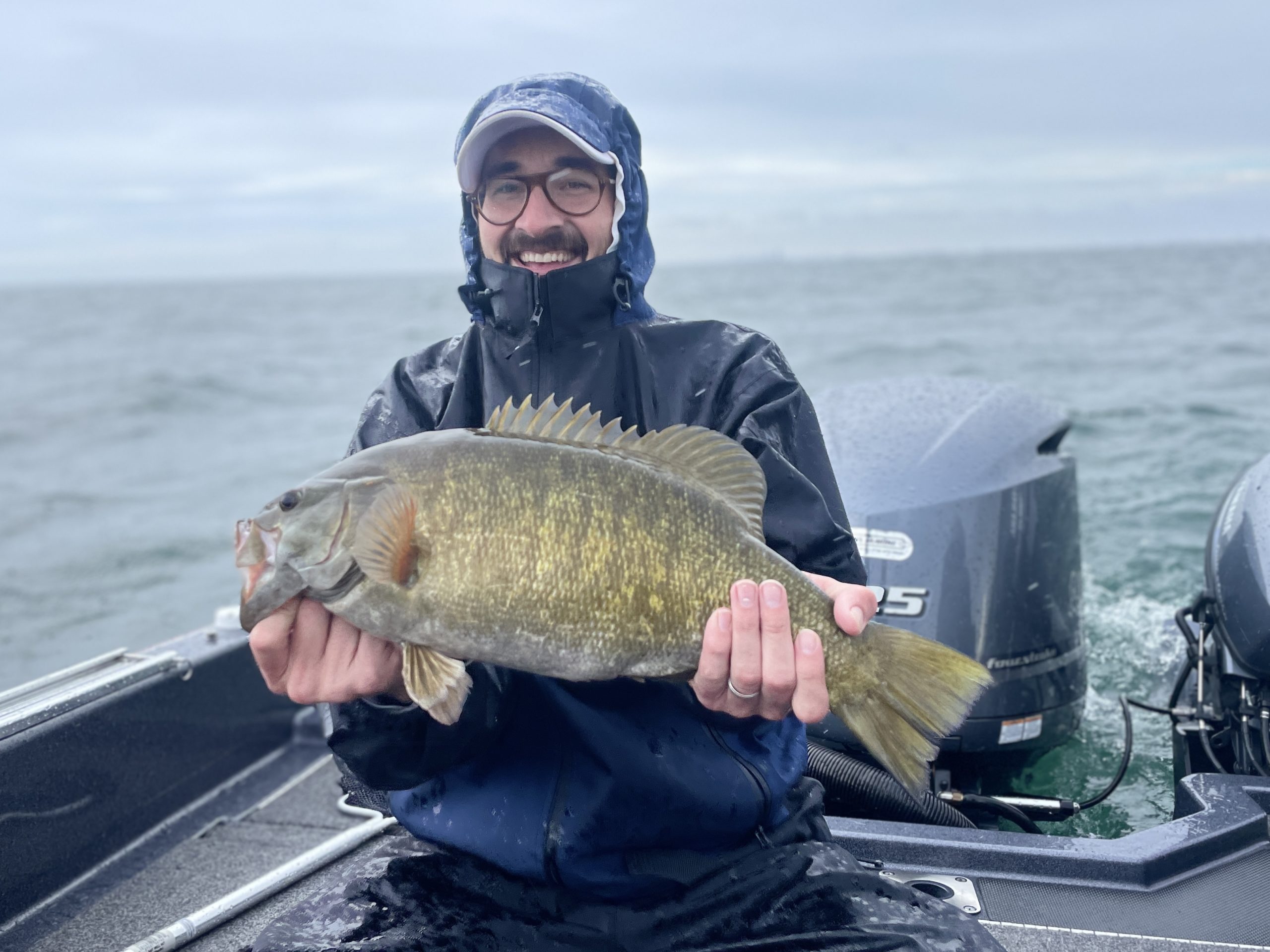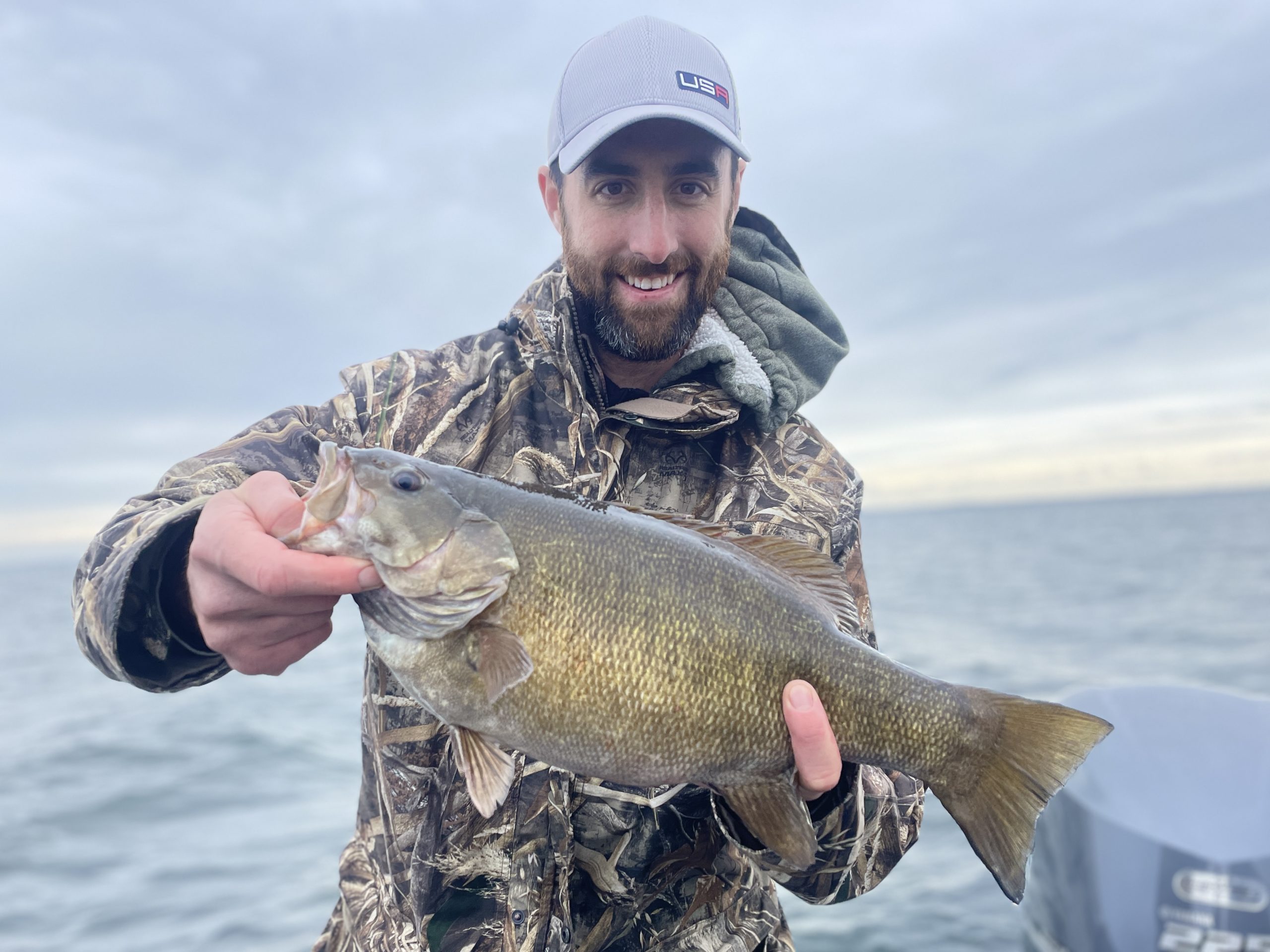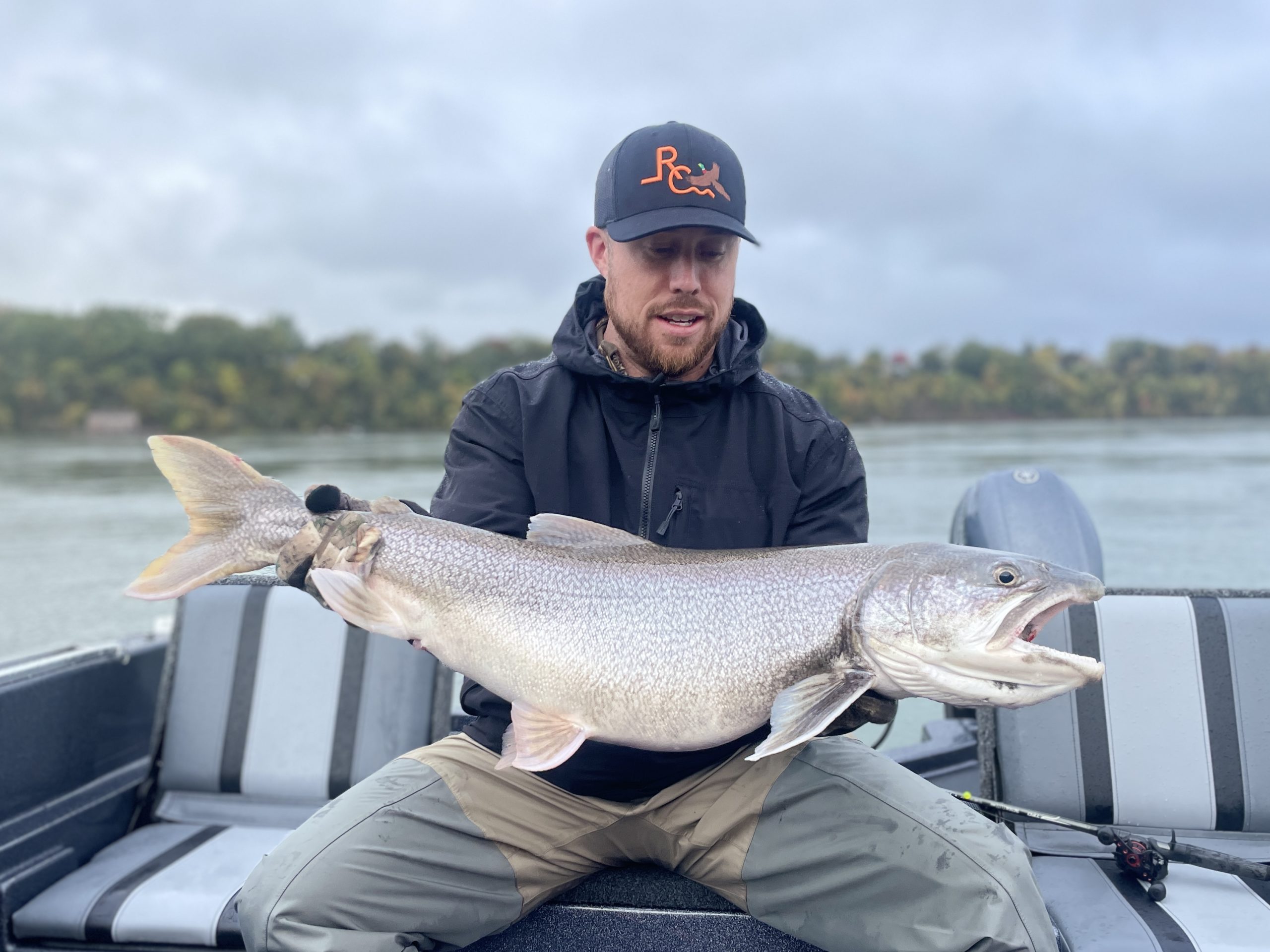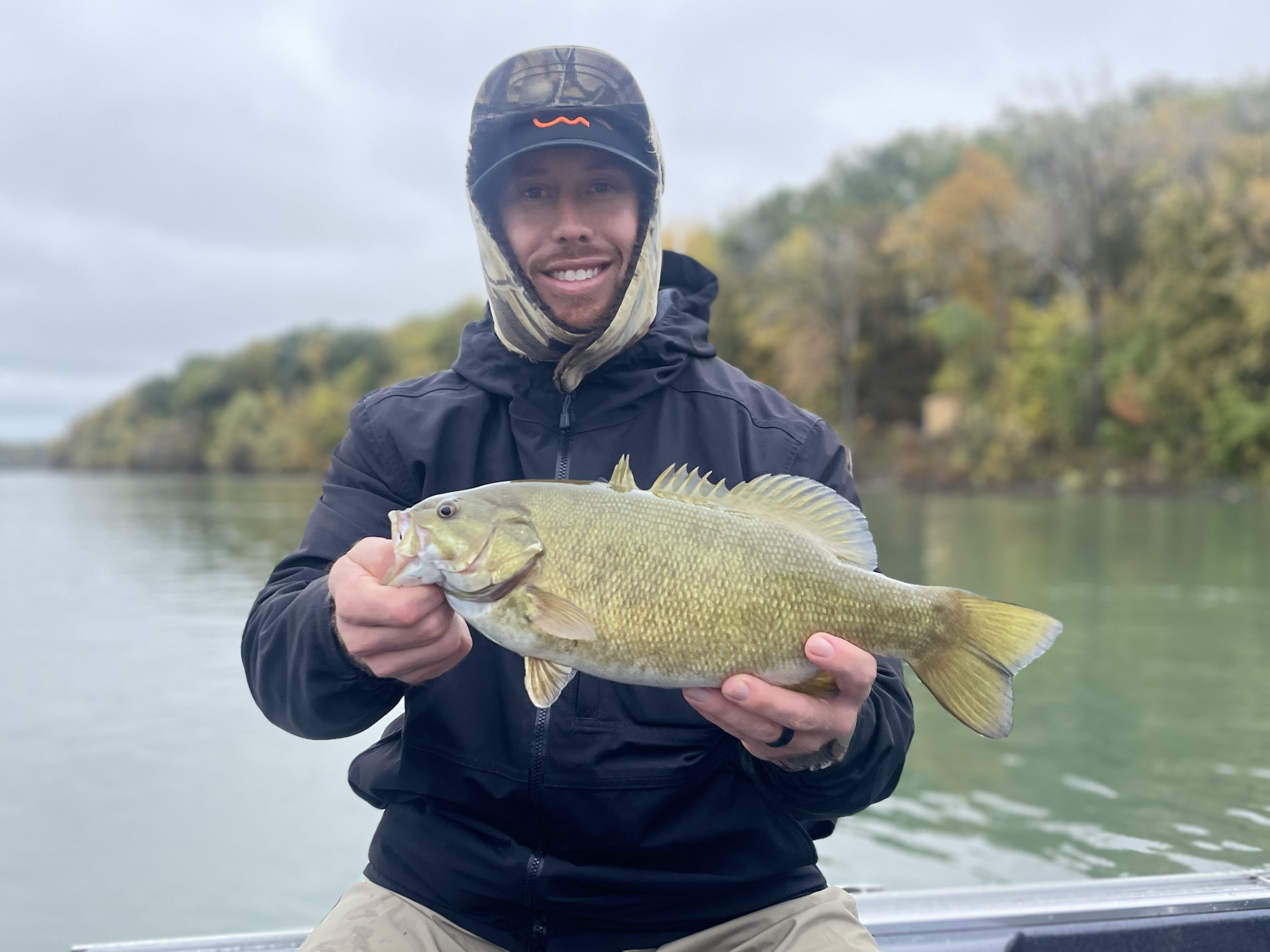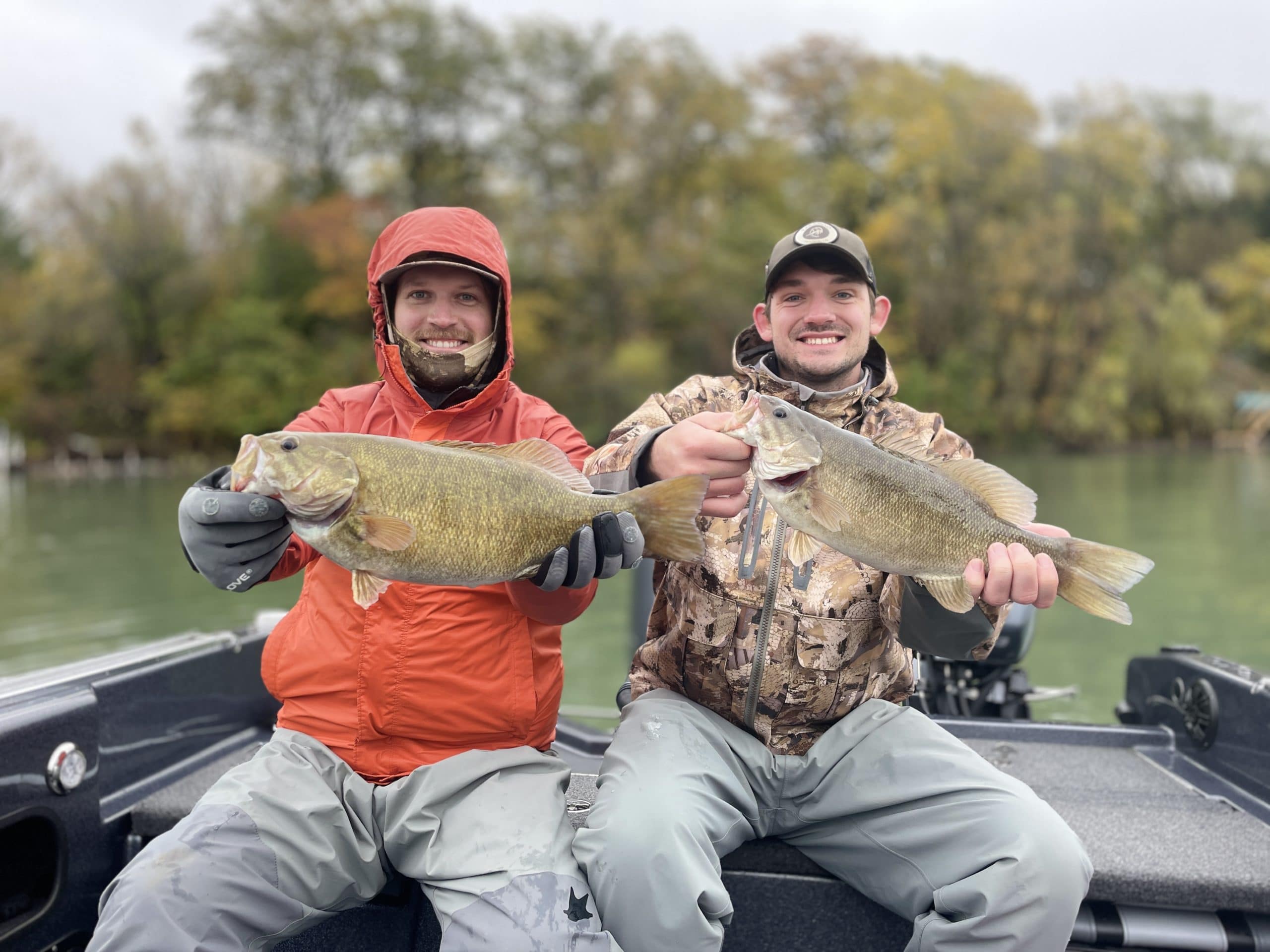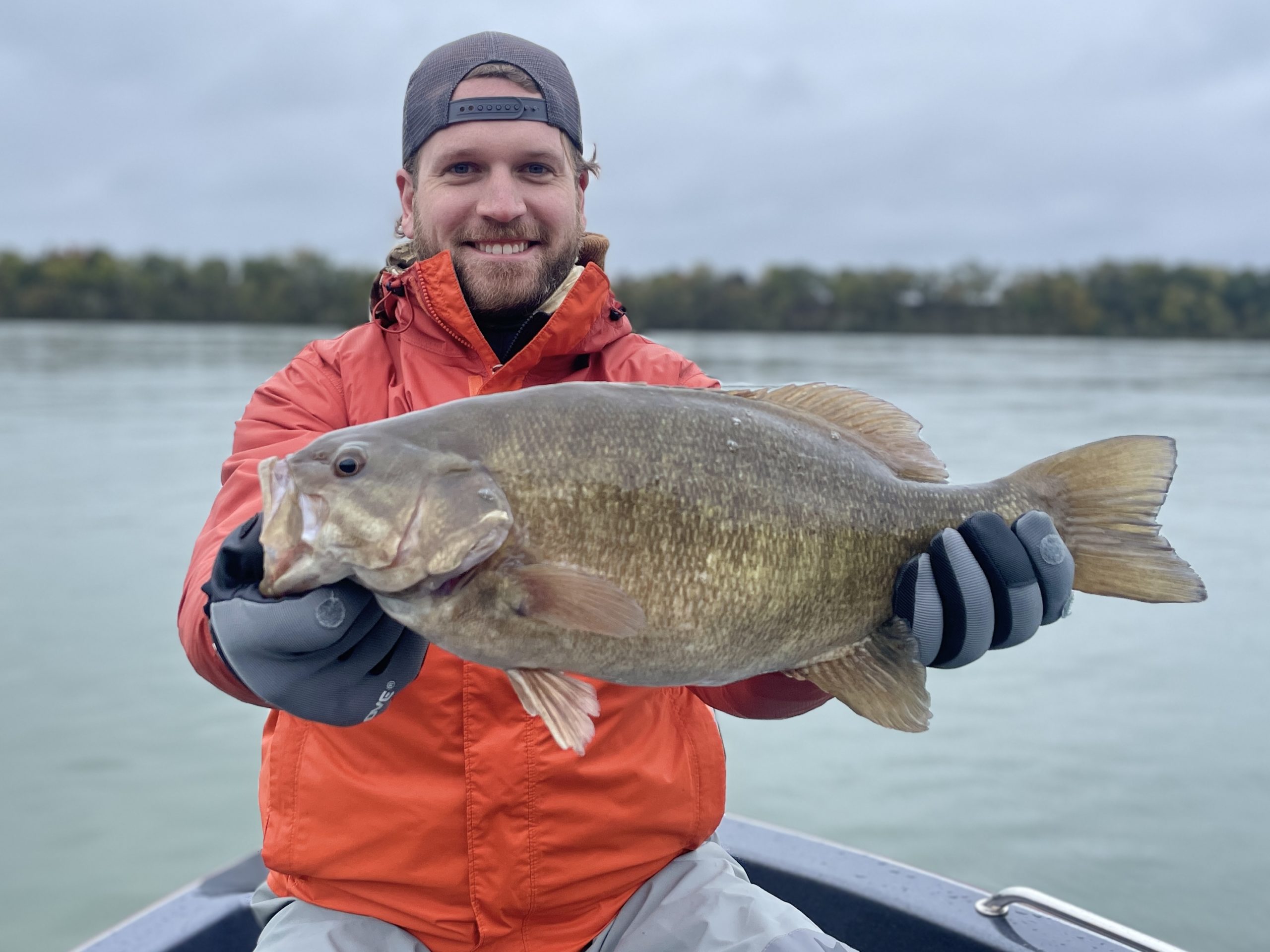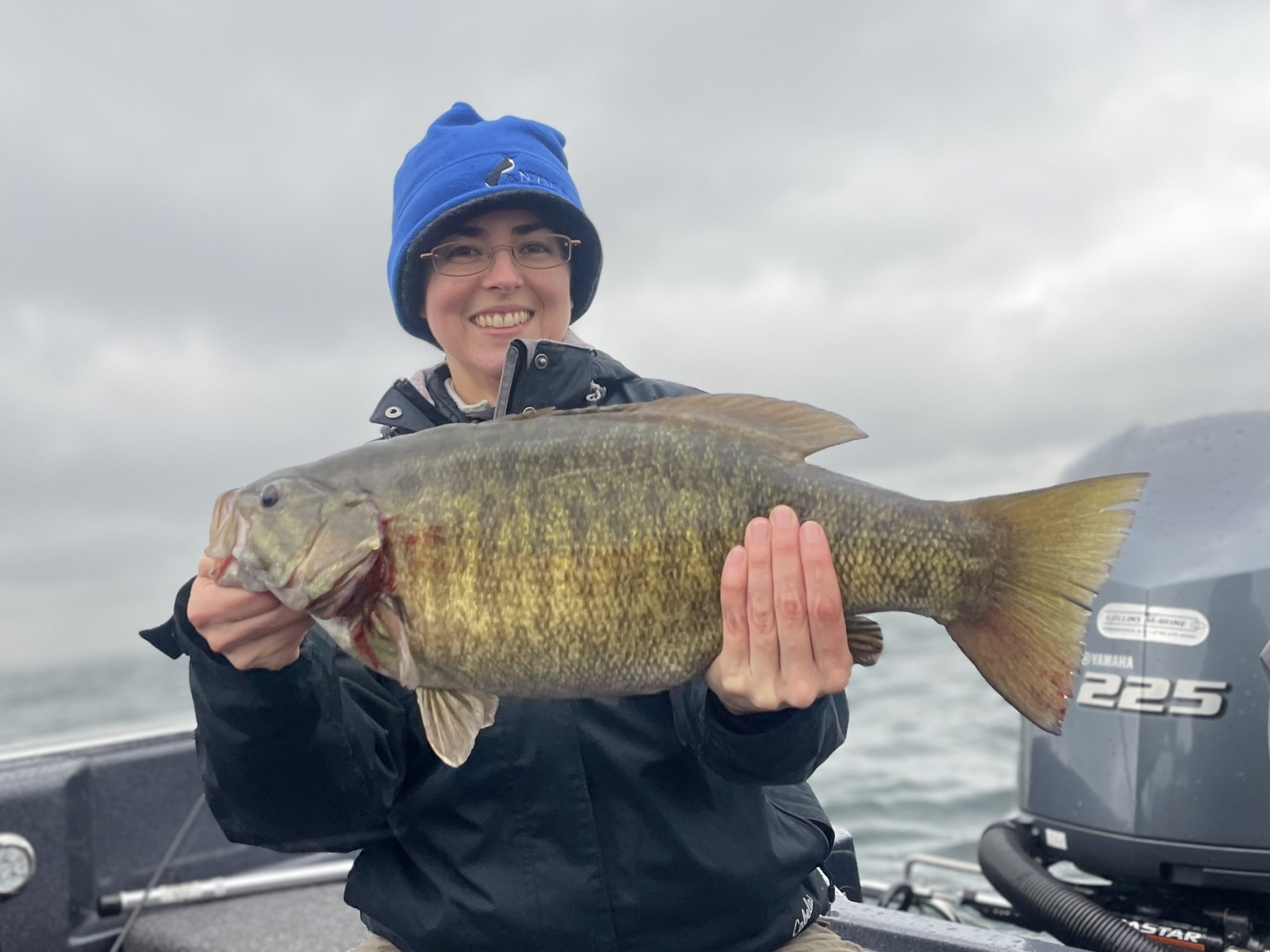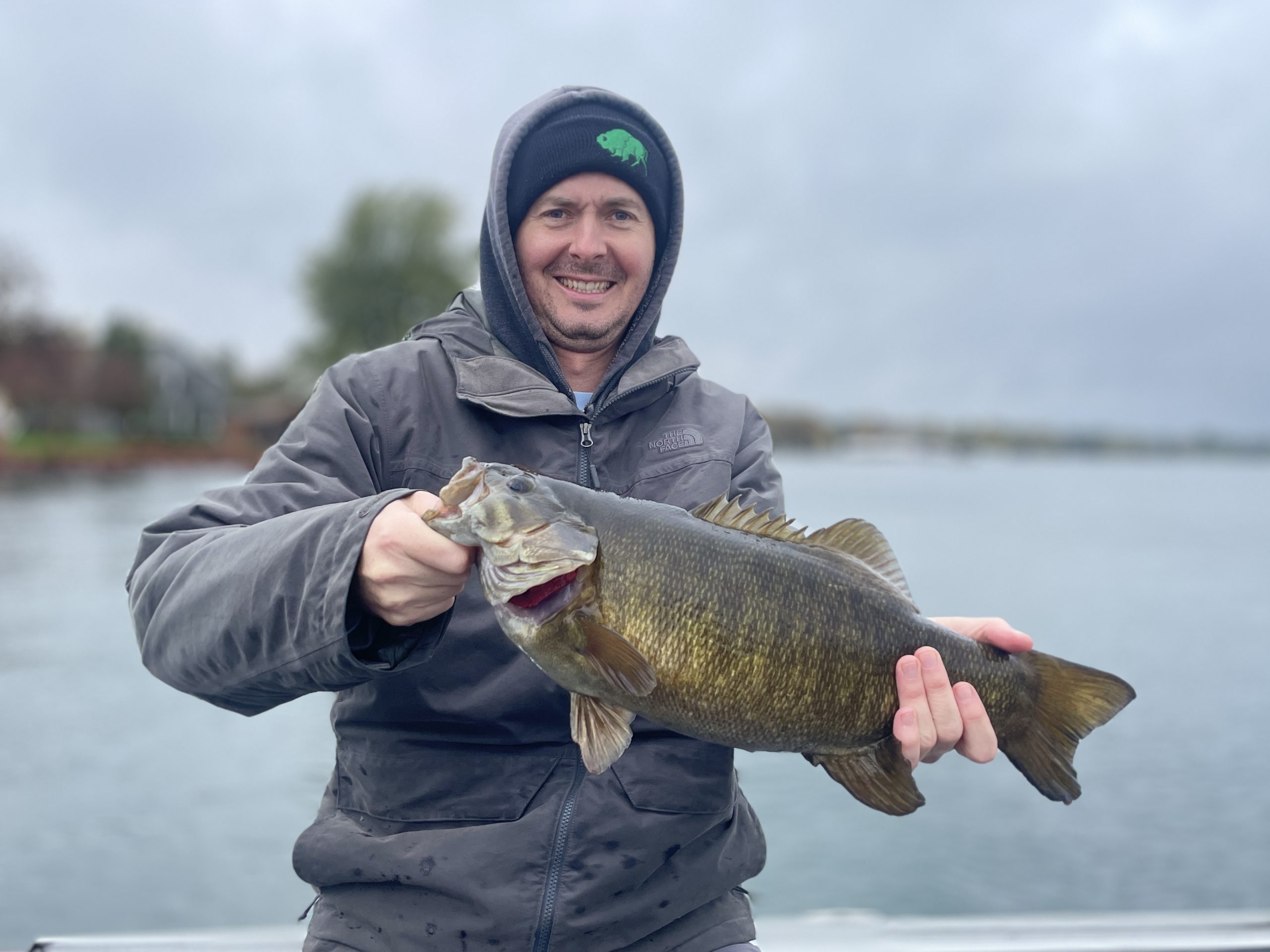 Looking Forward (1-7 Nov )
Looking at the long term forecast, I'm thankful "all we got" were huge north and east winds with a lot of rain this past week.  Waves over 11′ are supposed to rock the eastern Lake Erie shoreline through tomorrow afternoon.  Then, "only" 7′ waves will be around through Tuesday.  Wednesday looks a little more tame followed by something more fishable through the weekend.  Facing those conditions, I had to reschedule my trips for Monday and Tuesday.  Fingers crossed, I'll be on the water on Wednesday – Sunday – likely exclusively on the lower Niagara in pursuit of big trout.    
I hope all that huge wave activity early in the week doesn't send a ton of sediment into the river.  A little stain would be nice for the trout fishing but if it gets muddy, Lower Niagara boat fishing will be difficult (guess what – Lake Erie will be clear offshore no matter what – see above if you're wondering what the alternative to fishing in the mud could be).
Things are about to light up – I can just feel it.  After these few days of hostile weather, something magical is going to begin.  Call us if you want to experience it first hand instead of gawking at it on a rectangle.      
Stay healthy my friends – mentally and physically,
Ryan