Buffalo NY Fishing Report – Observations from 03/6/2023 – 03/12/2023
Here's our latest Buffalo NY fishing report:  It feels good to be back, my friends!  I went on 2 vacations/fishing trips since I published my last report on local conditions.  Here are the links to those trips. 
Florida from a New Angle – Brookdog Fishing
Mississippi – Spring Weather, Southern Hospitality, and a Series of Surprises – Brookdog Fishing
I'm also happy to report that I returned from those trips to a Niagara River that's finally running clear.  I managed to fish 2 days – keep scrolling for more details.
Days on the Water: 2
Who we fished with: clients/friends
Where we fished:  Lower Niagara
What we caught: Steelhead
Tactics: 3-way rig with live bait
Episode 44 of Two Angles on Angling is live:  Jordan and I have been off on our own adventures the past few weeks so we exchange stories about where we went and what we did.  In local news – the river is FINALLY clear so I managed to get a couple days on the water after returning from my most recent fishing vacation.  The forecast for this upcoming week is looking excellent as well so Jordan and I discuss our plans.     
Seasonal Assessment/General Observations
I returned from my trip to Mississippi late Tuesday night and spent the following couple of days unpacking and unwinding after nearly 3 weeks of travel. Both trips were a blast and have me already thinking about when I'll return. As I mentioned in the intro, I'm happy to report that the river is a pristine color right now. I managed to fish Saturday and Sunday. Action came in spurts – it wasn't on fire by any means. However, we connected to some REALLY nice fish.
I don't know what to think about the lack of action – it seems like a classic reaction to pressure. Consider this – nobody's been fishing in a long time. Maybe a day here or there but in general, fishable days have been few and far between since the Christmas Eve Blizzard of 2022.
Now, the river is finally clear, and the weather is tolerable – folks are fishing – a lot of them. I'm betting this shock in pressure is putting the fish down quickly. It'll take time and a fresh run of spring fish to get things firing. I'm optimistic the best days are yet to come. Plus, there was a stiff N wind both days so I couldn't get on Ontario. It's about that time to dredge the depths for lakers and/or troll shallow for browns.
Buffalo NY Fishing Report – Forecast for 03/13/2023 – 03/19/2023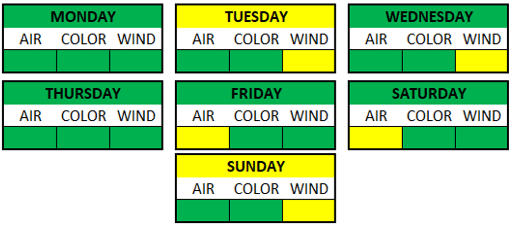 This upcoming week is looking excellent.  If the forecast holds, everyday will be fishable.  It might not be pleasant being on the water, but if you're willing to endure, fish will get caught. 
If the forecast holds, wind won't pose a threat to water clarity, although it might be difficult to fish the lower Niagara outside Devils Hole some of the days.  It looks like there will be a little bit of precip here and there but nothing to be concerned about.  A couple of the days toward the end of the week look ideal for spending some time on Lake Ontario. 
As I mentioned above, it's about that time to troll up some lakers and browns on Lake Ontario.  The Bar should be holding well too.  My plan is to spend as much time out there as possible this upcoming week.  Stay tuned!
Stay healthy my friends – mentally and physically,
Ryan
Tap any image below to swipe through the gallery.