Midwest Road Trip 2021 Report
Before I get into the details of our trip, I want to provide a little background.  In early June 2020, the first summer of Covid, our daughter had just finished up 3rd Grade.  It was an unceremonious affair following 4 months of virtual schooling.  I was deeply concerned that all that time on a Chromebook and iPad had brought her dangerously close to becoming a cybernetic organism.  This dark notion, plus a desire to spend quality time with her, just she and I, prompted me to want to hit the road.
That trip was a resounding success – thanks in huge part to some of my guide friends throughout the midwest.  It was such a good time that I made a commitment to execute a trip like that every summer for as long as I could convince her to do so willingly.  She's still young (10 years old), so I guess she doesn't have much choice in the matter these days.  Still, I don't want to force her to do something she doesn't want to do – that wouldn't be enjoyable for either of us on something as long as a 5-day road trip.  Thankfully, there's been no resistance so far.
The main lesson learned from last year's trip is that my daughter is far more resilient and patient than I had expected.  I mean, she was born into the transient life of the military, so she's moved quite a few times and spent A LOT of time on the road.  In fact, she's far more resilient than I am when it comes to long drives.  She is ambivalent about fishing BUT she'll patiently sit in the back of the boat, take in the sites, chat the guide's ears off, and NEVER complain.  She knows what to do when handed a fishing pole so when prompted to make a few casts, she'll get dialed, often land a fish, and then set the rod down and go back to talking to the guide.  It's PERFECT!
For this year's trip, I wanted to save a little $$$ so I decided to drive a loop instead of renting a car, driving one way, and flying home.  If you recall from last year's itinerary, to avoid getting road rash/wearing ourselves out, I decided that we would never drive more than 5 hours between locations.  With that constraint in mind, plus wanting to drive a loop, here's what happened…
Day 1 – Ohio – Making Lemonade with Josh McQueen
Josh McQueen, lead guide at Mad River Outfitters, is an old friend.  I fished with him years ago for pike and we hit it off immediately.  He's a machine – I don't know how he does it but that guy fishes nearly every corner of Ohio and has it dialed.  I hadn't seen him in awhile so I HAD to make it happen on this trip.  Ohio was our first stop.
As we got closer to the date, Josh was hesitant to provide a link up point since the region had been getting pounded with rain and most of their rivers were high and running like chocolate milk.  He urged flexibility and we agreed to make the final call about where to fish a couple hours prior to Charlotte and I departing WNY.  There was a chance we'd be able to fish some small pike and smallmouth bass rivers in the southern portion of the state as long as the rain abated.  My fingers were crossed.
I watched the forecast for the region near hourly in the days leading up to the trip…it was looking grim.  So, when Josh and I talked again on the afternoon of my departure, I wasn't surprised to hear that all the rivers were blown out.  Our only option was to fish Lake Erie.  He was disappointed, mainly because, like all good guides, he's passionate about his fishery and wants people to see it at it's best.  Plus, he knows I fish Erie all the time so I likely wouldn't experience anything new.  Still, fishing with my daughter is better than not fishing at all.  Plus – I didn't have to drive the boat.
The program we executed was very similar to what we do on our side of the lake.  At the start of the day, there were 5' waves, so we opted to stay inside the harbor and work the walls.  It got crazy – I'll let the pictures tell it.  In short, we had only 1 option, we went with it, and it was extremely rewarding.  Plus – it was good to see Josh again and for my daughter to meet him too.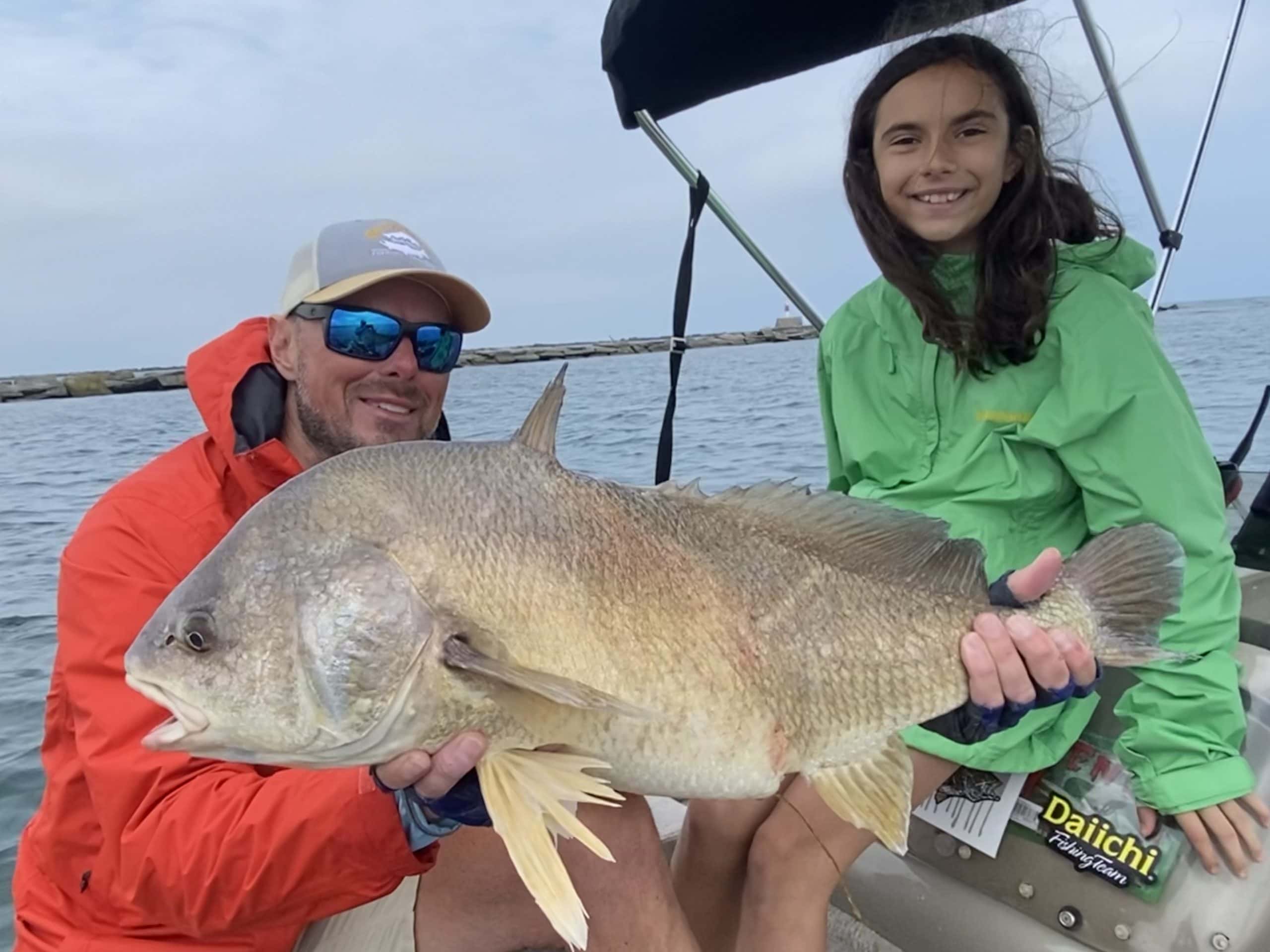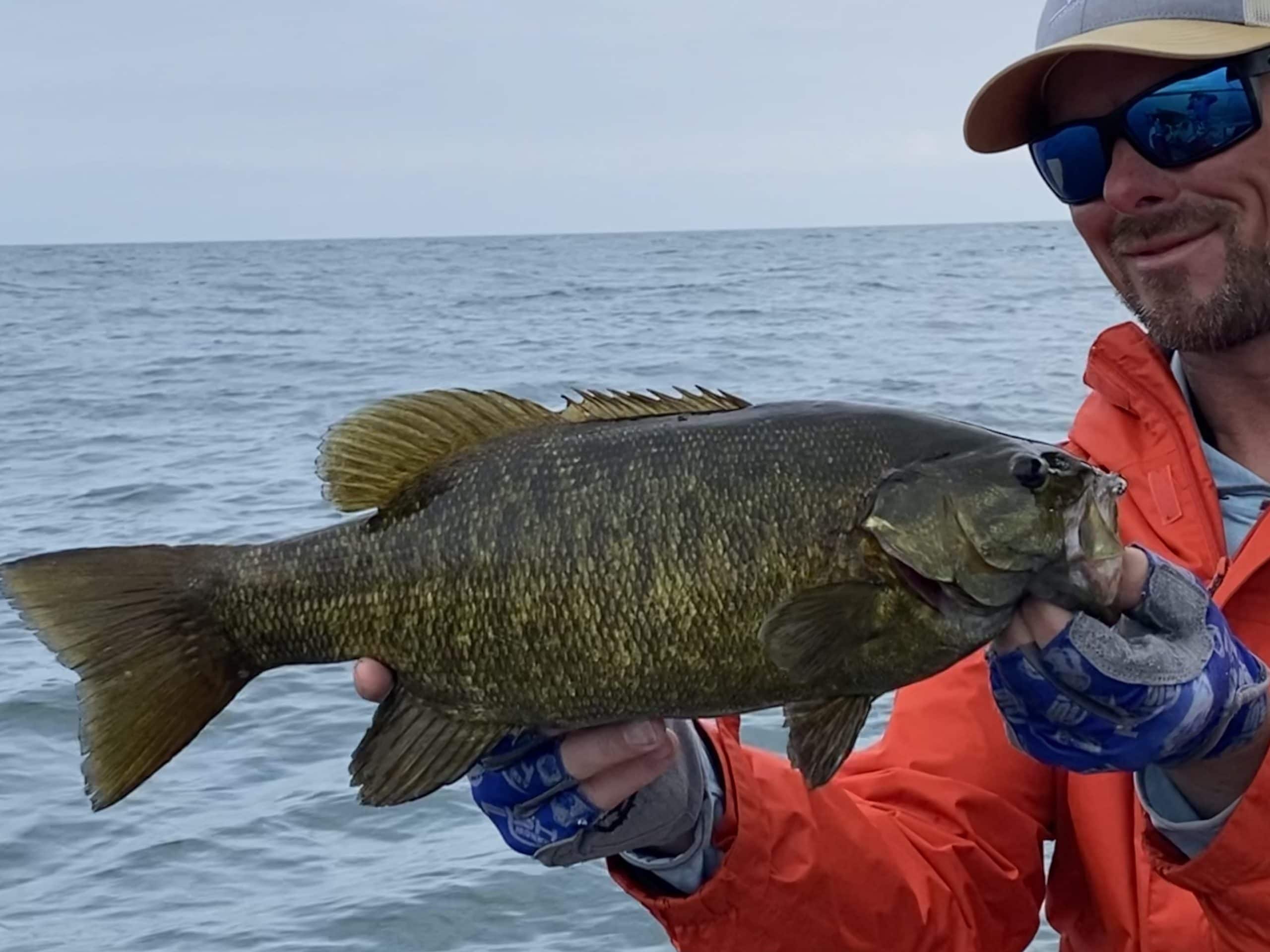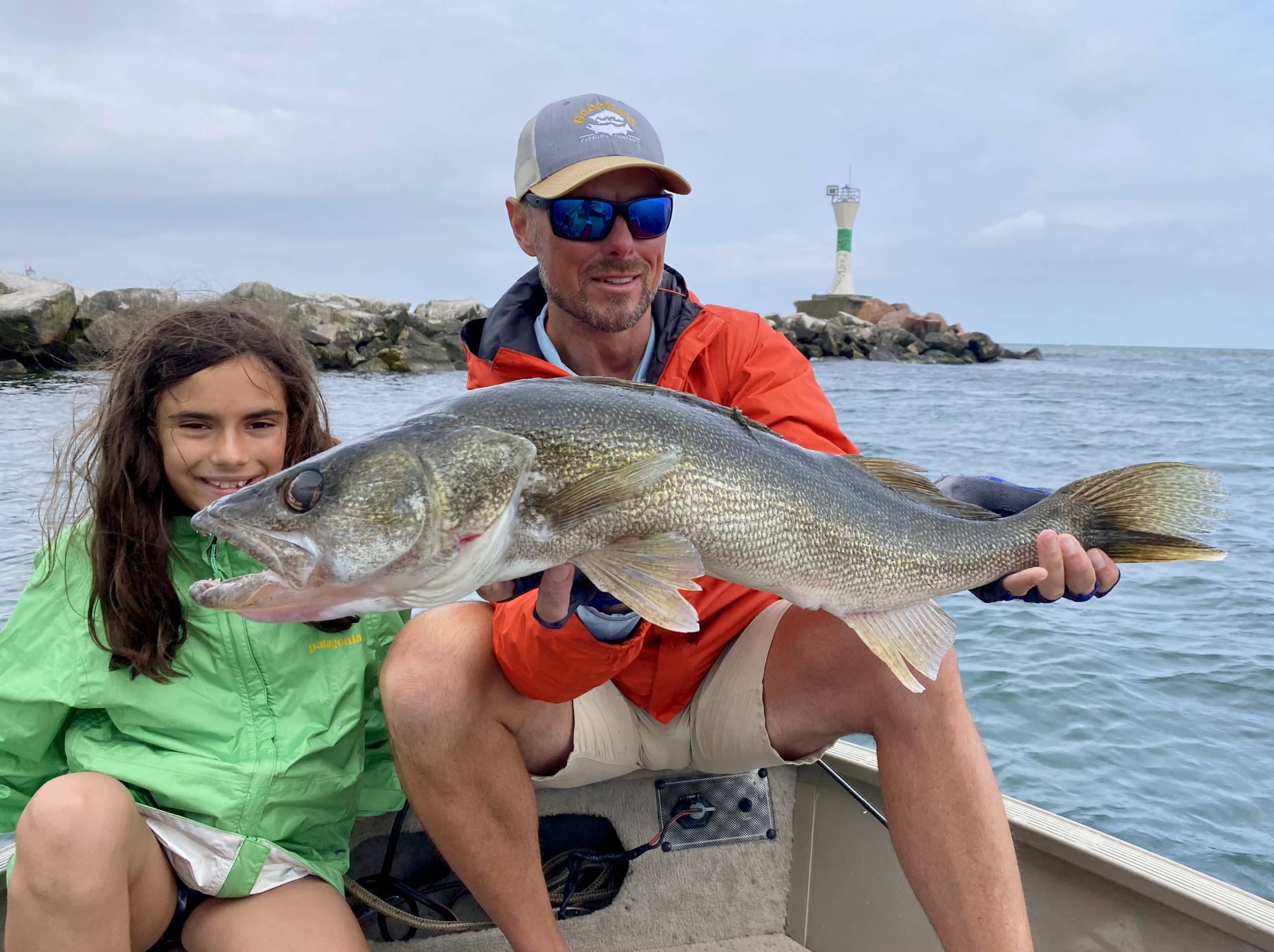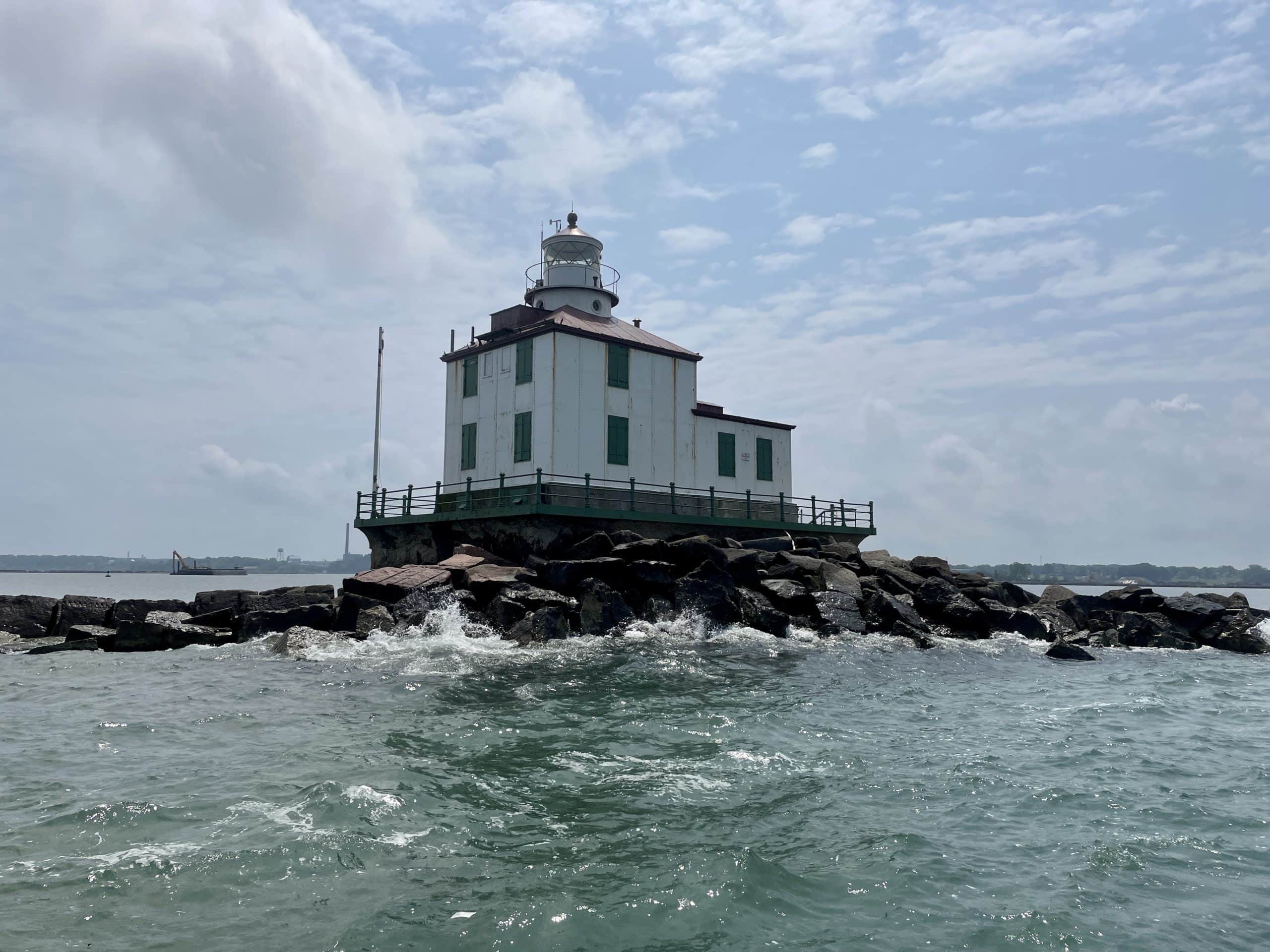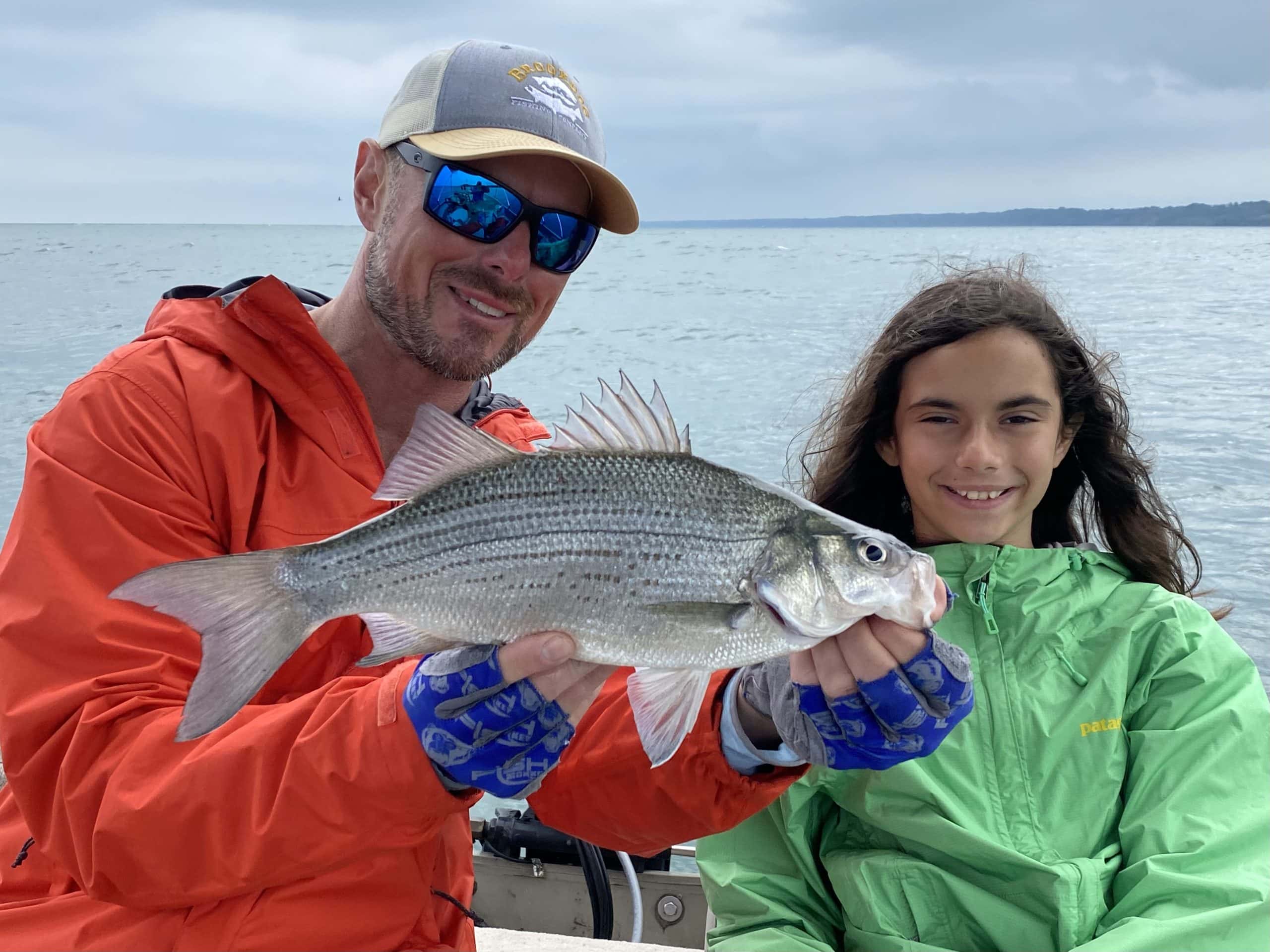 Day 2 – Home Sweet Home at the River House
Jason DeArman of Two Forks Guide Service (https://twoforksfishing.com/) was an incredible host last year so we had to go back this time.  Charlotte loved talking to him last year and her most memorable experience was creating a snack mix using Jimmy Chips as the main ingredient.  It's an inside joke that'd take a bit to explain and would likely fall flat to all those reading this so just know it was hilarious to the three of us and continues to be a running joke.
Indiana, like Ohio, had been slammed by torrential rain in the days leading up to our visit so the rivers were running muddy.  Still, he was optimistic we'd be able to make something happen.  Plus, Jason and I are of like mind – as I mentioned above, spending time on the water with a friend and my daughter is WAY better than sitting inside – even if the fishing is slow.
Jason, Charlotte, and I had a blast as always.  The river was high and muddy but we were able to make a few connections.  Plus, the weather was sunny – we lucked out and got on the water during a nice little window.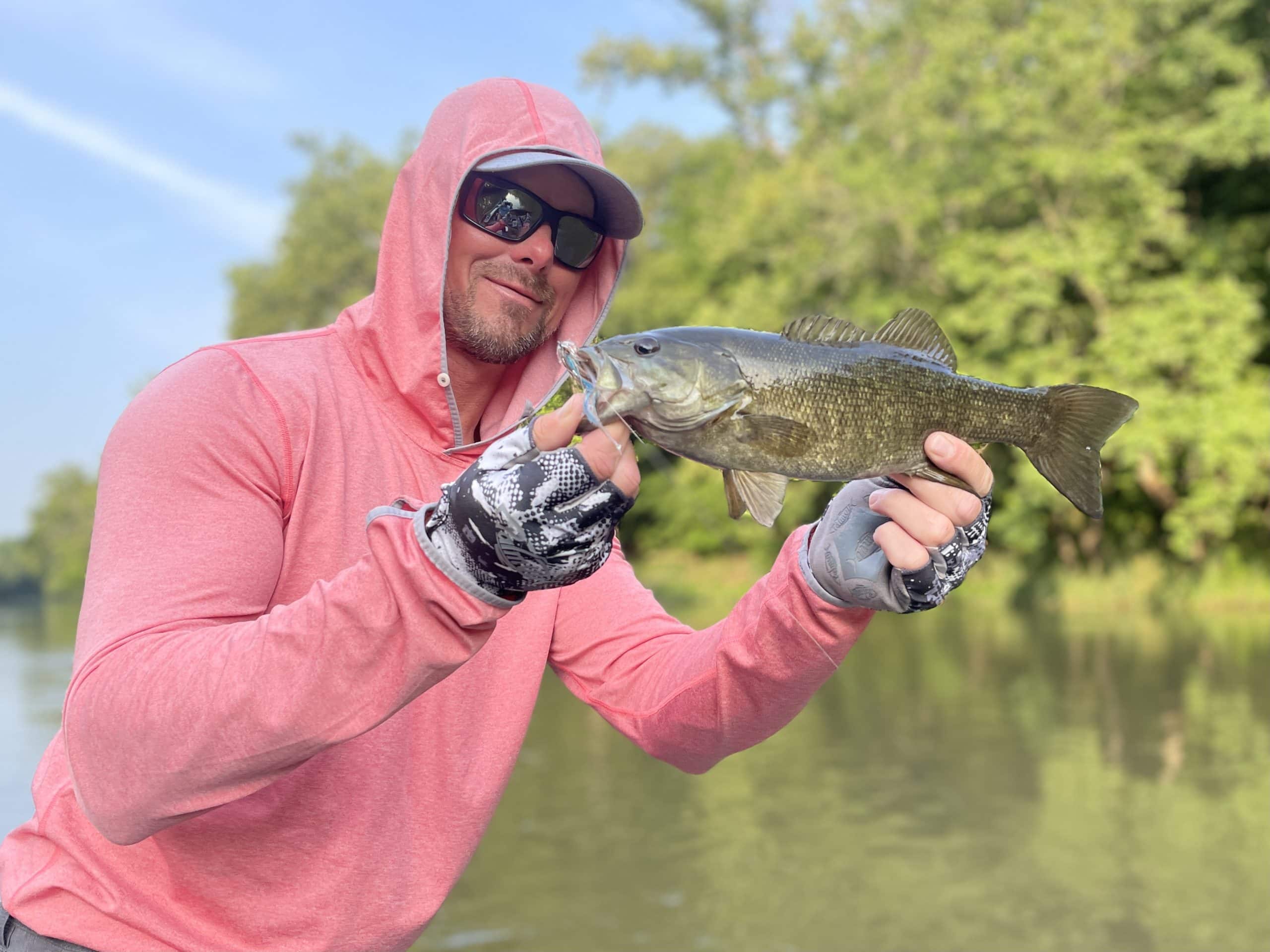 Day 3 – Rest
If you haven't picked up on this yet, seemingly the entire Great Lakes Region got pounded with rain in advance of our trip, and while we were on the road.  For day 3, Charlotte and I were supposed to return to visit my Midwest Waters Angling bros up in Chicago, Il.  In talking to Mike Allen, we only had 2 options.  One would've taken us just shy of 5 hours to get to from IN – plus added a couple hours to the commute to our next destination.  The other option was to fish a river I had already fished a couple times – plus, the forecast called for a bit of rain in that area.  Tough call.
It was at this point that I did something uncharacteristic – I asked Charlotte what she wanted to do.  She was looking a little weary following the day's float on the White River and like I mentioned at the beginning of this report, I don't want her to be miserable or to have to endure a trip with me – it would defeat the purpose.  My instinct on road trips is to keep pushing and make it work no matter where we go.  Charlotte's instinct wasn't that – she wanted to relax with dad, watch a movie, and rest.  So that's what we did.  We slept in on day 3 and took our time driving up to Michigan.
Although I'm glad I made the decision to go with Charlotte's instinct – but I'd be lying if I told you I didn't ponder what would've happened if we made the push to IL.  I miss those guys and looked forward to seeing them again.  Plus – they have some awesome water.  Lesson learned – build a rest day in the middle of the trip.
Day 4 – Back to Michigan
Schultz Outfitters needs no introduction.  In short – world class fly and conventional tackle shop, some of the best guides in the business, unique fishery (distinct from anywhere I've been in so many ways), a MUST for anyone interested in pursuing smallmouth bass in moving water.  The fishery they have dialed is incredible.  Enough said.
It'd been 4 years since my last visit – far too long.  Mike Schultz, the owner of SO, got Charlotte and I connected with his head guide, James Hughes – he was awesome.  We talked the night prior, and he explained that, like everywhere else we had been, their fishery had been hammered by rain so our options were limited.  Still, many of Michigan's creeks/rivers are marsh fed, so although the water levels come up when it rains a lot, it seems like you can always find water clear enough to fish effectively.  James had just the right place in mind.
James' primary concern was for Charlotte's well-being – which I greatly appreciated.  He explained to me that this little creek we'd be fishing can get buggy and he was going to bring all kinds of gear to ensure Charlotte didn't get bothered by the mosquitoes.  In the end, Repel was the only thing we needed.  Luckily, we had a little breeze blowing all day that kept the bugs at bay.
James, my daughter, and I hit it off famously – nonstop conversation about a wide range of topics.  Fish were caught too – I'll let the pictures tell it.  I'm happy I added this stop to the 2021 itinerary.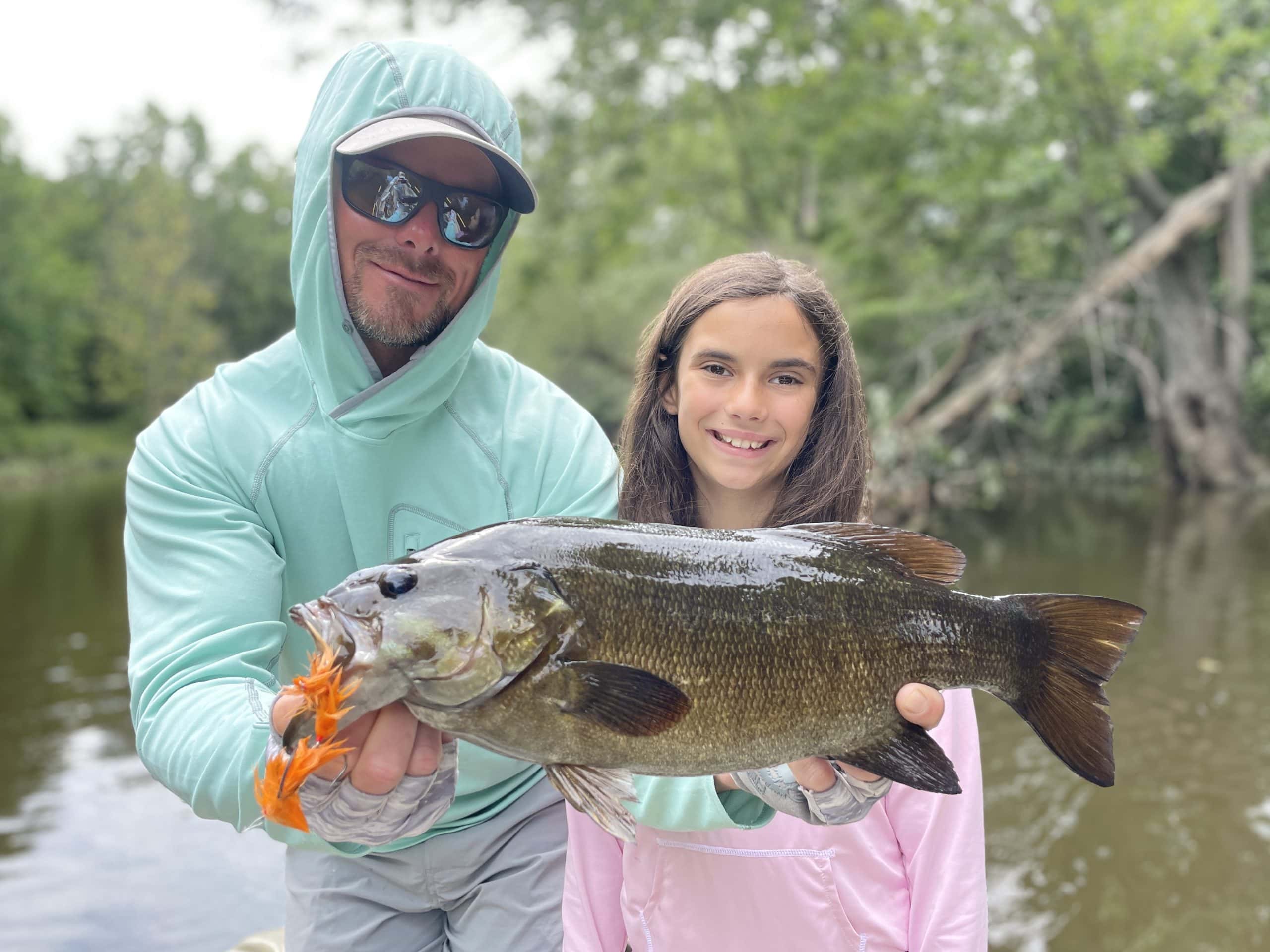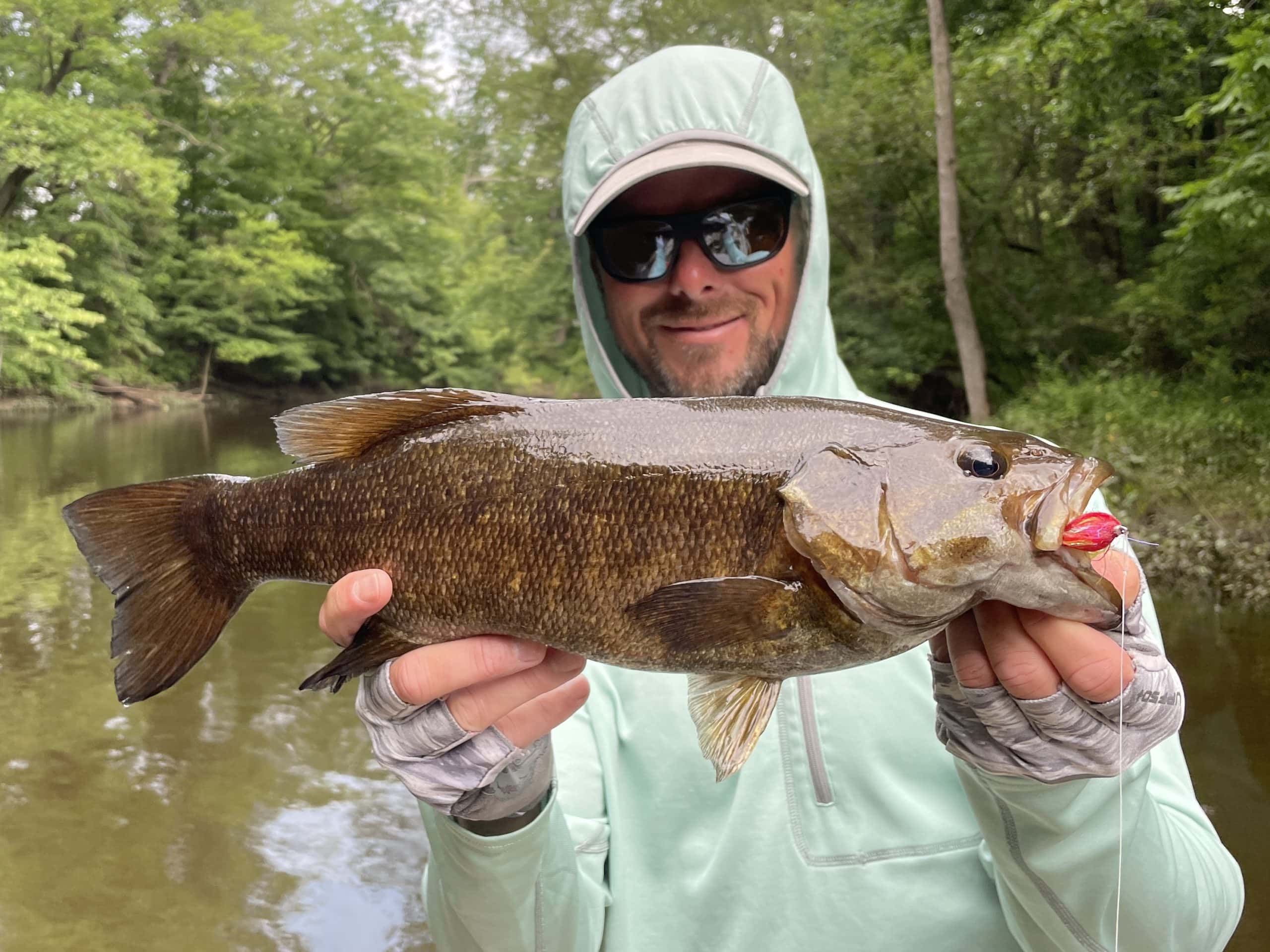 General Observation About my Colleagues in this Business
Us guides put a lot of pressure on ourselves to show our clients a good time on the water. It's because we care – about your experience and about your perception of the fishery we hold dear. No matter what you say, you won't be able to snuff that out. We may be able to suppress it for a moment but it'll come back up.
I mention this because from my perspective as a client on these 4 days, I tried everything to put my bros' minds at ease – to little avail. I know what all these fisheries are capable of, I'm a guide too, and my daughter has no frame of reference so it's all gravy.  It should be an easy going time, right? And it is…on the surface…but the pressure bubbled up in small doses with all these guys.
That caring runs deep in all of us guides – well – at least I hope it does if you've decided to make this a profession. I suspect the presence of that pressure, that deep caring, is why all 4 days yielded something special. The fishing wasn't anything spectacular but the experience was. It's because all of these guys truly gave a shit about my daughter and I and what I was trying to accomplish for the both of us. I can't thank them enough.
Conclusion
Midwest Road Trip 2021 was a success.  It's funny, I received a text from my father on the drive home stating that I've had some crap luck with weather on my trips this year (remember – we showed up in AR after that huge snow storm back in February).  Sure, but we never skunked and we always had fun.  Plus, a lesson my daughter surely learned was that when Mother Nature deals you a tough hand, play it as best as you can, it's always better than being inside.  I also learned that every once in awhile, it's better to rest (just a little bit), than push to a breaking point – I mean, it's vacation isn't it?
I included this in my final notes last year but it's worth repeating – dads – this trip was super easy and took only 5 days. We never drove more than 4.5 hours (less on most days). No matter where you live, I'm sure there is an itinerary you can come up with that'll have the same effect – you just need to put in a little time to figure it out. Your kids deserve it – and so do you.