No…I am not going to go on another rant about avoiding the shack nasties. Hopefully, you understand our perspective on how remaining cooped up all winter is a recipe for a slow, yet assured, descent into depression…or worse. I would like to dedicate some time to challenging a few paradigms about charter fishing in the winter. I'm writing this in order to inform locals about a few natural wonders that go on in their back yard ONLY in winter. It's also my hope that non-locals will read this and find it so interesting that they feel compelled to visit. Here we go…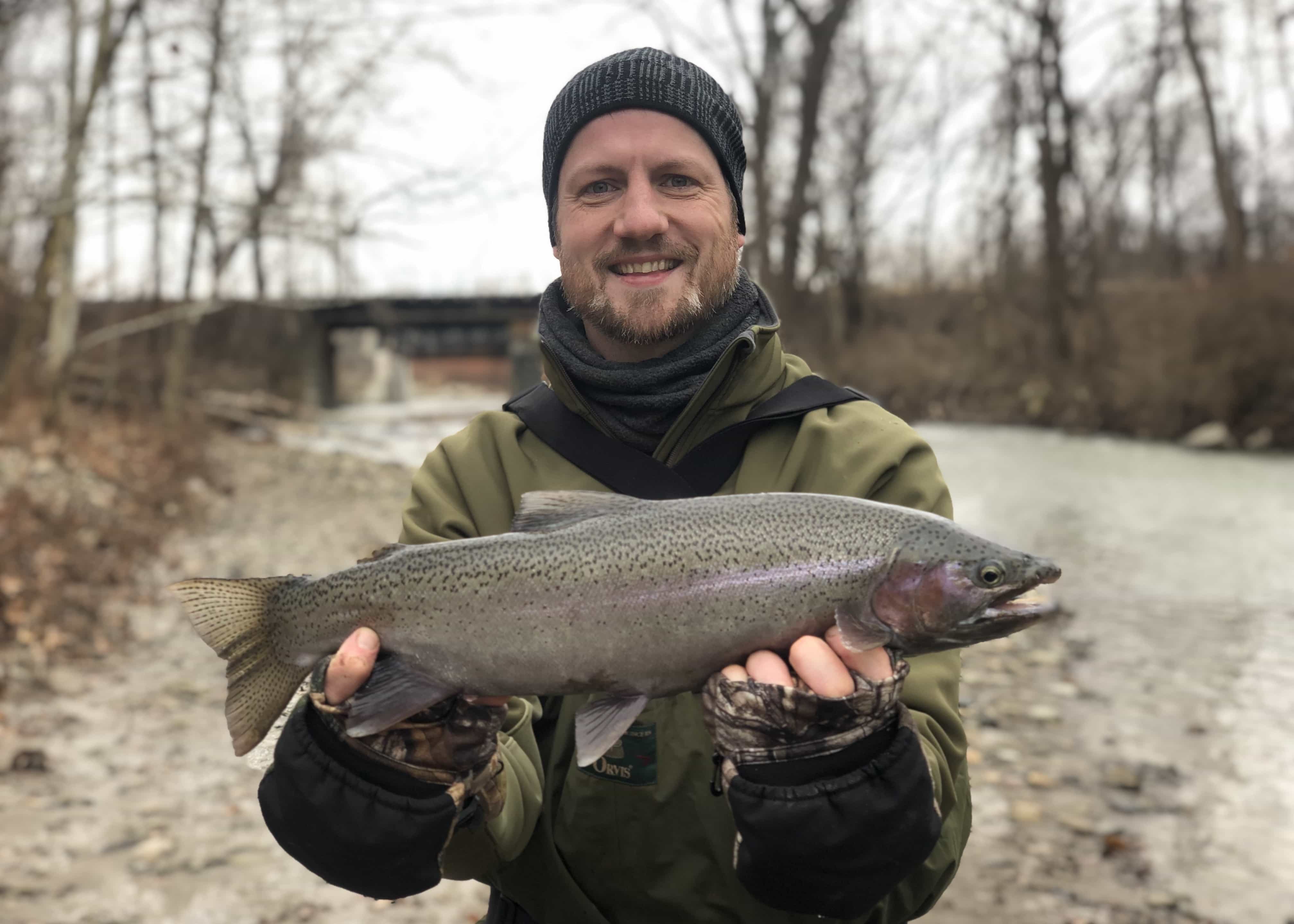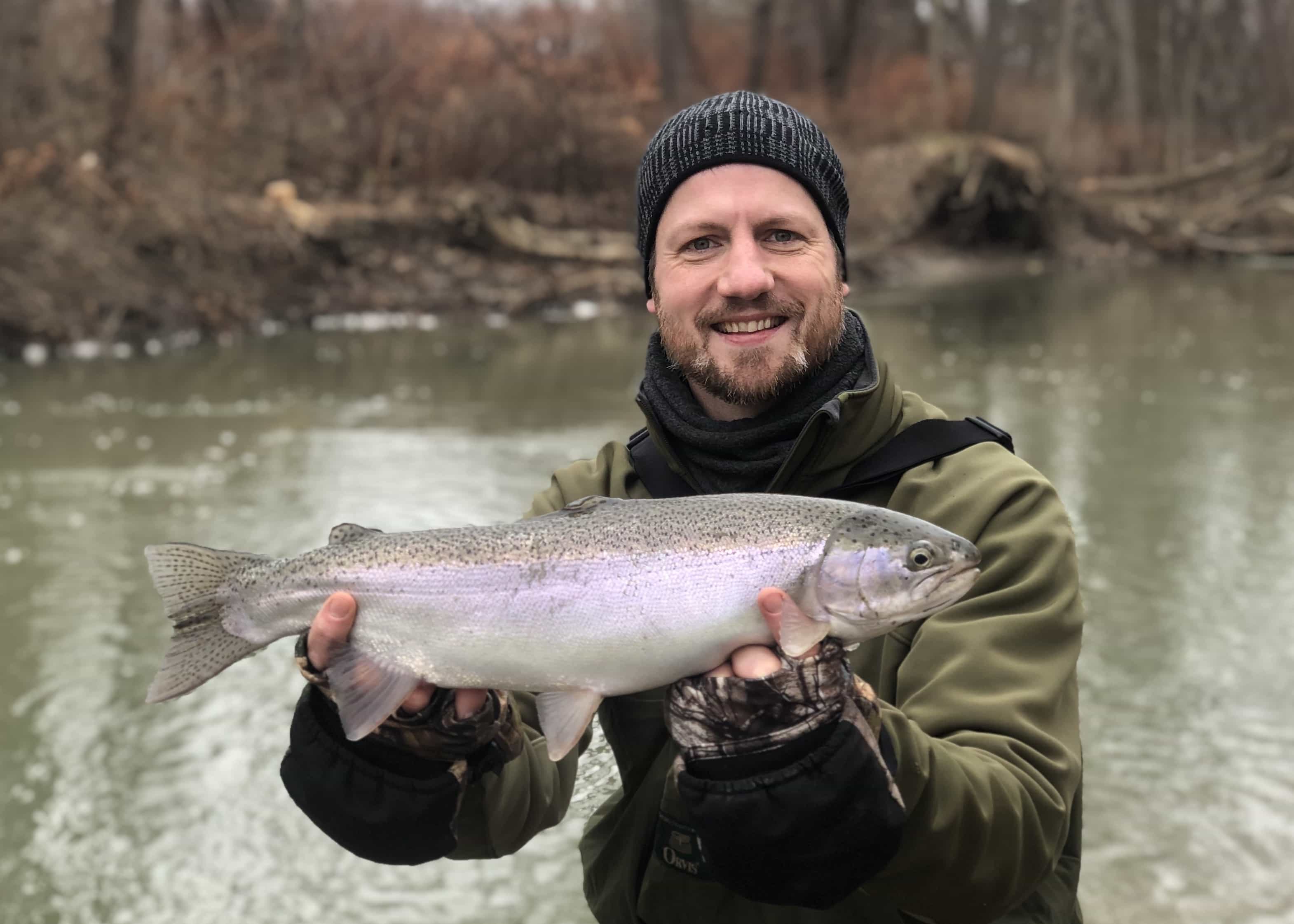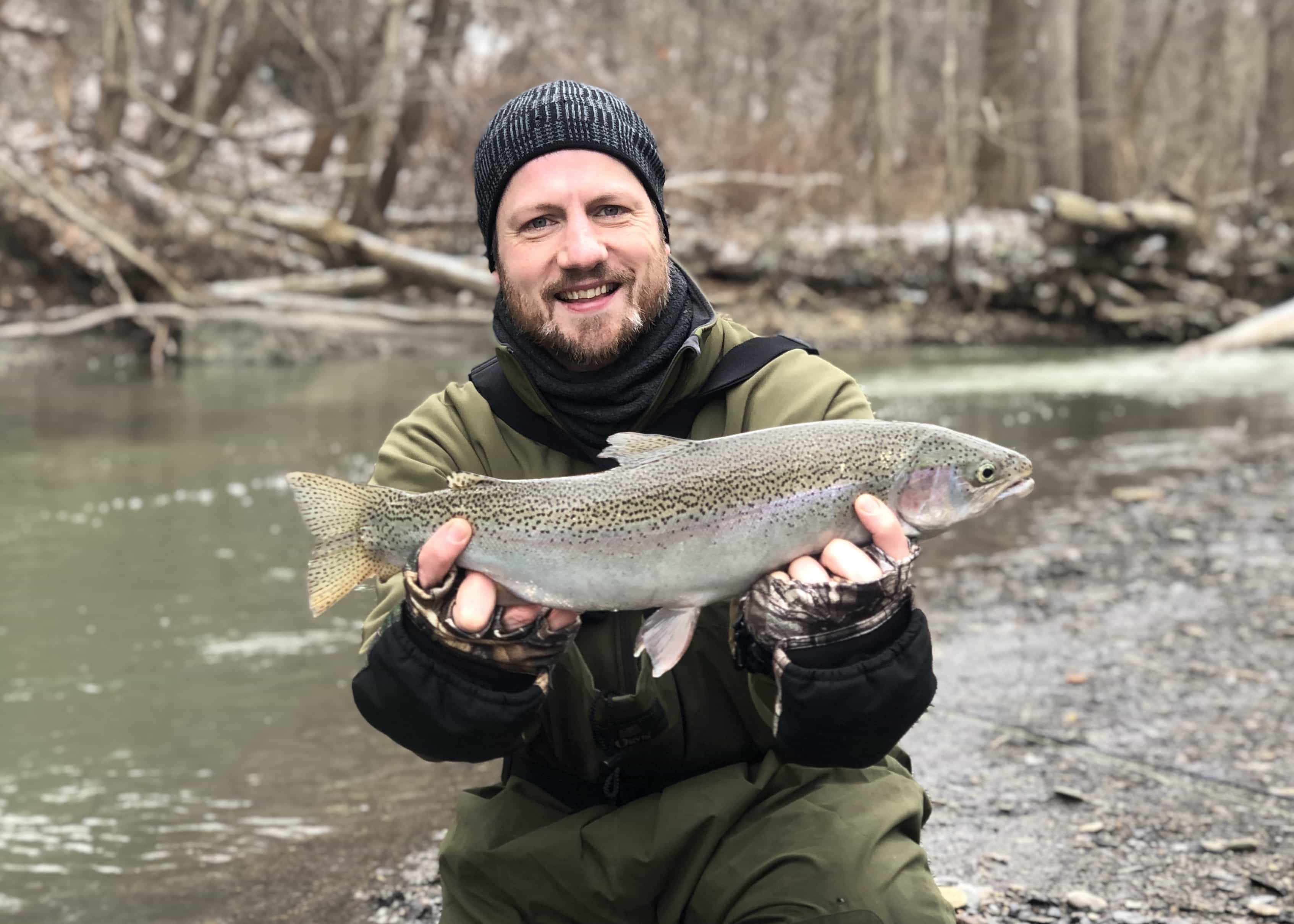 That Initial Shock
In our previous blog, we discussed reasons why winter fishing is not crazy.  In fact, we concluded that it's completely sane. Here, I want to get to the root of why people seem to instinctually respond this way. Last week, a client remarked that he was surprised to see so many people fishing in the winter. The shoreline in Devils Hole and Art Park was lined with a strong number of anglers. The River was lined with numerous charter boats and recreational anglers.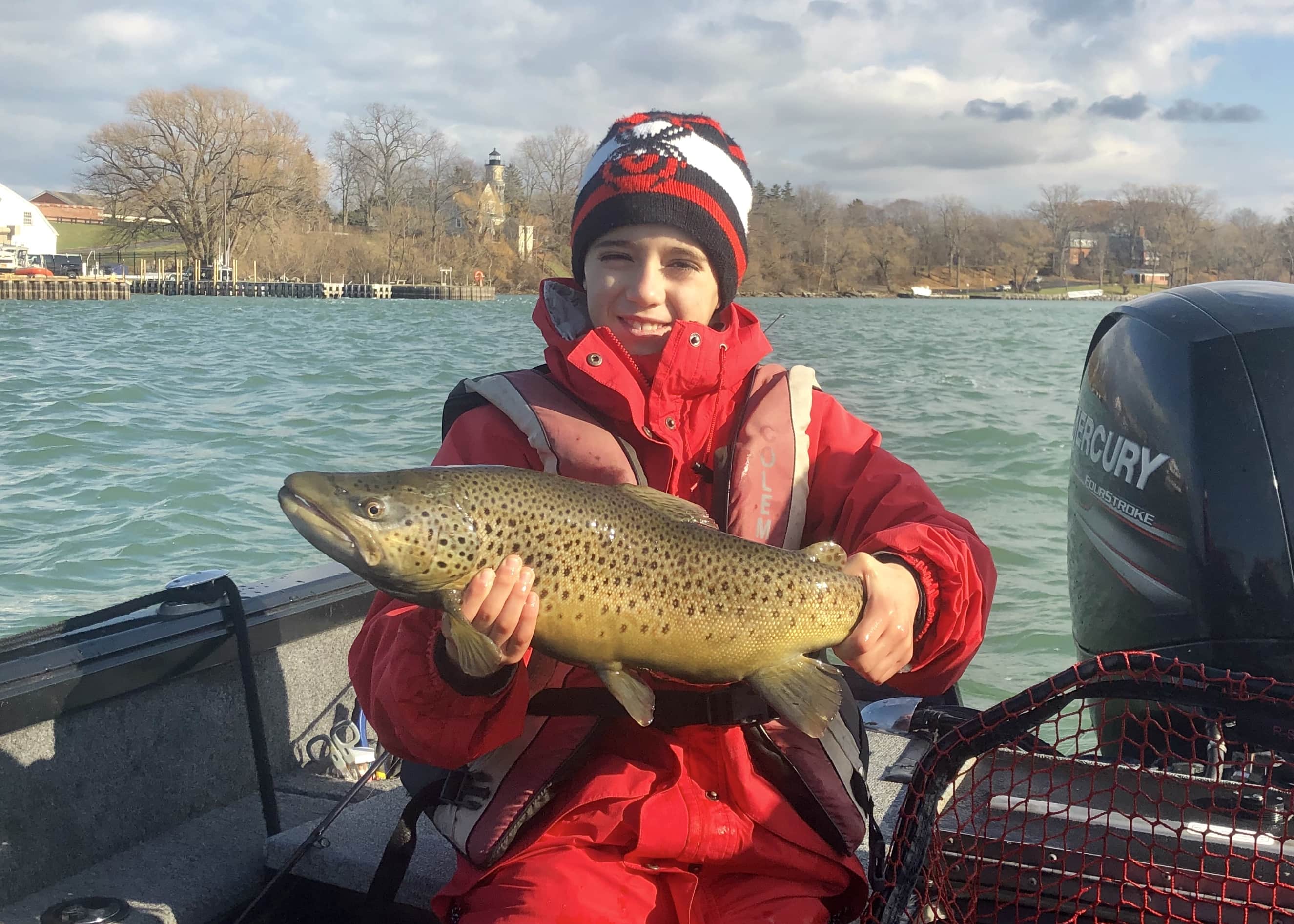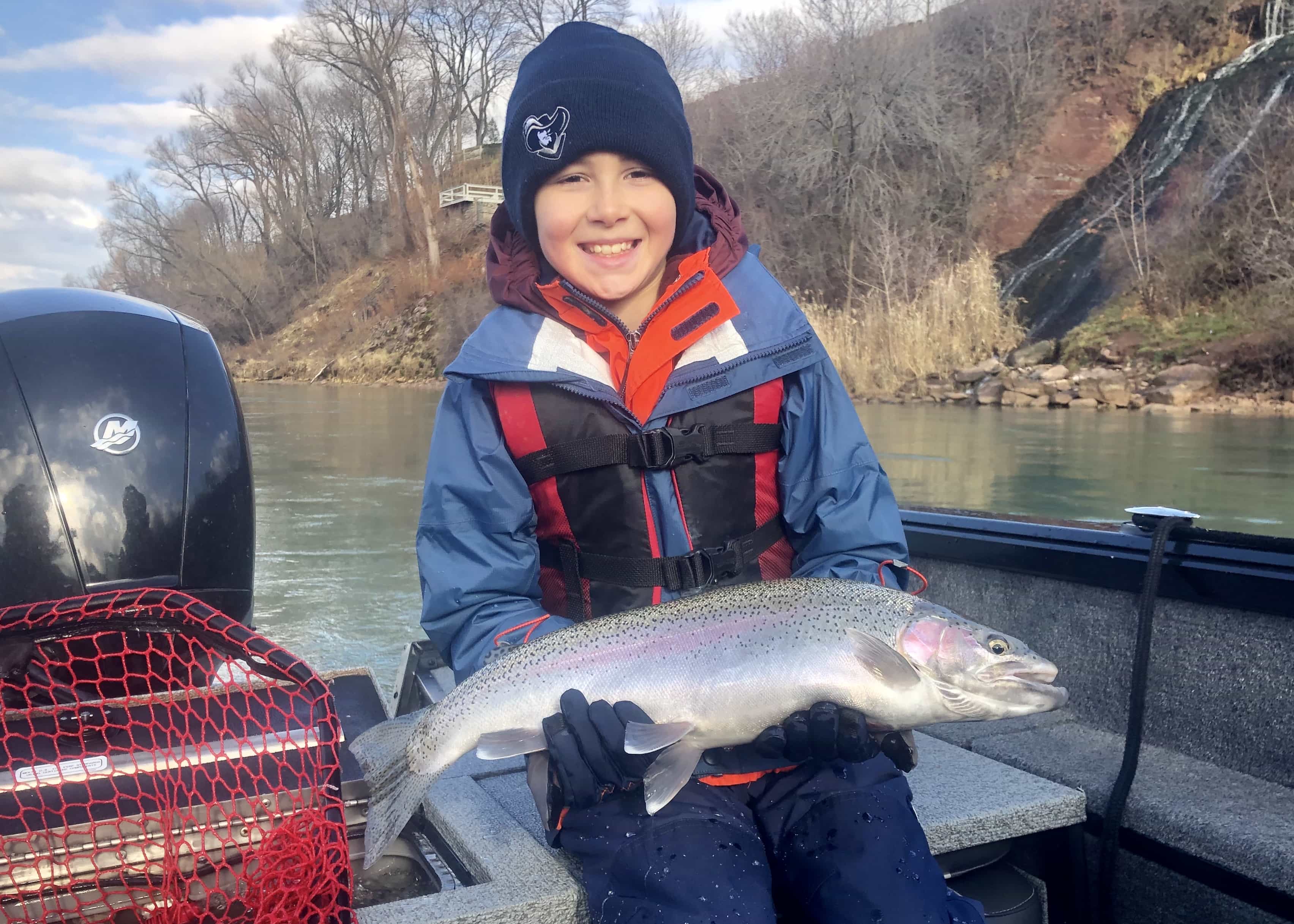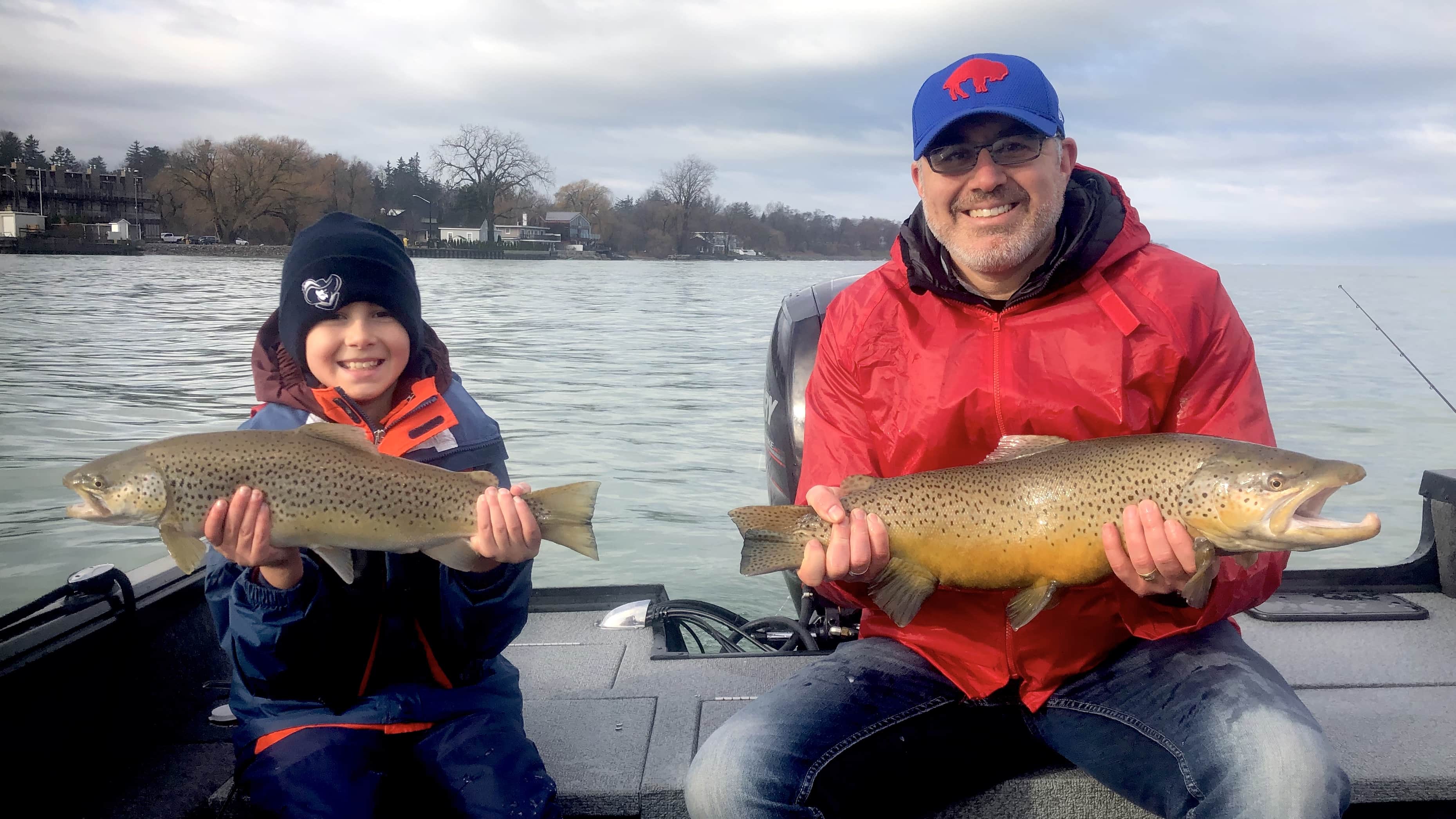 To someone witnessing and participating in this for the first time, I can see why it seemed a little foreign. If I asked you to picture yourself skiing, even if you've never done it before, some image will likely pop into your mind.  I think the popularity and presence in popular media make this possible. The same might be the case if I asked you to picture tailgating at a Bills game.  Or ice fishing in a hut.
Winter sports and many other outdoor activities are popular in areas that experience freezing temperatures and snow.  This is why it's understandable that people can conjure images of these activities. However, if I asked you to picture yourself floating down the canyon of a river in a comfortable boat while catching big, beautiful, trout, you might start twitching. Your reaction would be like Harland Williams in There's Something About Mary.  You know – that scene when Ben Stiller shattered his and dreams during a discussion about the length of ab workout videos.
A Winter Fishing Charter is Completely Foreign…for Good Reason
I think the reason it's so difficult to imagine something like this is because it's only possible in a few places in the world. Think about this for a second.  How many places can you think of where a massive strait is moving water from one inland/freshwater ocean to another? That's an immense amount of water to consider. I had clients from Maine here last winter who were blown away and slightly frightened by the size of the Niagara. When there is that much water moving around, even though it gets incredibly cold, it keeps on flowing.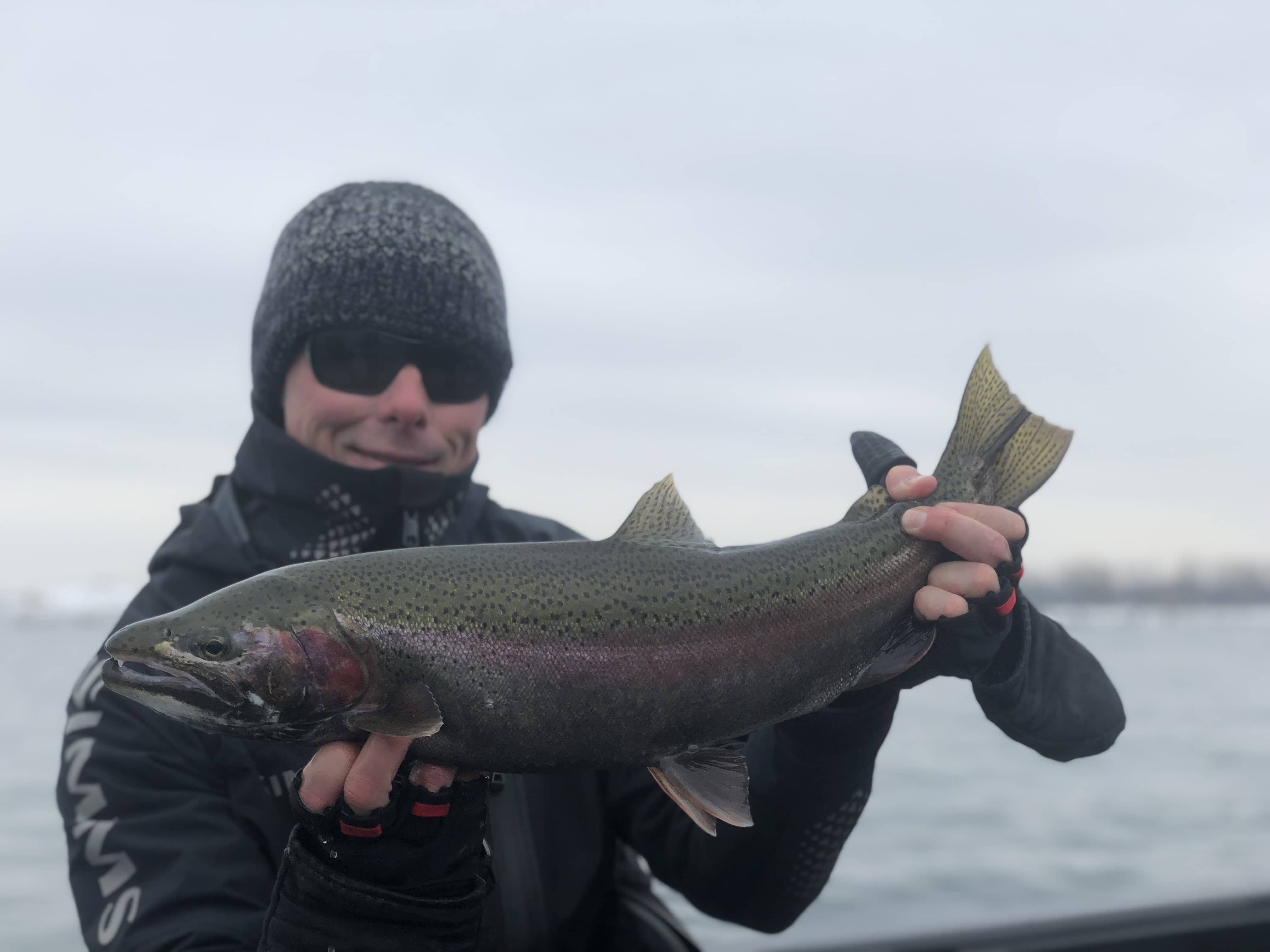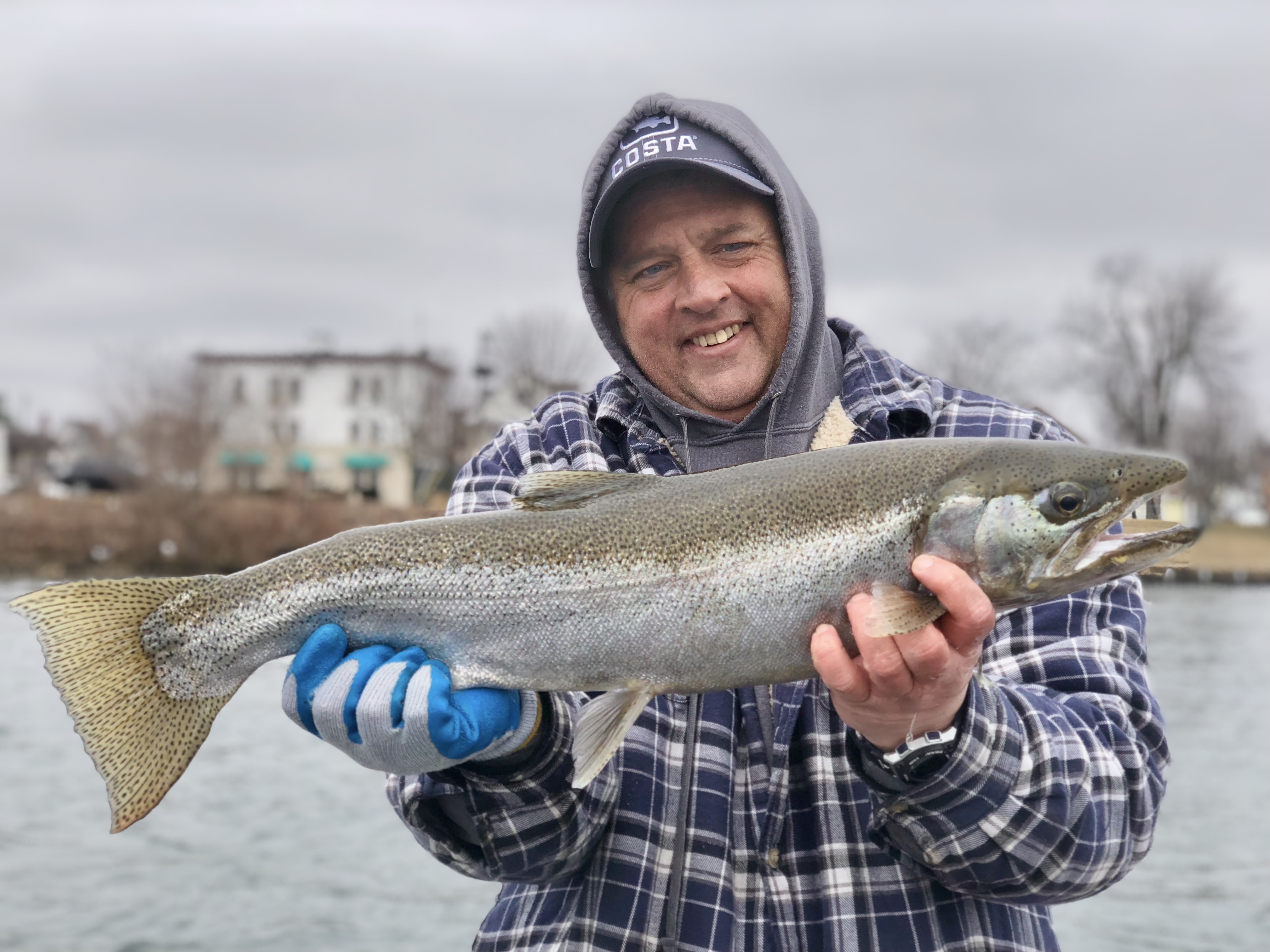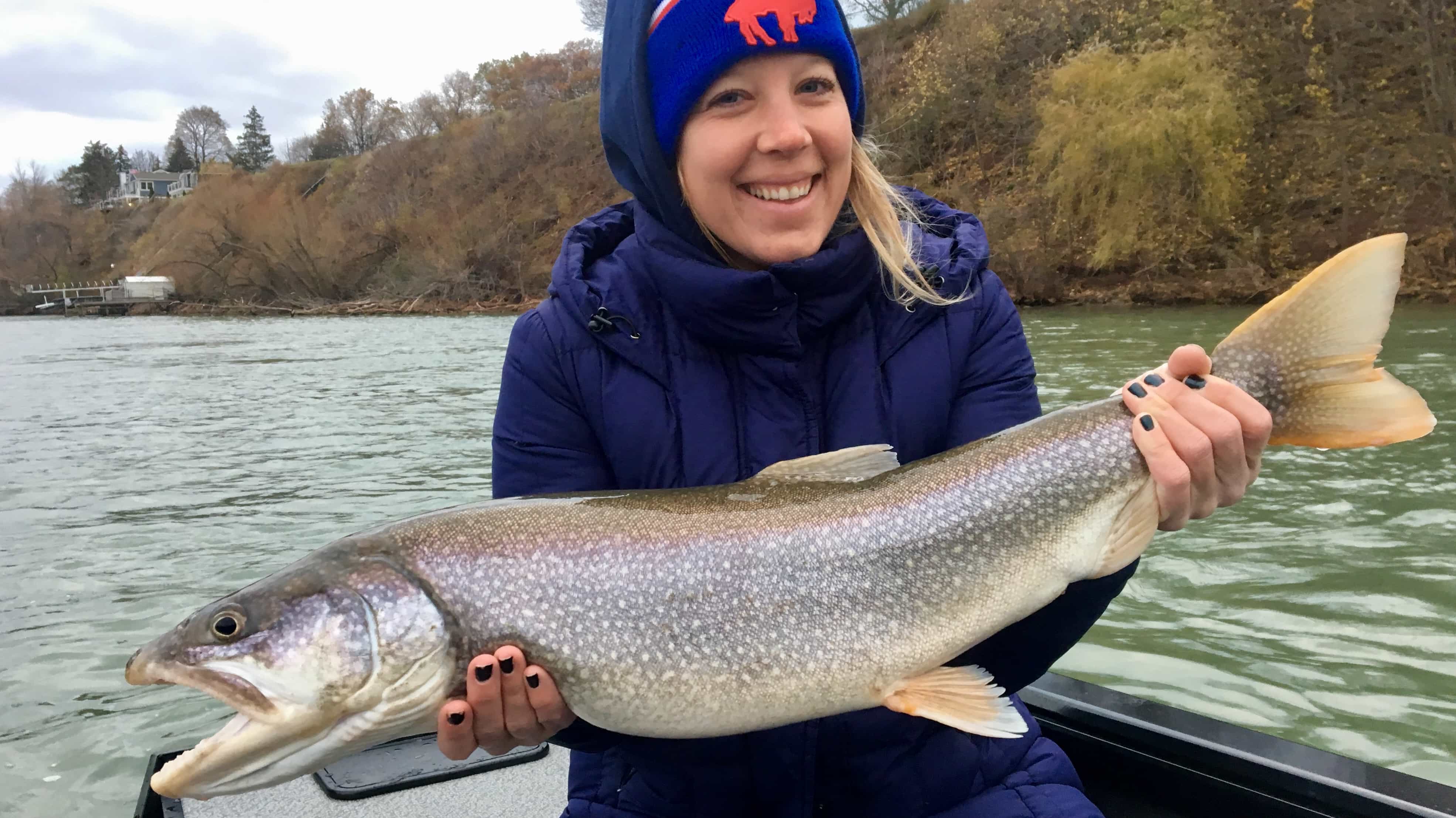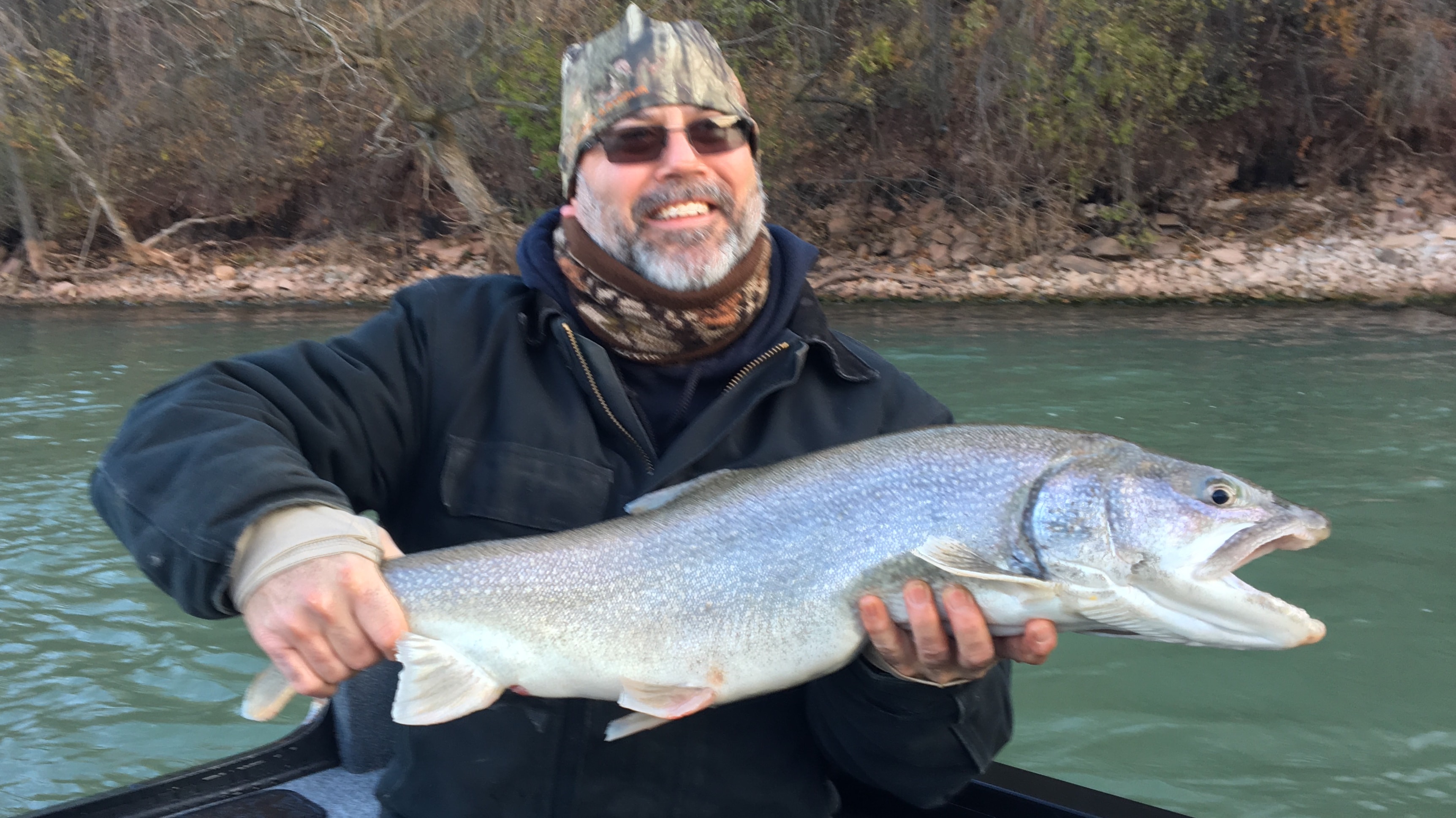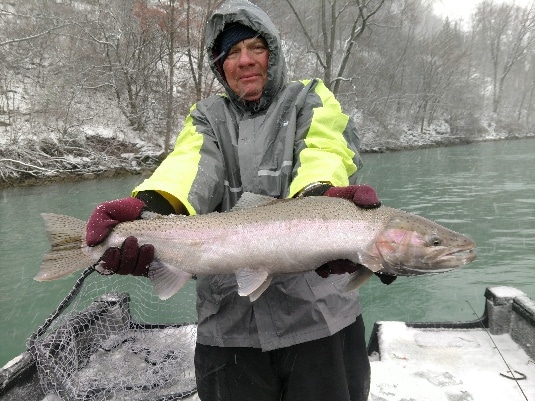 Water that cold takes on a greenish hue that's difficult to describe. After Lake Erie freezes, it'll run gin clear nearly every day. Sometimes, one can see steelhead, lake trout, and walleyes peeling away from the boat in over 20 ft of water. It's kind of surreal.
It Makes Sense if You're Concerned – but Get Over It
Aside from how foreign floating down a near frozen river in cold temperatures seems to one's imagination, there is a rational fear or kind of a cringe in response to the idea. "Why would anyone in their right mind expose themselves to water when it's cold outside?" I get it – but consider this:
Don't Concern Yourself with the Thought of "Getting Wet"
One rarely, if ever, gets wet on a winter charter trip. The occasional light spray may occur but nothing that has any noticeable adverse effect. In other words – getting wet isn't an issue. Think about it – when was the last time you heard about someone fishing from a boat in the winter that got hypothermia? If your charter captain knows what he/she is doing, the thought of getting wet passes within minutes of boarding the vessel and driving upstream.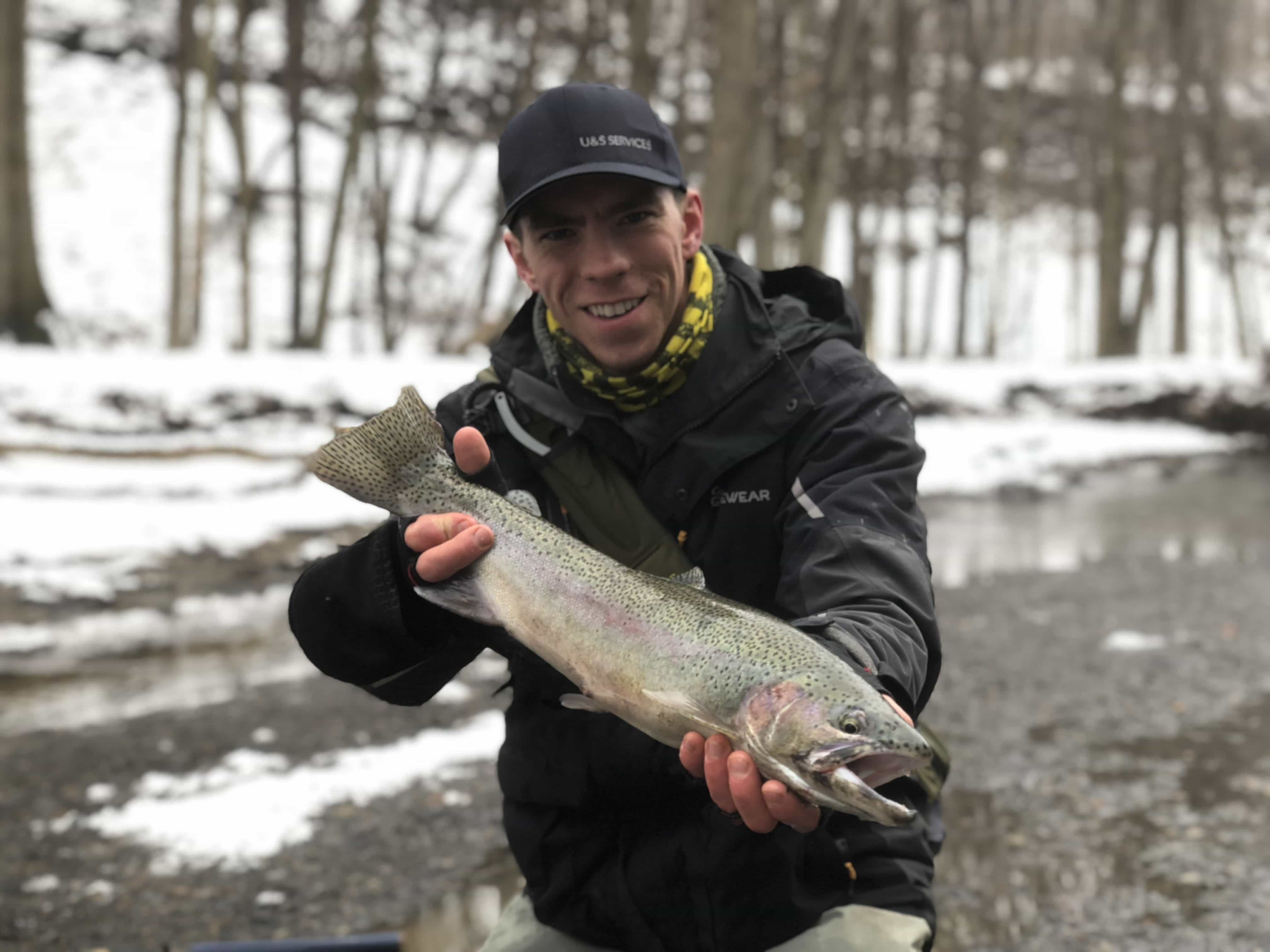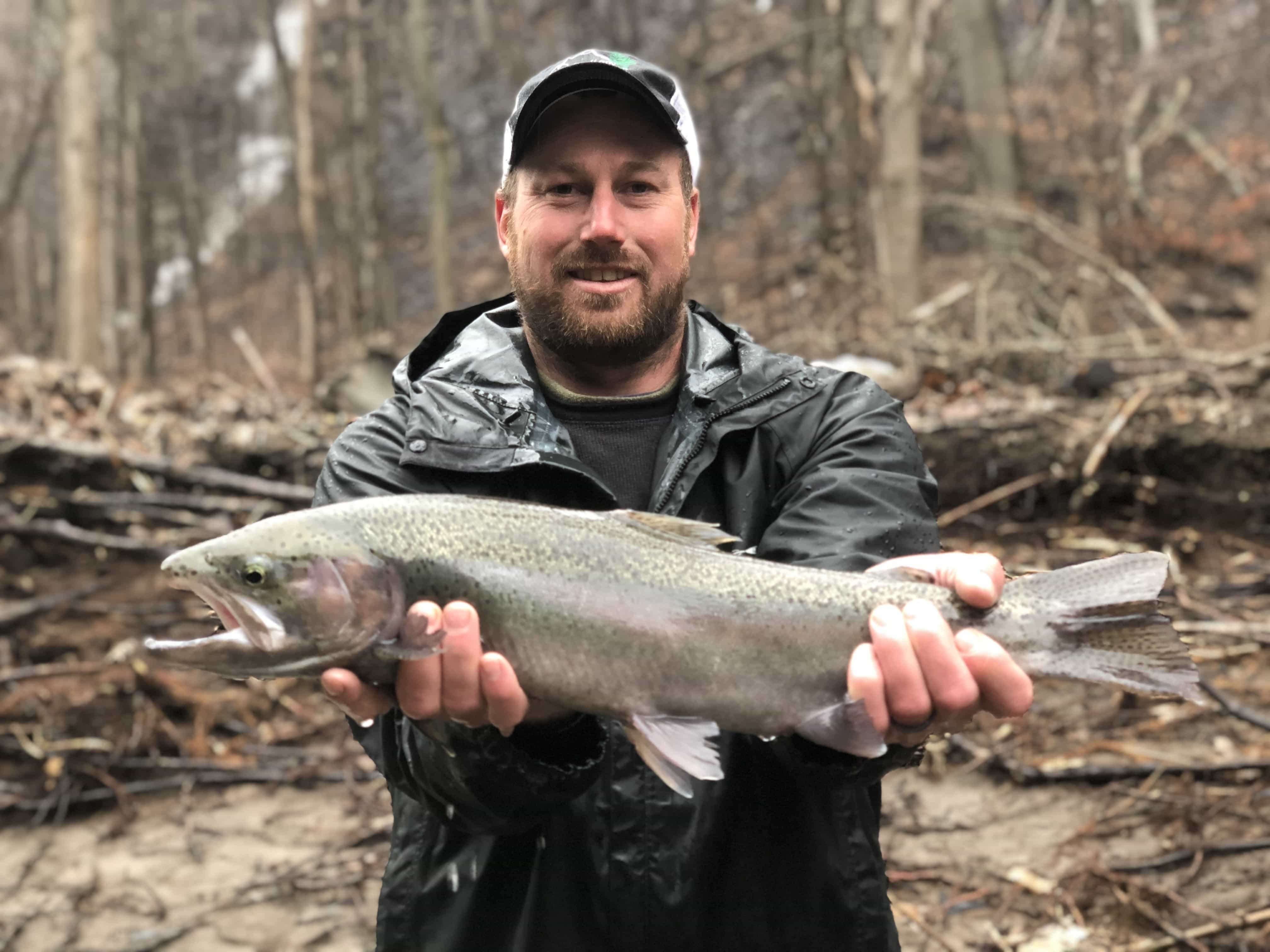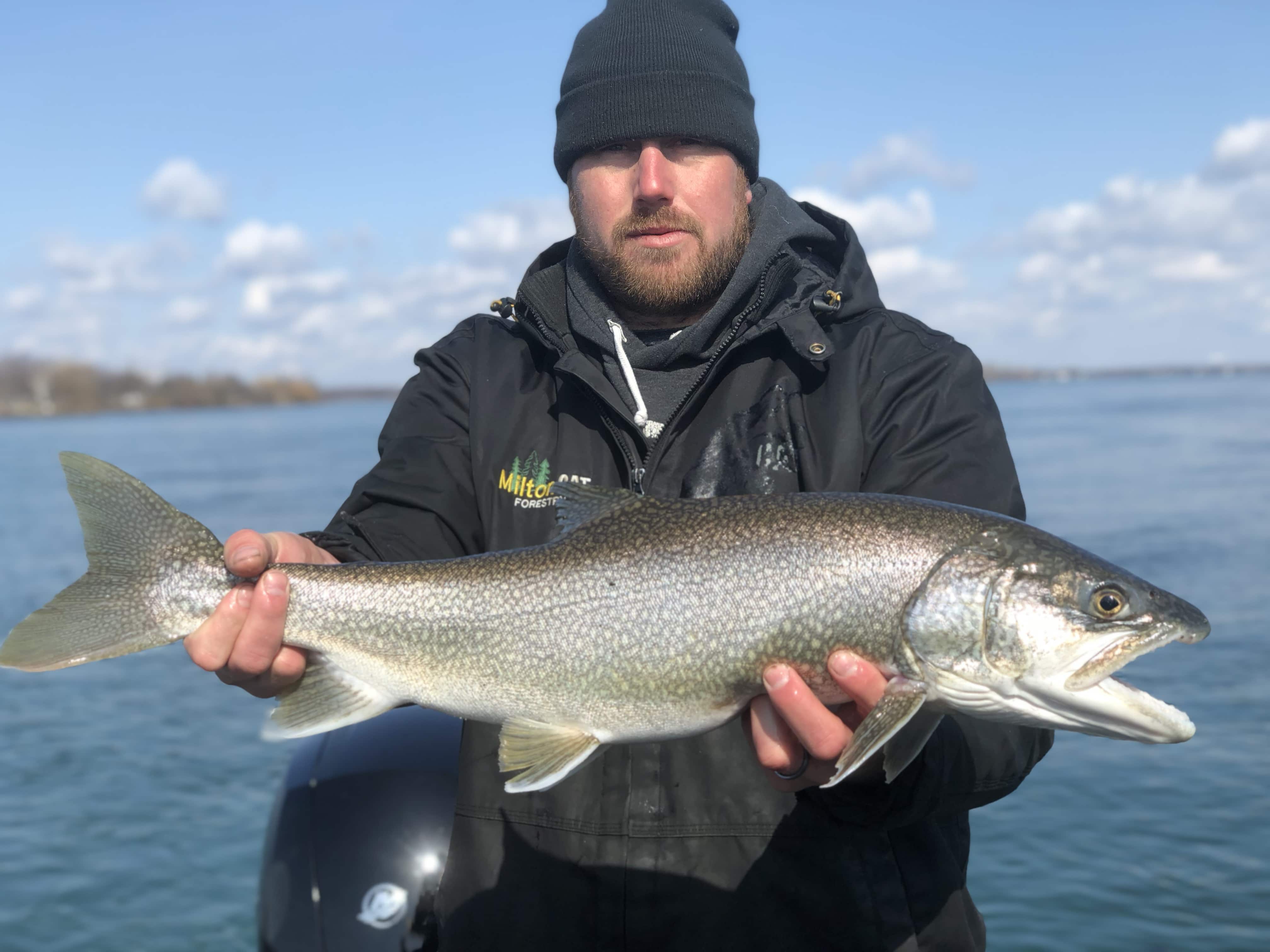 It's Likely You Already Have the Right Gear to Do This
Even though your chances of getting wet (in an uncomfortable way – hell, your hands better get wet after holding the fish you catch) are low, one still needs to respect Mother Nature and dress accordingly. Often times, this is the biggest obstacle. Many people believe they don't have the clothing that will allow them to go fishing in the winter.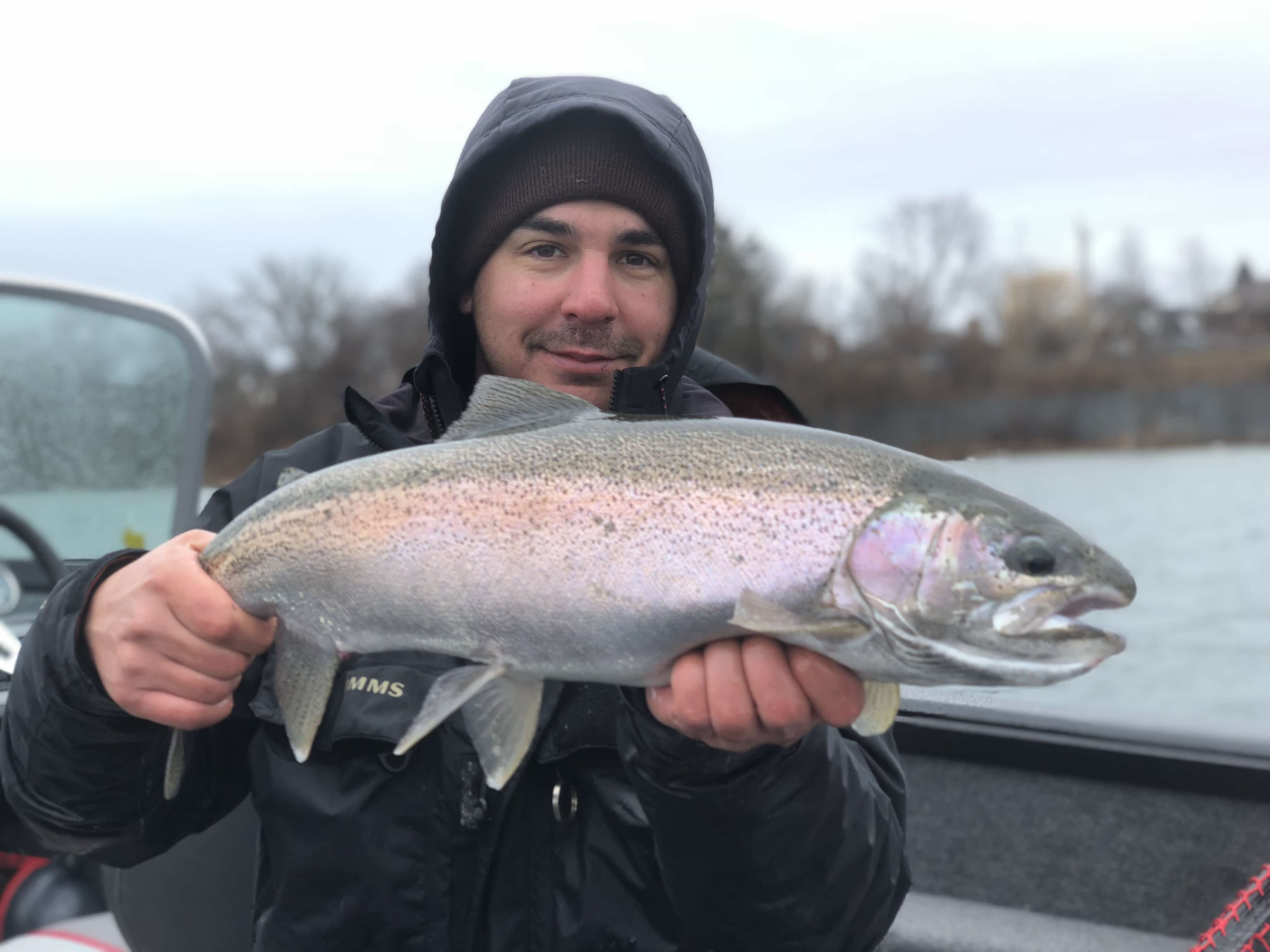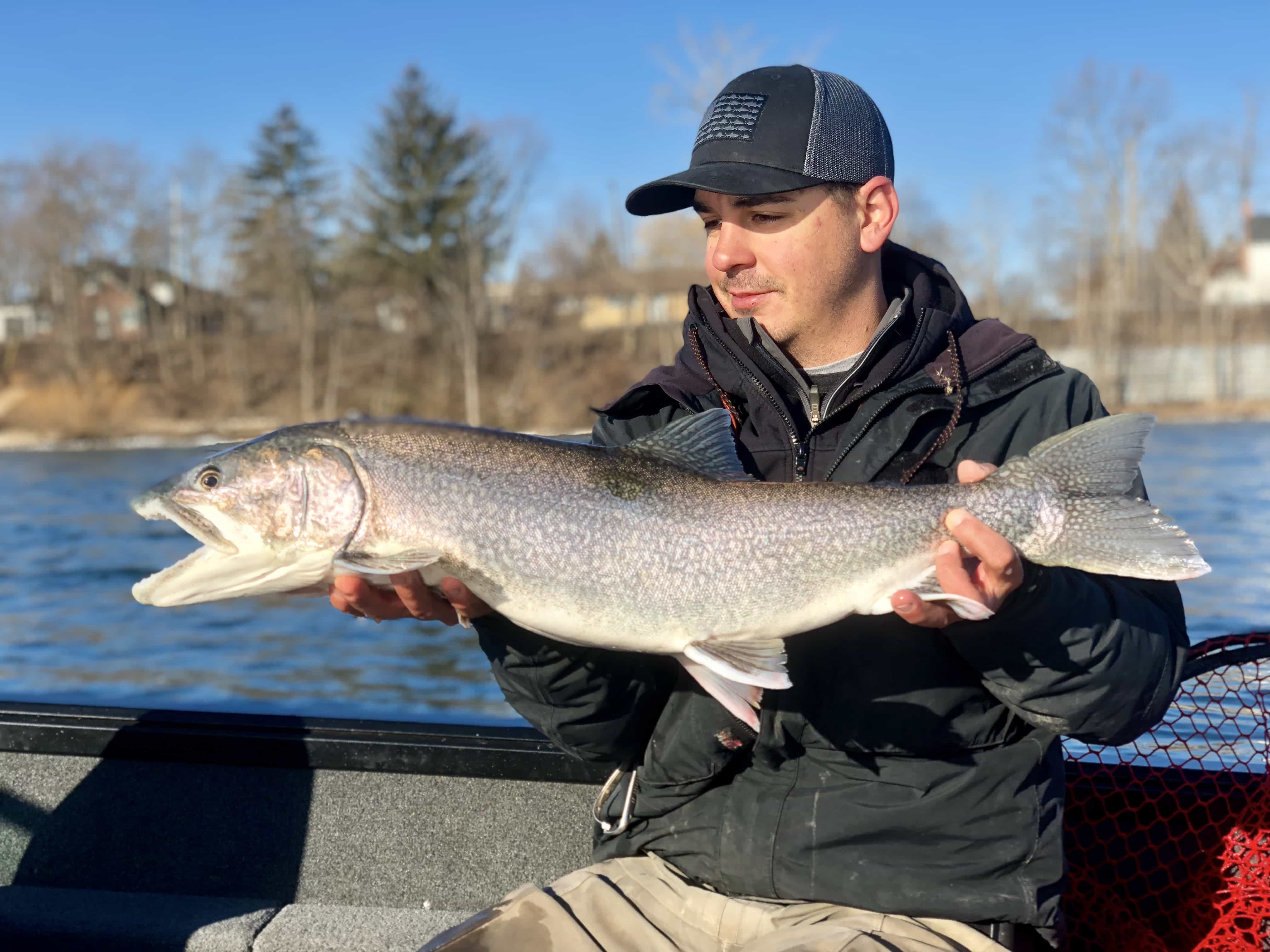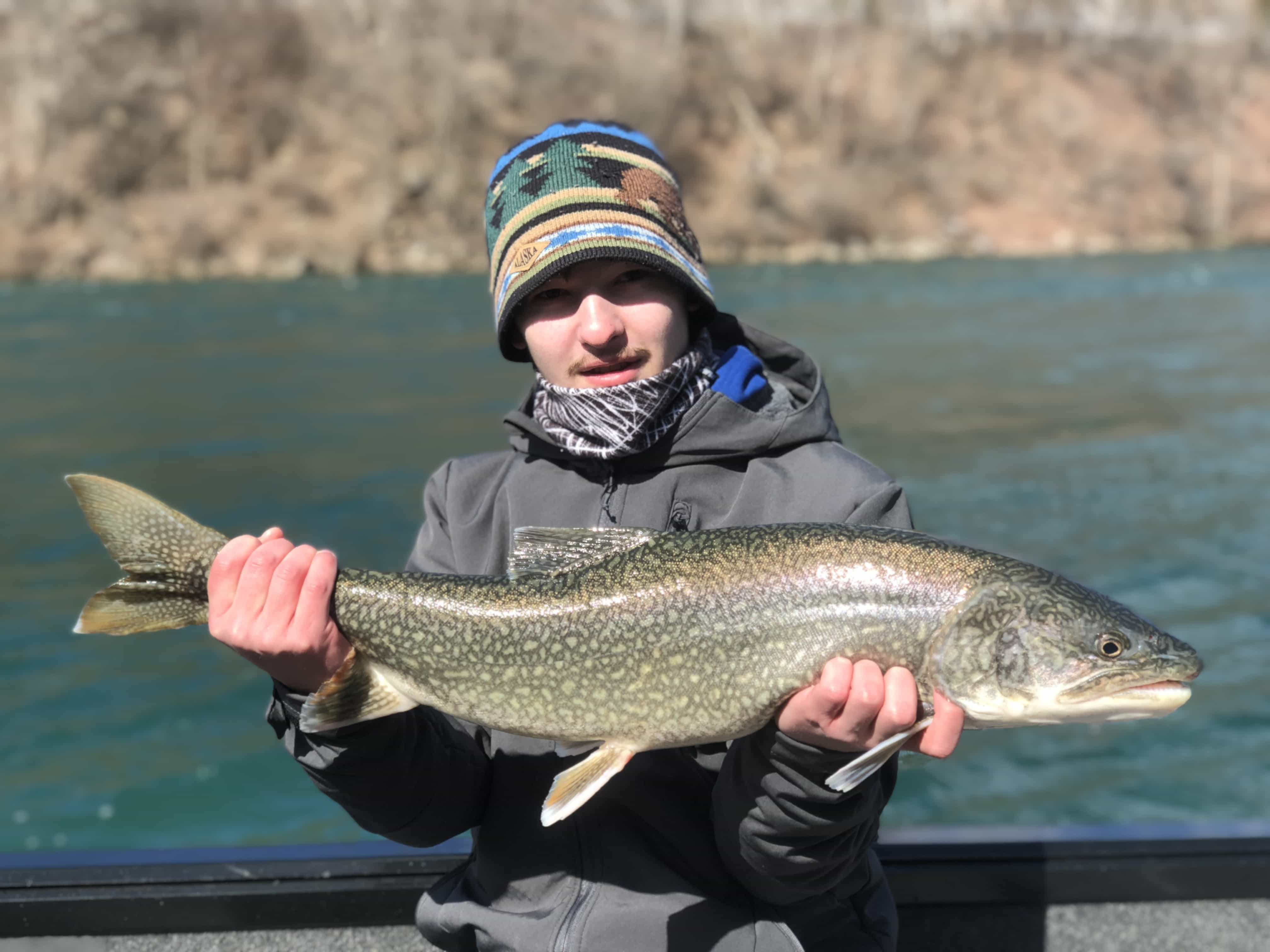 What you are really saying is that you don't have clothing that will allow you to spend a few hours outdoors in the winter. Because that's all it takes for you to go on a charter trip in the winter. If you don't have that kind of clothing, well, that's kind of crazy. If you live where freezing temperatures and snow storms are likely and you don't have clothing that'll allow you to spend a few hours outside, you need to rethink your situation. Any outfit you'd wear for a long walk outside will work. Warm socks, boots, layers for top and bottom, and a shell or coat that'll shield you from the wind.
You may be imagining yourself, fully exposed, getting pelted with snow. Clear that image out. Generally, unless we have particularly hearty clients, we won't fish when the snow is really coming down. Visibility becomes an issue as does deck safety. This is just another way of me saying that you're likely more prepared to go on a charter fishing trip in the winter.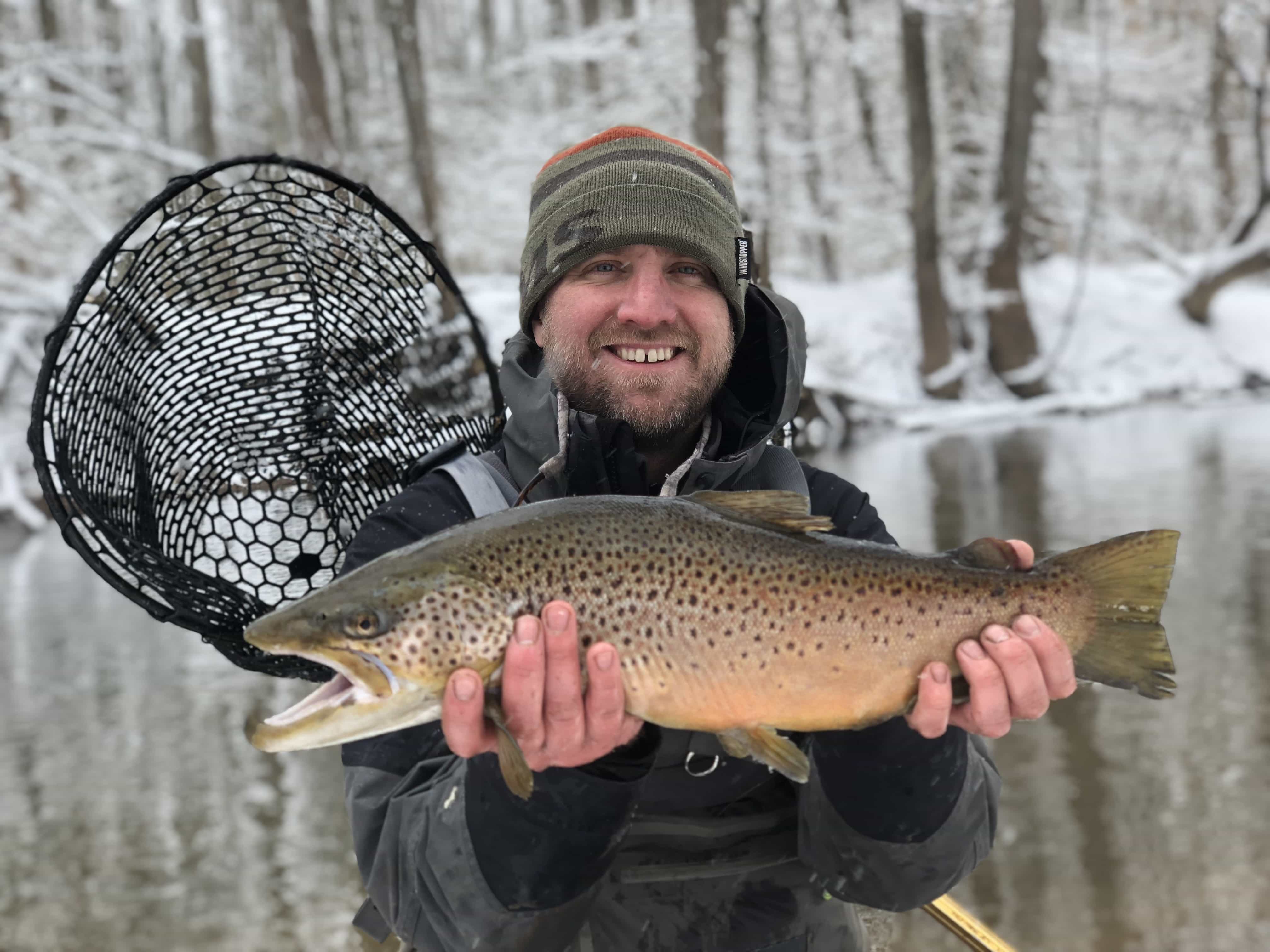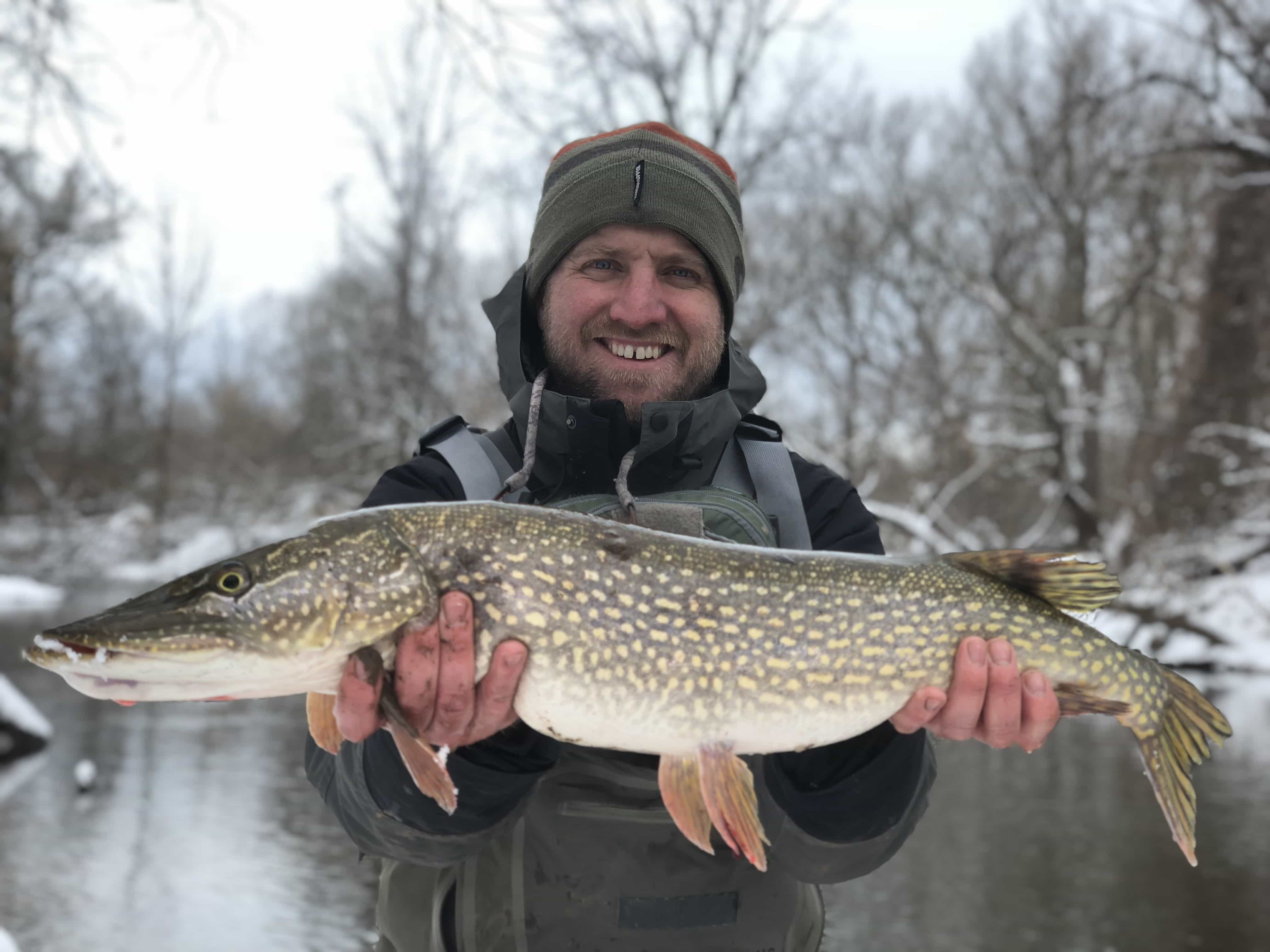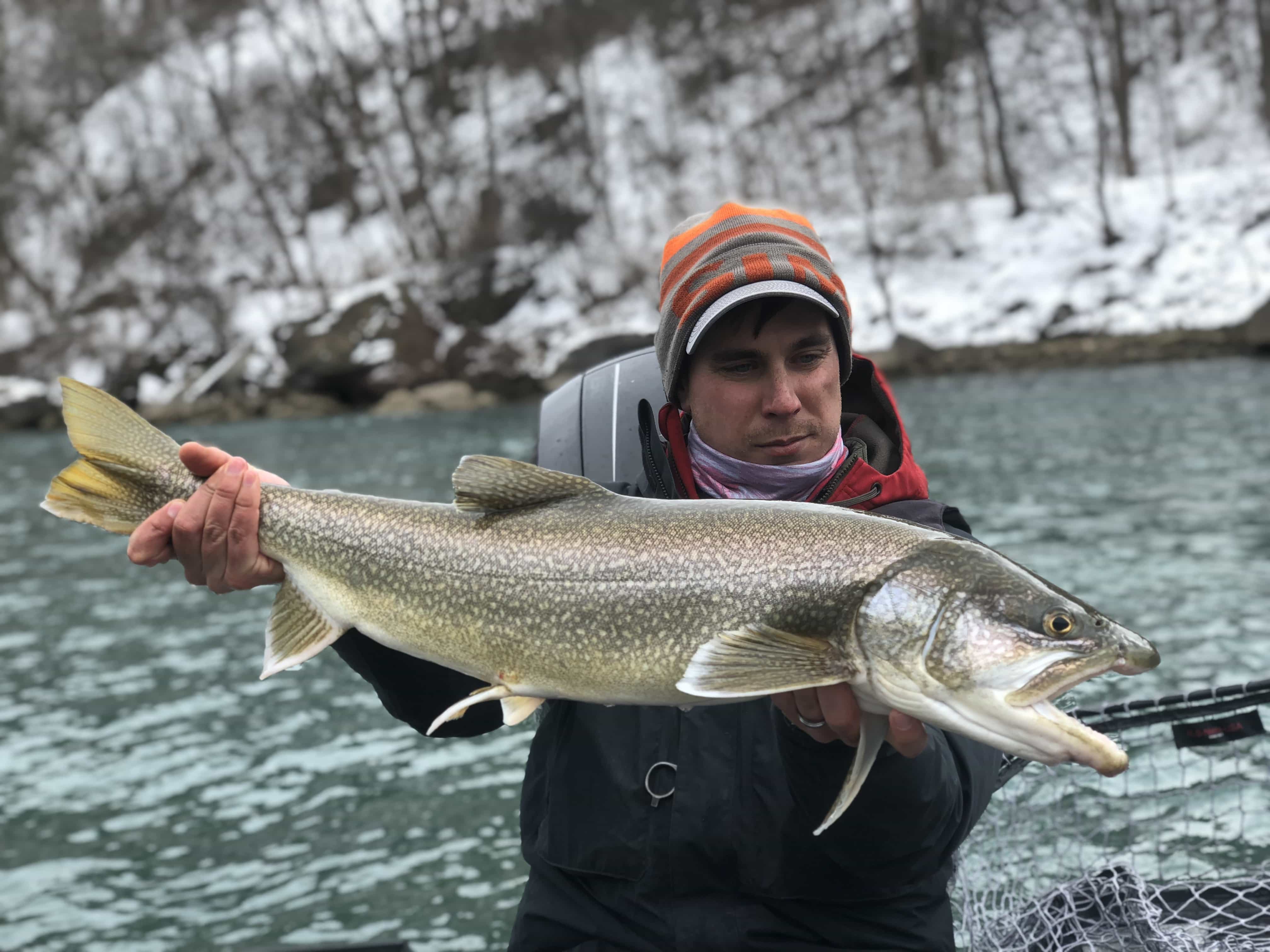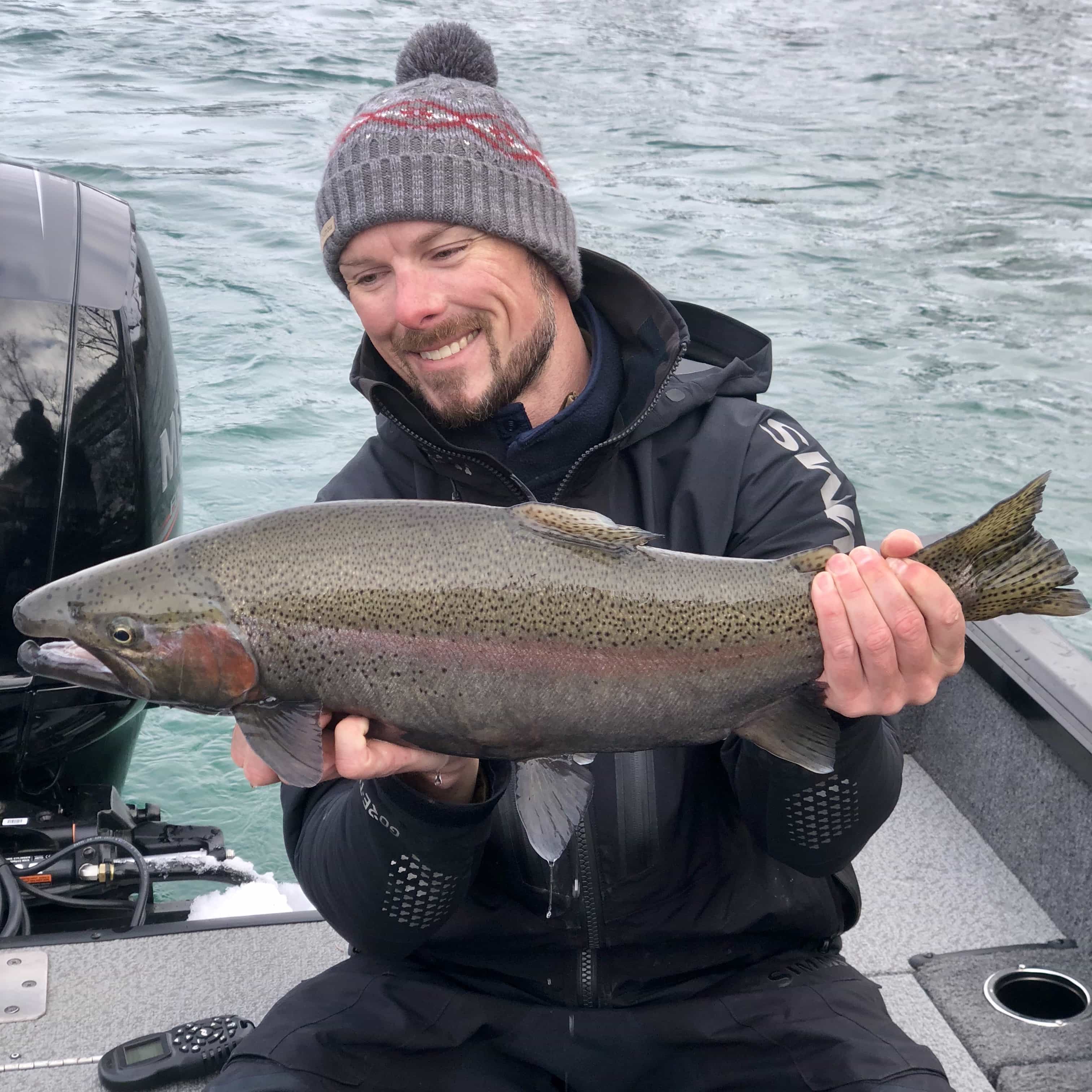 Consider this as well – the high yesterday was in the mid-20s. The "normal" reaction to that temperature is to think, "It's too damn cold to go outside." BUT…it was sunny, and snow was melting everywhere. If you bothered to walk around outside for a bit, you likely noticed that it was comfortable, even with minimal layering. In other words, you should challenge yourself to think differently about what weather conditions are pleasant and which ones are not this time of year.
You'll Be Rewarded for Taking the Chance
If you overcome the mental obstacles to getting out there and you make a little wardrobe adjustment, you can reap an immense reward.  You can experience catching large, beautiful trout, in spawning colors, in an incredibly beautiful setting. The upcoming cold-weather months are the only time of year you can see something like this.
From the perspective of most people who hire a charter captain for a trip, it's just great to be out there, making memories with their friends. That's the business my colleagues and I are in – creating an experience that will stay with you for a long time (we hope).
After all, winter is the season of the holidays. People tend to get together far more often and/or connect with family they haven't seen in a long time. What are you going to do with your tribe? Sit around and watch TV? Eat some food? Go to a movie? Drink beer? Cool…I guess. For a couple days maybe. Even if that sounds incredible, break your days up a bit, get some fresh air, recharge the liver and fight some fish.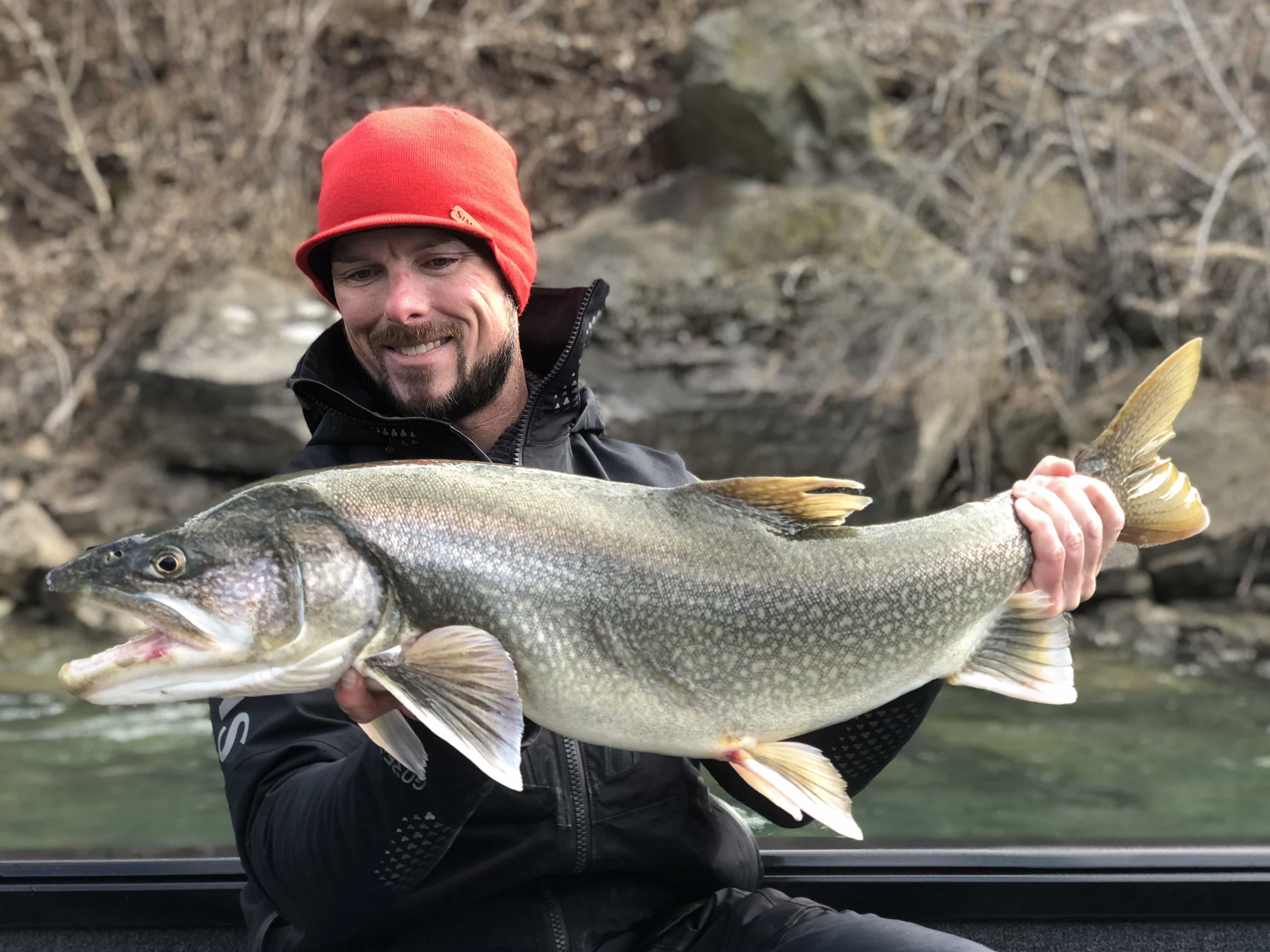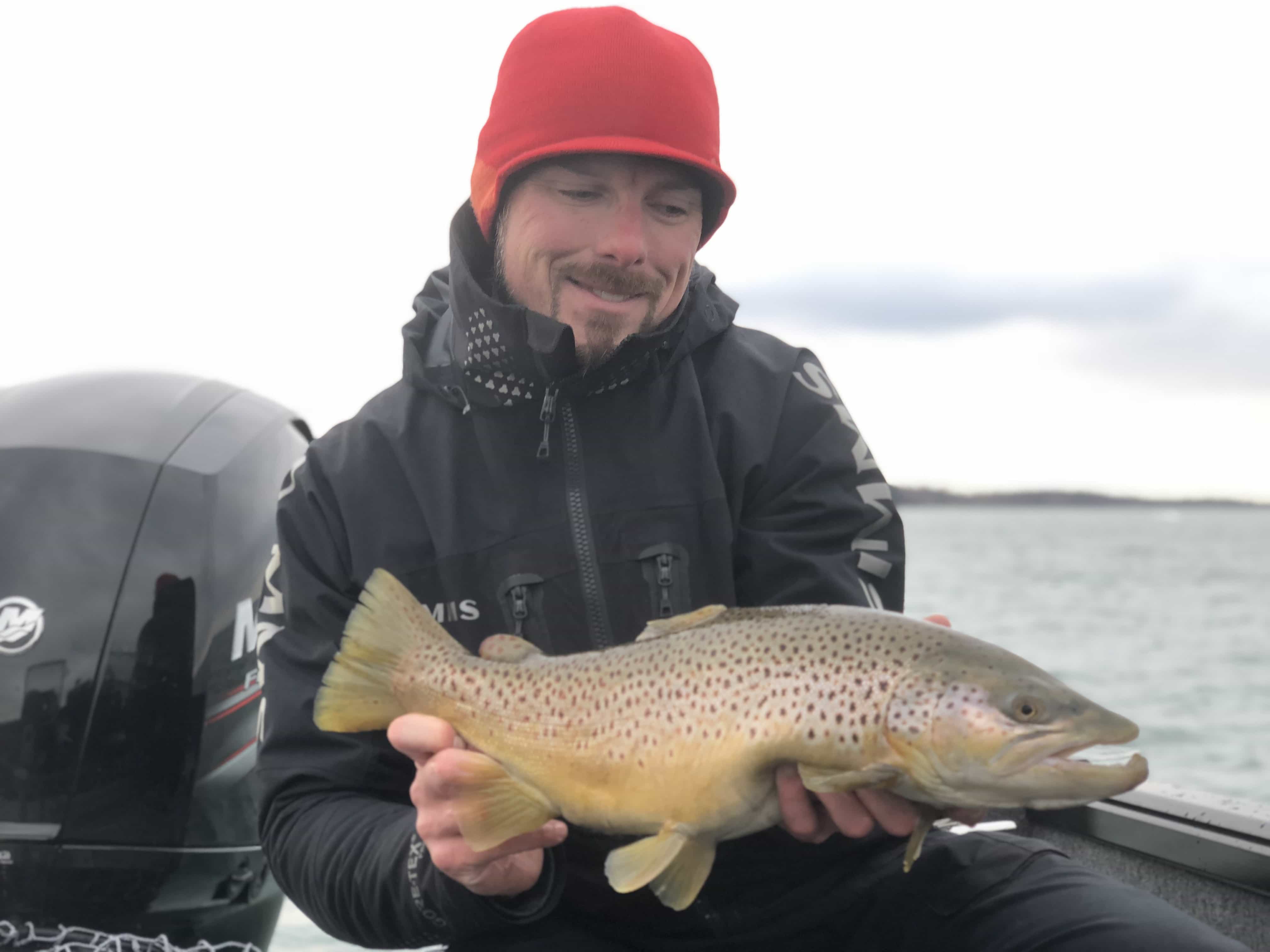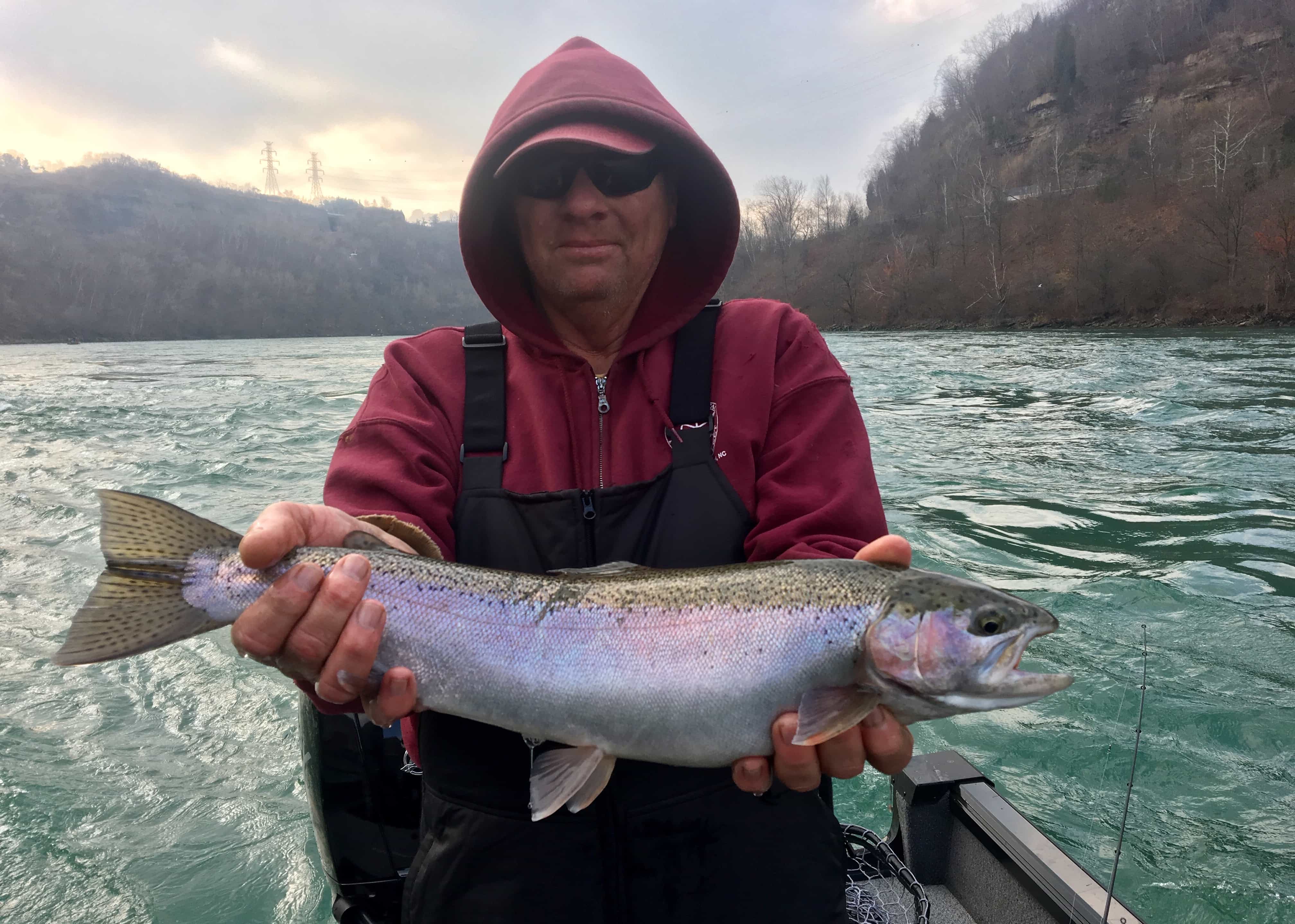 Consider a Winter Fishing Charter…That's All We're Asking
As residents of the region, we are aware that winter in Buffalo Niagara is rife with opportunities to have fun outdoors. If you already have a hobby/activity that eats up those few weekends where weather will allow you to get out there, you may not have time for a charter (although, we hope you can fit it in at some point).
If you don't have a winter hobby but are considering getting into something instead of rotting indoors, I hope this article made you think about taking a charter fishing trip this winter. Let me rant really quick – I don't care if you are hitting the gym daily throughout the winter, you're still going to end up unhealthy if you don't get outside – O.K., rant over.
I'm not going to bore you with numbers and statistics.  I would like to encourage you to compare taking a few charter fishing trips this winter to some other options to get outside. I'm confident you'll find that winter charter trips are an extremely economical, convenient, and extraordinarily enriching option. We hope you'll give us a call or do some research to challenge or confirm this idea.